Warhawk Weekly 3-2: AUM-Led Project; Homecoming Court Winners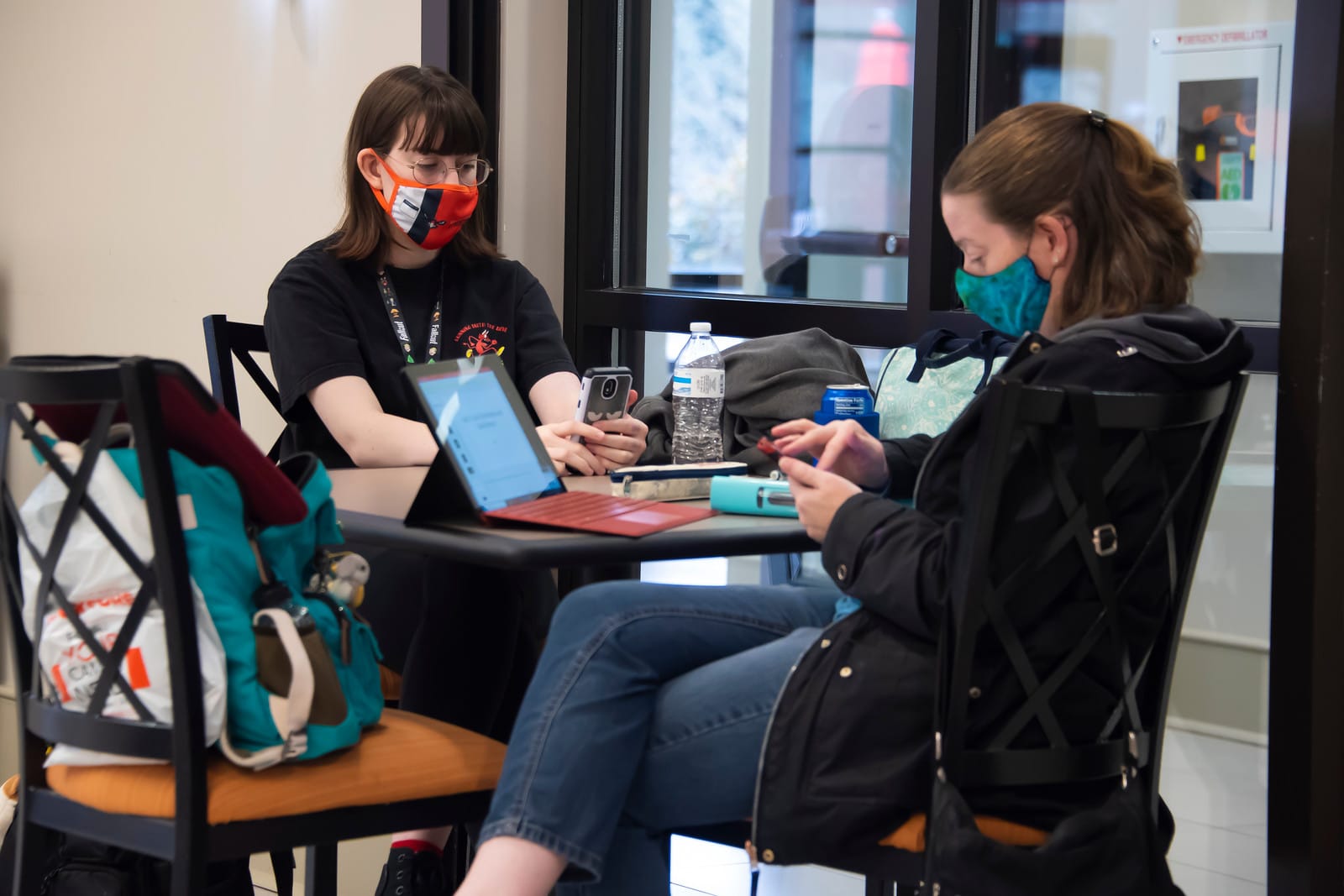 AUM-led project aims to improve quality of life for state nursing home residents
An Auburn University at Montgomery researcher will lead a multi-university effort aimed at helping Alabama nursing home residents exercise their bodies and minds.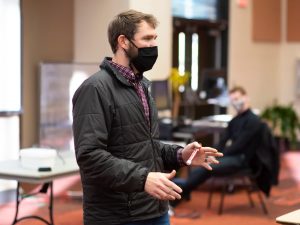 A $948,718 Civil Money Penalty Grant from the Center for Medicaid and Medicare Services will enable AUM assistant professor of kinesiology Brett Davis to direct the implementation of Bingocize®, a program merging the widely popular game of bingo with range-of-motion exercises, in 40 Alabama nursing homes. Davis said he expects the project to serve 1,800 residents of certified nursing facilities over the next three years.
To implement and evaluate the success of the program, AUM will partner with faculty from six other state universities, including Auburn University, UAB, University of Alabama, University of South Alabama, University of North Alabama and the University of Alabama-Huntsville. Faculty partners will place undergraduate and graduate students at the nursing homes participating in the project to help nursing home staff with program implementation.
"Bingocize® can help nursing home residents, regardless of their physical or cognitive abilities" Davis said. "The program has been used to successfully engage individuals with all types of chronic conditions, including those suffering from Alzheimer's and other dementias. It has evidence-based benefits. And nursing homes are able to show they are providing a better level of care."
Learn more about how is helping Bingocize® Alabama's nursing home residents.
Back to the top
Crowning AUM's homecoming queen, Chancellor's Cup winner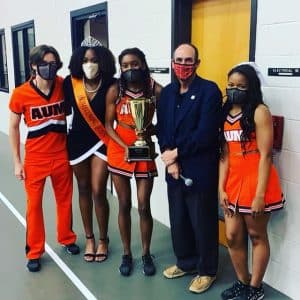 Auburn University at Montgomery capped off its 2021 Homecoming last weekend by crowning its homecoming queen and celebrating its Chancellor's Cup winner.
Dariona Dash, an exercise science major from Columbia, S.C., was named homecoming queen, while the AUM Cheerleading squad earned the Chancellor's Cup through its participation in Homecoming Week events.
In addition to Dash, Homecoming Court nominees included:
Senior representatives: Damaris Acosta, Tatum Willis, Marlesca Williams, Riley Taylor, Patrick Wilson.
Junior representatives: Kenyatta Stephens, Arlesh Saffold
Sophomore representative: Loney Baldwin
Freshman representative: Molly Willis
Back to the top
Save the date: AUM Day of Giving
Mark your calendar! Thursday, March 18 will be AUM Day of Giving.
This is a day for all members of the Auburn University at Montgomery family to come together and create something extraordinary. Each of us plays an integral role in making a difference on March 18. Your gift in support of AUM's academic programs and students is significant, no matter the size. Every dollar raised directly supports the area of your choice and counts toward AUM's 2021 Family Campaign.
More details will be shared soon. Keep an eye on your email.
Back to the top
#AllinforAUM campaign exceeds participation goal
Friends and graduates of Auburn University at Montgomery have proven that they are #AllinforAUM by supporting the ongoing campaign for athletics.
The campaign has exceeded its participation goal of 150 donors and raised more than $12,000 in support of AUM's 11 varsity athletic programs, but there's still time to participate. Show your support for AUM Athletics!
AUM Alumni Association Graduate Scholarship open to applicants
AUM graduate students who have completed at least nine credit hours and have a 3.4 grade point average or higher can apply for the Auburn University at Montgomery Alumni Association Graduate Merit Scholarship.
Applicants must complete an application form and submit a resume, letters of support and a 250-word essay by March 15.
Apply now for graduate scholarships.
Back to the top
Jump start your career preparation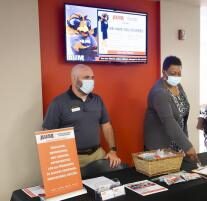 The Career Development Center is offering a Career Workshop Series during the Spring 2021 semester covering expectations for student employees, identification of workplace mentors, professionalism in a virtual workplace, effective cover letters, managing job search anxiety, and understanding work ethic.
The series will continue with a discussion of work ethic on Wednesday, March 3. More information on start times for each series event will be shared in the near future. Students can register for each event through the Handshake app.
The full calendar includes:
Wednesday, March 3
Work Ethic: What Does it Mean?
Strong work ethic is something that is mentioned a lot, but can sometimes be a confusing subject.  This workshop will define work ethic, provide basic principles for ethical behavior in the workplace and some best practices for demonstrating your work ethic.
Wednesday, March 17
Professionalism in the Virtual Workplace
Remote working has changed the dynamic of the workplace, allowing some flexibility surrounding traditional office etiquette, while introducing new issues.  Understand the concepts central to virtual workplace professionalism and how to avoid missteps.
Wednesday, April 14
Cover Letters Made Simple
Sometimes a great cover letter can make all the difference in your job search.  This workshop will discuss simple ways to connect your value to employers in a way that enhances your knowledge and skills.
Wednesday, April 28
Coping with Job Search Anxiety
Even for confident people, searching for a job can be a stressful process.  This workshop will provide strategies for coping with the stress of the job search and overcoming personal obstacles along the way.
Back to the top
COVID-19 Dashboard update
AUM will continue to provide weekly reporting on its COVID-19 dashboard with results of testing conducted through Warhawk Health Services and the Sentinel Testing program, as well as self-reported positive test results by students and employees to Student Affairs and Human Resources. Reporting will be updated each Monday.
In addition to wearing face masks on campus and observing social distancing, students and employees are encouraged to utilize the AUM Healthcheck symptom monitoring tool.
Back to the top
Enroll in Sentinel Testing program
You can help "Protect Your Nest" by enrolling in the Sentinel Testing Program.
Open to all AUM students and employees, the random Sentinel Testing Program identifies potential asymptomatic cases of COVID-19 and provides an extra layer of protection for roommates, friends, professors, staff members, and family members with whom you may interact. Testing will take place twice a week.
In order to be elected for the Sentinel Testing program, you must create an account through the Verily platform.
Back to the top
No computer, no problem
AUM Student Affairs has initiated a Laptop Loaner program for students who do not have access to a computer outside of classroom and lab settings.
Devices are provided on a first-come, first-served basis. Learn more about the program.
Back to the top