Ride with AUM Pride
An AUM license plate shows pride for your alma mater — and your commitment to AUM students. Proceeds from the sale of every AUM license plate in Alabama directly funds scholarships for AUM students.
The AUM license plate is just $50 more than a regular tag and features up to six characters available for personalization for your car or motorcycle. Order your AUM tag at your local county courthouse, or reserve your personalized tag online today or find the motor vehicle and tag official in your county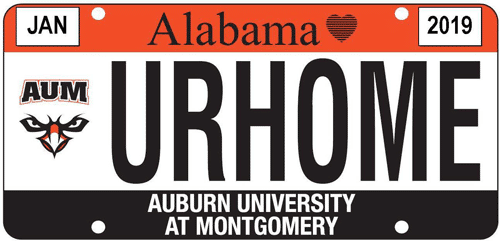 Students
When you purchase the AUM License Plate you will receive free registration for campus parking!
To receive donor recognition for your support, be sure to opt in to share your information with AUM when you register for the license plate. Questions? Please contact the Office of Alumni Affairs at [email protected] or (334) 244-3369.
Faculty and Staff
Need another reason to purchase the new Auburn University at Montgomery license plate, beyond supporting scholarships for our students? We've got a good one.
Faculty and staff will only pay a $5 administrative fee for reserved parking if they purchase or have purchased an AUM license plate.