Artificial Intelligence Research Laboratory
Using a NVIDIA supercomputer, the Artificial Intelligence (AI) Research Laboratory at AUM is a breakthrough for educational research, professional development, and AI consulting—both regionally and nationally. Students in AUM's Master of Science in Management Information Systems and undergraduates in the Business Administration/Information Systems programs use the lab to develop skills in such areas as: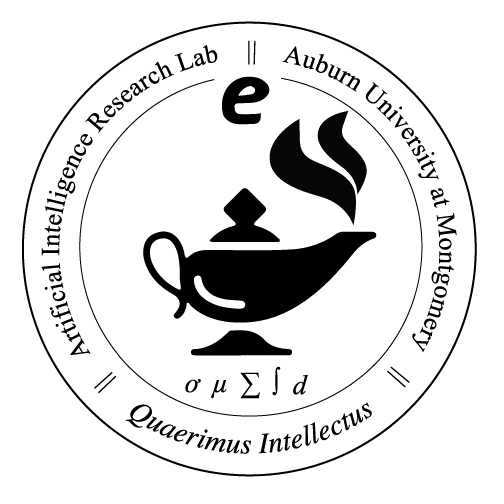 The Lab is also a resource for those in business, institutional, and industrial settings who want to greatly expand the kind of solutions their proprietary data can provide using AI.
Sample Student Projects in the AI Research Laboratory
Artificial Intelligence Research Lab
In the Media
"AI is coming, and it's coming hard. You have to innovate yourself. At some point, we're gonna have to put our fear away and learn about it." –– Guilherme Bittencourt, AUM graduate student
Our faculty and students approach inquiry and problem-solving with fearlessness and creativity. Through our research and industry engagement, we are uniquely positioned to help public and private sector organizations tackle important questions and solve complex challenges through the ethical and strategic use of AI. Additionally, our faculty can help eliminate unfounded fears about AI by helping media separate fact from fiction in their reporting.
Equipment and Integration
The Artificial Intelligence Research Laboratory wishes to thank NVIDIA and solutions provider Mark III Systems for their generous participation and partnership.
The Lab is proud to use a new generation of AI super-computing, the NVIDIA DGX Station A100. This dedicated resource provides maximum performance for multiple, simultaneous users anywhere in the world and offers data center technology without a data center or additional IT infrastructure.
Mark III Systems is a leading digital and IT transformation solutions provider with a long, rich history of providing "full stack" technology solutions to enterprises and service providers across North America.