AUM Organizational Chart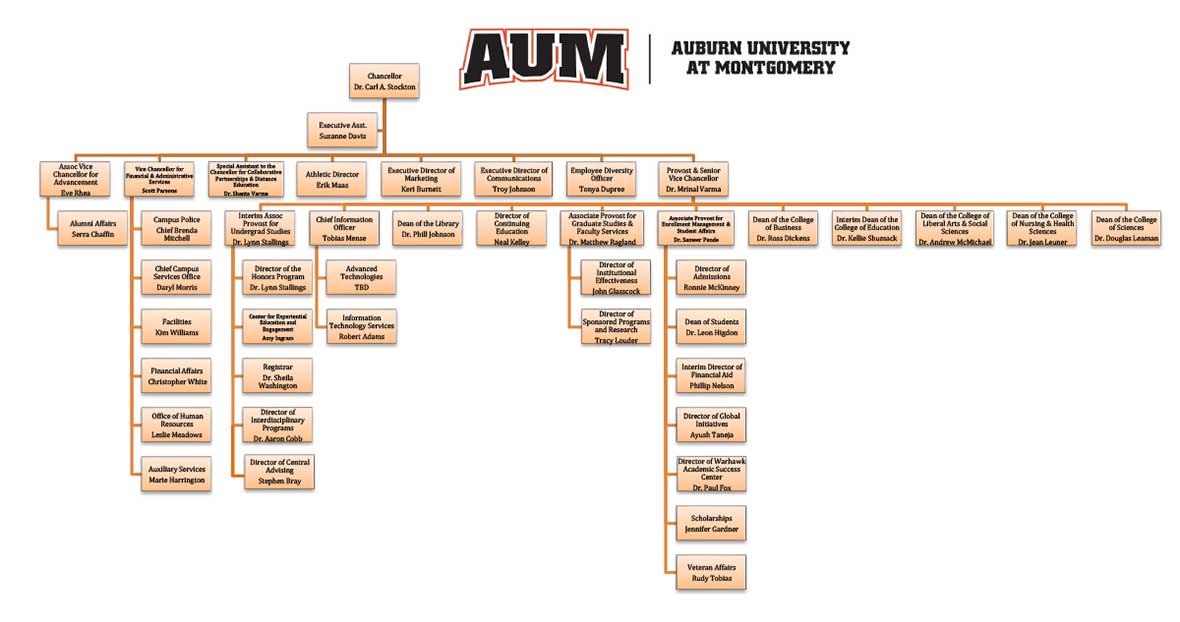 Committed to Being Prepared
Strategic Plan and Annual Report
Universities must be prepared to meet the needs of an ever-changing world. At Auburn University at Montgomery, we are not only preparing for the future; we are also helping to shape it through our teaching, research and community engagement.
Our 2018-2019 Annual Report highlights the ways in which AUM is fulfilling its mission and vision. Thanks to the dedication of our faculty, staff, students, alumni and community partners, our future has never looked brighter.
Auburn University at Montgomery is committed to providing exceptional instruction, community engagement, and research that secures the university's role as a leader in academic experience and collaboration with partners and stakeholders.
As Auburn University at Montgomery continues to grow enrollment, it has also earned its position among the universities in the region, attaining rankings by U.S. News and World Report and The Princeton Review, as well as being designated a Military Friendly School.
Building on our university's reputation and accomplishments, we have an extraordinary opportunity to shape our institutional priorities for the coming years and to focus our energies on the most pressing issues that we are best positioned to address. With a vision to lead and shape the future of higher education, the university's strategic plan presents a framework for our mission and vision, and articulates goals that are critical to Auburn University at Montgomery's future.
Administrative Information