Warhawk Weekly 2-23: Military Friendly Schools; Homecoming Week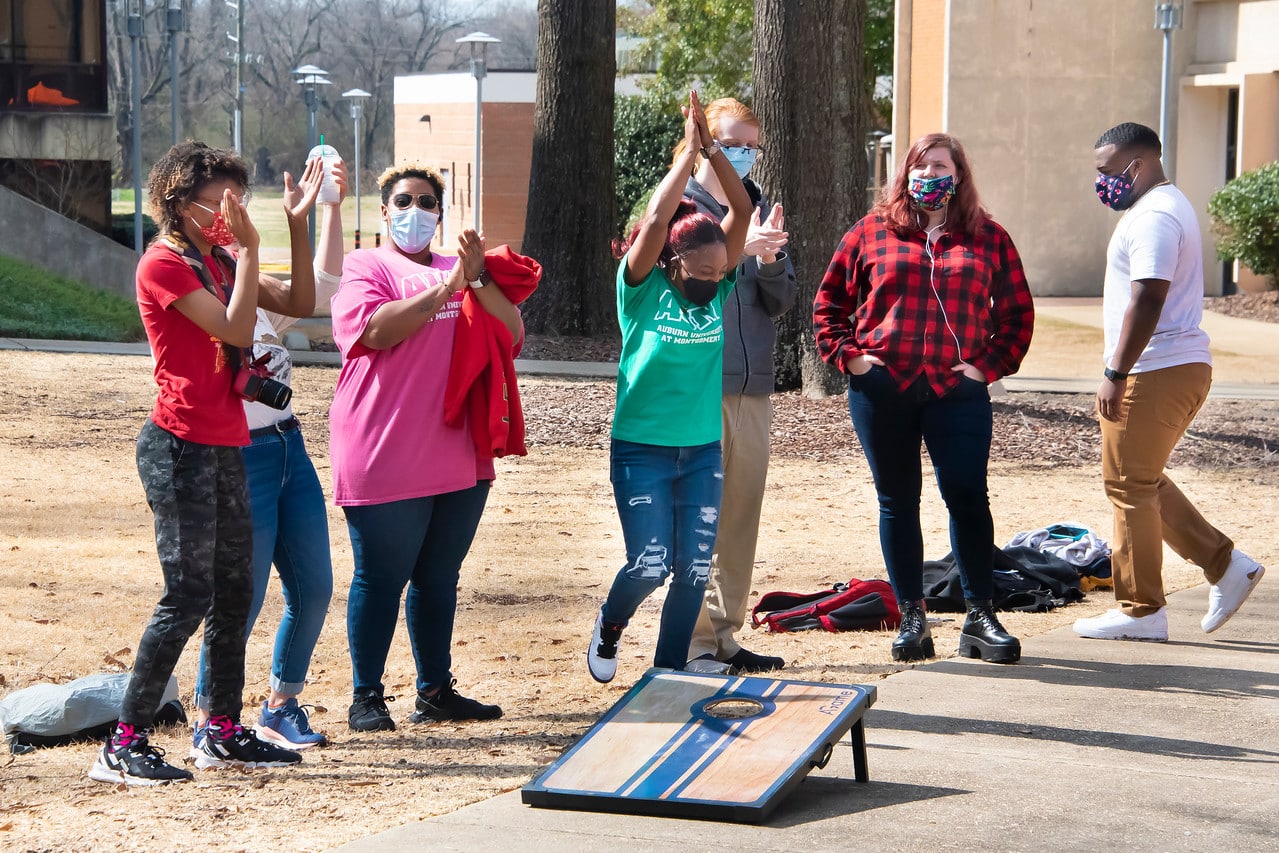 AUM recognized as 'Military Friendly' university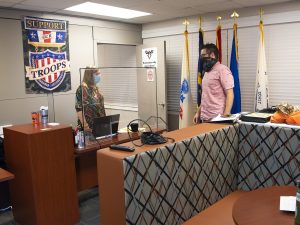 Auburn University at Montgomery recently earned recognition on Viqtory Media's 2021-2022 list of "Military Friendly Schools" marking the fourth consecutive year that AUM has received the distinction.
AUM earned "Silver Status" in the 2021-2022 rankings, the highest level among the state's small universities included in the survey. More than 1,200 colleges and universities participated in the survey.
"I am incredibly proud that Auburn University at Montgomery has once again been recognized as a Military Friendly School," AUM Chancellor Carl A. Stockton said. "AUM has a proud tradition of serving active duty military members and veterans, as well as their spouses and dependents. Over the course of the last few years, we have invested in new scholarship opportunities for veterans, military personnel and their families, and augmented the resources we offer to help them on their educational journeys."
In 2020, AUM dedicated a Veteran & Military Resource Center that serves as a "one-stop" shop for this unique student population. The center offers study space, as well as staff members who can assist with unique needs pertaining to benefits or services available to them. AUM's student population of 5,200 includes approximately 800 who are veterans and military-affiliated (including dependents).
Learn more about AUM's Military Friendly designation.
Back to the top
Keep up with Homecoming events
Homecoming 2021 features a full schedule that will also lead to full stomachs.
From lunch on the Quad to all-you-can-eat pasta night, there's plenty of food available in between the games, movies and Friday night Silent Disco.
Back to the top
Alumni direct conversation on 'Race & Politics'
Auburn University at Montgomery graduates (from left to right) Christian Crawford and Timothy Ragland will be featured as guest speakers during a Thursday forum, "Race & Politics: A Frank Conversation with Alumni" hosted by AUM's Southern Poverty Law Center and NAACP chapters.
The panel discussion is set to begin at noon. Campus community members can join in-person in Taylor Center 230 or virtually via Zoom.
Crawford, a former AUM SGA president, earned a Master of Theological Studies from Vanderbilt University's School of Divinity, with certificates in Black Church Studies and American Studies. He has extensive experience in the non-profit and political sectors. Ragland, a 2017 graduate, was elected as Talladega's first African-American mayor in October 2019.
Back to the top
Safe Zone training offered for students, employees
AUM Spectrum will offer a training and educational opportunity for students, faculty and staff on Friday. The virtual sessions will challenge assumptions and offer insight into LGBTQ+ identities.
Back to the top
Attend a virtual Higher Education Day
Students: Use your voices for advocacy. Make plans to attend virtual Higher Education Day on Friday! The annual event invites students and university representatives to remind Alabama's policy makers of the value of Alabama's universities and the importance of policy initiatives that broaden the impact of those universities.
Register now for Higher Education Day.
Back to the top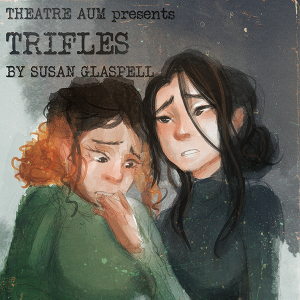 Catch a virtual showing of 'Trifles'
The show must go on, but the process of putting on the show looks different during a pandemic.
The creative folks at Theatre AUM have figured out a safe way to showcase the talents of our students, faculty, and staff. This week, you can enjoy webinar-hosted productions of "Trifles" by Susan Glaspell. Show times for Thursday, Friday and Sunday are 7:30 p.m. (attendees are asked to log in between 7:20 and 7:30). Or you can catch the finale on Sunday at 2 p.m.
Back to the top
University provides more than 1,200 COVID-19 vaccinations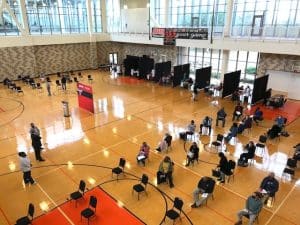 Last week, AUM administered approximately 1,200 Pfizer-BioNTech COVID-19 vaccines to community members who met Alabama Department of Public Health Phase 1A and 1B eligibility requirements.
Community members who reserved appointments at the Wellness Center over a two-day period included K-12 teachers, college educators, and residents of a local homeless mission, among others. Faculty and staff from the College of Nursing & Health Sciences and Warhawk Health Services led campus-based operation, which also drew on the support of faculty, staff and student volunteers from across campus.
Watch AUM In the News on WSFA.
Back to the top
Celebrating Black History Month
Auburn University at Montgomery's Office of Diversity & Inclusion and other campus units are offering a full range of activities to celebrate Black History Month this month.
Opportunities include a virtual discussion of the economic impact of the COVID-19 pandemic in the black community, as well as a short story study and a discussion of healthcare in the black community.
Visit AUM's online Events Calendar.
Back to the top
No computer, no problem
AUM Student Affairs has initiated a Laptop Loaner program for students who do not have access to a computer outside of classroom and lab settings. Devices are provided on a first-come, first-served basis.
Back to the top
Get ready to go All-In for AUM
Are you All-In for AUM?
AUM Athletics has set an ambitious but achievable goal: Earning the support of 150 donors for its 11 varsity programs. In less than a week, participation has crossed the halfway mark.
Let's get to the finish line! Let's go #AllinforAUM. Show your support for AUM Athletics!
Apply for a Continuing Merit Scholarship
Auburn University at Montgomery students who are in good standing and who have completed at least 9 hours of graduate or 12 hours of undergraduate coursework may be able to earn a Continuing Merit Scholarship. Applications are due by March 1.
Apply for a Continuing Merit Scholarship.
Back to the top
AUM Alumni Association Graduate Scholarship open to applicants
AUM graduate students who have completed at least nine credit hours and have a 3.4 grade point average or higher can apply for the Auburn University at Montgomery Alumni Association Graduate Merit Scholarship.
Applicants must complete an application form and submit a resume, letters of support and a 250-word essay by March 15.
Apply now for graduate scholarships.
Back to the top
COVID-19 Dashboard update
AUM will continue to provide weekly reporting on its COVID-19 dashboard with results of testing conducted through Warhawk Health Services and the Sentinel Testing program, as well as self-reported positive test results by students and employees to Student Affairs and Human Resources. Reporting will be updated each Monday.
In addition to wearing face masks on campus and observing social distancing, students and employees are encouraged to utilize the AUM Healthcheck symptom monitoring tool.
Back to the top
Enroll in Sentinel Testing program
You can help "Protect Your Nest" by enrolling in the Sentinel Testing Program.
Open to all AUM students and employees, the random Sentinel Testing Program identifies potential asymptomatic cases of COVID-19 and provides an extra layer of protection for roommates, friends, professors, staff members, and family members with whom you may interact. Testing will take place twice a week.
Create an account through the Verily platform.
Back to the top