Warhawk Weekly 9-19: U.S. News rankings; Durr Lecture Series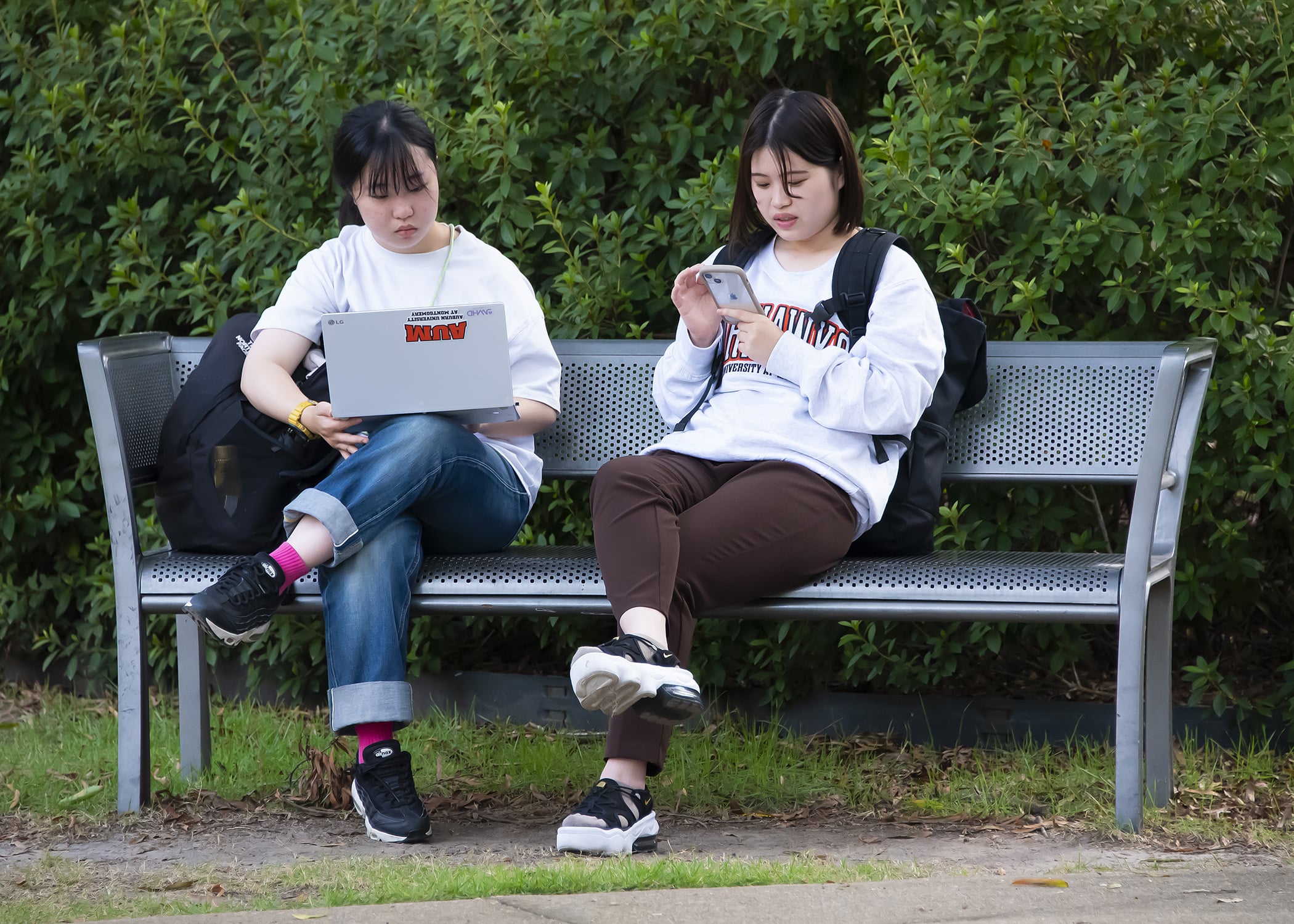 AUM maintains momentum in U.S. News rankings
Auburn University at Montgomery continues to be a university on the move in U.S. News & World Report's annual rankings of the nation's "Best Colleges."
AUM earned its best ranking ever in Monday's newly released survey, placing 29th among public regional universities in the South and 63rd overall in the category. AUM also earned Top 40 recognition among "Best Value Schools" in the South.
"We're honored to be recognized among the most outstanding public universities in the South," AUM Chancellor Carl A. Stockton said. "While we do not chase rankings, these results reflect the commitment and care our faculty and staff demonstrate daily in serving our students and helping them reach their full potential."
This year, AUM also earned recognition from Princeton Review as one of the best universities in the South and the Montgomery Advertiser's "Best of the Best" voting as the top university in Alabama's River Region for the sixth consecutive year. Viqtory Media ranked AUM No. 9 nationally among small public universities on its 2023-2024 "Military Friendly Schools" list – the sixth consecutive year AUM has earned recognition in the longest-running review of colleges serving military veterans and military-affiliated students.
Durr Lecture focuses on elusive concept of unity
As the 2024 election cycle nears, polarization remains a topic of interest to voters and political analysts alike.
AUM's 2023 Clifford & Virginia Durr Lecturer, Emmy- and Peabody Award-winning media contributor and political strategist Donna Brazile, will share her insights on "Moving Forward Together" on Thursday, Sept. 28, at 6 p.m. at the Alabama Shakespeare Festival.
Admission is free, but space is limited. Register today!
Business Breakfast Series highlights state's tourism boom
Since 2003, Alabama's annual tourism revenue has grown by a whopping $16 billion. Learn more about the factors that have fueled that boom, as well as emerging opportunities for the state, when Alabama Department of Tourism Director Lee Sentell speaks Wednesday morning at AUM's Chancellor's Business Breakfast Series event at the RSA Activity Center.
The event will begin at 7 a.m.
AUM international graduate shares secret to global success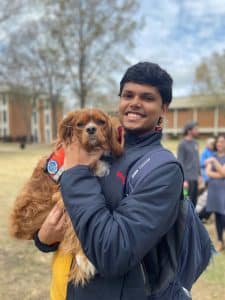 Born in New Delhi, India, Samar Khan traveled to the U.S. for the first time to earn a master's degree in accounting at AUM in Fall 2019.
"I was scared because I had never traveled outside of India before, and it was my first time living away from my family," he said. "But I had some good mentors on campus and learned to be a part of the campus community by joining student organizations and meeting new people."
Khan, who is now a senior accountant in AUM's Department of Financial and Administrative Services, will share his experience as an international student with the talk "Global Success with the WASC: Getting to Know U.S." from 12:30 p.m. – 1:30 p.m. Thursday, Sept. 21, in Taylor Center 230.
"I don't want to spend the entire hour giving a long speech," he said of his talk being hosted by AUM's Warhawk Academic Success Center (WASC). "I want to answer a lot of questions that international students may have about being a student here because AUM has lots of resources to help them succeed."
After graduating with a master's degree in accounting from AUM in Fall 2021, Khan, now 25, said he accepted a job in Philadelphia, Pennsylvania, with the global financial firm Deloitte as an auditor. In January 2023, he received the opportunity to return to AUM to work as a senior accountant.
"I decided to return to AUM because of the family environment here on campus," he said.  "I always loved every aspect of serving the AUM community, and I became well connected with the faculty so I decided to come home."
As a student, Khan was a member of the Accounting Club, president of the Indian Student Organization and a treasurer in Beta Alpha Psi, an honor society for accounting, finance and information systems students.
"I want international students on campus to know it's ok to be scared your first time away from home and your family, but to always use the vast resources AUM offers to help them when they feel they're in trouble or need help with their academics."
Khan earned his undergraduate degree in economics from Delhi University in India.
McDermott Art Gallery presents visiting artists
AUM's Cason McDermott Art Gallery will present a series of visiting artist exhibitions for Fall 2023 and Spring 2024 through February.
The gallery's Visiting Artist Exhibition features the following artists:
Artist Rich-Joseph Facun's exhibition "Black Diamonds" is currently on display through Sept. 28. An artist talk will be held on Wednesday, Sept. 27 at 11:30 a.m. in Taylor Center 221-223.
Artist Lauren Evans' exhibition "Alchemical Imagination" is set for Oct. 5-26. Her artist talk will be held on Wednesday, Oct. 25 at 11:30 a.m. in Taylor Center 221-222.
Artist Celestia Morgan's photography exhibition will be on view Feb. 1- March 7, with an artist talk on Wednesday, Feb. 28 at 11:30 a.m. in Taylor Center 221-223.
Facun's "Black Diamonds" exhibition can be viewed in the Cason McDermott Art Gallery in Goodwyn Hall 101. Facun is of indigenous Mexican and Filipino descent and his clients have included The New York Times and The Wall Street Journal. His series of photographs examine Ohio coal-mining towns. Facun, who works at Ohio University, set out to meet the people who lived in his community and has produced images that question Appalachian stereotypes.
The Civil Rights and Civic Virtue Society, the AUM Lectures Committee, and the Department of Fine Arts will host Facun for his artist talk. Lunch will be provided during the event.
To learn more about current and upcoming exhibitions, email [email protected] or call 334-244-3183.
Volleyball team faces road test in GSC opener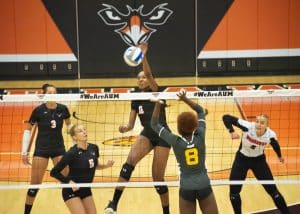 After winning six consecutive matches by 3-0 scores, the AUM volleyball team will open Gulf South Conference play on the road tonight against Mississippi College at 6 p.m.
Watch the match via livestream or follow the Warhawks via score updates.
AUM's men's and women's soccer teams will both open GSC play away from home, visiting Lee University on Friday and Shorter on Sunday.
AUM's men's and women's cross country teams are coming off strong performances at last week's Southern Showcase in Huntsville. Freshman Basil Koech paced the men to a 13th place overall finish with a school-record time of 24:49. On the women's side, freshman Adley Burkes ran the ninth-fastest time in program history as the Warhawks finished 20th.
CLASS Film Series features Keaton classic
Looking for a fun break between classes? Drop by Goodwyn Hall 111 on Wednesday, Sept. 20, at noon for the next installment in the College of Liberal Arts & Social Sciences' Film Series.
The next film in the series is Buster Keaton's 1920 short classic, "The Scarecrow." Popcorn and drinks will be provided. Faculty member Robert Klevay will lead the discussion after the 20-minute screening.
Celebrate Hispanic Heritage Month
In honor of National Hispanic Heritage Month, which runs through October 15, History & World Cultures Senior Lecturer Patricia Barragan and her students are sharing their appreciation of the Spanish language and culture with the AUM community.
Nominate a professor for the Faculty Service Award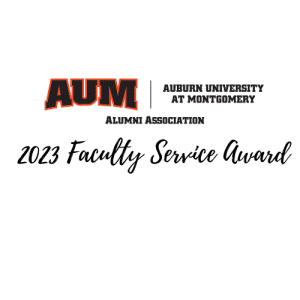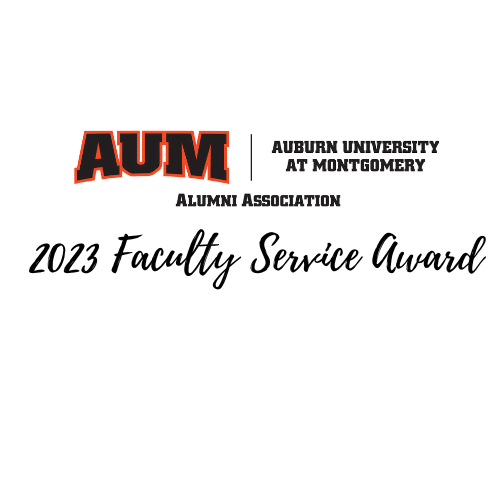 Faculty members elevate our university and play an important role in helping our students succeed. Every year, the AUM Alumni Association's Faculty Service Award recognizes faculty for their outstanding contributions and service to the university.
Nominations are currently being accepted for the 2023 AUM Faculty Service Award. To be eligible for the $1,000 honor, faculty members must have five or more years of full-time service at AUM.
AUM faculty, staff, students, alumni and friends can submit nominations through September 29, 2023. Nomination letters should be no more than two pages in length, should emphasize teaching excellence, as well as a strong record of service to the university and community. A vita may be attached, if available.
Send nomination letters via email to the Alumni Association Awards Committee.
Learn more about Faculty Service Awards.
If you have questions, email [email protected] or call 334-244-3369.
Faculty workshop offers chance to teach, learn 'outside the box'
AUM faculty from all disciplines will have an opportunity to learn about "Teaching and Learning Outside the Box" thanks to the College of Sciences and a grant from the Howard Hughes Medical Institute.
A workshop will be held Friday, Sept. 22, from 9:30 a.m. to 2 p.m. in Taylor Center 223 and 230, respectively. Faculty may register by contacting Chelsea Ward at [email protected].
The identical sessions will explore the following themes:
Teaching for our brains
Designing class time for engagement
So you want your students to write?
Supporting our students inside and outside the classroom
Designing assignments for integrity
Didn't they learn that in UNIV?
After the workshops, faculty will be invited to sign up for working groups and clinics with facilitators to explore different themes more deeply. Faculty who complete four to six themes will receive a $400 stipend and will be eligible to apply for a sponsored course redesign. Sponsored faculty will be able to receive a $1,500 stipend to redesign their course in the summer. Course redesign proposals must include at least two of the themes participants have engaged with over the course of the year and provide an overview of how they will engage with facilitators to support redesign.
Get updates on campus events
There's an easy way to keep up with all of the fun events offered on our campus. Enroll in AUM365 and get the 4-1-1 from Curtiss The Warhawk himself. Text curti$$ to 334-398-6025 to receive reminders about upcoming happening.