Warhawk Weekly 9-12: Business Breakfast Series; CLASS Film Series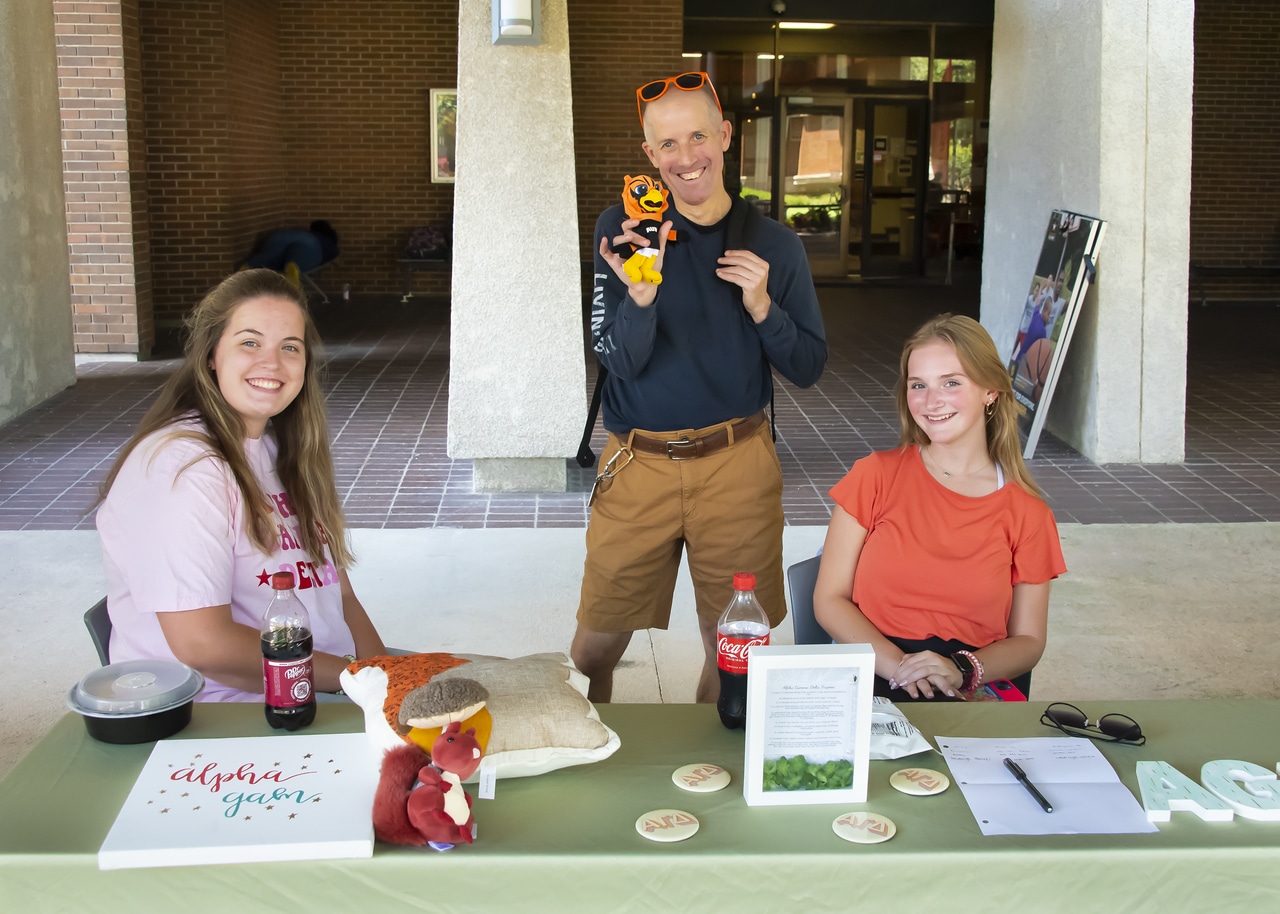 Business Breakfast Series to feature state tourism director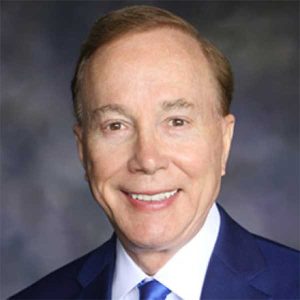 As director of the Alabama Department of Tourism, Lee Sentell has overseen tourism revenue growth in the state from $6 billion in 2003 to $22 billion in 2022.
Attendees of AUM's upcoming Chancellor's Business Breakfast Series event on Wednesday, Sept. 20, at the RSA Activity Center, will have an opportunity to learn more about what has driven growth and what may help bring more visitors to the state.
CLASS Film Series continues with 'The Scarecrow'
AUM's Department of English and Philosophy will host a screening of the film "The Scarecrow" on Wednesday, Sept. 20.
The screening of the adaptation of Buster Keaton's "The Scarecrow (1920)," will be from noon – 1 p.m. in Goodwyn Hall 111. The movie focuses on a young man who competes with his roommate for the hand of a young woman in this early slapstick comedy.
English and Philosophy faculty member Robert Kelvay will introduce the film. Popcorn and drinks will be provided during the event.
"The Scarecrow" is one of three films featured in the College of Liberal Arts and Social Sciences' Fall 2023 "CLASS Film Series." The CLASS Film Series was established to highlight the variety of human conditions that impact our societies. The series features three films each semester and is open to students, faculty, staff, and community members.
For the series' third film this Fall semester, AUM's Department of Communication & Theatre will host a screening of the "The Post" from 6- 8 p.m. in Goodwyn Hall 110 on Tuesday, Oct. 10.
"The Post" depicts the battled attempts by journalists at The Washington Post to publish the infamous Pentagon Papers, a set of classified documents regarding the 20-year involvement of the United States government in the Vietnam War and earlier in French Indochina dating back to the 1940s.
Communication & Theatre faculty member Matthew Killmeier will give a brief introduction of the film. Dinner will be served on a first-come, first-serve basis. Popcorn and drinks also will be provided.
AUM celebrates Constitution Day with voting rights panel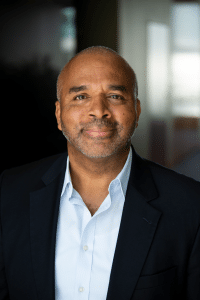 Sweeping attempts to limit Americans' access to the ballot box through voter suppression laws and recent legal challenges to the Voting Rights Act will be the focus of Auburn University at Montgomery's 2023 Constitution Day celebration.
AUM's Department of Political Science and Public Administration will celebrate the 236th anniversary of the nation's founding document with the panel discussion "Voting Rights in Alabama & Beyond" on Thursday, Sept. 21, from 6-7:30 p.m. in Goodwyn Hall 110.
Panel members are AUM Associate Professor of Political Science David Hughes, University of Alabama School of Law Professor Bryan Fair, and Southern Poverty Law Center Senior Staff Attorney Jess Unger.
"We're focusing on voting rights for this year's Constitution Day event because it's a very salient civil rights issue as several states have passed legislation making it more difficult to exercise the right to vote after the last contested presidential election in 2020," said Pia Knigge, assistant professor of political science and the event's organizer.
Reserve your seat for the Durr Lecture Series
Don't forget to reserve your seat for the 2023 Clifford & Virginia Durr Lecture featuring Emmy- and Peabody Award-winning media contributor, veteran political strategist and New York Times bestselling author Donna Brazile on Thursday, Sept. 28.
Admission is free, but space is limited at the Alabama Shakespeare Festival. The event will begin at 6 p.m. Guests are encouraged to register in advance.
Brazile will discuss the process of building unity in an era of polarization, as well as the role of civil liberties and civic virtue in society.
Brazile currently serves as a member of the Democratic National Committee's Rules and Bylaws Committee and has contributed to a variety of media outlets, including ABC News, USA Today and The Grio. She ran the campaign of former Vice President Al Gore and served as interim chair of the DNC, as well as its Voting Rights Institute. Her books include the 2004 best-selling memoir, "Cooking with Grease: Stirring the Pots in American Politics," and the 2017 New York Times best-seller "Hacks: The Inside Story of the Break-Ins and Breakdowns That Put Donald Trump in the White House."
Earn a scholarship in the Durr Essay Contest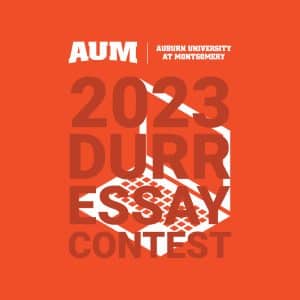 There's still time to compete for a $1,000 scholarship in the 2023 Durr Essay Contest.
Student entrants must submit essays to [email protected] by 11:59 p.m. on Sept. 15.
Second- and third-place students will receive $500 scholarships.
Learn more about the required essay topic, format and other rules.
'Re-cycle' your old bike for Theatre AUM
Theatre AUM is seeking old bicycles or tricycles and/or bicycle parts (wheels, handlebars, pedals, etc.) to create a collage/sculpture for the scenic design for its upcoming production of "Red Bike" by Caridad Svich. Pick-up of bikes and parts can be arranged as soon as possible.
The show will run from October 5-7 and 12-14 and 7:30 p.m. and October 15 at 2 p.m.
To donate a bike or bicycle parts, contact Michael Krek at [email protected].
Volunteer at AUM Forest Restoration Workday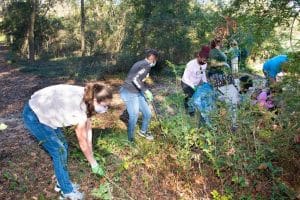 AUM's Rural History & Ecology Research Institute (RHERI) will host a Restoration Workday to clear invasive plants from the university trailhead on Saturday, September 16, from 9 a.m. to noon.
The forested areas of campus feature a variety of invasive plants, including privet, mimosa, Bradford pears, and popcorn trees. The RHERI will host monthly workdays to remove these plants. To participate as a volunteer, join the RHERI team at the bridge leading to the forest.
Bring water and wear closed-toe shoes and appropriate clothing for the outdoors. Long pants and sleeves are recommended.
For more information, email Chelsea Ward at [email protected].
Keep up with AUM soccer, volleyball, and cross country
This week, cheer on AUM soccer, volleyball, and cross-country teams at home and away games.
Get ready to watch live action of the men's soccer team playing Carson-Newman University on Wednesday, September 13, at 1 p.m. at the AUM Soccer Complex.
Also, show your Warhawk spirit at a series of upcoming women's soccer games this week. Women's soccer will play against Valdosta State University on Friday, September 15, at 5 p.m. and the University of West Georgia on Sunday, September 17, at 1 p.m. Both games will be played at the AUM Soccer Complex.
After competing in the 2023 Rollins College Invitations, volleyball will play at home against Miles College on Thursday, September 14, at 6 p.m. and Albany State University on Friday, September 15, at 7 p.m. Volleyball will face off with Edward Waters University on Saturday, September 16, at 5:30 p.m. AUM volleyball home games are played at the AUM Athletics Complex.
Get live results of AUM's men's and women's cross country teams playing at the Southern Showcase, a two-day cross country meet, on Friday, September 15, in Huntsville.
Nominate a professor for the Faculty Service Award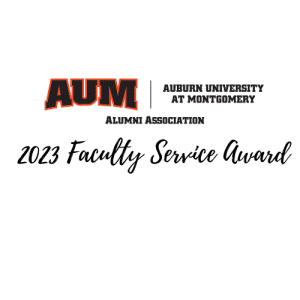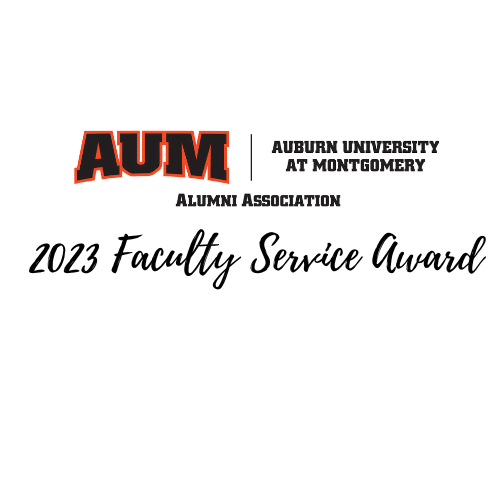 Faculty members elevate our university and play an important role in helping our students succeed. Every year, the AUM Alumni Association's Faculty Service Award recognizes faculty for their outstanding contributions and service to the university.
Nominations are currently being accepted for the 2023 AUM Faculty Service Award. To be eligible for the $1,000 honor, faculty members must have five or more years of full-time service at AUM.
AUM faculty, staff, students, alumni and friends can submit nominations through September 29, 2023. Nomination letters should be no more than two pages in length, should emphasize teaching excellence, as well as a strong record of service to the university and community. A vita may be attached, if available.
Send nomination letters via email to the Alumni Association Awards Committee.
Learn more about Faculty Service Awards.
If you have questions, email [email protected] or call 334-244-3369.
Faculty workshop offers chance to teach, learn 'outside the box'
AUM faculty from all disciplines will have an opportunity to learn about "Teaching and Learning Outside the Box" thanks to the College of Sciences and a grant from the Howard Hughes Medical Institute.
A workshop will be held Friday, Sept. 22, from 9:30 a.m. to 2 p.m. in Taylor Center 223 and 230, respectively. Faculty may register by contacting Chelsea Ward at [email protected].
The identical sessions will explore the following themes:
Teaching for our brains
Designing class time for engagement
So you want your students to write?
Supporting our students inside and outside the classroom
Designing assignments for integrity
Didn't they learn that in UNIV?
After the workshops, faculty will be invited to sign up for working groups and clinics with facilitators to explore different themes more deeply. Faculty who complete four to six themes will receive a $400 stipend and will be eligible to apply for a sponsored course redesign. Sponsored faculty will be able to receive a $1,500 stipend to redesign their course in the summer. Course redesign proposals must include at least two of the themes participants have engaged with over the course of the year and provide an overview of how they will engage with facilitators to support redesign.
Get updates on campus events
There's an easy way to keep up with all of the fun events offered on our campus. Enroll in AUM365 and get the 4-1-1 from Curtiss The Warhawk himself. Text curti$$ to 334-398-6025 to receive reminders about upcoming happening.