Warhawk Weekly 8-29: Author's Talk; Princeton Review recognition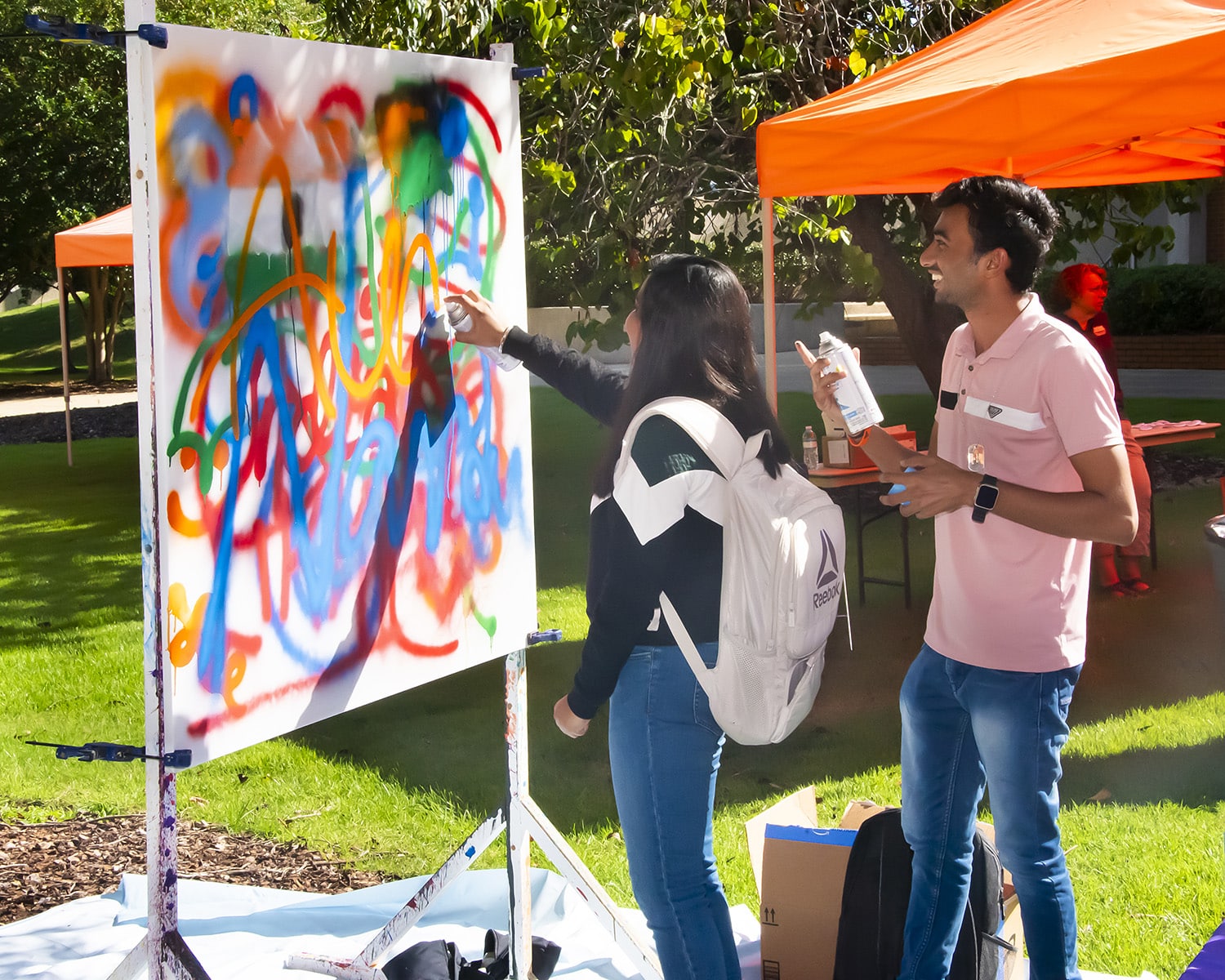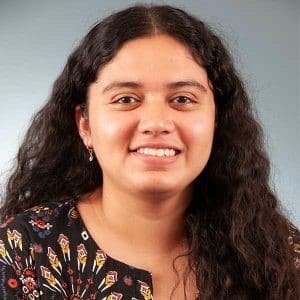 Law enforcement officers face immense pressure on the job and are inherently exposed to on-the-job risks more often than most professions.
Recent police shootings of unarmed minorities and the psychological state of officers when responding to crime has been under debate by many Americans, including law enforcement officials and policymakers.
"It's better to view cops as human beings first, and to see the different sides of them," said AUM clinical psychology graduate student Shubhangi Singh, whose recent book, "Behind the Uniform: Not Just a Cop," explores the daily psychological stress and mental health of officers in India as a global issue, and from a personal perspective.
AUM's Office of the Provost will host an Author's Talk with Singh to discuss her book on Thursday, Sept. 7, at 6:30 p.m. in Taylor Center 230. The event is free and open to the public.
"I grew up in a paramilitary family. My dad was in the paramilitary, so I had to move all over India," said Singh, whose father, Rakesh Kumar Singh, is listed as a co-author on her book. "I changed like 12 schools and had to learn different languages, so this is what interested me in learning more about the people working in the paramilitary, the stress they experience, and the everyday risk of it. But it's not just about them. It's also about their families and how their lives are shifted."
In her book, Singh examines the inner workings of India's Central Armed Police Forces, cops' historical role in Indian society, and how the work-life balance of officers can impact their families, as well as their mental and psychological health.
"We just see one side of the men [and women] who serve as cops from media and through how movies show them, but we need to see every aspect of them," she said. "It's not fair to just show one side of them and not look at the other aspects."
Princeton Review recognizes AUM as one of South's best
The Princeton Review has included AUM among the Best Colleges in the South for 2024.
What makes inclusion on the list especially noteworthy is that The Princeton Review's assessment relies on student surveys. Among the comments from AUM students surveyed in the past year were:
AUM has professors who "truly care for your success and will help you in any way." Faculty represents "one of the best parts of AUM. … They don't teach just for the paycheck — they care." AUM is "one of the gems of the South in that it is much more diverse than many other places in the area."
And, finally, "You go to [AUM] with your eyes on the prize, ready to work and get your degree."
Women's soccer kicks off season Thursday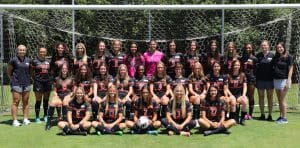 AUM's fall sports season kicks off Thursday as the women's soccer team hosts Florida Tech at 5 p.m.
The opening match will celebrate Faculty & Staff Appreciation Day. Students who attend the match will also receive free food.
Idalia could impact Montgomery region
According to the National Weather Service, Idalia has strengthened into a hurricane and has entered into the southeastern Gulf of Mexico. Idalia will continue tracking northward today and rapidly strengthen into a major hurricane overnight and into the early morning hours on Wednesday.
Forecasts from the National Hurricane Center indicate Idalia will be in a relatively close proximity to Central Alabama and could impact the Montgomery area. There is a chance of an increase in rain and some breeziness with wind gusts less than 30 mph that may occur on Wednesday.
AUM will continue normal operations and will monitor the weather conditions through Wednesday.
All Warhawks are encouraged to follow local media sources for weather information and to be aware of potential shelter locations within residence halls and other campus buildings.
Information about tornado warnings or other immediate or ongoing threats to campus will be conveyed through AUM Alert. Register for notifications by text, email, and voice call through the AUM Alert home page.
AUM Alert test scheduled for Friday
AUM Police and Public Safety will conduct a test of the AUM Alert emergency notification system on Friday, September 1. The test is scheduled for mid-day in order to minimize potential disruptions to classes and other campus activities.
Students, faculty, staff, parents and others who are registered for the AUM Alert system can expect to receive email, text and voice call push notifications labeled as a "Test."
Members of the campus community who have not yet registered for the AUM Alert system are encouraged to do so since that is the university's primary mechanism for sharing timely information about public safety issues, severe weather and other emergencies.
You can check and update your contact information for AUM Alert in MyAUM
Our AUM Alert FAQs provides background about how the system functions
Celebrating College Colors Day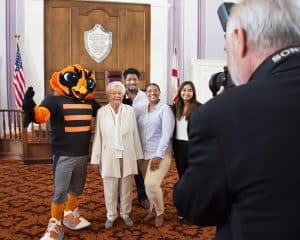 Don't forget to wear your orange and black on Friday.
Curtiss The Warhawk joined mascots from Alabama's public colleges and universities at the capital last week as Gov. Kay Ivey signed a proclamation declaring Friday, Sept. 1, as College Colors Day in Alabama.
The proclamation designates the occasion as a time to celebrate the state's public universities and their role in improving the lives of students and the state. According to the Higher Education Partnership, individuals with bachelor's degrees earn more than $1 million more over the course of their lifetimes than those with lower levels of education.
Faculty workshops focus on teaching, learning 'out of the box'
AUM faculty from all disciplines will have an opportunity to engage in campus-based professional development through workshops offered by the College of Sciences.
Sessions focused on "Teaching and Learning Out of the Box" will be held Friday, Sept. 8, from 11 a.m. to 3:30 p.m., and Friday, Sept. 22, from 9:30 a.m. to 2 p.m. in Taylor Center 223 and 230, respectively. The workshops are supported by a grant by the Howard Hughes Medical Institute. Faculty may register by contacting Chelsea Ward at [email protected].
The identical sessions will explore the following themes:
Teaching for our brains
Designing class time for engagement
So you want your students to write?
Supporting our students inside and outside the classroom
Designing assignments for integrity
Didn't they learn that in UNIV?
After the workshops, faculty will be invited to sign up for working groups and clinics with facilitators to explore different themes more deeply. Faculty who complete four to six themes will receive a $400 stipend and will be eligible to apply for a sponsored course redesign. Sponsored faculty will be able to receive a $1,500 stipend to redesign their course in the summer. Course redesign proposals must include at least two of the themes participants have engaged with over the course of the year and provide an overview of how they will engage with facilitators to support redesign.
Nominate a professor for the Faculty Service Award
Faculty members elevate our university and play an important role in helping our students succeed. Every year, the AUM Alumni Association's Faculty Service Award recognizes faculty for their outstanding contributions and service to the university.
Nominations are currently being accepted for the 2023 AUM Faculty Service Award. To be eligible for the $1,000 honor, faculty members must have five or more years of full-time service at AUM.
AUM faculty, staff, students, alumni and friends can submit nominations through September 29, 2023. Nomination letters should be no more than two pages in length, should emphasize teaching excellence, as well as a strong record of service to the university and community. A vita may be attached, if available.
Send nomination letters via email to the Alumni Association Awards Committee.
Learn more about Faculty Service Awards.
If you have questions, email [email protected] or call 334-244-3369.
Sign up for AUM intramurals
Students interested in playing intramural volleyball, flag football, 3-on-3 basketball, tennis, frisbee golf, cricket, badminton or e-sports (Madden, NBA, FIFA) can register now through the IMLeagues mobile app.
Get updates on campus events
There's an easy way to keep up with all of the fun events offered on our campus. Enroll in AUM365 and get the 4-1-1 from Curtiss The Warhawk himself. Text curti$$ to 334-398-6025 to receive reminders about upcoming happening.