Warhawk Weekly 8-22: Welcome new students; Research finds solution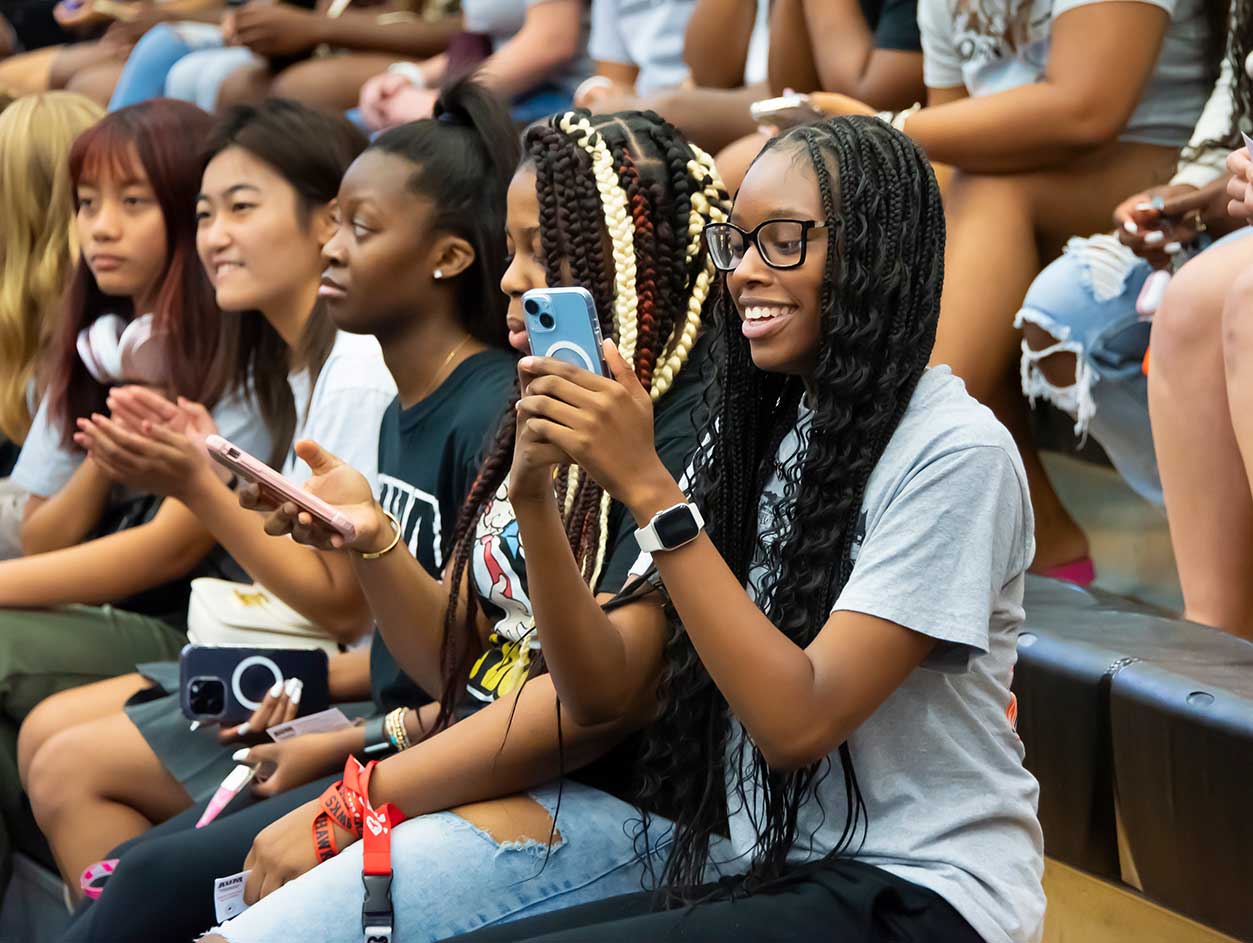 New students challenged to be bold in writing their 'story'
AUM celebrated the arrival of several hundred incoming students and introduced them to some of the university's traditions last Friday during New Student Convocation.
In addition to receiving Warhawk pins and dancing to the Jammin' Warhawks faculty and staff band, new students received insights about the AUM experience from SGA President Sierra Powell and Distinguished Teaching Professor of Innovation & Strategy Donald Amoroso.
Amoroso described AUM to the new students as "a place that will change you."
"AUM is filled with awesome people, with varied backgrounds and experiences, and you'll have a level of proximity and access to faculty and other students while you are here," he told them. "Take advantage of that."
Powell, a junior social work major from Montgomery, challenged her new classmates to use college as an opportunity to "write your own story."
"While you are your author and the publicist, your story will be told by the legacy you leave behind for future Warhawks to walk in your path," she said. "You are the one who writes your story knowing that you don't choose who reads it."
Counting its new incoming class, AUM's Fall 2023 enrollment at the start of the semester is in excess of 5,100.
AUM researcher finds solution for lowering U.S. suicide rates
AUM researcher Agnitra Roy Choudhury, assistant professor of economics, recently published a study addressing suicide mortality in the U.S. and the nation's shortage of mental health care providers.
His study on the "Effects of giving psychologists prescriptive authority: Evidence from a natural experiment in the United States" suggests that with proper training, more psychologists should be granted prescriptive authority for psychotropic medications — such as antidepressants, anti-anxiety medications, stimulants, antipsychotics, and mood stabilizers — to help lower suicide rates in U.S cities. He conducted the study with co-principal researcher Alicia Plemmons at West Virginia University.
The authors found that suicide rates decreased by 5-7 percent in states that expanded prescriptive authority for psychologists. In the U.S., six states — New Mexico, Louisiana, Idaho, Illinois, Iowa and Colorado — and the U.S. Department of Defense have granted licensed psychologists prescriptive authority.
"Suicide is among the leading causes of death in the U.S. Other high-income countries also report high suicide rates," Roy Choudhury said. "Mortality due to suicide is projected to increase post coronavirus pandemic. To make matters worse, there is a significant shortage of mental health care providers in the U.S., particularly of psychiatrists. This study sheds light on a specific policy design that can help alleviate this issue."
Stay hydrated, stay safe during extreme heat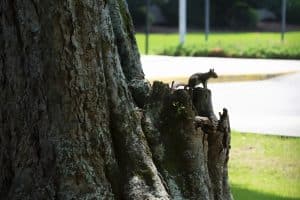 According to the National Weather Service, the Montgomery region will experience its hottest temperatures of the year thus far between today and Saturday.
Afternoon high temperatures are expected to hit 100 degrees or above, with heat indices as high as 110 degrees. Members of the campus community are reminded to take precautions during the extreme conditions:
Drink plenty of fluids to stay hydrated
Avoid high-energy or outdoor activities during mid-day heat, if possible
If you're outside, find shade. Wear a hat wide enough to protect your face
Watch for warning signs of heat exhaustion and heat stroke
CLASS Film Series opens Friday with "MONSTER"
The College of Liberal Arts and Social Sciences' Fall 2023 "CLASS Film Series" opens Friday night with a screening of the film "MONSTER," a 2003 crime drama based on the true story of Aileen Wuornos, one of America's first female serial killers.
Hosted by the Department of Criminal Justice, the movie focuses on the nine-month period between 1989 and 1990 when Wuornos began murdering her clientele.
The free event will be held from 7-9 p.m. on the Quad. Bring your blanket and chairs.
Chick-Fil-A will be served to the first 50 individuals on a first-come, first-serve basis. Popcorn and drinks also will be provided. In the event of rain, the film will be shown in the Taylor Center.
Criminal justice faculty members Courtney Waid and Sarah Napper will provide a brief introduction of Friday's film.
---
The Fall 2023 "CLASS Film Series" also will feature screenings for the following:
"The Scarecrow."  The Department of English and Philosophy will host a screening of the film from noon – 1 p.m. on Wednesday, Sept. 20 in Goodwyn Hall 111.
An adaptation of Buster Keaton's "The Scarecrow," the movie focuses on a young man who competes with his roommate for the hand of a young woman in this early slapstick comedy.
English and philosophy faculty member Robert Klevay will introduce the film. Popcorn and drinks will be provided.
---
"The Post." The Department of Communication & Theatre will host a screening of the film from 6 – 8 p.m. Tuesday, Oct. 10 in Goodwyn Hall 110.
The film depicts the battled attempts by journalists at The Washington Post to publish the infamous Pentagon Papers, a set of classified documents regarding the 20-year involvement of the United States government in the Vietnam War and earlier in French Indochina dating back to the 1940s.
Communication & Theatre faculty member Matthew Killmeier will give a brief introduction of the film.
Dinner will be served on a first-come, first-serve basis. Popcorn and drinks also will be provided.
Meet the 2024 Athletics Hall of Fame class
AUM Athletics' 2024 Hall of Fame class includes a former national player of the year, as well as coaches and athletes responsible for five national championships and several school records.
The 15th Hall of Fame class, which will be honored during a March 2024 ceremony, includes:
Jatoria Carter, women's basketball
Vignir Johannesson, men's soccer
Brad Moody, meritorious service
Taylor Powell, softball
Chris Steiner, former softball coach
Rolando Vargas, former men's and women's tennis coach
Faculty workshops focus on teaching, learning 'out of the box'
AUM faculty from all disciplines will have an opportunity to engage in campus-based professional development through workshops offered by the College of Sciences.
Sessions focused on "Teaching and Learning Out of the Box" will be held Friday, Sept. 8, from 11 a.m. to 3:30 p.m., and Friday, Sept. 22, from 9:30 a.m. to 2 p.m. in Taylor Center 223 and 230, respectively. The workshops are supported by a grant by the Howard Hughes Medical Institute. Faculty may register by contacting Chelsea Ward at [email protected].
The identical sessions will explore the following themes:
Teaching for our brains
Designing class time for engagement
So you want your students to write?
Supporting our students inside and outside the classroom
Designing assignments for integrity
Didn't they learn that in UNIV?
After the workshops, faculty will be invited to sign up for working groups and clinics with facilitators to explore different themes more deeply. Faculty who complete four to six themes will receive a $400 stipend and will be eligible to apply for a sponsored course redesign. Sponsored faculty will be able to receive a $1,500 stipend to redesign their course in the summer. Course redesign proposals must include at least two of the themes participants have engaged with over the course of the year and provide an overview of how they will engage with facilitators to support redesign.
Get involved in AUM intramurals
Students interested in playing intramural volleyball, flag football, 3-on-3 basketball, tennis, frisbee golf, cricket, badminton or e-sports (Madden, NBA, FIFA) can register now through the IMLeagues mobile app.
Nominate a professor for the Faculty Service Award
Faculty members elevate our university and play an important role in helping our students succeed. Every year, the AUM Alumni Association's Faculty Service Award recognizes faculty for their outstanding contributions and service to the university.
Nominations are currently being accepted for the 2023 AUM Faculty Service Award. To be eligible for the $1,000 honor, faculty members must have five or more years of full-time service at AUM.
AUM faculty, staff, students, alumni and friends can submit nominations through September 29, 2023. Nomination letters should be no more than two pages in length, should emphasize teaching excellence, as well as a strong record of service to the university and community. A vita may be attached, if available.
Send nomination letters via email to the Alumni Association Awards Committee.
Learn more about Faculty Service Awards.
If you have questions, email [email protected] or call 334-244-3369.
Get updates on campus events
Did you miss last week's Dodgeball Tournament hosted by AUM Athletics? There's an easy way to keep up with all of the fun events offered on our campus. Enroll in AUM365 and get the 4-1-1 from Curtiss The Warhawk himself. Text curti$$ to 334-398-6025 to receive reminders about upcoming happening.