Warhawk Weekly 3-23: Spring Commencement; Mentor Collective Scholarship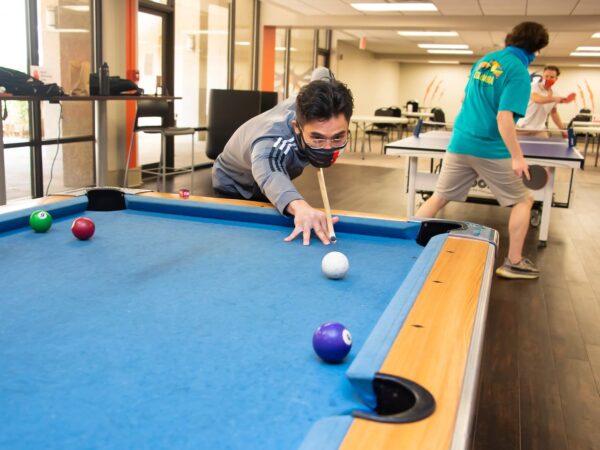 Schedule set for Spring 2021 commencement
Auburn University at Montgomery will celebrate its Spring Class of 2021 on Saturday, May 8, in a pair of commencement ceremonies at the Multiplex at Cramton Bowl (220 Hall Street).
The schedule for each session is as follows:
10 a.m.: College of Education, College of Liberal Arts & Social Sciences, College of Nursing & Health Sciences
2 p.m.: College of Business, College of Sciences
Due to the larger than normal graduating class this semester and the current guidance from public health experts, social distancing and masks will be required during the commencement ceremony. Each graduate will be limited to no more than five guests.
Learn more about Spring commencement.
Back to the top
Silva earns nationally competitive Mentor Collective scholarship
Vanessa Silva, a sophomore pre-nursing major, is one of five students nationally who have been selected as 2021 Mentor Collective Scholarship recipients.
In 2020, AUM entered a partnership with Mentor Collective to match on-campus peer mentors with university transfer students to help them stay on track for graduation. Students also learn what to expect in school, how to approach challenges, and gain career advice and insights. Mentors build their networks and develop skills to become better professionals and leaders.
Silva serves as a mentor to six students in AUM's Department of Psychology, working with them academically, personally and professionally.
Back to the top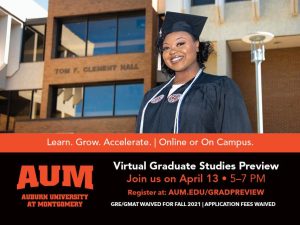 Join us for Virtual Grad Preview Night
Students who are close to completing their bachelor's degrees should make plans to join us for our Virtual Graduate Studies Preview event on April 13.
The online event will help you learn about our master's degree and doctoral programs, as well as the value they offer in your professional and academic growth.
Back to the top
'Diseases & History' lectures offer look at past plagues
Faculty members from the Department of History, World Languages and Cultures will offer a series of spring semester lectures focused on "Diseases and History." These virtual events will contextualize a variety of plagues and pandemics.
The remaining schedule includes:
Thursday, March 25
5 p.m.-6 p.m.
Dr. Michael Burger (History & World Cultures) will discuss the "Black Death"
Zoom Link: https://auburn.zoom.us/j/87393118656
Wednesday, April 7
Noon
Dr. Ben Severance (History & World Cultures) will discuss the diseases that ravaged Civil War battlefields
Zoom Link: https://auburn.zoom.us/j/89769574501
Wednesday, April 21
6 p.m.-8 p.m.
Screening of the movie "The Painted Veil" in Goodwyn Hall 109
Back to the top
Challenging white supremacy: Roots and responses
University of Alabama professors Bryan Fair and Richard Fording will discuss the history and roots of white supremacy and nationalism, as well as appropriate strategies to combat the threats they pose, during an April 6 event co-hosted by AUM's Southern Poverty Law Center on Campus and NAACP chapters.
Fair serves as the Thomas E. Skinner Professor of Law, while Fording is the Marilyn Jones Elmore and John Durr Elmore Endowed Professor of Political Science.
Scan the QR code in the event poster to receive a Zoom link, or join in-person in Goodwyn Hall 112.
Back to the top
Connect with your advisor
Connect with your academic advisor and get your Summer and Fall schedule on track by utilizing Degree Works.
Back to the top
Become a 'friend' of Curtiss
Are you good with people, full of spirit, and comfortable being the center of attention?
You could become a "friend" of Curtiss The Warhawk. Show your school spirit and mascot skills.
If you think you can fill Curtiss' extra-large orange sneakers, or if you prefer to help manage his many requests, complete an application.
Back to the top
Get involved with Campus Activities Board
Want to help create a sense of community for your fellow students?
Join AUM's Campus Activities Board, a "by students, for students" organization focused on developing campus events.
Back to the top
Enroll in Sentinel Testing program
You can help "Protect Your Nest" by enrolling in the Sentinel Testing Program.
Open to all AUM students and employees, the random Sentinel Testing Program identifies potential asymptomatic cases of COVID-19 and provides an extra layer of protection for roommates, friends, professors, staff members, and family members with whom you may interact. Testing will take place twice a week.
In order to be elected for the Sentinel Testing program, you must create an account through the Verily platform.
Back to the top
COVID-19 dashboard update
AUM will continue to provide weekly reporting on its COVID-19 dashboard with results of testing conducted through Warhawk Health Services and the Sentinel Testing program, as well as self-reported positive test results by students and employees to Student Affairs and Human Resources. Reporting will be updated each Monday.
In addition to wearing face masks on campus and observing social distancing, students and employees are encouraged to utilize the AUM Healthcheck symptom monitoring tool.
Back to the top
Let Curtiss slide into your texts
Keep up with campus activities via text message. Enroll in AUM365 and get the 4-1-1 from Curtiss the Warhawk himself. Text curti$$ to 31006 to receive reminders about can't-miss campus events.
Back to the top