Warhawk Weekly 3-16: University operations; Day of Giving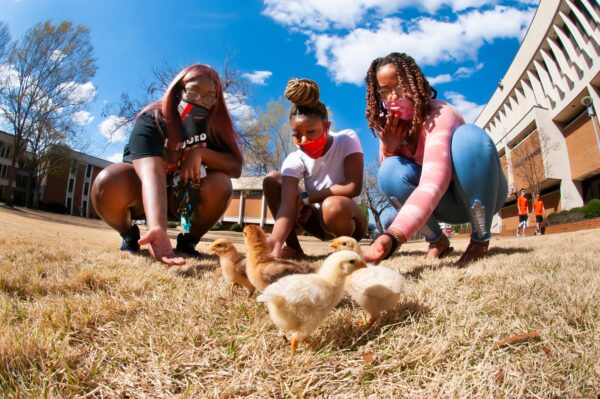 Returning to normal operations for summer and fall
Auburn University at Montgomery will resume normal, on-campus operations for the Summer and Fall 2021 semesters.
The availability of COVID-19 vaccines, coupled with extremely low case numbers on campus, have positioned the university to better meet the needs of students who prefer face-to-face teaching and campus services.
Since last August, all in-person courses have included live-streaming and asynchronous online viewing options for students who did not wish to attend face-to-face classes. For the Summer and Fall 2021 semesters, only those courses designated as "online" will offer these options. When you meet with your academic advisor, they will be able to tell you which course offerings are in-person or online.
Even with a return to more traditional classroom and work environments, AUM will continue to require students and employees to wear face masks on campus (except when alone in private dorm rooms or work spaces) and observe social distancing. We remain hopeful that these guidelines can be eased as we enter the Summer and Fall semesters.
The university will continue to monitor public health conditions and adjust policies and operational status as necessary. AUM will continue to provide updates as conditions change.
For the time being, all Warhawks are encouraged to Protect the Nest by:
Watching Your Wingspan. Maintaining social distancing of at least 6-feet and avoiding large crowds.
Covering Your Beak. Wear a mask securely covering your mouth and nose.
Daily Healthcheck. Monitor your personal health through AUM Healthcheck.
Testing. Enroll in the random Sentinel Testing program, which helps prevent asymptomatic transmission of COVID-19. Your participation also makes you eligible for gift cards and other goodies.
Back to the top
Show the love on AUM Day of Giving
Auburn University at Montgomery's annual Day of Giving is set for Thursday.
The occasion offers opportunities to support our colleges – the College of Business, College of Education, College of Liberal Arts & Social Sciences, College of Nursing and Health Sciences and College of Sciences — as well as the AUM Library and AUM Athletics.
Show the love for our academic programs and campus units, and support our students by making a gift. Gifts from faculty and staff count toward AUM's 2021 Family Campaign.
Become a 'friend' of Curtiss
Are you good with people, full of spirit, and comfortable being the center of attention?
You could become a "friend" of Curtiss the Warhawk. Show your school spirit and mascot skills.
If you think you can fill Curtiss' extra-large orange sneakers, or if you prefer to help manage his many requests, complete an application.
Back to the top
Get involved with Campus Activities Board
Want to help create a sense of community for your fellow students?
Join AUM's Campus Activities Board, a "by students, for students" organization focused on developing campus events.
Back to the top
Reserve your advising appointment
Summer and fall course registration is coming up.
Connect with your advisor and keep your coursework on track by utilizing Degree Works.
Back to the top
Learn about our graduate programs
Students who are close to completing their bachelor's degrees should make plans to join us for our Virtual Graduate Studies Preview event on April 13.
The online event will help you learn about our master's degree and doctoral programs, as well as the value they offer in your professional and academic growth.
Register now for Grad Preview.
Back to the top
Sign up for free tutoring through WASC
If you're having difficulties in a class, the Warhawk Academic Success Center can help you get off the struggle bus.
Sign up for a free tutoring appointment.
Back to the top
Jump start your career preparation
The Career Development Center is offering a Career Workshop Series during the Spring 2021 semester covering expectations for student employees, identification of workplace mentors, professionalism in a virtual workplace, effective cover letters, managing job search anxiety, and understanding work ethic. Students can register for each event through the Handshake app.
The remaining calendar includes:
Wednesday, March 17
Professionalism in the Virtual Workplace
Remote working has changed the dynamic of the workplace, allowing some flexibility surrounding traditional office etiquette, while introducing new issues. Understand the concepts central to virtual workplace professionalism and how to avoid missteps.
Wednesday, April 14
Cover Letters Made Simple
Sometimes a great cover letter can make all the difference in your job search. This workshop will discuss simple ways to connect your value to employers in a way that enhances your knowledge and skills.
Wednesday, April 28
Coping with Job Search Anxiety
Even for confident people, searching for a job can be a stressful process. This workshop will provide strategies for coping with the stress of the job search and overcoming personal obstacles along the way.
Back to the top
Are you #AllinforAUM?
Friends and graduates of Auburn University at Montgomery have proven that they are #AllinforAUM by supporting the ongoing campaign for athletics. If you haven't made a gift in support of AUM's 11 varsity athletic programs and student-athletes, there is still time.
Back to the top
Let Curtiss slide into your texts
Keep up with campus activities via text message. Enroll in AUM365 and get the 4-1-1 from Curtiss the Warhawk himself. Text curti$$ to 31006 to receive reminders about can't-miss campus events.
Back to the top
Enroll in Sentinel Testing program
You can help "Protect Your Nest" by enrolling in the Sentinel Testing Program.
Open to all AUM students and employees, the random Sentinel Testing Program identifies potential asymptomatic cases of COVID-19 and provides an extra layer of protection for roommates, friends, professors, staff members, and family members with whom you may interact. Testing will take place twice a week.
In order to be elected for the Sentinel Testing program, you must create an account through the Verily platform.
Back to the top
COVID-19 dashboard update
AUM will continue to provide weekly reporting on its COVID-19 dashboard with results of testing conducted through Warhawk Health Services and the Sentinel Testing program, as well as self-reported positive test results by students and employees to Student Affairs and Human Resources. Reporting will be updated each Monday.
In addition to wearing face masks on campus and observing social distancing, students and employees are encouraged to utilize the AUM Healthcheck symptom monitoring tool.
Back to the top
'Diseases & History' lectures offer look at past plagues
Faculty members from the Department of History, World Languages and Cultures will offer a series of spring semester lectures focused on "Diseases and History." These virtual events will contextualize a variety of plagues and pandemics.
The remaining schedule includes:
Thursday, March 25 | 5 p.m.-6 p.m.
Dr. Michael Burger (History & World Cultures) will discuss the "Black Death" Zoom Link: https://auburn.zoom.us/j/87393118656
Wednesday, April 7 | Noon
Dr. Ben Severance (History & World Cultures) will discuss the diseases that ravaged Civil War battlefields Zoom Link: https://auburn.zoom.us/j/89769574501
Wednesday, April 21 | 6 p.m.-8 p.m.
Screening of the movie "The Painted Veil" in Goodwyn Hall 109
Back to the top
No computer, no problem
AUM Student Affairs has initiated a Laptop Loaner program for students who do not have access to a computer outside of classroom and lab settings.
Devices are provided on a first-come, first-served basis. Learn more about the program.
Back to the top