Warhawk Weekly 6-29: New Chapter at AUM; UNIV Peer Mentors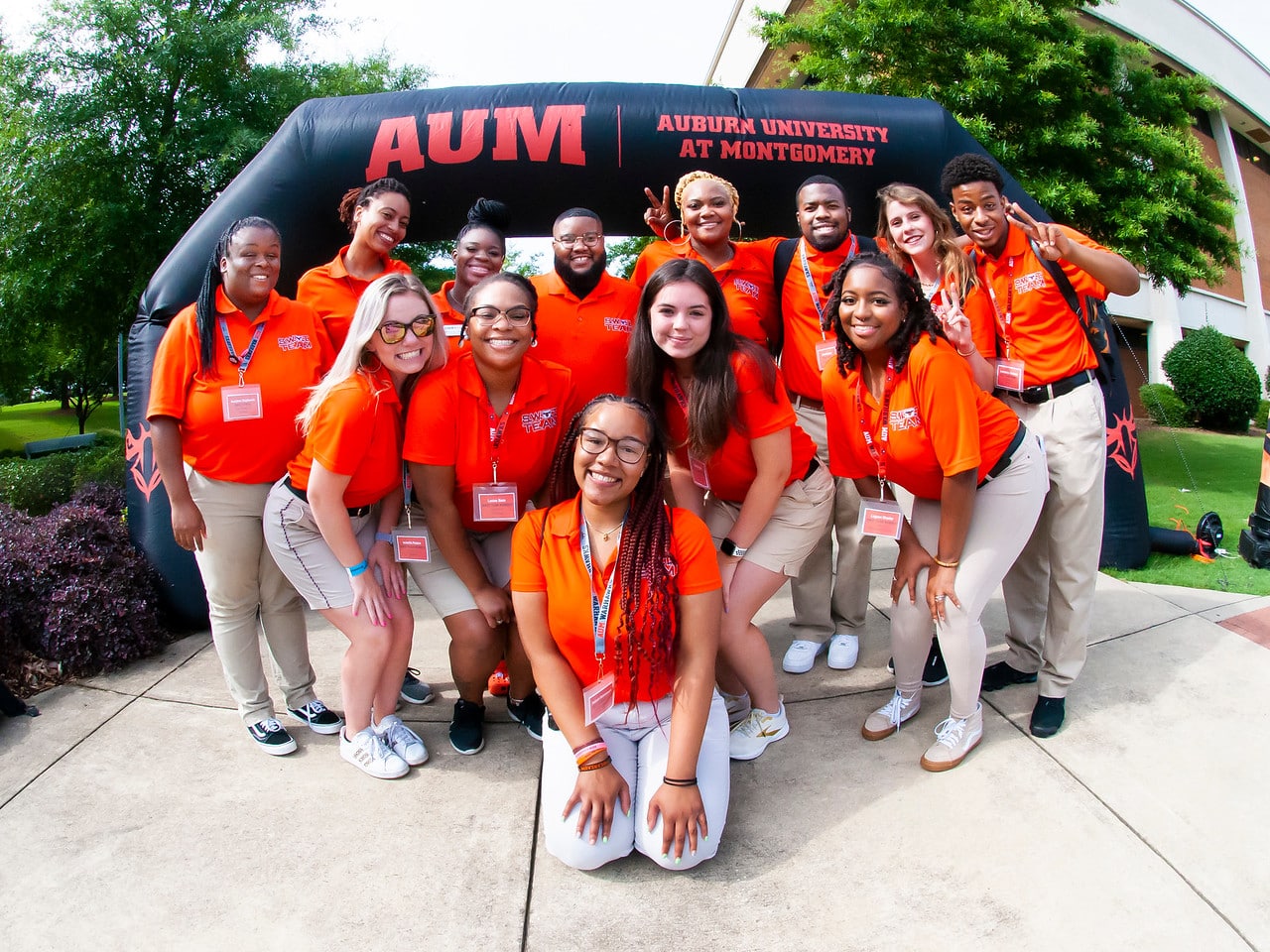 Beloved school custodian starts new chapter at AUM
After receiving national recognition this summer as the beloved school custodian to the students and staff of Wacoochee Elementary School, Auburn University at Montgomery (AUM) junior Derrick Harris is now focused on pursuing his dream to become a physical education teacher.
This summer, Harris was thrust into the media spotlight when students and staff at Wacoochee Elementary in Salem, Alabama, celebrated him becoming a junior college graduate, special education paraprofessional and new AUM student during his six years as the school's custodian. His story was featured on NBC's Today Show, ABC News, and other local, state and national media.
"It's all humbling," said Harris, who was raised by his mother and grandmother after losing his father at age 9.
Harris' story left a lasting impression with AUM Chancellor Carl A. Stockton, who recently met with Harris to share his own journey as a first-generation college student raised by his Sicilian grandmother. Harris is currently enrolled at AUM taking summer classes as a physical education major in the College of Education.
"I know all AUM students don't get to meet Dr. Stockton, but just meeting him one-on-one says a lot," Harris said of the visit. "I enjoyed sharing my story and it having an impact on him and then learning about his story, which had an impact on me. I will cherish the opportunity."
Learn how Harris overcame personal losses and challenges to achieve his career goals.
Become a UNIV Student Success Program Peer Mentor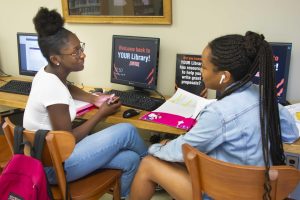 AUM's UNIV Student Success Program is seeking student peer mentors for the fall semester.
UNIV Peer Mentors aid in the successful transition of new students to AUM by connecting them with the AUM community and available resources. Peer mentors also:
Build community within the classroom
Uphold the mission of AUM
Provide a student perspective on UNIV class discussions (topics: healthy decision- making, AUM history and traditions, etc.)
Encourage reflection and growth (journals and other writing/discussion assignments)
Lead meaningful and engaging class activities/discussions (implementing active learning strategies, scheduling presentations/guest speakers, planning out of class activities, service-learning, study groups)
For peer mentors, the time commitment for fall and spring semesters will be five hours per week for 15 weeks during the semester (75 hours) and seven hours of training and workshops (five hours pre- semester and two hours during the semester in which you are employed). For the summer semester, mentors will work nine hours per week for eight weeks and attend seven hours of training and workshops (five hours pre-semester workshop and two hours during the semester).
Peer mentors are paired with a UNIV professor and class based on their schedule and availability. Mentors are also asked to participate in various activities during the summer semester, such as Orientation, Mentor/Mentee Meet & Greet, etc.
If you're an AUM student dedicated to helping others succeed, apply at AUM Jobs.
For additional information, please contact Amy Ingram.
Summer Call for Proposals for Undergraduate Research, Creative Activity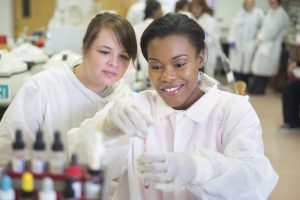 Auburn University at Montgomery's Undergraduate Research Committee is accepting summer proposals for Undergraduate Research and Creative Activity grants.
In March, the Office of the Provost allocated $50,000 for undergraduate research or creative activity at AUM. Grant funding is awarded to faculty members whose research involves undergraduate students. Six proposals have been funded so far to the following faculty members:
Greg Ciesielski, assistant professor of chemistry, was awarded $6,000 for his research project titled: "The role of molecular chaperone Tid1 in the prevention of deletions in human mitochondrial DNA." ( 2 proposals)
Duk (Daniel) Kim, department chair and professor of chemistry, was awarded $3,000 for his research project titled: "Investigation on the suppression of ROS by beverages."
Ann Marie O'Neill, assistant professor of biology and environmental science, was awarded $3,000 for her research project titled: "Development of a cancer macrophage fusion hybrid model."
Claudia Stein, assistant professor of biology, was awarded $2,747 for her research project titled: "Screening plant and soil microbial communities in native prairie ecosystems."
Erin Reilly, professor of kinesiology, was awarded $2,385 for her research project titled: "The Effect of Neuromotor Exercise on Cognition and Physical Ability in Pre-school-aged Children."
The Undergraduate Research Committee will continue to review and fund research projects on a rolling basis throughout the summer until the funds are disbursed. The committee anticipates another call in September for funding in the next fiscal year.
AUM's Experiential Education and Engagement Center and the University Honors Program share the mission of encouraging undergraduate research and creativity and administering funding for undergraduate research and creativity. To apply, please email Lynn Stallings at [email protected] for the guidelines.
Nominate outstanding faculty for the 2021 Faculty Service Award
Faculty members elevate our university and play an important role in helping our students succeed. Every year, the AUM Alumni Association's Faculty Service Award honors outstanding faculty for their service to the university.
To be eligible for the honor, faculty members must have five or more years of full-time service at AUM. Nominations can be made by AUM faculty, staff, students, alumni and friends.
The honor will be awarded during the fall semester and the recipient will receive a $1,000 check from the AUM Alumni Association.
Nominations for the 2021 Faculty Service Award must be postmarked by September 3, 2021 and include a nomination letter. Nomination letters should be no more than two pages in length and should emphasize teaching excellence as well as a strong record of service to the university and community. A vita may be attached, if available.
Send nomination letters to: Awards Committee, Auburn Montgomery Alumni Association, P.O. Box 244023, Montgomery, AL 36124-4023, or email them to [email protected].
Questions? Contact the AUM Alumni Association at 334-244-3369 or [email protected].
University Office of Communications earns awards
Staff members in AUM's University Office of Communications recently earned accolades from the Public Relations Council of Alabama.
PRCA is a statewide organization composed of public relations and marketing practitioners from a variety of industry sectors, including education, government, tourism, agriculture, technology, non-profits, banking and finance, media, and healthcare, among others.
Staff members earning awards included University Executive Director of Communications Troy Johnson, Communications Specialist Adrienne Nettles, Photographer Frank Williams, Multimedia Specialist Matt Pellegrin, and Communications Assistant Nicolette Parrish.
AUM earned two Medallion Awards, PRCA's highest honor, for Crisis Communications initiatives pertaining to the COVID-19 pandemic, as well for its Media Relations efforts. The team also earned an Award of Excellence for Social Media Management and an Award of Merit for Multimedia Projects.
Bringing tutoring resources to you
Resident students have an opportunity to connect with AUM tutors during the summer semester. Math and writing tutoring will be available each Tuesday and Thursday, from 4-6 p.m. in the first floor lobby of P40 Place.
Students can also participate in in-person tutoring or virtual drop-ins through the Instructional Support Lab. Visit Goodwyn 203 Monday-Thursday, from 9 a.m. to 8 p.m. or on Friday from 10 a.m. to noon.
Make a difference on the Alumni Board
Are you passionate about AUM? Do you want to make a difference? The AUM Alumni Association invites AUM graduates to apply for a position on the AUM Alumni Board of Directors.
As the advisory board to the Auburn University at Montgomery Alumni Association, the Alumni Board seeks candidates who are proven leaders, have demonstrated service to the AUM alumni family, are experienced in working in a collaborative environment, and are committed to serving as AUM ambassadors in their communities.
Board members must be an AUM graduate or have earned credit toward one of its degree programs.
The board meets three times per year on campus, and board members serve a term of two years. Board members are expected to be active members of the AUM Alumni Association. Nominations will close Friday, September 3, 2021.
If you have questions, please contact the AUM Alumni Association at 334-244-3369 or [email protected].
Learn more: https://www.aum.edu/alumni-board/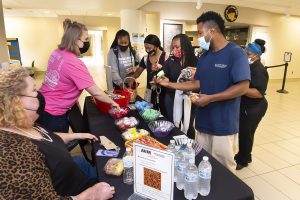 Get event updates from Curtiss
Stay in-the-know about can't-miss campus events via text message. Enroll in AUM365 and get the 4-1-1 from Curtiss The Warhawk himself. Text curti$$ to 334-398-6025 to receive reminders about upcoming happenings.