Warhawk Weekly 6-22: Updated Mask Guidelines; Reader's Choice Awards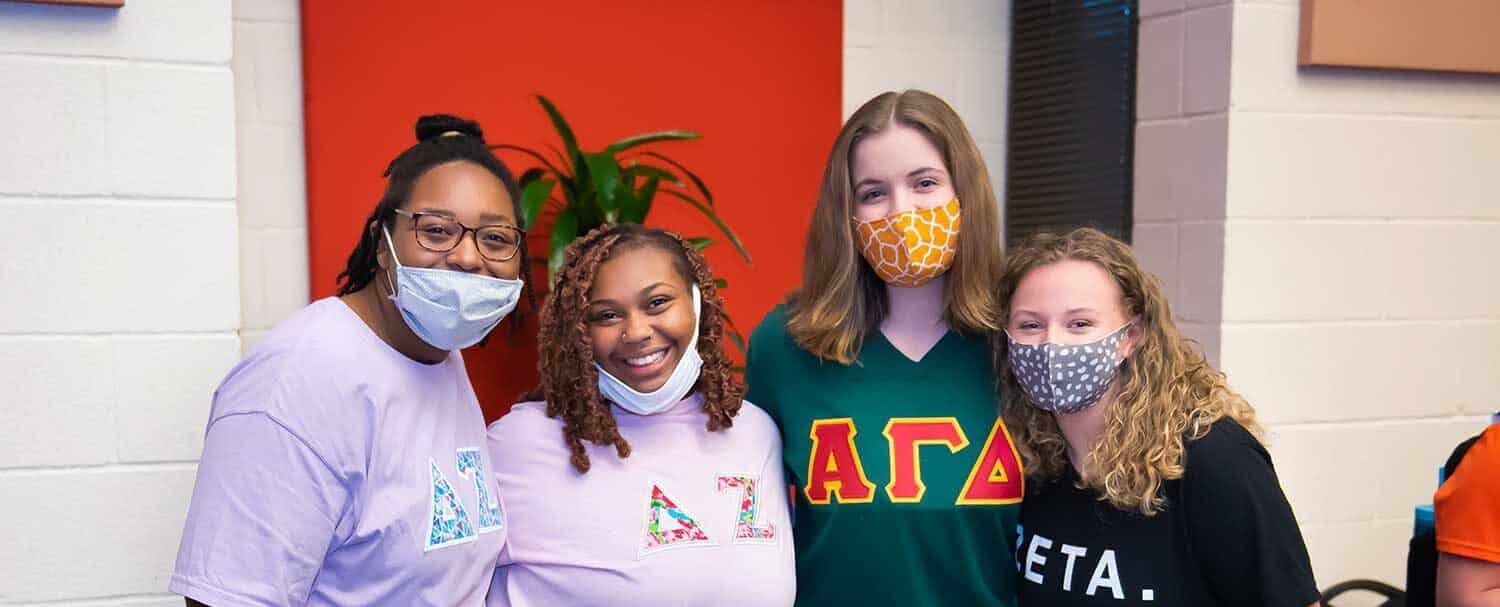 University updates mask guidance for campus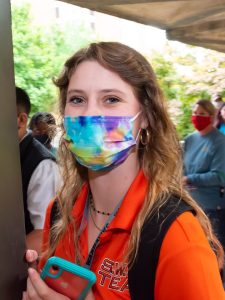 Effective immediately, Auburn University at Montgomery has updated its COVID-19 mask guidance for individuals while on campus.
Fully vaccinated individuals are not required to wear face coverings on campus except in designated areas. Areas in which masks are mandatory include:
Academic classrooms
Academic support areas: WASC, ISL, Computer Labs
University Transportation (Warhawk Transit and university vehicles)
Health care settings such as Warhawk Health Services
Any areas officially marked via signage by the university
Individuals who are not yet fully vaccinated should continue wearing a mask when indoors in any university facility unless actively engaged in eating or drinking.
A face covering should be carried at all times to ensure compliance while on campus.
AUM's updated mask policy is based on guidance from the Centers for Disease Control and Prevention (CDC) and Alabama Department of Public Health (ADPH) on mask wearing for fully vaccinated individuals. AUM will continue to monitor public health conditions and will make adjustments as necessary based on guidance from both the CDC and ADPH.
University officials will continue to monitor public health conditions and will announce any future changes made to COVID-19 policies or operational guidelines.
For more campus COVID-19 resources: https://www.aum.edu/backtocampus
Vote for AUM in Reader's Choice Awards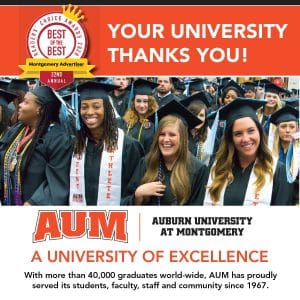 Auburn University at Montgomery will seek to hold its status as the River Region's favorite university in the Montgomery Advertiser's 2021"Best of the Best" Community Choice Awards.
AUM has been voted as the top university in the Montgomery region for each of the last three years. Online voting will close on June 23.
To cast your vote, visit the Advertiser's online voting page and pick your category (Universities are listed within the "Kids & Education" category).
Lilian Mina to head Council of Writing Program Administrators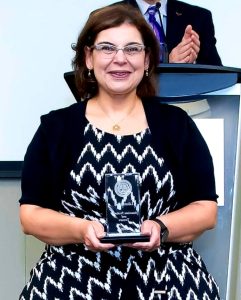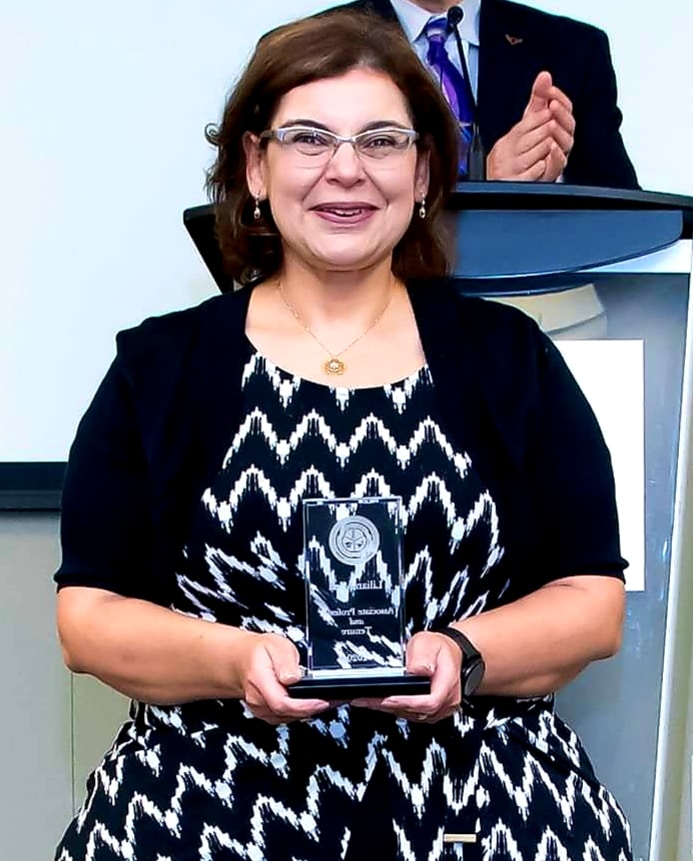 Lilian Mina, associate professor of rhetoric and composition, has been named vice president/president-elect of the Council of Writing Program Administrators (CWPA).
Mina, who also serves a director of composition in AUM's College Liberal Arts and Social Sciences Department of English and Philosophy, is the first immigrant and multilingual to hold the position of vice president/president-elect in CWPA's history. She will serve two years as vice president then rotate into the role of president for two years.
"It's such an overwhelming feeling of pride, achievement, responsibility and much more," she said. "It's beyond anything I ever dreamed of but it's an affirmation that hard work and authenticity of vision and positions don't go unnoticed in my field. It's also a loud, powerful and empowering message for anyone coming to this country that they can dream big and achieve big if they put in the work."
Mina said being chosen to serve as vice president/president-elect also speaks volumes about the diversity of the field and the trust the organization's membership has in her to join the leadership team and lead the organization in the near future.
"This organization is responsible for releasing guidelines and documents that are essential for all writing program administrators across the country," she said. "These are the people who run writing programs, such as our Composition Program here at AUM, educating millions of first-year students in all U.S. higher education institutions. So, this is essential and critical work that touches every students' life in one way or another."
As vice president, Mina's duties will include assisting the president with the organization's business, particularly overseeing CWPA committees and being responsible for the overall coordination, configuration and solicitation of reports. She also will chair two of the organization's summer conferences and be responsible for all conference organizing and arrangements.
In her new role, Mina will also carry out her vision and plan to advance CWPA's commitment to social justice and equity through focusing on two areas: labor and inclusion.
Learn more in the AUM Newsroom.
Become a UNIV Student Success Program Peer Mentor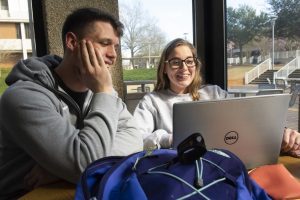 AUM's UNIV Student Success Program is seeking student peer mentors for the fall semester.
UNIV Peer Mentors aid in the successful transition of new students to AUM by connecting them with the AUM community and available resources. Peer mentors also:
Build community within the classroom
Uphold the mission of AUM
Provide a student perspective on UNIV class discussions (topics: healthy decision- making, AUM history and traditions, etc.)
Encourage reflection and growth (journals and other writing/discussion assignments)
Lead meaningful and engaging class activities/discussions (implementing active learning strategies, scheduling presentations/guest speakers, planning out of class activities, service-learning, study groups)
For peer mentors, the time commitment for fall and spring semesters will be five hours per week for 15 weeks during the semester (75 hours) and seven hours of training and workshops (five hours pre- semester and two hours during the semester in which you are employed). For the summer semester, mentors will work nine hours per week for eight weeks and attend seven hours of training and workshops (five hours pre-semester workshop and two hours during the semester).
Peer mentors are paired with a UNIV professor and class based on their schedule and availability. Mentors are also asked to participate in various activities during the summer semester, such as Orientation, Mentor/Mentee Meet & Greet, etc.
If you're an AUM student dedicated to helping others succeed, apply at AUM Jobs.
For additional information, please contact Amy Ingram.
Make a difference on the Alumni Board
Are you passionate about AUM? Do you want to make a difference? The AUM Alumni Association invites AUM graduates to apply for a position on the AUM Alumni Board of Directors.
As the advisory board to the Auburn University at Montgomery Alumni Association, the Alumni Board seeks candidates who are proven leaders, have demonstrated service to the AUM alumni family, are experienced in working in a collaborative environment, and are committed to serving as AUM ambassadors in their communities.
Board members must be an AUM graduate or have earned credit toward one of its degree programs.
The board meets three times per year on campus, and board members serve a term of two years. Board members are expected to be active members of the AUM Alumni Association. Nominations will close Friday, September 3, 2021.
If you have questions, please contact the AUM Alumni Association at 334-244-3369 or [email protected].
Learn more: https://www.aum.edu/alumni-board/
Nominate outstanding faculty for the 2021 Faculty Service Award
Faculty members elevate our university and play an important role in helping our students succeed. Every year, the AUM Alumni Association's Faculty Service Award honors outstanding faculty for their service to the university.
To be eligible for the honor, faculty members must have five or more years of full-time service at AUM. Nominations can be made by AUM faculty, staff, students, alumni and friends.
The honor will be awarded during the fall semester and the recipient will receive a $1,000 check from the AUM Alumni Association.
Nominations for the 2021 Faculty Service Award must be postmarked by September 3, 2021 and include a nomination letter. Nomination letters should be no more than two pages in length and should emphasize teaching excellence as well as a strong record of service to the university and community. A vita may be attached, if available.
Send nomination letters to: Awards Committee, Auburn Montgomery Alumni Association, P.O. Box 244023, Montgomery, AL 36124-4023, or email them to [email protected].
Questions? Contact the AUM Alumni Association at 334-244-3369 or [email protected].
Bringing tutoring resources to you
Resident students have an opportunity to connect with AUM tutors during the summer semester. Math and writing tutoring will be available each Tuesday and Thursday, from 4-6 p.m. in the first floor lobby of P40 Place.
Students can also participate in in-person tutoring or virtual drop-ins through the Instructional Support Lab. Visit Goodwyn 203 Monday-Thursday, from 9 a.m. to 8 p.m. or on Friday from 10 a.m. to noon.
Get event updates from Curtiss
Stay in-the-know about can't-miss campus events via text message. Enroll in AUM365 and get the 4-1-1 from Curtiss The Warhawk himself. Text curti$$ to 334-398-6025 to receive reminders about upcoming happenings.