Beloved school custodian Derrick Harris begins new chapter at AUM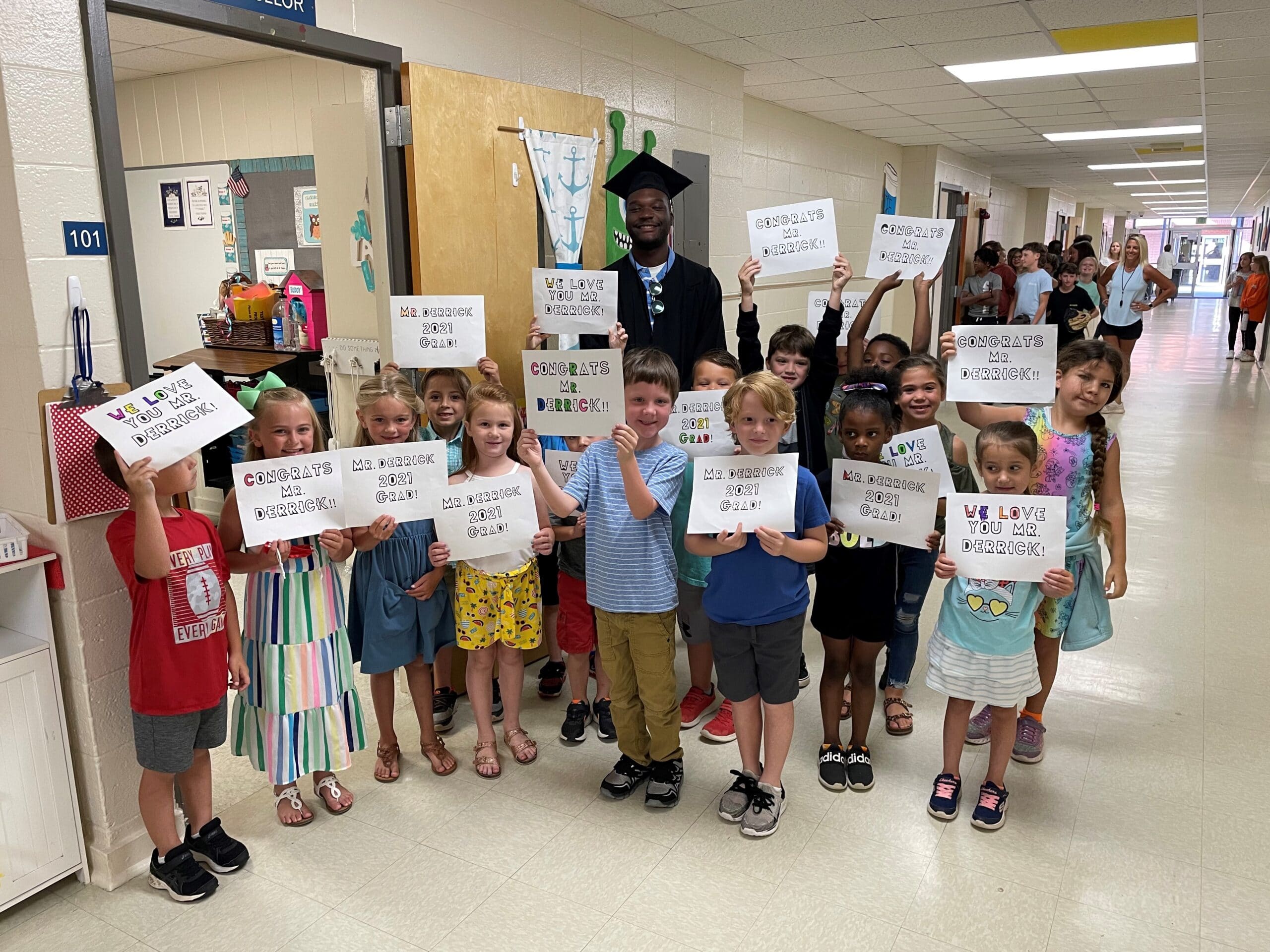 After receiving national recognition this summer as the beloved school custodian to the students and staff of Wacoochee Elementary School, Auburn University at Montgomery (AUM) junior Derrick Harris is now focused on pursuing his dream to become a physical education teacher.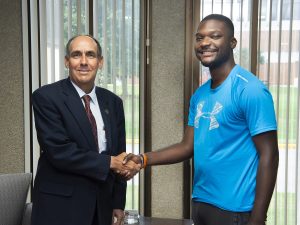 This summer, Harris was thrust into the media spotlight when students and staff at Wacoochee Elementary in Salem, Alabama, celebrated him becoming a junior college graduate, special education paraprofessional and new AUM student during his six years as the school's custodian. His story was featured on NBC's Today Show, ABC News, and other local, state and national media.
"It's all humbling," said Harris, who was raised by his mother and grandmother after losing his father at age 9.
Harris' story left a lasting impression with AUM Chancellor Carl A. Stockton, who recently met with Harris to share his own journey as a first-generation college student raised by his Sicilian grandmother. Harris is currently enrolled at AUM taking summer classes as a physical education major in the College of Education.
"I know all AUM students don't get to meet Dr. Stockton, but just meeting him one-on-one says a lot," Harris said of the visit. "I enjoyed sharing my story and it having an impact on him and then learning about his story, which had an impact on me. I will cherish the opportunity."
Finding purpose
While Harris has accomplished more than he could have imagined since he took the job as Wacoochee's custodian in 2014, his achievements have not been without personal challenges and loss along the way.
Harris, a native of Opelika, Alabama, was just 19 years old when he began working at Waccoochee as a custodian, said Wacoochee Guidance Counselor Tracy Lane.
"He was looking for a job with benefits, insurance and that was a decent paying job," said Lane, who was asked by Waccochee's principal to mentor Harris. "A lot of people don't know that Derrick lives with his mother and helps pay the rent and he needed a decent paying job that had flexible hours."
The flexible hours allowed Harris to begin attending night school at Southern Union State Community College in Opelika, Alabama. With the help of Lane, Harris mapped out his academic and career plans.
"The stars kind of lined up for him with college," Lane said. "It wasn't always an easy road. He would have trouble with a math or while trying to work on a paper so I would send him to a math teacher in the building who was the best in the building or go to this teacher and edit your paper."
"I was just there mentoring him throughout the way, but it was hard because he worked the entire time. He cleaned that building, prepped rooms, and a lot of times had to stop and clean up if a child got sick. Then he would leave work and have to go to school at night."
Despite his tenacity, Harris said he eventually began failing to meet Southern Union's academic standards and faced academic suspension. With the help of Lane and a family friend, he was able to enroll at Wallace Community College Selma and continue his academic journey.
While Harris first dreamed of majoring in sports communications, he discovered he enjoyed working around and mentoring children as Wacoochee's custodian.
"I really didn't go into the custodian job with any expectations, but to go to work and go to class," he said. "At the time, my major was communications. I was going to do broadcasting, but after coming into the school the kids gravitated toward me and I gravitated toward them so I knew that I had a heart for kids and a heart for sports. I decided then I wanted to be a physical education teacher or coach."
Lane and Harris' other "school moms" also took notice. When a special education paraprofessional position became open at the school, Lane began setting into the motion the opportunity for Harris to apply for the position. Harris was eventually hired to fill the role.
"He was in the position for his last two years at Wacoochee as a special education paraprofessional working with special needs kids," Lane said. "Derrick worked in the classroom with them and he floated from classroom to classroom to sit with children and work with them individually to keep them on task. Sometimes they had meltdowns where they couldn't stay on task or just had problems so he constantly mentored those kids and helps them."
Derek's last day at Wacoochee in May was bittersweet for students and staff, Lane said.
"What has Derrick not meant to our school?" she said. "He has been a great mentor to kids. He started as a kid at our school but left as a man. He has just such as great love for kids and they gravitate towards him. He just inspires them, but I also think it's the kind of person he is. I know he has all the tools in his box to make him a great physical education teacher."
Moving forward after loss
A constant in Harris' life has been the support of his family throughout his career and academics. He was dealt a blow to his support network when he lost his grandfather in October 2020 after a second round with cancer and nearly nine months later the passing of his grandmother on May 12, 2021, two days before his graduation from Wallace Community College Selma.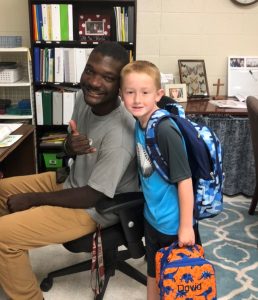 Instead of feeling the excitement of receiving his associate's degree in science, Harris struggled with finishing his finals and deciding whether he would walk to accept his degree.
"We're all people trying to juggle our personal and professional life and priorities, but you have real life things impacting you like the passing of a loved one," he said. "I can just remember my grandmother was in the back of my mind."
"I remember at the hospital my mom talking to me in the hallway. She asked if I still wanted to still walk and I just told her yes because I know that's what my grandmother would have wanted."
While he experienced a great loss at the height of his academic journey, Harris said his family and Wacoochee family are proud of how far he has come. In August, he will begin working as a physical education assistant at West Forest Intermediate School in the Opelika City Schools System and attend night class this fall at AUM.
"The experience I gained from working as a custodian was how to be a servant leader," he said. "I have always worked hard for people, and I really think I got that from my grandmother and mom. They will stop and take time out of day to help somebody else. It's a quality and gift. It also made me a better person."