Warhawk Weekly 5-2: Record-setting graduation class; Commencement speaker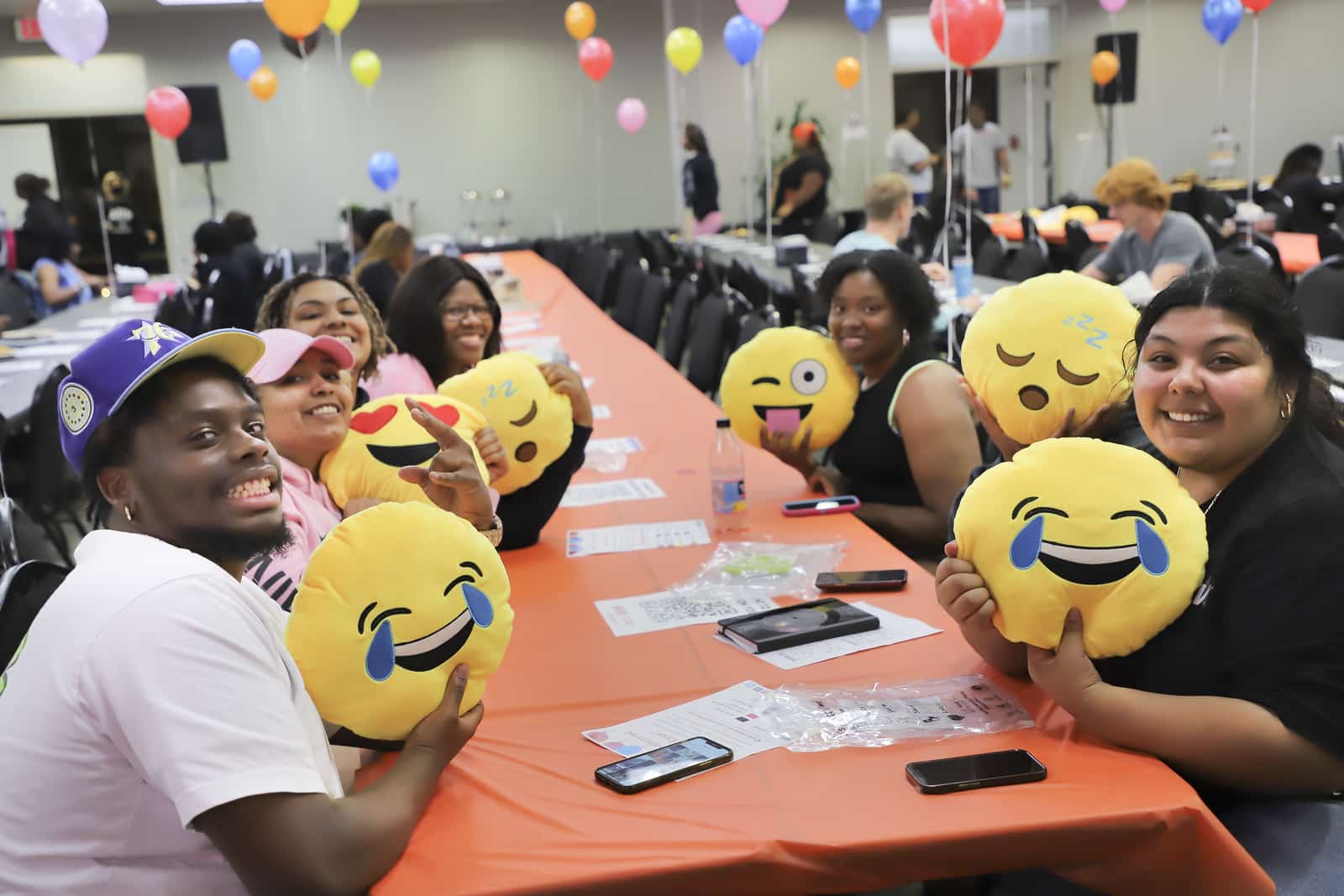 Perseverance defines record-setting graduation class
Auburn University at Montgomery will celebrate a record-setting graduating class during Spring 2023 Commencement ceremonies on Saturday, May 6.
The university expects 600 students – its largest graduating class – to participate in a pair of ceremonies at the AUM Athletics Complex. Graduates of the Colleges of Business and Liberal Arts & Social Sciences will walk at 10 a.m., while graduates of the Colleges of Education, Nursing & Health Sciences, and Sciences will be recognized at 2 p.m.
Among those completing their journeys as undergraduate students will be interdisciplinary studies major Derrick Harris, who earned national media attention in 2021. An aspiring educator and coach, Harris selected AUM after completing a junior college degree at age 26 while working as a janitor at Wacoochee Elementary School in Salem, Alabama. The elementary school that celebrated his junior college graduation will also have a presence at his AUM graduation in the form of the "teacher moms" who encouraged him and inspired him to persevere through adversity.
Harris lost his father while in elementary school and endured a house fire and the death of his grandparents during his educational journey.
"I'm blessed to have had the support that I've had," Harris said. "AUM chose me. I knew AUM was the right place when I went to orientation. Everything aligned the way I needed it to."
Several other graduates have demonstrated perseverance on their journeys to earning degrees, including MBA student Evan Mott , information systems major Quinntaria Scott, and social work majors Laura "Nikki" Barris, Gianna Goins and Payton Williams.
Biology alum to serve as Spring commencement speaker
AUM will welcome one of its own as its Spring 2023 commencement speaker.
Dr. Rick Bright, an immunologist and virologist who graduated from AUM magna cum laude in biology and physical sciences in 1997, will address graduates. After earning a doctorate in immunology and molecular pathogenesis from Emory University, Bright established himself as an internationally respected subject matter expert in biodefense, emergency preparedness and response, and pharmaceutical innovation as well as vaccine, drug and diagnostics development.
He has served as an advisor to presidential administrations, as well as the World Health Organization and the National Academies of Sciences. As Chief Executive Officer of the Rockefeller Foundation's Pandemic Prevention Institute, Dr. Bright led the integration of technology, data analytics and a network of global partners to help detect, prevent, and contain a variety of potential pandemic threats. Before his tenure at the Rockefeller Foundation, Bright served as the Deputy Assistant Secretary for Preparedness and Response and the Director of the Biomedical Advanced Research and Development Authority (BARDA), in the U.S. Department of Health and Human Services.
Provost announces Student Marshals for commencement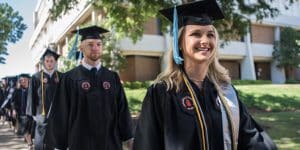 AUM's Office of the Provost has announced the following students will serve as Student Marshals at Saturday's commencement ceremony:
Lauren Corbett (Accounting), College of Business
Cierra Jackson, (Business Administration), College of Business
Hang Tran (Information Systems), College of Business
Brandon Guy (Secondary Social Science Education), College of Education
Isabella Fernanda Pinto (SPED, Med Collaborative Ed), College of Education
Tabitha A. Neyerlin (Communication, Theatre), College of Liberal Arts and Social Sciences
Seth Maggard (BIS), College of Liberal Arts and Social Sciences
Aminta Alvarez (Social Work), College of Liberal Arts and Social Sciences
Dawana Manley (Nursing), College of Nursing and Health Sciences
Freda Simmons (Nursing), College of Nursing and Health Sciences
Hannah Claire Till (Communication Disorders), College of Nursing and Health Sciences
Ian Singer (Chemistry Pre-Health), College of Sciences
Azura Murphy (Biology), College of Sciences
JoAnna Neal Sheffield (Biology), College of Sciences
AUM Student Marshals assist with directing and helping to make commencement a memorable event.
CRCV to host inaugural teaching conference
AUM's Civil Rights & Civic Virtue Society will host "Out of the Box," the society's inaugural teaching conference Friday, May 5.
The event's opening guest speaker will be Hyemin Han, associate professor of educational psychology and educational neuroscience at The University of Alabama. He will discuss how moral exemplars from our community can significantly inspire students.
The conference will also include faculty presentations and other guest speakers, including Aaron Richmand and Christopher Was, who will both lead a talk on "Maximizing Your Student's Study Skills."
The conference, which will be held from 8 a.m. to 5 p.m. in Goodwyn Hall, is sponsored by the AUM CRCV Society, the HHMI-funded grant initiative in the College of Sciences, and the Guest Speakers Committee.
A continental breakfast and a lunch will be provided. Register online for the Teaching Conference.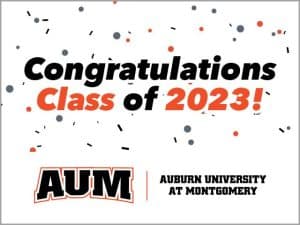 If you're graduating on Saturday, we want to celebrate your milestone.
Tell us what's next after graduation. Email the following to [email protected]:
Your graduation photo (color, preferably)
Your name
Hometown
Major/degree
Post-graduation plans (career, graduate school, etc.)
Tell us your favorite AUM memory (best class, favorite professor, etc.)
Spring 2023 graduates who make a gift of $20.23 or more before or on the day of commencement will receive a commemorative medallion to wear at commencement, courtesy of the AUM Office of Advancement and the AUM Alumni Association.
Browder's art explores 'complicated' history
AUM's Civil Rights & Civic Virtue Society will welcome local artist and activist Michelle Browder to campus as a guest speaker Thursday, May 4, from 4:30 p.m.-5:30 p.m. in Goodwyn Hall 109.
Browder owns More Than Tours, a Montgomery-based company providing educational tours focusing on the complicated dimensions of our local history. Her most notable artistic works include the Anarcha Lucy Betsey Monument and the "You May Feel a Little Pressure" mural.
In 2022, she was named one of USA Today's Women of the Year.
Softball team begins postseason play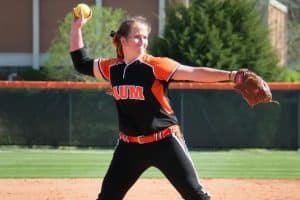 AUM's softball team will enter the 2023 Gulf South Conference Tournament with well-timed momentum after winning its three-game series at No. 4-ranked Alabama-Huntsville last weekend.
As the tournament's fourth-seed, the Warhawks (33-15 overall, 22-7 GSC) will take on fifth-seeded Valdosta State Wednesday at 3:30 p.m. at Choccolocco Park in Oxford, Alabama. With the late-season surge, AUM has earned the No. 8 spot in the NCAA South Region rankings.
For details on tickets, live-streaming and tournament bracket updates, visit AUM Athletics.
Tennis teams' memorable seasons come to end
While AUM had established itself as a national power in tennis at the NAIA level, the Warhawks took a significant step as a still-new member of NCAA Division II this season.
The AUM men reached NCAA postseason play for the first time, but dropped a 4-0 decision to Barry University last Friday in the opening round of the NCAA Division II South Region Tournament. AUM's women, who were making their second consecutive NCAA South Region appearance, fell to Saint Leo, 4-0, during Monday's opening round.
The AUM men finished 16-9 (9-1 Gulf South Conference), while the women went 18-6 (9-1 GSC).
Phi Kappa Phi celebrates outstanding students, faculty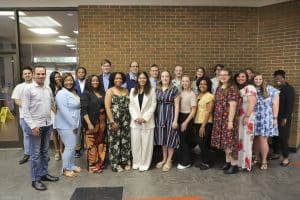 Three faculty members and nearly 30 students were honored for their excellence during the recent Phi Kappa Phi induction ceremony.
Faculty members recognized for their academic records, professional achievements and service included Tathagata Bhattacharya (Assistant Professor, Computer Science & Computer Information Systems), Michael White (Senior Lecturer, College of Business) and Anshu Aggarwal (Lecturer, Biology & Environmental Science).
Student inductees include: Amber G. Atkins (Graduate, Homeland Security & Emergency Management, New Market); Stella L. Bice (Junior, Biology, Jemison); Laurie Dale (Graduate, Business Administration, Birmingham); Allie L. Darty (Junior, Communication Disorders, Wetumpka); Nakeisha L. Evans (Graduate, Business Administration, Montgomery); Dora L. Foster (Senior, Early Childhood Education, Valley); Jahari D. Foster (Junior, Fine Arts, Montgomery); Karmen Guy (Senior, Interdisciplinary Studies, Auburn); Joshua A. Jackson (Junior, Fine Arts – Graphic Design, Prattville); Lauren S. Jordan (Junior, Elementary Education, Union Springs); Angela Kelley (Graduate, Psychology, Pike Road); Yashaswi Lal (Graduate, Economics, Nagpur, India); Grace W. Langston (Senior, Elementary Education, Auburn); Kyle J. Leuner (Graduate, Geographic Information Systems, Montgomery); Courtney D. Mason (Senior, Interdisciplinary Studies, Montgomery); Maysoon Mohammad (Senior, Biology, Montgomery); James A. Montgomery (Junior, History, Millbrook); Geoffrey S. Morris (Graduate, Geographic Information Systems, Montgomery); Jescyka L. Parker (Senior, Interdisciplinary Studies, Prattville); Prinali Patel (Junior, Economics and Finance, Montgomery); Alan L. Quinn (Graduate, Master of Liberal Arts, Birmingham); Romello E. Savage (Junior, Information Systems, Montgomery); Quinntaria J. Scott (Senior, Information Systems, Montgomery); Shannon C. Sides (Graduate, Education Specialists – Elementary Education, Deatsville); Matthew A. Singleton (​Senior, Business Administration, Lapine); Harshil Tamirisa (Graduate, Information Systems, Montgomery); Madison N. Thweatt (Junior, Nursing, Prattville); and Jeffrey L. Wiggins (Senior, Business Administration, Pike Road).
AUM's only all-discipline honor society considers graduate or professional students ranked in the top 10 percent of all enrolled graduate students, seniors in the upper 10 percent of their class and juniors in the upper 7.5 percent of their class.
Get updates on campus events
Don't get left out of important campus events. There's an easy way to keep up with what's happening each day. Enroll in AUM365 and get the 4-1-1 from Curtiss The Warhawk himself. Text curti$$ to 334-398-6025 to receive reminders about upcoming happening.