Three BSW seniors overcome loses, challenges to walk at commencement May 6
A mother's cancer diagnosis and passing, a house fire and the possible discovery of a four-year-old's Autism diagnosis will lay heavy on the hearts and minds of three Auburn University at Montgomery social work majors when they receive their degrees at Spring 2023 Commencement.
AUM will celebrate a record-setting graduating class of 600 students during commencement ceremonies on Saturday, May 6.
The day will be bittersweet for seniors Laura "Nikki" Barris, Gianna Goins, and Payton Williams, who each faced personal challenges to graduate in the first cohort of AUM's newly established Bachelor of Social Work (BSW) program. The program, which launched in Fall 2021, began with between 15 and 25 students to help meet the growing demand for social work professionals in Alabama.
"Each of these students has been with us as we transitioned and began AUM's social work program," said Gina Allen, BSW field director and clinical assistant professor of social work. "They've overcome extraordinary events in their personal lives to reach this milestone in their academic career while doing exceptionally well in the classroom and practicum."
A cancer diagnosis
As her mother's only child, Goins contemplated dropping her summer social work classes to care for her mother, who was recently diagnosed with cancer, and her son who has Autism. The decision would put back her slated May 2023 graduation.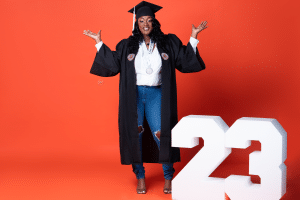 "If I would have taken a semester off, I would be graduating in Fall 2023," said Goins, who moved to Alabama from her hometown of Roosevelt, New York. "When I found out my mom had stage four lung cancer, I was worried about her. I reached out to the Social Work faculty to let them know what was going on and to find out my options if I would of took a semester off."
Her mother urged otherwise.
"My mom told me not to stop my life and to continue with school because it was what she always wanted for me," Goins said. "I continued with school and passed my summer course with a C and started the fall semester. At the beginning of the fall semester my mom was doing okay, and I had everything in place for her. I was her healthcare proxy and her voice. I advocated for her, and I found resources to make our lives smoother during her treatment process."
While she was able to focus on school, Goins, 31, said she eventually had to face the passing of her mother through therapy.
"My mom passed away on September 28, 2022," she said. "I held her hand and watched her take her last breath. I took a break from school to handle her arrangements. I had to decide if I wanted to come back or take incompletes for some of my assignments. From the beginning, I have been asking God for strength and to prepare me for this moment."
Goins said she understands that her mother is in a better place and no longer suffering.
"I knew my mom wanted me to have a college degree and I wanted to make her proud," she said. "I did not want to give up on everything I worked so hard for, so I kept fighting. If it wasn't for God, my son, my boyfriend and family, I wouldn't be walking that stage May 6."
Goins, who has accepted a job offer with Five Horizons Health Services, said she is proud to be in the first cohort of BSW graduates. She will start as a medical social worker May 4 and begin working on a Master of Social Work.
"This is a great and historic moment," she said. "It feels bittersweet, but I'm so proud of myself. I'm going to be thinking about my mom because I thought she would be here to share this moment with me, but I know she is going to be there in spirt and she is proud of me."
Lighting strikes before graduation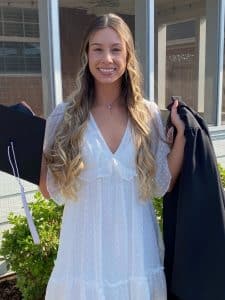 Williams, who chose social work to help and be a voice for others in need, has maintained her deep commitment to the field despite navigating an internship, job to pay for college and the aftermath of lighting striking her family's home in March.
"For the last two months, my family and I have been living in a hotel after the lighting strike led to a house fire and us losing a majority of our belongings," she said. "It's been an extreme hardship right before graduation. The entire process to rebuild will take about 8 to 10 months."
To be a part of the first cohort of social work at AUM feels like a huge accomplishment, Williams said. Williams has accepted a social work position with the Elmore County Department of Human Resources Child Protective Unit, where she recently completed her internship.
"To finally walk at graduation will feel like a four-year weight has a been lifted off my shoulders," Williams said. "I'll be thinking of my family and friends that have supported me along the way."
Advocate for Autism
Barris' motivation for pursing a degree in social work is her four-year-old son Kameron, who doctors speculate is on the Autism Spectrum.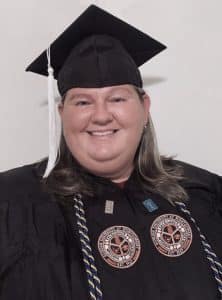 "Kameron's condition has been one of my driving forces to get my social work degree," she said. "Advocating and speaking up for him and pushing until we get answers from a broken system has become my focus. A social work degree will enable me to do that for him and now for others as well."
The field of social work offers some many opportunities to give individuals a better life, said Barris, who began pursuing her degree five years ago.
"As a single mother, I knew I needed a village to help with my children in order to finish my degree," she said. "AUM's social work faculty became part of my village. There were days I had to bring my toddler to class, there were days I had to be on Zoom, but no matter what I got it done."
Barris, a native of Eclectic, Alabama, also pushed through earning her degree while raising her niece and nephew along with her two children.
"Due to personal family circumstances, their father needed help and you never turn your back on family," she said. "There were semesters I didn't know if I would be able to return, but my village made it all possible."
She is excited to be a member of the first cohort to finish the program, Barris said. She started as a pre-social work major before AUM established the BSW program.
"I'm part of a group of students who took a chance on a program and career we all loved," she said. "We conquered every obstacle and change that came at us. AUM Social Work professors and advisors have prepared us for what's next."
At age 38, Barris said she is proud of achieving her dream to become a social worker. She has accepted a position as a hospice social worker at Ivy Creek Hospice and plans to pursue a Master of Social Work after earning her BSW licensure in October.
"My children have been my driving force," she said. "I wanted to show them that it's never too late in life to become who and what you want to be. When I walk across that stage there will be a lot of tears and emotions."
Barris encouraged students to stay on the path they have chosen.
"I just want to reiterate that it's never too late to chase your dreams," she said, while thanking her family for supporting her as well. "Build a village, stay persistent, find a field that makes you happy, and always, always put God first."