AUM graduate student presents at annual SOBIE conference
AUM graduate student Julia Simões' research on the use of data visualization and data analysis in classroom settings earned her an invitation to present at the Society of Business, Industry and Economics (SOBIE) 2023 Academic Conference.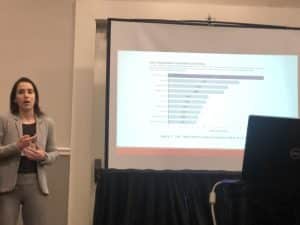 Simões, a management information systems major, found through her research project, "Teaching Data Visualization with Netflix: A teaching case using Kaggle and Power BI," that instructors who use innovative data visualization and data analysis tools in academic settings maximize students' learning experience. She presented her findings at SOBIE's annual conference held April 12-14 in Destin, Florida.
"During my research project, I found a relationship between the use of teaching case studies and data visualization skills," she said. "I recognized that by using teaching case studies and an engaging dataset file to teach data visualization, instructors can bring innovation, critical thinking and ultimately data communication to the classroom."
For her research project, Simões developed a teaching case that aims to inspire students and faculty to make use of Power BI, a data visualization software from Microsoft, and Kaggle, a web-based platform containing numerous free datasets, in a real-world classroom setting. To make the teaching case "a fun and engaging process," she chose a Netflix dataset to create a visualization dashboard, or infographic, to help make sense of the complex data. She conducted her research with Zack Jourdan, associate professor of information systems in AUM's College of Business.
"My hope is that my research of a data visualization teaching case using Power BI and Kaggle will be used by students, faculty members and professionals in the academic field as a resource for future projects and teaching methods for data visualization and data analysis," she said. "Since my study provides a short manual on how to use Kaggle and the basic steps for visuals creation, it is considered a tool to retrieve information and create new projects."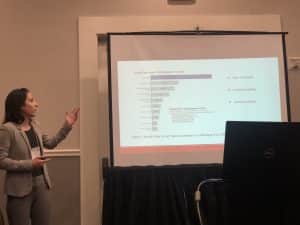 Since presenting at SOBIE, Simões said her research has helped to raise awareness about Power BI and Kaggle software as academic tools.
"Many people still do not know about the software Power BI and how important it is for decision making as it provides a big picture analysis," she said. "I wanted to share information about how this data visualization software can be applied in any business industry and how Kaggle's dataset platform can be used in data analysis, machine learning, and many other projects."
By presenting at SOBIE, Simões, who is from Brazil, said she was also able to improve her public speaking skills and network with faculty and students in her major and research field.
"I was able to gain knowledge in so many other business-related areas that were presented by students and faculty members," she said.
As a follow up to her research project, Simões said she plans to learn more about the student experience when using data visualization and data analysis as academic tools.
"In the long-term, I would like to use a survey approach as way to analyze student's opinion and performance using these findings," she said. "Data visualization relates to communication, and it requires the transmission of both data and decision making, two important skills."
Simões, who is scheduled to graduate with a Master of Science in Management Information Systems in December 2023, said she hopes to find a career that will allow her to keep creating content and spreading knowledge in the field of data visualization and data analysis.
"My interest is in career fields that give me the opportunity to leverage information technology and find new solutions to business challenges," she said.