AUM information systems major and nail artist completes degree with nearly perfect GPA
After having her hands full juggling college and a nail business for the past year, AUM senior Quinntaria Scott will celebrate finishing her degree in information systems with a nearly perfect grade point average at Spring 2023 Commencement.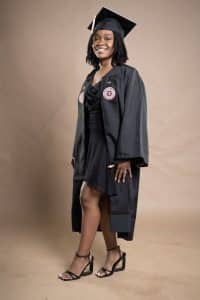 Scott, who holds a 4.0 GPA in her major information systems and 3.85 overall GPA, attributes her graduation this Spring semester to remaining committed to putting her studies first. AUM's Spring 2023 Commencement ceremonies are set for Saturday, May 6.
"I prioritized my time with school so I could allow myself time for my business," Scott said. "I mainly fulfilled press-on nail orders on the weekends, so I could complete homework assignments throughout the week."
Scott decided to explore her passion for designing nails by opening Q's Nail Vault, a press-on nail business, in March 2022 after almost losing her drive to complete her degree due to COVID-19. The illness spread through her family, affecting her as well.
"Being sick with a strain of COVID-19 forced me to lose my ability to function, caused me to lack concentration, and I struggled with anxiety," she said. "But seeing how it affected my family ultimately gave me the strength to continue progressing toward earning my degree."
Scott's family and friends also encouraged her to start Q's Nail Vault, but to make finishing her degree a priority. She also found support among her College of Business family.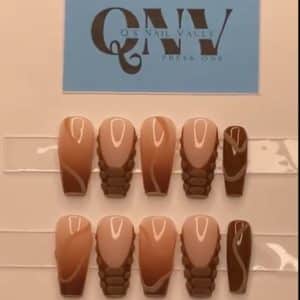 "Through my business, I have been able to broaden my creativity and have enjoyment while doing it," said Scott, whose nail designs became well-known among students and faculty within the college. "Running a small business also allowed me to network more with my fellow classmates and professors. I'm a very shy person, but having my business helped me to better understand people's perspectives and experiences through communication, marketing, and empathy."
Scott said receiving AUM's Opportunity and Watson Robbins Taylor scholarships also helped her to succeed in her classes. She didn't have to worry about how to fund her education, she said.
With the scholarships and support from faculty, Scott exceled as a student in AUM's Department of Information Systems in the College of Business, where she has made the Dean's List for six semesters and is a member of the Information Systems Club.
"The scholarships gave me the motivation to focus more on my studies, and I felt a responsibility to do the best that I could to succeed in my major," she said.
While she hasn't accepted a job offer, Scott said she is excited about what her future holds with a bachelor's degree in business administration specializing in information systems.
"I'm looking for a position that fits my interests as much as possible," she said. "There are so many opportunities within the field of information systems."