Warhawk Weekly 9-28: AUM 'Best of the Best'; Cybersecurity Awareness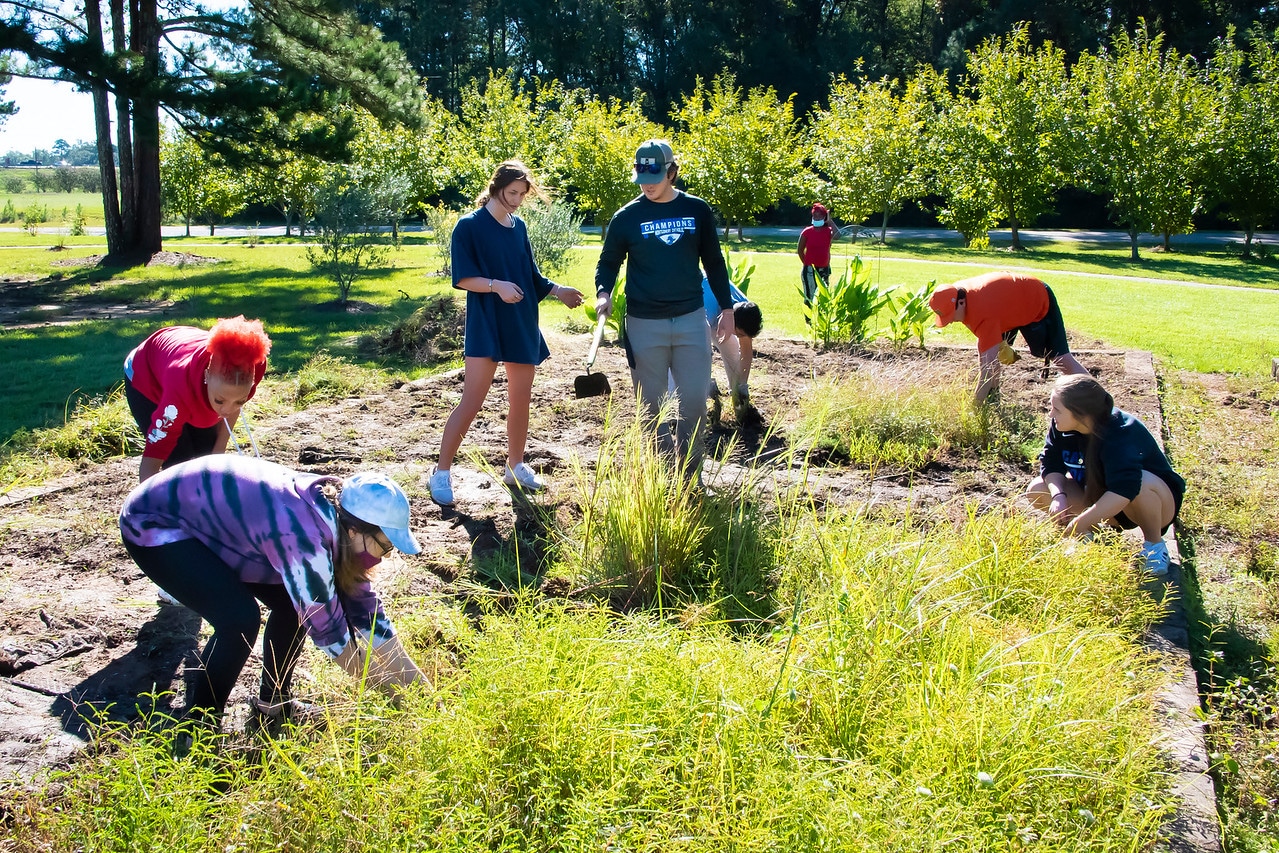 AUM earns Readers' Choice honors
For the fourth consecutive year, Montgomery Advertiser readers selected Auburn University at Montgomery as the top university in Alabama's River Region.
The Advertiser recently honored AUM, as well as a host of local businesses and non-profits, in its 2021 "Best of the Best" community choice awards program. AUM emerged with top honors in the awards program's "Education" category based on online voting for Montgomery, Autauga and Elmore counties.
"We're proud to have been recognized recently as the top university in Alabama's River Region for the fourth consecutive year, according to voters in the Montgomery Advertiser 2021 "Best of the Best" community choice awards. "Auburn University at Montgomery has a proud tradition of helping River Region high school and community college graduates, and working professionals, achieve their educational and professional development objectives," AUM Chancellor Carl A. Stockton said. "The Best of the Best results indicate that we are making good on our mission as a university."
2021 National Cyber Security Awareness Month Kickoff
As our lives have become increasingly dependent on technology, virtually all personal and business data is kept on internet-connected platforms, which can become a gold mine for bad actors. The first full week of  Cyber Security Awareness Month will highlight best security practices and focus on general cyber hygiene to keep your information safe.
To kick off National Cyber Security Awareness Month, AUM will host Gregory J. Touhill, director of the world-renowned CERT Division of the Carnegie Mellon University Software Engineering Institute, as a guest speaker. The virtual event, "Be Cyber Smart," will be held on Friday, October 1, from 8:30 a.m. – 9:30 a.m. via Zoom.
In his current position, Touhill leads a diverse group of researchers, software engineers, security analysts, and digital intelligence specialists working together to research security vulnerabilities in software products, contribute to long-term changes in networked systems, and develop cutting-edge information and training to improve the practice of cybersecurity.
Own your role in cybersecurity by starting with the basics. Creating strong passwords and using multi-factor authentication, backing up your data, and updating your software are great places to start. This is a great way to Do Your Part #BeCyberSmart!
AUM will host speakers and offer educational resources for university students and employees throughout Cyber Security Awareness Month. Learn more about cyber security events taking place in October by visiting AUM's Calendar of Events.
COVID-19 vaccinations, booster shots available October 12
Warhawk Health Services will host a COVID-19 vaccination clinic for AUM students and employees, as well as members of the general public, on Tuesday, Oct. 12, from noon-4 p.m. at the Wellness Center.
No appointments are necessary. Attendees are asked to bring their identification and, if receiving a COVID-19 booster shot, a copy of their vaccination card.
According to the Centers for Disease Control and Prevention, COVID-19 booster shots are recommended for the following groups:
People age 65-and-older
Adults 18-and-over with underlying medical conditions
Individuals in occupations with increased risk for COVID-19 exposure and transmission, including:

First responders (healthcare workers, firefighters, police officers, and other frontline workers)
Education staff (teachers, support staff, daycare workers)
Food and agriculture workers
Manufacturing workers
Corrections officers
S. Postal Service workers
Public transit employees
Grocery store employees
Let's talk about veterans and military family members
Student veterans face many challenges navigating college life. AUM's Veteran Military Resource Center and University Honors Program invites you to "Talk It Out Tuesday" to discuss obstacles student veterans face, including overcoming stereotypes we may have of them.
Today's discussion will be held from 3 – 4 p.m. in the Library Tower (10th floor, West). The session will also cover the benefits student veterans bring to campus and classes and AUM resources that are available to assist student veterans.
Walk your way to fitness on AUM nature trails
AUM faculty and staff can take time to get in shape, release stress and connect with the outdoors by joining the AUM Wellness Center for group walks along campus nature trails.
Every Monday and Thursday, the Wellness Center will lead group wellness walks along campus trails starting at 6:30 a.m. The first walk is set for Monday, October 4 and will begin in front of the Wellness Center.
AUM has several miles of hiking and biking trails that meander along wooded areas around the perimeter of campus. Walks are free and open to all faculty and staff. Membership to the AUM Wellness Center is not required.
For more information, contact AUM Wellness Center Director Jennifer Puryear at 334-244-3546 or [email protected].
It's all about the bling: AUM softball celebrates conference title
Auburn University at Montgomery's softball team recently celebrated its 2021 Gulf South Conference regular season and tournament titles with a ring ceremony.
Members of the 2021 team received their championship rings last week, highlighting AUM's first conference championship as a full-fledged member of NCAA Division II. The Warhawks' preparation for the 2022 season includes a fall exhibition game against NCAA Division I Alabama State on Sunday at 3 p.m. at the AUM Softball Complex.
AUM's volleyball team will host a pair of home matches against Gulf South Conference opponents – Friday at 6 p.m. against West Alabama and Saturday at 2 p.m. against Mississippi College.
Keep up with the Warhawks in the AUM Athletics Newsroom.
Collaborate with the Career Development Center
AUM faculty and staff can incorporate career planning strategies within the classroom or their department with the help of the Career Development Center.
The Career Development Center collaborates with faculty and staff to provide presentations on a range of career readiness topics to students and campus departments. Topics include career exploration and planning, career readiness competencies, networking, interview preparation and finding an internship.
To request a Career Development Center presentation for your classroom or department, visit the CDC faculty and staff resources.
Call for Undergraduate Research & Creative Activity Proposals
Auburn University at Montgomery's Undergraduate Research Committee is continuing to accept and review proposals for Undergraduate Research and Creative Activity grants.
The Office of the Provost has allocated $50,000 for undergraduate research or creative activity at AUM with $37,408 awarded so far for faculty proposals. Additional funding is anticipated in the next fiscal year.
Grant funding is awarded to faculty members whose research involves undergraduate students. The most recent recipients are:
Semih Dinc, Computer Science & Computer Information Systems, for "Vision and Depth-Based Trajectory for Mobile Robots"
Heather Witcher, English & Philosophy, for "Michael Field Diaries Archive"
Nick Bourke, Curriculum, Instruction, & Technology, for "Utilizing Cooperative Group Structures in Environmental Education"
AUM's Experiential Education and Engagement Center and the University Honors Program share the mission of encouraging undergraduate research and creativity and administering funding for undergraduate research and creativity. To apply, email Lynn Stallings at [email protected] or Shelly Taliaferro at [email protected] for the guidelines.
COVID-19 dashboard available
In an effort to help students, faculty, staff and parents understand public health conditions relative to the campus community during the pandemic, AUM will continue to offer an online COVID-19 dashboard.
The dashboard will provide weekly updates on testing conducted by Warhawk Health Services, as well as test results from personal healthcare providers reported by students and employees to Student Affairs and Human Resources, respectively.
Learn more about the dashboard.
Get event updates from Curtiss
 Stay in-the-know about can't-miss campus events via text message. Enroll in AUM365 and get the 4-1-1 from Curtiss The Warhawk himself. Text curti$$ to 334-398-6025 to receive reminders about upcoming happenings.