Warhawk Weekly 10-5: Boozer twins; AUM Diversity; Vaccination Clinic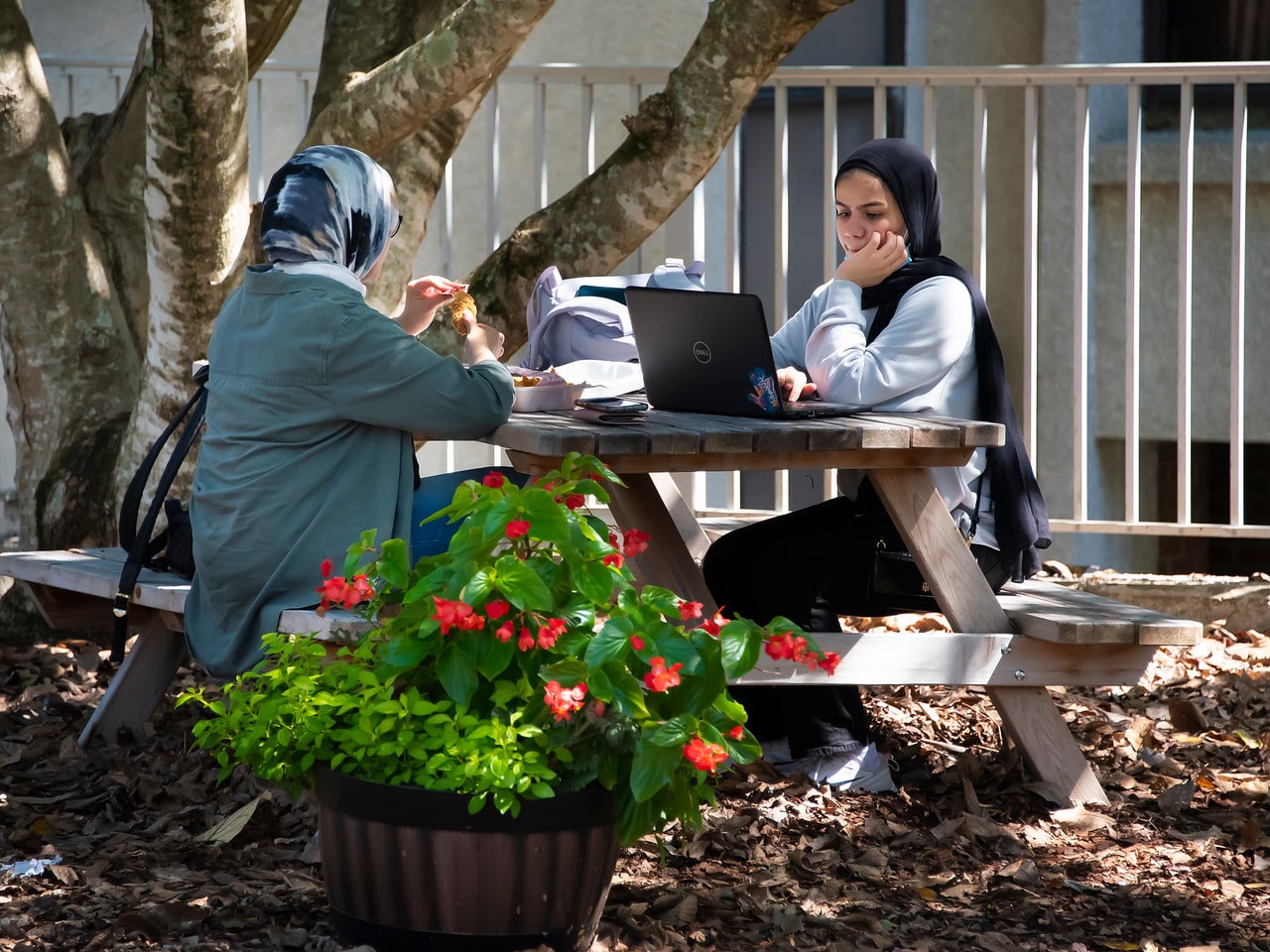 Twin towers find home at AUM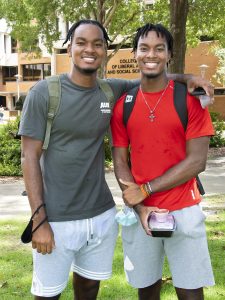 Choosing Auburn University at Montgomery as a new college home came down to three things for identical twins and first-year students Cameron and Zameron Boozer — basketball scholarships, feeling wanted and family.
Arriving on campus for their first semester this fall, the Boozer twins said they searched out a university that would allow them to pursue their college and basketball dreams together. As twins who share many similarities and likes — from the same food allergies to choice in major — being together throughout college is important to brothers.
"When we graduated high school, we decided we wanted to go to college together so we made sure that every school that came our way wasn't just offering one scholarship," said Cameron, who transferred from NCAA Division I Jacksonville University in Florida with his brother Zameron on basketball scholarships. "A few universities offered scholarships to both of us, and AUM was one of them."
AUM also checked off other things the duo wanted in a college. AUM and its basketball program offered a welcoming environment from their first visit, and the campus location is close to their hometown of Lanett, Alabama, Cameron said.
"The drive to see our family is shorter, which is important because we both have kids," Cameron said. But, "one of the main reasons that we came here is because we felt like the basketball coaches and program really wanted us here. We wanted to make sure that we were somewhere we were wanted. The coaches did a really good job of presenting this to us."
Learn more about the Boozer twins and how they are looking ahead.
AUM earns recognition for diversity efforts
The U.S. Civil Rights Trail recently presented a certificate to Auburn University at Montgomery Chancellor Carl A. Stockton, recognizing AUM's status as one of the most racially and ethnically diverse universities in the South.
More than 40 percent of AUM's students are from traditionally underrepresented groups, and the website Niche graded AUM with an "A" for diversity.
AUM Alumni Association Board of Directors President Joseph E. Taff nominated AUM for the recognition, which was presented by Rosemary Judkins of Montgomery, chair of the U.S. Civil Rights Trail marketing alliance. Both are pictured with Dr. Stockton.
Warhawk Health Services hosts vaccination clinic
Warhawk Health Services will host a COVID-19 vaccination clinic for AUM students and employees, as well as members of the general public, on Tuesday, Oct. 12, from noon-4 p.m. at the Wellness Center.
No appointments are necessary. Attendees are asked to bring their identification and, if receiving a COVID-19 booster shot, a copy of their vaccination card.
According to the Centers for Disease Control and Prevention, COVID-19 booster shots are recommended for the following groups:
People age 65-and-older
Adults 18-and-over with underlying medical conditions
Individuals in occupations with increased risk for COVID-19 exposure and transmission, including:

First responders (healthcare workers, firefighters, police officers, and other frontline workers)
Education staff (teachers, support staff, daycare workers)
Food and agriculture workers
Manufacturing workers
Corrections officers
S. Postal Service workers
Public transit employees
Grocery store employees
Earn rewards as an AUM VIP
Have you been vaccinated against COVID-19 yet?
If you're an AUM student, there's still time to cash in on showing care for others during the pandemic. If you have already been vaccinated against COVID-19 or plan to be soon, you can earn a $200 reward and possibly much larger prizes through AUM's Vaccination Incentive Program.
Get the details on the program.
Cyber Security Awareness Month celebrations continue
Cyber Security Awareness is everyone's responsibility.
In observance of Cyber Security Awareness Month, AUM is hosting virtual events with national and local speakers and offering educational resources for university students and employees throughout October. Events are open to all students, faculty, and staff.
This Friday, Colonel David B. Bosko, commandant of the Air Force Cyber College at Maxwell Air Force Base, will be the guest speaker for the seminar "Fight the Phish." The event will be held from 10 – 11 a.m. in Goodwyn Hall 109 or join via Zoom. Bosko will discuss how phishing attacks and scams have thrived since the COVID-19 pandemic began in 2020, with phishing attacks accounting for more than 80 percent of reported security incidents.
The second week of Cybersecurity Awareness Month at AUM will stress the importance of being wary of emails, text messages or chat boxes that come from a stranger or someone you were not expecting. Think before you click on any suspicious emails, links or attachments and make sure to report any suspicious emails if you can.
Learn more about cyber security events taking place in October by visiting AUM's Calendar of Events.
Graduate Studies Preview Night set for October 19
Looking for a way to reinvent yourself in a new career or accelerate the trajectory of your current one?
Learn more about the opportunities presented by an advanced degree at AUM's Graduate Studies Preview Night on Tuesday, Oct. 19, from 5-7 p.m. Attendees are welcome to join in-person or online.
Home soccer matches highlight week in AUM Athletics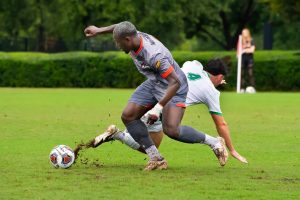 Catch the AUM men's and women's soccer teams at home this week against Gulf South Conference rival West Florida and non-conference opponent Spring Hill College.
AUM will host West Florida Friday night, with the women kicking off at 5 p.m. and the men at 7:30 p.m. Friday's matches will mark Faculty/Staff Appreciation Night.
On Sunday, the Warhawk women will host Spring Hill College at 1 p.m., with the men to follow at 3:30 p.m. While at the game, help AUM's Zeta Tau Alpha chapter raise money for the National Breast Cancer Association. Drop off a donation and get a pink ribbon to show your support during National Breast Cancer Awareness Month.
The men's soccer team is coming off a 1-0 double-overtime road win over No. 18 Lee University.
Feel like getting out of town? The volleyball and cross country teams will be on the road, while the softball team will visit NCAA Division I Auburn for a fall exhibition game Sunday at 1 p.m.
Catch the Warhawks in action in the AUM Athletics Newsroom.
UHP food pantry October hours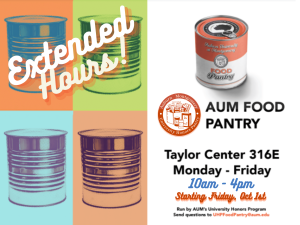 Are you a student in need of food or health items? The University Honors Pantry (UHP) provides more than 100 food and health items to students daily.
Students can stop by the pantry for assistance Monday – Friday, from 10 a.m. to 4 p.m. in Taylor Center 316E.
Members of the campus community are invited to help address food insecurity on campus by making a donation to the Food Pantry. Non-perishable food and personal grooming items can be donated at the black "UHP Food Pantry" bins at multiple campus locations or by emailing [email protected].
Learn more about the UHP Food Pantry.
Undergraduate Research & Creative Activity panel discussions
AUM's Experiential Education & Engagement Center (EEEC) will host two panel discussions on mentoring undergraduate students in research and creative activity.
Faculty panelists will discuss projects funded by the Experiential Education & Engagement Center (and the Office of the Provost) and provide information about applying for funding.
The university community is invited to the following upcoming panel discussions:
Thursday, October 7th, noon – 1 p.m., Taylor 221
Panelists: Drs. Greg Ciesielski, Semih Dinc, Duk Kim, Vanessa Koelling, Ann Marie O'Neill, Randy Russell, Claudia Stein
Wednesday, October 13th, noon – 1 p.m., Zoom https://auburn.zoom.us/my/aumeeec
Panelists: Drs. ​Lee Farrow, Erin Reilly, Tami Shelley, Heather Witcher
Become an advisor for student clubs, organizations
The Office of Student Life and Leadership Programs is looking for advisors to support student clubs and organizations.
Faculty and staff members can serve as student organization advisors. Advisors provide support and guidance to AUM student organizations. Every student organization has its own personality and may define the role of the advisor in different ways. We encourage advisors to serve as a mentor, team builder, conflict mediator, reflective agent, educator, motivator, and policy interpreter for student groups.
The Office of Student Life and Leadership Programs offers a training each semester to support advisors as well as a handbook.
If you are interested, please complete the online survey.
COVID-19 dashboard available
In an effort to help students, faculty, staff and parents understand public health conditions relative to the campus community during the pandemic, AUM will continue to offer an online COVID-19 dashboard.
The dashboard will provide weekly updates on testing conducted by Warhawk Health Services, as well as test results from personal healthcare providers reported by students and employees to Student Affairs and Human Resources, respectively.
Learn more about the dashboard.
Get event updates from Curtiss
Stay in-the-know about can't-miss campus events via text message. Enroll in AUM365 and get the 4-1-1 from Curtiss The Warhawk himself. Text curti$$ to 334-398-6025 to receive reminders about upcoming happenings.