Warhawk Weekly 8-30: Princeton Review honors; College Colors Day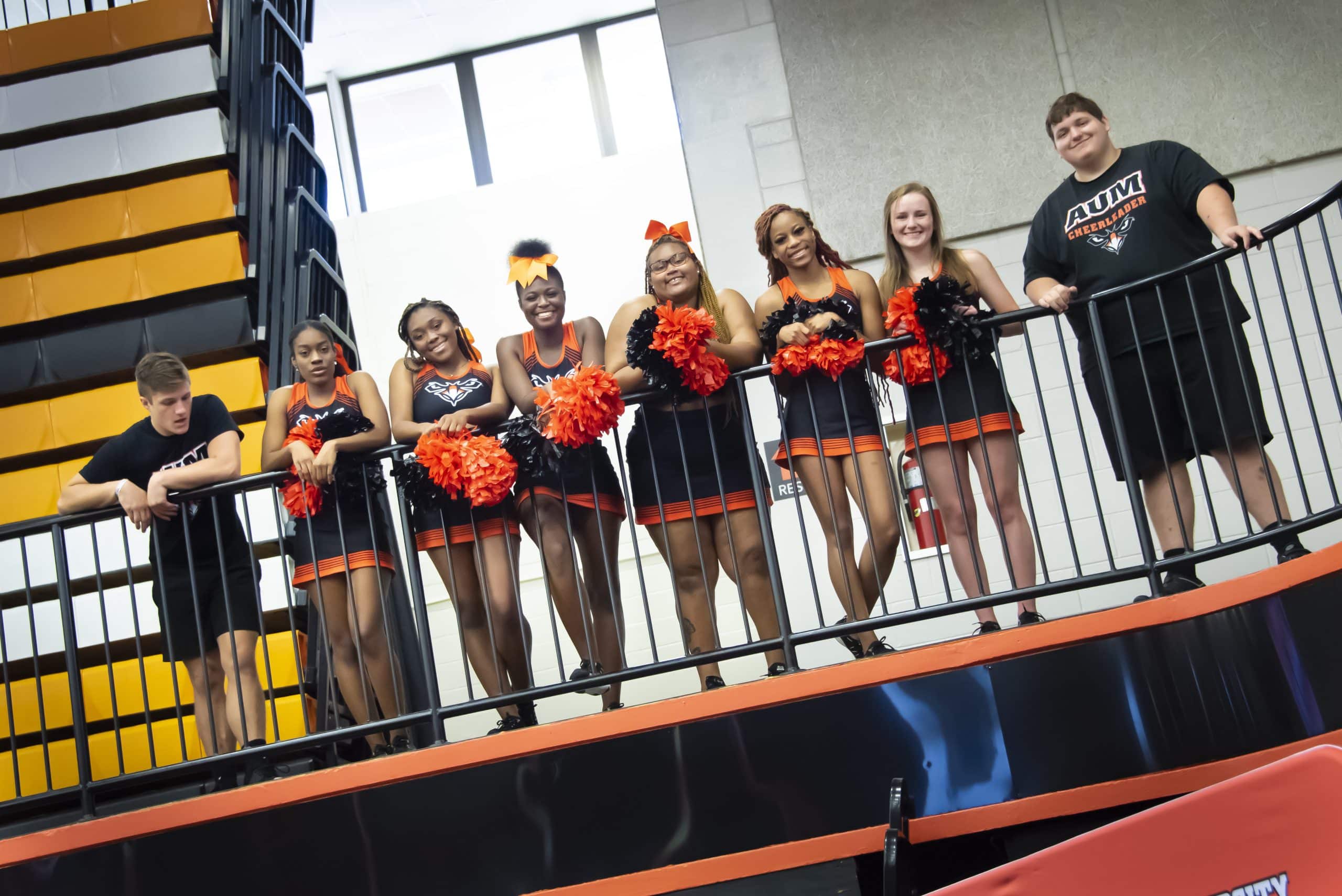 Princeton Review honors AUM for excellence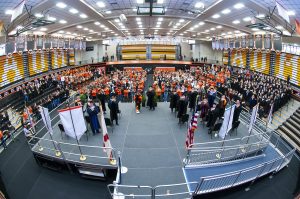 Auburn University at Montgomery recently earned recognition from The Princeton Review as one of the "Best Colleges in the Southeast" for the fourth consecutive year.
AUM is included among 143 of the best universities in the Southeast as part of the website's "2023 Best Colleges: Region by Region" feature examining 655 "academically outstanding" institutions in five "zones" – Northeast, Southeast, Midwest, West and International. In all, the colleges recognized on the "regional best" lists for 2023 make up less than a quarter of the nation's 2,700 four-year colleges and universities.
"This accolade speaks to the efforts of our faculty and staff in serving the needs of Auburn University at Montgomery students," AUM Chancellor Carl A. Stockton said. "What makes this recognition particularly gratifying is that The Princeton Review draws on extensive surveys of students in evaluating the quality of academic programs and instruction, support systems and campus resources, diversity and opportunities for student involvement."
The Princeton Review's anonymous survey of students revealed an appreciation for AUM's "engaging [and] knowledgeable" faculty," "rigorous and challenging" coursework, and a diverse campus that is a "huge melting pot."
One student survey respondent said that AUM's professors "don't teach just for the paycheck – they care."
The Princeton Review is an education services company known for its tutoring, test-prep, books, and other student resources. Every year, it helps millions of college- and graduate school-bound students achieve their education and career goals through online and in-person courses delivered by a network of more than 4,000 teachers and tutors, online resources, and its more than 150 print and digital books published by Penguin Random House.
Show your AUM spirit on College Colors Day
Flex your AUM pride by wearing your orange and black on Friday, Sept. 2, in honor of College Colors Day.
Launched in 2005, College Colors Day is a national celebration of the traditions and spirit that enrich the college experience.
All Warhawks are encouraged to share their College Colors Day selfies on social media, using the hashtag #collegecolorsday and tagging @auburnmontgomery and @HigherEdPartners on Instagram.
Apply for the Miss AUM Pageant Scholarship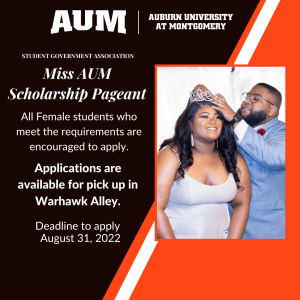 Want to showcase your talent, represent your school and earn a reward in the process?
Apply for the Miss AUM Pageant. In addition to earning a blinged-out tiara, the pageant winner will also earn a scholarship. Female students who are interested can pick up an application at Warhawk Alley by end of day Wednesday.
Get moving in a Wellness Center fitness class
New to the Wellness Center or new to working out? Check out group fitness classes that offer variety and challenge your body. Wellness Center offerings include Yoga, Zumba, Pilates, Strength and Conditioning, REFIT, and REV+ Flow.
You can find our class schedule online at https://www.aum.edu/wellnesscenter/fitness/class-descriptions/. Stop in and try out offerings that will educate you on how to target all facets of the body while also connecting you with similar goal-minded participants.
The Wellness Center also offers nutritional supplements, including pre-workout, protein, recovery, creatine and collagen. Purchase at the Wellness Center or through the GrubHub app.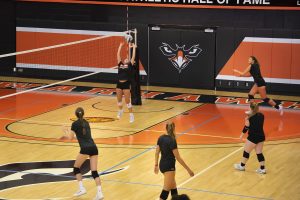 AUM's soccer, volleyball and cross country teams will be on the road this week, but there will be an opportunity to catch the men's soccer team at home over the weekend.
The No. 8 Warhawks will host Mobile College Sunday at 6 p.m. at the AUM Soccer Complex.
Shop the AUM Basketball Team Store
BSN Sports, one of the nation's largest sporting goods distributors, has temporarily opened an online "My Team" store where AUM fans can purchase Warhawk basketball apparel.
Choose from a variety of Under Armour hoodies, T-shirts, shorts, and other items. The store will be open through Wednesday, Aug. 31.
Help recognize an outstanding faculty member
We've all had at least one professor who inspired us, challenged us and perhaps helped us identify the right major or career path.
Here's your chance to thank that professor.
AUM's Alumni Association is accepted nominations for the 2022-2025 Alumni Professorship through September 16. This professorship will honor an AUM faculty member who has served the university full-time for at least 10 years.
Nomination letters can be submitted by students, alumni and AUM employees and should not exceed two pages in length. Nominations should emphasize teaching excellence, as well as excellence in research and publications.
Send nomination letters to: Awards Committee, Auburn University at Montgomery Alumni Association, P.O. Box 244023, Montgomery, AL 36124-4023, or email them to [email protected]. Questions? Call or email 244-3369.
AUM's campus will be closed on Monday, Sept. 5, in observance of Labor Day. Normal university operations will resume on Tuesday, Sept. 6.
Keep up with campus events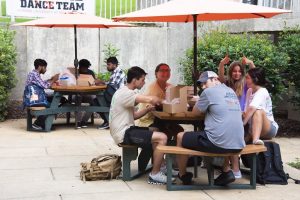 There's an easy way to keep up with campus happenings. Enroll in AUM365 and get the 4-1-1 from Curtiss The Warhawk himself. Text curti$$ to 334-398-6025 to receive reminders about upcoming happenings.