Warhawk Weekly 5-11: Gulf South Conference title; Celebrating Spring graduates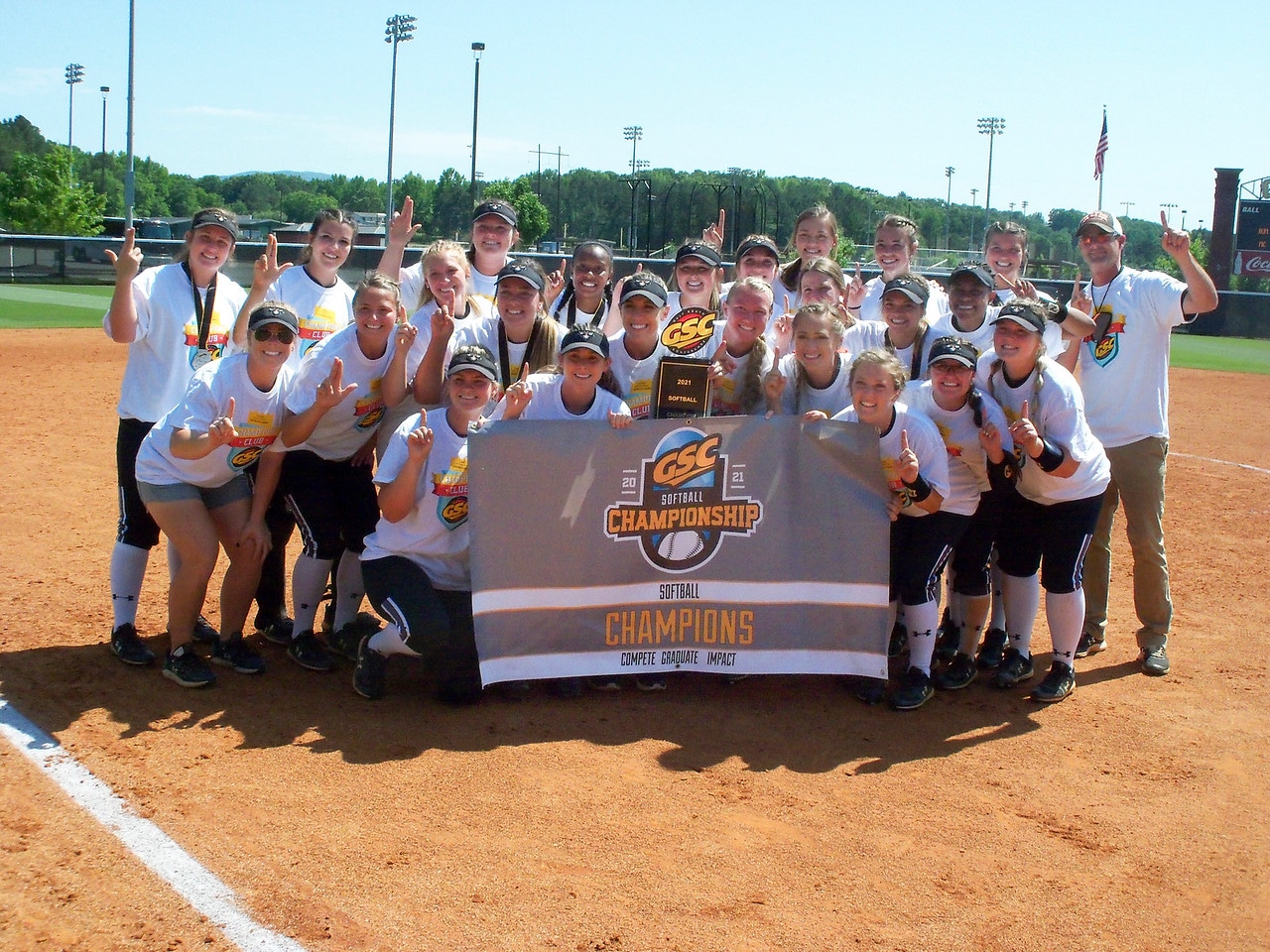 Warhawks capture first GSC championship
Auburn University at Montgomery's fourth-ranked softball team captured the first Gulf South Conference championship in school history and earned an automatic bid to the upcoming NCAA South Region tournament May 19-22.
The Warhawks (39-5) used a two-run home run from Kathryn Fallen and a grand slam from Gia Martin to cruise to an 8-2 win over Mississippi College in the GSC tournament finals in Oxford, Alabama. AUM extended its nation-leading winning streak to 19 games.
AUM will find out its NCAA opening round opponent on Monday, when brackets are revealed.
Read more about the softball rankings.
University celebrates nearly 500 spring graduates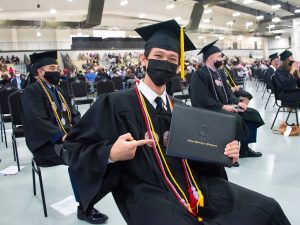 AUM alum and City of Talladega Mayor Timothy Ragland encouraged the university's Spring 2021 graduating class to "be the change" they wish to see and to understand that their "dreams are the fuel that pushes you to your purpose."
Ragland praised the Class of 2021 for persevering during a global pandemic during a pair of Saturday ceremonies at the Multiplex at Cramton Bowl.
AUM also recognized its first graduates of the Doctor of Nursing Practice program in the College of Nursing & Health Sciences — Chandra B. Darden, Amy M. Long and Samantha Lewis McDowell – and honored the memory of the late Tyler Kenneth Grogan with a posthumous.
'Get in Shape for Fall' challenge
Start your summer off by getting fit in time for fall. The AUM Wellness Center invites faculty, staff and student employees with a wellness center membership to compete in a weight loss challenge from May 12 to July 14. The goal is to help you lose your greatest percentage of total body weight. Here's how it works:
Participate
AUM Employees: Take the first step to commit to your health and wellness by joining the AUM Wellness Center "Get in Shape for Fall" challenge.
Check-in
Visit the Wellness Center for weekly weigh-ins every Wednesday to get your body fat percentage. A body fat test will occur on your first and last weigh-in days.
Win
Determine your body fat percentage by taking your total weight loss and dividing it by your starting weight. The two participants who lose the greatest percentage of total body weight and fat combined at the final weigh-in will be named winners.
Campus Services modifies operations
With the Spring 2021 semester ending, Campus Services will implement the following operational changes:
Dining: The AUM Café will be closed until June 1. Deli and salad offerings will be available in the AUM Bookstore. The AUMazing Bean will be open Monday-Friday, 9 a.m.-1 p.m.
Bookstore: Beginning June 1, the AUM Bookstore will no longer accept cash as payment. Apple and Google Pay, along with credit and debit cards, will be accepted. Summer hours will be Monday-Friday, 8 a.m.-5 p.m.
Wellness Center: The AUM Wellness Center's summer hours are Monday-Friday, 5 a.m.-8 p.m., and Sunday, noon-5 p.m.
College of Education seeks Senior Certification & Field Experience Manager
The College of Education invites internal applicants for the position of Senior Certification & Field Experience Manager. The application window closes on Monday.
Learn more about the position.
Staff Council hosts Spring Fling
AUM's Staff Council invites all faculty and staff to its annual Spring Fling celebration on Friday, from 11 a.m. to 2 p.m. on the Quad.
Seating is limited, so attendees are encouraged to bring lawn chairs.
ROTC cadets earn commission
AUM's Mustang Battalion recently commissioned 12 cadets into the U.S. Army. Making the transition from cadet to second lieutenant were:
Kasey J. Badger, Javoris F. Brown, Buckner W. Cook, Markelle J. Cox, Benjamin C. Hobbs, Carl Howard Jr., Darla Hunt, Hannah A. Nichols, Benjamin J. Parker, Noah E. Reeves, Matthew N. Taunton, and Brandon K. Williams.
AUM is the host campus for the Mustang Battalion, which includes ROTC cadets from AUM, Alabama State University, Troy University, Faulkner University, Huntingdon and Troy-Montgomery.
Build your resume as an AUM Athletics intern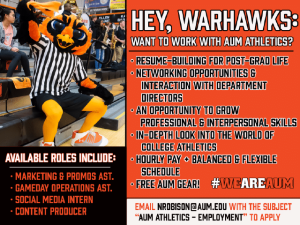 Need an internship?
AUM Athletics needs talented, hard-working students to fill paid internships.
Build your resume by working in gameday operations, social media, marketing and content production. Email [email protected] with the subject line "AUM Athletics-Employment" for more details.
Show your spirit: Try out for AUM cheerleading
We've got spirit, yes we do, we've got spirit, how 'bout you?
Our Auburn University at Montgomery cheerleading friends are seeking new team members who can bring it on, so to speak.
Submit an application for AUM cheerleading.
Get event updates from Curtiss
Stay in-the-know about can't-miss campus events via text message. Enroll in AUM365 and get the 4-1-1 from Curtiss The Warhawk himself. Text curti$$ to 334-398-6025 to receive reminders about upcoming happenings.