Warhawk Weekly 5-4: Ragland as commencement speaker; Share your success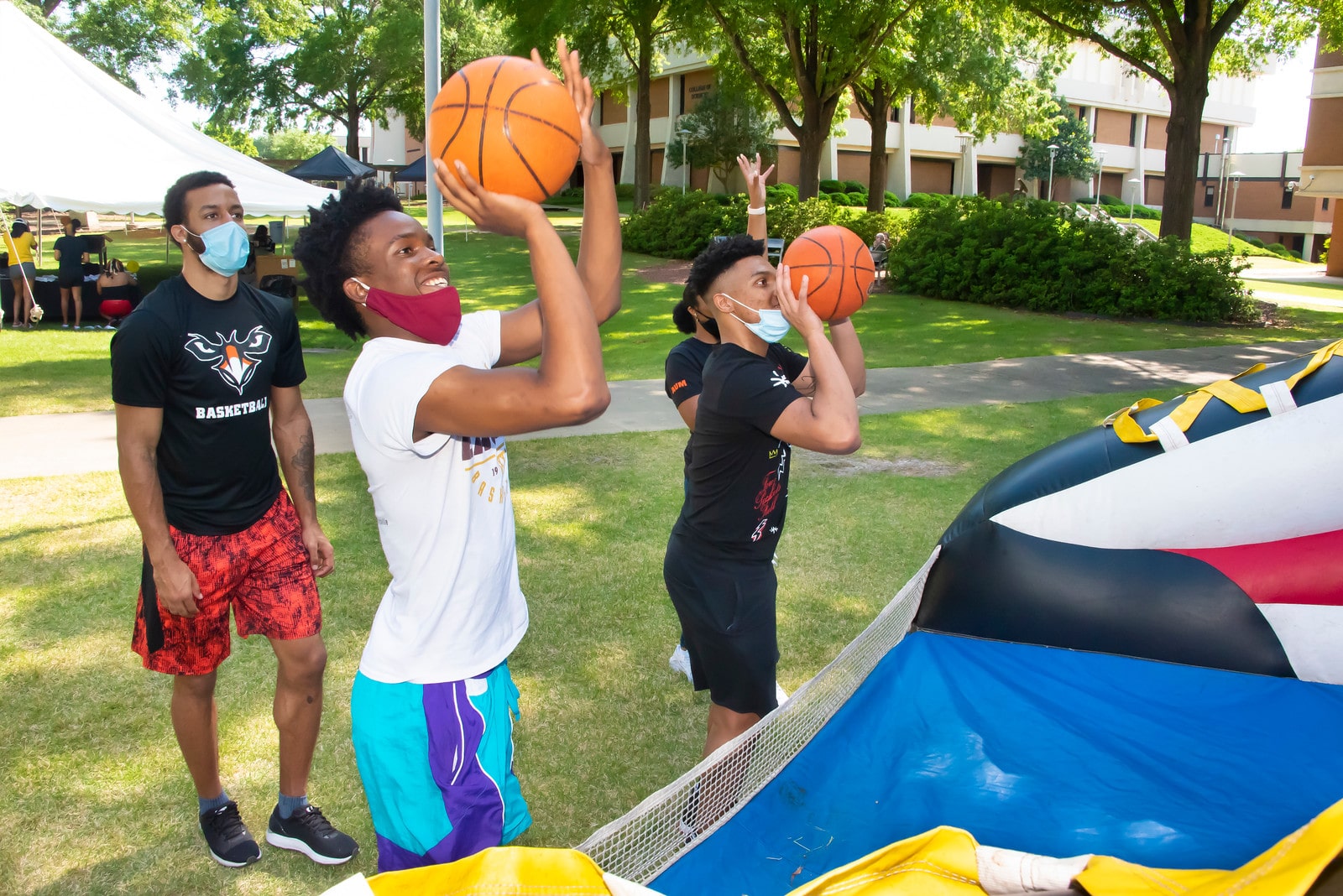 Ragland to serve as commencement speaker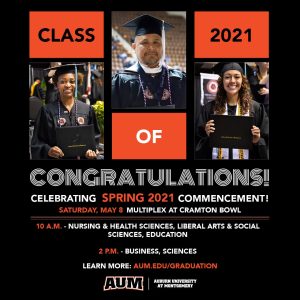 City of Talladega Mayor Timothy Ragland, who earned a political science degree from Auburn University at Montgomery in 2017, will serve as the guest speaker for the university's celebration of its Spring Class of 2021.
The university will host a pair of graduation ceremonies at the Multiplex at Cramton Bowl. Graduates of the Colleges of Education, Liberal Arts & Social Sciences, and Nursing & Health Sciences will be recognized during the 10 a.m. session, while graduates from the Colleges of Business and Sciences will be honored at 2 p.m.
Due to the larger than normal graduating class this semester and the current guidance from public health experts, social distancing and masks will be required during the commencement ceremony. Each graduate will be limited to no more than five guests. 
Ragland offers an example of how AUM graduates can make a difference through servant leadership. In November 2019, he defeated Talledga's incumbent mayor by 23 votes – becoming the city's first African American mayor and its youngest in the last century.
Visit www.aum.edu/graduation for commencement details.
Commemorate your commencement
Attention, Spring graduates: Celebrate your success and leave a legacy by giving your graduation year.
Make a gift of $20.21 to the AUM college or program of your choice, and you'll receive a commemorative medallion to wear at commencement. Your gift and continued support will help position more AUM students for success.
Learn more at www.aum.edu/classgift.
'Get in Shape for Fall' challenge
Start your summer off by getting fit in time for fall. The AUM Wellness Center invites faculty, staff and student employees with a wellness center membership to compete in a weight loss challenge from May 12 to July 14. The goal is to help you lose your greatest percentage of total body weight. Here's how it works:
Participate
AUM Employees: Take the first step to commit to your health and wellness by joining the AUM Wellness Center "Get in Shape for Fall" challenge.
Check-in
Visit the Wellness Center for weekly weigh-ins every Wednesday to get your body fat percentage. A body fat test will occur on your first and last weigh-in days.
Win
Determine your body fat percentage by taking your total weight loss and dividing it by your starting weight. The two participants who lose the greatest percentage of total body weight and fat combined at the final weigh-in will be named winners.
Research examines food insecurity during pandemic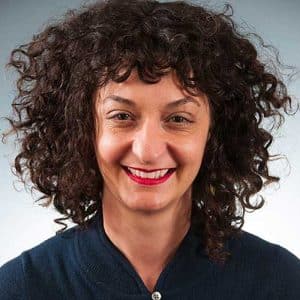 A study led by Assistant Professor of Kinesiology Deanne Allegro found that the COVID-19 pandemic had a significant impact on Alabamians' food purchasing habits and resulted in increased "food insecurity."
According to the survey, respondents reported a 52 percent increase in food insecurity since the COVID-19 pandemic reached Alabama in March 2020. Of those respondents, 25 percent reported experiencing food insecurity in the last year and 38 percent reported experiencing food insecurity since the World Health Organization declared a pandemic on March 11, 2020. Food delivery increased 49 percent while the use of programs that give food, such as food pantries, increased by 44 percent, the survey found. Seventy-eight percent of respondents altogether reduced grocery trips to avoid exposure to the COVID-19.
"We have never before experienced a pandemic of this magnitude in our lifetime and immediately the response affected food access and availability for almost everyone," Allegro said. "Parts of Alabama already experience high rates of food insecurity and limited food access. Understanding who was most greatly affected, how they were affected, and what responses provided the most relief are critical to finding solutions and improving responses in the future."
Read the full story in the AUM Newsroom.
Softball team captures share of conference crown
AUM's No. 11-ranked softball team captured a share of the Gulf South Conference regular season championship in its first full season of competition as a full-fledged member.
The Warhawks swept West Alabama in a three-game series, running their record to 35-5, extending their winning streak to 15 games, and giving head coach Eric Newell his 500th career victory in the process.
AUM will open Gulf South Conference tournament play Thursday at 12:30 p.m. in Oxford, Ala., against Montevallo. The Warhawks hold the top seed in the tournament.
Jobe earns Sarah E. Mills Memorial Scholarship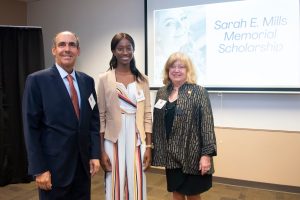 AUM College of Nursing and Health Sciences student Mariam Jobe will soon begin working in the general surgery wing at Baptist Health South, but landing a great job doesn't mean her scholarly activities have ended.
"I intend to gain more certifications in my area of practice and in the future go for a master's in nursing leadership and management, or become a family nurse practitioner," Jobe said. "I am also considering travel nursing in the near future."
Jobe's interest in lifelong learning and in helping others made her a fitting recipient of the first Sarah E. Mills Memorial Scholarship. The scholarship's namesake was a 21-year-old AUM nursing student who passed away just weeks before her graduation while en route to her job at a local hospital. Mills' family and friends created the scholarship in the hopes of helping recipients who would personify the ideals Sarah believed were essential characteristics of successful nurses — "integrity, critical thinking and emotional stability."
Jobe said her pursuit of a career in nursing stems from her desire to help others. A native of Gambia, the smallest nation in mainland Africa, Jobe moved to Montgomery in 2015.
"Coming from a country where health care is a major problem exposed me to seeing people's lives being devastated by lack of adequate health care," Jobe said. "Additionally, I lost my mom to a poor health care system in June 2016. All of these combined made me feel I have a role to play to help my community achieve optimum health care as needed."
Harris recognized for impact as instructor
Doug Smith, a law enforcement officer with more than 50 years of experience, recently surprised Dr. Lou Harris, one of his instructors who teaches law enforcement classes for AUM's Crime Prevention Clearinghouse, with a tribute resolution in honor of his impact on students.  
Since 2007, Harris taught nearly 100 classes through the AUM law enforcement training program funded through AUM and the Alabama Department of Economic & Community Affairs (ADECA) since 1997. Smith's own track record is pretty impressive as well as he has taken 31 law enforcement continuing education classes.
Phi Kappa Phi inducts 30 new members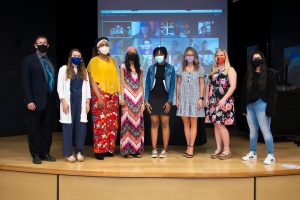 Last week, AUM celebrated the induction of 30 new members into its The Honor Society of Phi Kappa Phi chapter.
Phi Kappa Phi is the nation's oldest and most selective honor society for all disciplines.
Spring 2021 initiates are: Jenna Abbott, Aseel Abdelaziz, Tracy M. Atcheson, Olivia Aycock, Kayla Bizzle, Carli M. Chavez, Dallas Choate, Savannah Cowart, Kailyn Crum, Tiasia C. Davis, Jeffrey Deetman, Albert Charles Drakeford, Alicia M. Estes, Audra Froom, Samia A. Goodwyn, Graylyn Harris, Dominique D. Kelly, Shalom Kim, Emily Lee, Nyaradzai Mahachi, Brendon D. McDonald, Jacob A. McDougald, Andrew McMichael, Meredith Nall, Rosse S. Patel, Rebekah Faith Reader, Brooklyn Turner, Katherine A. Ware, Nyah M. Whittlesey, and Tatum E. Willis.
Show your spirit: Try out for AUM cheerleading
We've got spirit, yes we do, we've got spirit, how 'bout you?
Our Auburn University at Montgomery cheerleading friends are seeking new team members who can bring it on, so to speak.
Submit an application for AUM cheerleading.
Get event updates from Curtiss
Stay in-the-know about can't-miss campus events via text message. Enroll in AUM365 and get the 4-1-1 from Curtiss The Warhawk himself. Text curti$$ to 334-398-6025 to receive reminders about upcoming happenings.