Warhawk Weekly 4-6: Register for vaccination; Acts of kindness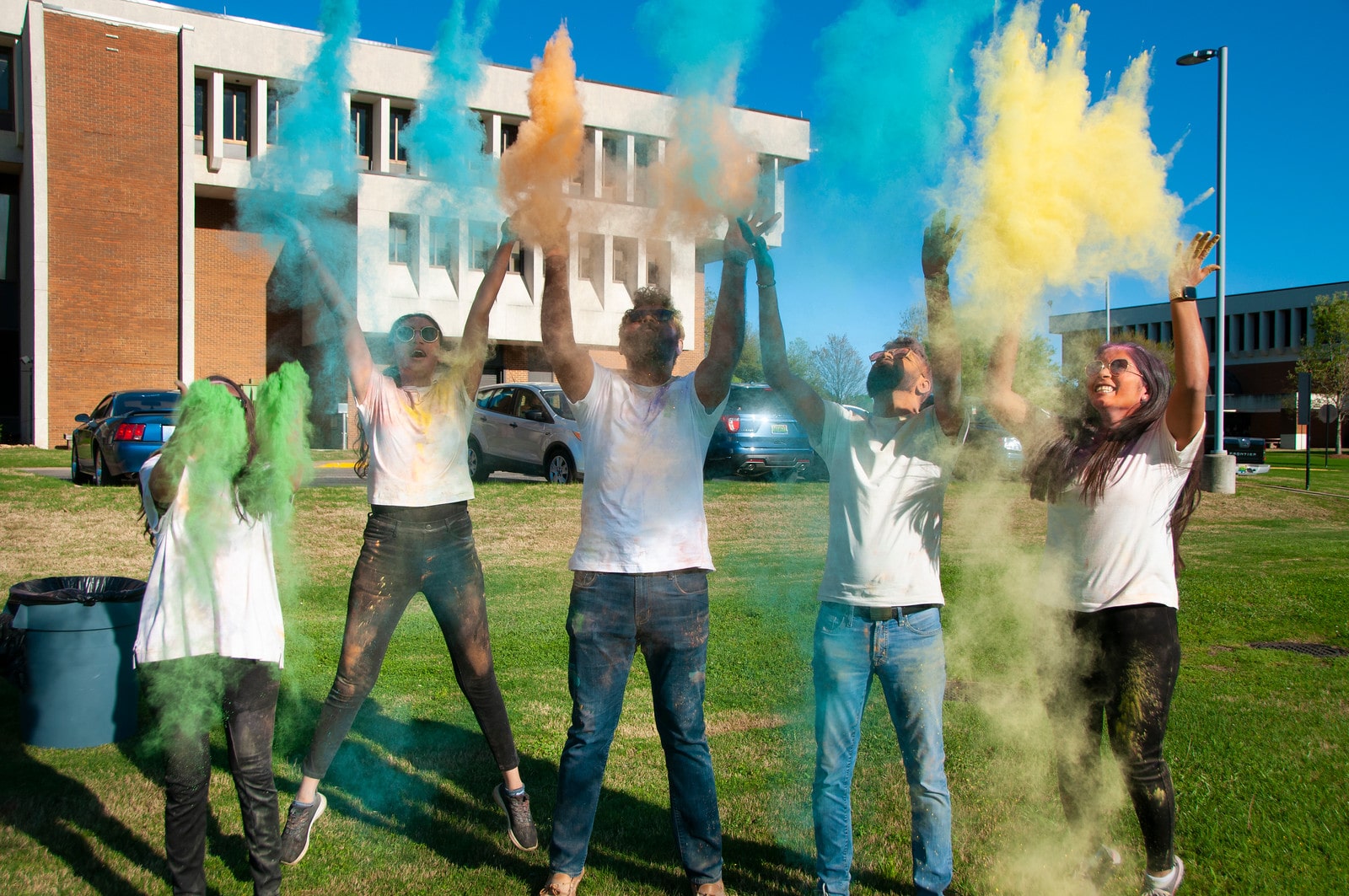 Register for your COVID-19 vaccination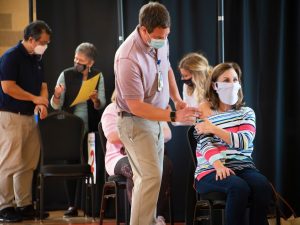 All Auburn University at Montgomery students and employees, as well as family members and dependents 16-and-over, are eligible to receive Pfizer-BioNTech COVID-19 vaccinations through the university.
Appointments will be available Thursday and Friday, from 7:30 a.m. to 11:30 a.m. and 12:30 p.m. to 2:40 p.m. each day, at the AUM Wellness Center. You may reserve an appointment for yourself or your eligible family members by utilizing your AUM email when accessing the Warhawk Health Services online registration portal. The registration portal will remain open until all available appointments have been filled. You must have an appointment in order to receive a vaccine.
The vaccination clinic is free and no insurance is required.
Individuals who accept the voluntary vaccination will authorize consent when the first dose is administered and must remain at the vaccination site for 15 minutes to be monitored for any potential reaction. The vaccine process requires that a second dose be administered 21 days after the initial dose. Those participating in the April 8-9 vaccination clinics will receive confirmation of their second vaccine appointment before leaving the Wellness Center. Second dosages will be administered April 29 and 30.
Individuals must present identification when they arrive for their appointment
Vaccinesare administered in the upper arm, so please dress accordingly
Face masks must be worn properly at all times
Individuals are encouraged to print, complete, and bring the COVID-19 vaccine consent form with them to their appointment
At this time, vaccinations are not required by the university as a condition of enrollment or employment. However, the vaccines offer an opportunity for members of the Warhawk family to safeguard their personal health, as well as the well-being of classmates, family members, and community members. According to the Centers for Disease Control and Prevention, clinical trials showed that the Pfizer-BioNTech vaccine was 95 percent effective in preventing laboratory-confirmed COVID-19 illness in individuals who displayed no evidence of previous infection.
Additional information on the Pfizer-BioNTech vaccines is available on our Employee FAQ web page.
Register online for your appointment.
Back to the top
Students deliver acts of kindness during COVID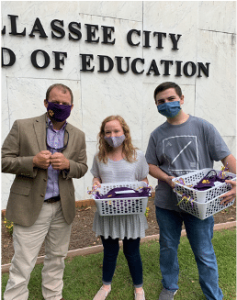 Social distancing didn't keep AUM students from delivering acts of kindness recently for their UNIV Student Success service-learning projects.
Students Wiktoria Warpechowska, Alisha Miller, Christopher Thompson, Ben Miers. Caden Lockett, Karen Paz and Peyton Harris in AUM's Fall 2020 UNIV 1000 course each created service-learning projects around helping others during the coronavirus pandemic.
Students' projects included designing face masks for Tallassee City School District employees, creating a video message about AUM majors, and volunteering at a local library, a food pantry and an assisted living facility for the elderly.
"Service learning helps students learn in a deeper way by getting them outside of the classroom to attain real-world experiences," said Miller, who teamed up with Thompson to design, print and deliver face masks for employees in the Tallassee City School District.
Learn more about how students gave back in the community.
Back to the top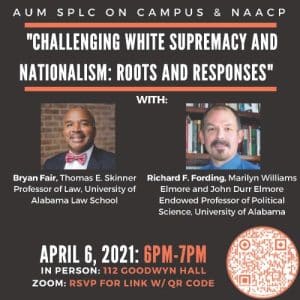 Join today's talk on combating white supremacy
University of Alabama professors Bryan Fair and Richard Fording will discuss the history and roots of white supremacy and nationalism, as well as appropriate strategies to combat the threats they pose, today, April 6 from 6-7 p.m. The event is co-hosted by AUM's Southern Poverty Law Center on Campus and NAACP chapters.
Fair serves as the Thomas E. Skinner Professor of Law, while Fording is the Marilyn Jones Elmore and John Durr Elmore Endowed Professor of Political Science.
Register on Zoom, or join in-person in Goodwyn Hall 112.
Back to the top
Celebrating faculty tenure and promotion
The Office of the Provost will be hosting a Tenure and Promotion Celebration on April 9 at 11 a.m. via Zoom in recognition of the achievements of our outstanding faculty.  This celebration will acknowledge faculty who were promoted and or received tenure in 2019-2020 and 2020-2021. The honorees are:
College of Business
Venessa Funches Promoted to Professor
Scott Lane Tenured
Dong-Yop Oh Promoted to Associate Professor and tenure
Foster Roberts Promotion to Associate Professor and tenure
Walter Smith Tenured
College of Education
Brooke Burks Promoted to Professor
Sherry Campbell Promoted to Clinical Associate
Erin Klash Promoted to Associate Professor and tenured
Shanta Varma Tenured
College of Liberal Arts and Social Sciences
James Francisco Promoted to Associate Professor and tenured
Heath Fowler Promoted to Senior Lecture
Hillary Gamble Promotion to Associate Professor and tenured
Nikhil Ghodke Promoted to Associate Professor and tenured
David Hughes Promoted to Associate Professor and tenured
Joyce Kelley Promoted to Professor
Brett Lehman Promoted to Associate Professor and tenured
Lilian Mina Promoted to Associate Professor and tenured
Neil David Seibel Promoted to Professor
Naomi Slipp Promoted to Associate Professor and tenured
College of Sciences
Tianran Chen Promoted to Associate Professor and tenured
Yue Chen Promoted to Associate Professor and tenured
Gabriel Costa Promoted to Associate Professor and tenured
Jerome Goddard Promoted to Professor
Hoe Hun Ha Promoted to Associate Professor and tenured
Bridgette Harper Promoted to Professor
Sheila Mehta Promoted to Professor
Back to the top
AUM cricket tournament
AUM cricket teams will be back on the field for the university's 2nd annual Cricket Tournament Sunday, April 11. The game will begin at 9 a.m. on the Quad.
Students, faculty and staff are invited to take a whack at joining the tournament fun by signing up to join teams.
The event is open to all students, faculty and staff.
Back to the top
Spring into a World of Art

AUM's Office of Global Initiatives will offer an afternoon of food and fun on Monday, April 12, from 1-4 p.m. on the Quad that celebrates the creativity and cultural diversity of our campus.
Flex your creativity through painting or sketch or show off your footwork in Latin, African or belly dance fitness classes. Drop by for a cold drink, grab a BurgerFi lunch and stick around for prize raffles.
Learn more about activities and World of Art.
Back to the top
Students: Get a jump on the job market
Students from all majors will have an opportunity to connect with potential employers through the upcoming Spring Career Fair hosted by the Career Development Center April 12-15. The event will take place virtually from 10 a.m. to 2 p.m. each day via the Handshake career management platform, which is accessible through the MyAUM portal.
When students enter the virtual career fair, they will have an opportunity to visit different employers represented through audio, video and chat features.
Back to the top
Connect with your advisor
Are you registered for Summer or Fall semester classes yet? Connect with your academic advisor and keep your studies on track by utilizing Degree Works.
Back to the top
Get event updates from Curtiss
Keep up with campus activities via text message. Enroll in AUM365 and get the 4-1-1 from Curtiss The Warhawk himself. Text curti$$ to 334-398-6025 to receive reminders about all of our can't-miss campus events.
Back to the top
Enroll in Sentinel Testing program
You can help "Protect Your Nest" by enrolling in the Sentinel Testing Program.
Open to all AUM students and employees, the random Sentinel Testing Program identifies potential asymptomatic cases of COVID-19 and provides an extra layer of protection for roommates, friends, professors, staff members, and family members with whom you may interact. Testing will take place twice a week.
In order to be elected for the Sentinel Testing program, you must create an account through the Verily platform.
Back to the top
COVID-19 dashboard update
AUM will continue to provide weekly reporting on its COVID-19 dashboard with results of testing conducted through Warhawk Health Services and the Sentinel Testing program, as well as self-reported positive test results by students and employees to Student Affairs and Human Resources. Reporting will be updated each Monday.
In addition to wearing face masks on campus and observing social distancing, students and employees are encouraged to utilize the AUM Healthcheck symptom monitoring tool.
Back to the top