Warhawk Weekly 11-1: Civil Rights, Civic Virtue; Career Fair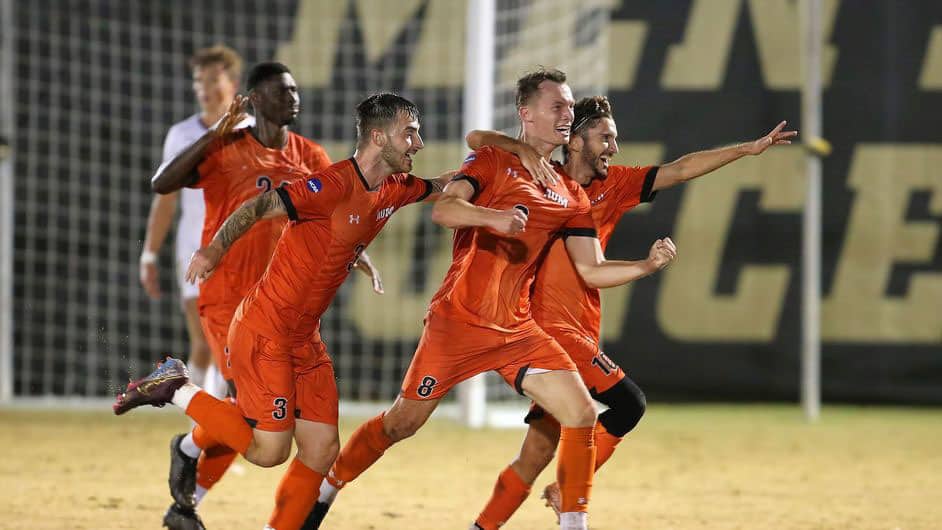 AUM highlights civil rights, civic virtue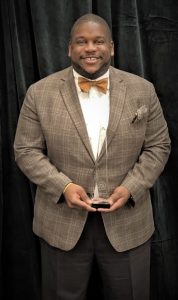 As part of its efforts to provide educational programming focused on civil rights and civic virtue, AUM will host Pastor Richard Williams as a guest speaker on Wednesday, Nov. 16, from 8 a.m.-9:30 a.m. in Taylor Center 230.
Williams, who earned Leadership Montgomery's 2022 Unity Award, is the driving force behind the Beacon Center of the Metropolitan United Methodist Church. The Beacon Center offers more than 20 services, including counseling, GED and literacy programs, and a food pantry.
For more information, contact [email protected].
Connect with public sector employers
AUM's Career Development Center will host a Public Sector Career Fair Wednesday from 10 a.m.-noon in Taylor Center 230.
The free career fair is open to LL students. Students will be able to network with job recruiters from state and federal agencies, city departments, law enforcement agencies and more.
View employers and register via AUM's Handshake app.
For questions, email [email protected] or stop by the Career Development Center in Taylor Center 323 for more details.
Celebrating AUM's first-generation Warhawks
Did you know that more than half of AUM's 5,100 students identify as first generation college attendees? Many of our professors and staff members also identify as first generation college graduates.
We're celebrating the educational journeys of these students and employees during First Gen Celebration Week, which begins with a kickoff luncheon on Monday, Nov. 7, at noon in Taylor Center 230.
All AUM students, faculty and staff who identify as first generation college attendees are graduates are invited to attend and can register in advance.
Tuesday, Nov. 8
7:30 a.m., Breakfast with a Smile: Grab a bite at various locations, including the Quad entrance, Clement, Goodwyn and Moore Halls, and the Education building.
Noon, The Sweet Life of First-Gen: Drop by our Flash Talk session in Taylor Center 230.
Wednesday, Nov. 9
12 p.m., Cookout & Resource Fair: Stop by The Quad for lunch and a look at the many resources AUM offers to its first-generation students.
Thursday, Nov. 10
12 p.m., First-Gen Group Photo: Meet up on The Quad and say "cheese!"
1 p.m., Kickball: Old School vs. New School on the intramural field.
Friday, Nov. 11
11 a.m., First-Gen Celebration Raffle: We're drawing for prizes.
Mock disaster drill offers different perspective for nursing students
Rather than treating patients, nursing students in AUM's NURS 4261 course recently played the role of accident victims during a mock plane crash drill at Montgomery Regional Airport.
The AUM students served as actors in a large-scale exercise held last Wednesday. The drill provided Montgomery Fire & Rescue, Alabama Air National Guard, City of Montgomery, regional airport and Alabama Emergency Management Agency first responders and personnel with training and opportunities to test strategies and tactics.
The FAA requires commercial airports to complete emergency preparedness exercises every three years.
Green Zone training offered to employees
AUM faculty and staff are invited to participate in Green Zone training to help meet the needs of the university's more than 800 military-affiliated students.
Green Zone training focuses on increasing awareness of the backgrounds and needs of military affiliated students at AUM. Participants will receive a certificate and a green zone sticker to place outside their office space once training is completed.
The session is set for Friday, November 11, from 1 – 3 p.m. in the Warhawk Academic Success Center's (W.A.S.C.) multipurpose classroom (Library Tower, 2nd floor).
Soccer team reaches GSC tournament semifinals
After earning a 2-0 road win over Montevallo Sunday, the AUM men's soccer team advances to the semifinals of the Gulf South Conference Tournament.
The fifth-seeded Warhawks will face No. 1 seed West Florida Thursday at 3:30 p.m. at John Hunt Park in Huntsville, Ala. If AUM wins, it will advance to Saturday's championship game at noon.
Here's a look at how other AUM teams are faring:
Cross Country – Both cross country teams will celebrate their Warhawk Spotlight on Saturday, Nov. 5 at 5:45 a.m. Refreshments will be available for fans who want to cheer the teams on as they board the bus in the AUM Athletics parking lot to travel to the Gulf South Conference Championship meet at Montevallo. The meet begins at 8:30 a.m.
Volleyball – The Warhawks are attempting to either host a Gulf South Conference Tournament opening round match or clinch a first-round bye. That will be determined by remaining road matches at Valdosta State Thursday and West Florida on Friday. B oth matches start at 5 p.m. Opening round GSC Tournament matches are set for Monday, Nov. 7. Follow @AUMAthletics on Twitter, Instagram and Facebook for updates.
State Secretary of Labor to speak at Business Breakfast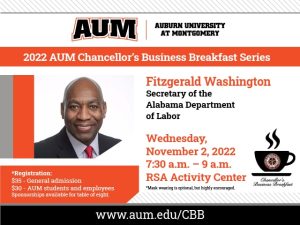 Fitzgerald Washington, who has served as Secretary of the Alabama Department of Labor since 2014, will offer a forecast for employment and labor trends in the state during Wednesday's AUM Chancellor's Business Breakfast event.
The event will begin at 7:30 a.m. in the RSA Activity Center at 201 Dexter Ave. Tickets are $35 for general admission, and $30 for AUM employees and students. Registration is required.
During Fitzgerald's tenure, the Department of Labor launched a statewide marketing campaign, initiated a new job fair initiative that brings available jobs to Alabamians, and participated in a new alignment of workforce regions that allows for better distribution of state workforce resources.
Washington currently serves on the National Association of State Workforce Agencies (NASWA) Board of Directors. He is also a member of the National Association of Government Labor Officials (NAGLO).
Register now with Collaborative Partnerships & Distance Education.
Make a gift to celebrate graduation
Fall 2022 graduates who donate their graduation year — $20.22 – to an AUM college or program of their choice will receive a commemorative medallion to wear at commencement on Saturday, Dec. 10.
Celebrate your success and leave a legacy. Got questions? Call 334-244-3369 or email [email protected].
Get updates on campus events
Did you miss out on Shriek Week activities? Don't get left out of upcoming campus events. There's an easy way to keep up with what's happening each day. Enroll in AUM365 and get the 4-1-1 from Curtiss The Warhawk himself. Text curti$$ to 334-398-6025 to receive reminders about upcoming happening.