Warhawk Weekly 10-25: Celebrate First-Gen students; Business Breakfast
Celebrate your journey as First-Gen students
Are you the first member of your family to take flight as a college student?
Celebrate your educational journey during Auburn University at Montgomery's First Gen Celebration Week, which begins with a kickoff luncheon on Monday, Nov. 7, at noon in Taylor Center 230. All AUM students, faculty and staff who identify as first generation college attendees are graduates are invited to attend and can register in advance.
Tuesday, Nov. 8
7:30 a.m., Breakfast with a Smile: Grab a bite at various locations, including the Quad entrance, Clement, Goodwyn and Moore Halls, and the Education building.
Noon, The Sweet Life of First-Gen: Drop by our Flash Talk session in Taylor Center 230.
Wednesday, Nov. 9
12 p.m., Cookout & Resource Fair: Stop by The Quad for lunch and a look at the many resources AUM offers to its first-generation students.
Thursday, Nov. 10
12 p.m., First-Gen Group Photo: Meet up on The Quad and say "cheese!"
1 p.m., Kickball: Old School vs. New School on the intramural field.
Friday, Nov. 11
11 a.m., First-Gen Celebration Raffle: We're drawing for prizes.
State Secretary of Labor to speak at Business Breakfast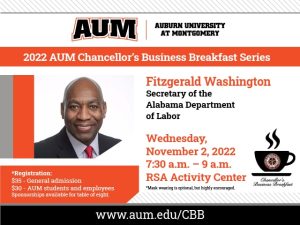 Fitzgerald Washington, who has served as Secretary of the Alabama Department of Labor since 2014, will serve as the keynote speaker for the upcoming AUM Chancellor's Business Breakfast event.
The series will welcome Fitzgerald on Wednesday, Nov. 2, at the RSA Activity Center. Tickets are $35 for general admission, and $30 for AUM employees and students. Registration is required.
During Fitzgerald's tenure, the Department of Labor launched a statewide marketing campaign, initiated a new job fair initiative that brings available jobs to Alabamians, and participated in a new alignment of workforce regions that allows for better distribution of state workforce resources.
Washington currently serves on the National Association of State Workforce Agencies (NASWA) Board of Directors. He is also a member of the National Association of Government Labor Officials (NAGLO).
Register now with Collaborative Partnerships & Distance Education.
Enjoy thrills and chills at Shriek Week
Auburn University at Montgomery's annual Shriek Week tradition will offer up a variety of thrills and chills in advance of Halloween.
Several campus units, including Campus Activities Board, the Student Government Association, Student Affairs, the AUM Library, College of Liberal Arts & Social Sciences, the Department of Sociology, Anthropology & Social Work, Baptist Campus Ministries and the Early Learning Center will host events through Tuesday, Nov. 1.
Tuesday, Oct. 25
Frightful Game Night
7 p.m., Warhawk Alley
Wear something scary and join Campus Activities Board and the Table Top Gaming Club for a night of fun.
Wednesday, Oct. 26
Pumpkin Carving with CLASS
10 a.m.-2 p.m., The Quad
Carve your Halloween pumpkin, make string art and play yard games with the College of Liberal Arts & Social Sciences. Free food and T-shirts for the first 250 students.
Fall Festival
5:30 p.m.-8 p.m.
Enjoy carnival rides on The Quad, a pumpkin patch, food trucks and more, courtesy of Campus Activities Board and SGA.
Thursday, Oct. 27
AUM Library Haunted House
Noon, Library Tower
Wear your favorite Halloween costume and drop by the Library for free food, medieval crafts and more fun.
BCM Spookapalooza
6 p.m., Baptist Student Center
Drop by the Baptist Student Center for free food, a costume contest, games and pumpkin carving (bring your own pumpkin).
Fright Night Costume Party
9 p.m.-Midnight, Taylor Center 230
Campus Activities Board and SGA present a ghoulish experience with a haunted house, guest DJ, costume contest and more. AUM ID is required for admission.
Monday, Oct. 31
Early Learning Center Halloween Parade
10:30 a.m., The Quad
Preschool students from AUM's Early Learning Center will show off their Halloween costumes and trick-or-treat with AUM students, faculty and staff. If you would like to join the celebration, meet up at The Quad between the College of Education, Clement Hall and Goodwyn Hall to distribute candy, stickers, pencils, pens, notepads, balloons and other items.
Tuesday, Nov. 1
Dia De Los Muertos
10 a.m.-2 p.m., Taylor Center 230
Join the Department of Sociology, Anthropology and Social Work for a Dia De Los Muertos (Days of the Dead) observance. Student-designed altars and activities will teach attendees about the social and cultural importance of the holiday.  Attendees are welcome to remember and celebrate lost loved ones.
Volleyball hosts Senior Day match Friday
Huddle up, Warhawks, AUM Athletics needs your support this week.
Women's basketball will host Huntingdon College for an exhibition game Thursday night at 6 p.m.
Volleyball will recognize its senior players before Friday night's 6 p.m. home match against West Alabama. The Warhawks will also host Mississippi College Saturday at 2 p.m.
As part of AUM Youth Volleyball Day on Saturday, youth players wearing a jersey will be admitted to the match for free along with one parent.
With the Second Annual Miss AUM pageant behind her, Tamara Stewart recently reflected on being crowned Miss AUM.
The pageant allowed Stewart, who was crowned September 23, to share her platform on mental health awareness, her stance on self-care and her involvement on campus.
EEEC hosts Faculty Development session
The EEEC, in collaboration with the Office of Distance Education and Faculty Development Institute, will host a faculty-led development session on undergraduate research and creative activity grant proposals this week.
The session is set for Friday from 9 -11 a.m. in the EEEC office, located in 114 Library Tower. The drop-in session will focus on the undergraduate research and creative activity grant proposal process and mini-grants. Attendees also will hear from awardees who will share their grant award experiences. Additionally, attendees will brainstorm on future project and symposium ideas. Refreshments will be provided.
If you have questions or need additional information, contact [email protected].
Find public sector job opportunities
AUM's Career Development Center will host a Public Sector Career Fair Wednesday, Nov. 2.
The free career fair will be held from 10 a.m. to 12 p.m. in Taylor Center 230 and is open to students. Students will be able to network with job recruiters from state and federal agencies, city departments, law enforcement agencies and more.
View employers and register via AUM's Handshake app.
For questions, email [email protected] or stop by the Career Development Center in Taylor Center 323 for more details.
Get updates on campus events
Don't get left out of the next big campus event. There's an easy way to keep up with what's happening each day. Enroll in AUM365 and get the 4-1-1 from Curtiss The Warhawk himself. Text curti$$ to 334-398-6025 to receive reminders about upcoming happening.