Warhawk Weekly 10-18: Shriek Week; Diversity through Dance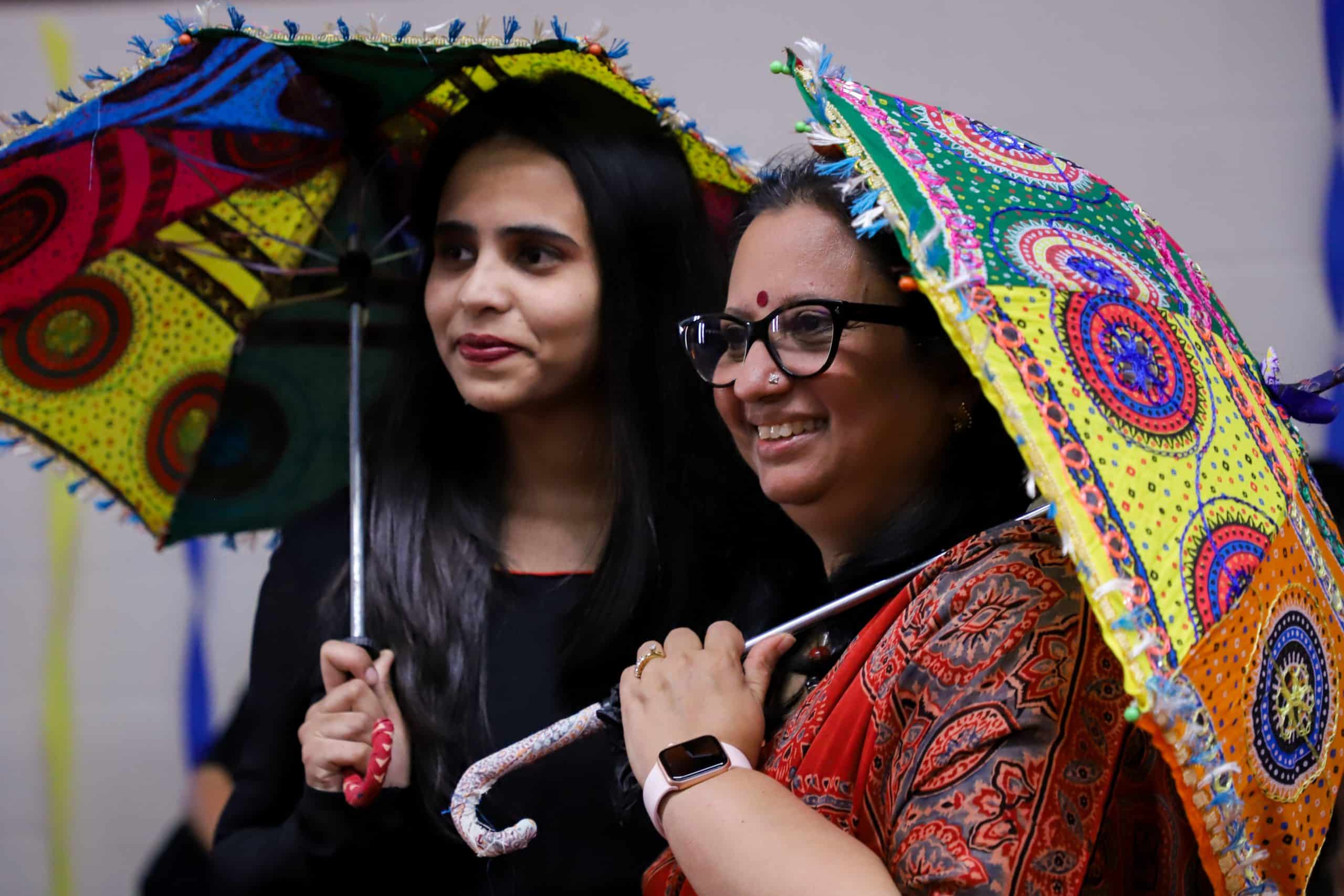 Get ready for Shriek Week
Auburn University at Montgomery's annual Shriek Week tradition will offer up a variety of thrills and chills in advance of Halloween.
Several campus units, including Campus Activities Board, the Student Government Association, Student Affairs, the AUM Library, College of Liberal Arts & Social Sciences, the Department of Sociology, Anthropology & Social Work, Baptist Campus Ministries and the Early Learning Center will host events between Monday, Oct. 24, and Tuesday, Nov. 1.
Monday, Oct. 24
Hypnosis with Campus Activities Board
7 p.m., Taylor Center 230
Hypnotist Erick Kand will pick participants from the AUM audience and amaze you with his showmanship.
Tuesday, Oct. 25
Frightful Game Night
7 p.m., Warhawk Alley
Wear something scary and join Campus Activities Board and the Table Top Gaming Club for a night of fun.
Wednesday, Oct. 26
Pumpkin Carving with CLASS
10 a.m.-2 p.m., The Quad
Carve your Halloween pumpkin, make string art and play yard games with the College of Liberal Arts & Social Sciences. Free food and T-shirts for the first 250 students.
Fall Festival
5:30 p.m.-8 p.m.
Enjoy carnival rides on The Quad, a pumpkin patch, food trucks and more, courtesy of Campus Activities Board and SGA.
Thursday, Oct. 27
AUM Library Haunted House
Noon, Library Tower
Wear your favorite Halloween costume and drop by the Library for free food, medieval crafts and more fun.
BCM Spookapalooza
6 p.m., Baptist Student Center
Drop by the Baptist Student Center for free food, a costume contest, games and pumpkin carving (bring your own pumpkin).
Fright Night Costume Party
9 p.m.-Midnight, Taylor Center 230
Campus Activities Board and SGA present a ghoulish experience with a haunted house, guest DJ, costume contest and more. AUM ID is required for admission.
Monday, Oct. 31
Early Learning Center Halloween Parade
10:30 a.m., The Quad
Preschool students from AUM's Early Learning Center will show off their Halloween costumes and trick-or-treat with AUM students, faculty and staff. If you would like to join the celebration, meet up at The Quad between the College of Education, Clement Hall and Goodwyn Hall to distribute candy, stickers, pencils, pens, notepads, balloons and other items.
Tuesday, Nov. 1
Dia De Los Muertos
10 a.m.-2 p.m., Taylor Center 230
Join the Department of Sociology, Anthropology and Social Work for a Dia De Los Muertos (Days of the Dead) observance. Student-designed altars and activities will teach attendees about the social and cultural importance of the holiday.  Attendees are welcome to remember and celebrate lost loved ones.
Celebrating AUM's diversity through dance
With more than 35 nationalities represented on its campus, Auburn University at Montgomery is one of the most diverse universities in the South. AUM's Indian Student Organization recently presented examples of Garba and Dandiya dance to campus. The two forms of dance originated in Gujarat, India, and commemorate Navratri, an Indian festival marking the triumph of good over evil and celebrating unity within Indian culture.
Promoting healthy relationships
In an effort to promote healthy relationships, Counseling & Health Promotion Services and One Place Family Justice Center will host a Domestic Violence Awareness, Prevention and Community Resources Fair on Wed., Oct. 19, from 11 a.m. to 1 p.m. in the Goodwyn Hall Breezeway.
Students and employees have an opportunity to connect with individuals and organizations working to address domestic violence issues. To help raise awareness and show support for individuals during Domestic Violence Awareness Month, participants are asked to wear purple.
Get to know our graduate programs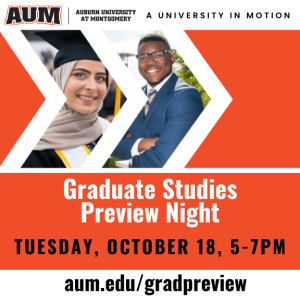 Thinking of pursuing a master's degree? Learn more about Auburn University at Montgomery's graduate degree programs tonight, from 5-7 p.m., in Taylor Center 221-223.
Application fees will be waived for Graduate Studies Preview Night attendees.
Get the low-down on law school
Interested in attending law school?
University of Alabama Professor Bryan Fair will discuss the law school application process with AUM students via Zoom. Watch the session on the big screen in Goodwyn Hall 209K on Thursday, Oct. 20, from 4:45 p.m. to 5:45 p.m. or join virtually by using the password "prelaw."
Attendees will also be able to meet officers from AUM's new Pre-Law Society.
Job search for employment in the public sector
AUM's Career Development Center will host a Public Sector Career fair November 2.
The free career fair will be held from 10 a.m. to 12 p.m. in Taylor Center 230 and is open to students. Students will be able to network with job recruiters from state and federal agencies, city departments, law enforcement agencies and more.
View employers and register via AUM's Handshake app.
For questions, email [email protected] or stop by the Career Development Center in Taylor Center 323 for more details.
Shady Street Project Service Opportunity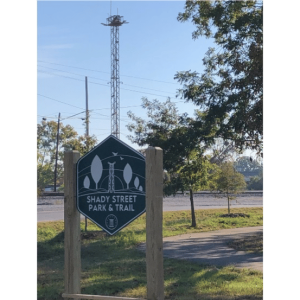 Looking for a way to volunteer in the community? If you're a student, faculty or staff member, you can sign up to volunteer to help improve Montgomery's Shady Street Park.
AUM's Experiential Education and Engagement Center (EEEC) and the City of Montgomery have partnered to revitalize areas of Shady Street Trailhead Park. So far, students have worked to remove weeds and other vegetation, designed the official Shady Street logo, and provided some oral history of the area.
The partnership is part of a larger city project to connect the Shady Street Trailhead Park with north Montgomery neighborhoods, downtown and neglected areas of north Montgomery through trails and gardens.
Volunteer opportunities are available from 8:30 a.m. to noon on the following Fridays:
On volunteer days, groups will gather at 8:30 a.m. in front of the Taylor Center (on the Admissions side) to wait for bus transportation to the site. Volunteers will return to campus by noon and are encouraged to dress casually and comfortably for outdoor work. Wear closed-toed shoes and layers depending on the temperature. Consider wearing a hat and sunglasses and bringing water too. Tools will be provided.
Call for Honors course proposals
The University Honors Program is accepting faculty course proposals for Honors seminars and colloquiums for Fall 2023 and Spring 2024.
Faculty members who are interested in teaching an Honors seminar (3 credit hours) or colloquium (1 credit hour and S/U grading) should complete a Course Proposal Form. Also, faculty members who want to teach an Honors course during the fall or spring:
Do need to discuss with your chair whether the department can spare you for a course
May be able to receive funding from Honors for special materials or expenses
May be able to team teach the course, depending on enrollment and negotiation with both chairs
Don't receive extra pay to teach the course
The deadline to submit proposals for Fall 2023 is November 1 and the Spring 2024 deadline is March 1. All proposals will be reviewed by the Honors Committee.
Faculty members may contact University Honors Program Director Lynn Stallings to discuss proposals and brainstorm about course ideas. See previous course offerings.
For information on designing a course for Honors, visit Honors Academics.
Get updates on campus events
Don't get left out of the next big campus event. There's an easy way to keep up with what's happening each day. Enroll in AUM365 and get the 4-1-1 from Curtiss The Warhawk himself. Text curti$$ to 334-398-6025 to receive reminders about upcoming happening.