Warhawk Weekly 10-11: Grad Preview Night; Gov. Ivey recognizes project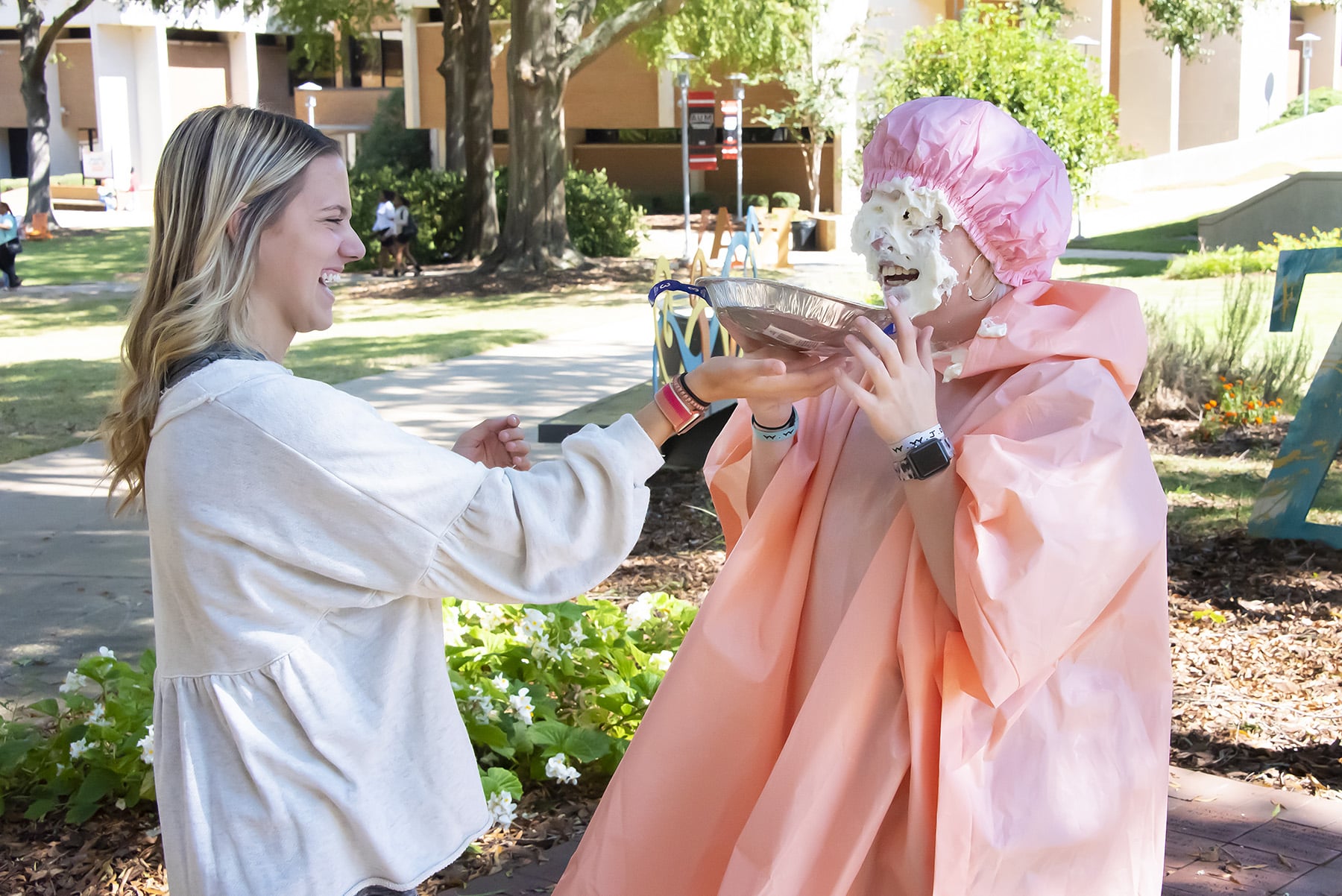 Register for Graduate Studies Preview Night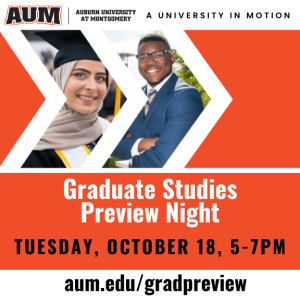 Find out how Auburn University at Montgomery's graduate degree programs can help you flourish in your chosen career field.
Register for Tuesday's Graduate Studies Preview Night, which will be held from 5-7 p.m. in Taylor Center 221-223. Application fees will be waived for event attendees.
Can't attend in-person? No problem. When you register, you'll be able to get details on how to join in via Zoom.
CPM graduate's project recognized by Gov. Ivey
Shemekwa L. Farrow, a 2020 graduate of AUM's Certified Public Manager program, was recently honored during Alabama Gov. Kay Ivey's "Proclamation Hour."
Farrow's CPM project, "Save a Forest Alabama," focused on revising a section of the Code of Alabama and reducing the number of Code of Alabama 1975 books sent to members of the state legislature. Signed into law in April, Farrow's project is projected to save the State of Alabama approximately $140,000 in 2023 with annual savings expected to increase over the next decade.
Farrow, who serves as Director of Government Support, Warehouse, Authentications, and Trademark Division for the Alabama Secretary of State, is pictured with Alabama Secretary of State John Merrill (left), Gov. Ivey and AUM Director of Continuing Education Neal Kelley.
Learn more about our CPM program and how it can help the state's public sector managers.
Get the low-down on law school
Interested in attending law school?
University of Alabama Professor Bryan Fair will discuss the law school application process with AUM students via Zoom. Watch the session on the big screen in Goodwyn Hall 209K on Thursday, Oct. 20, from 4:45 p.m. to 5:45 p.m. or join virtually by using the password "prelaw."
Attendees will also be able to meet officers from AUM's new Pre-Law Society.
Promoting healthy relationships
In an effort to promote healthy relationships, Counseling & Health Promotion Services and One Place Family Justice Center will host a Domestic Violence Awareness, Prevention and Community Resources Fair on Wed., Oct. 19, from 11 a.m. to 1 p.m. in the Goodwyn Hall Breezeway.
Students and employees have an opportunity to connect with individuals and organizations working to address domestic violence issues. To help raise awareness and show support for individuals during Domestic Violence Awareness Month, participants are asked to wear purple.
AUM Soccer hosts home matches Friday
If you come out to the AUM Soccer Complex on Friday, you may get to see the sort of magic Michaelyn Manning created in scoring a goal in last week's match against West Alabama.
The AUM women will host Shorter College at 5 p.m., while the men will kick off at 7:30 p.m.
AUM's women's team will also have a home match on Sunday against Lee at 1 p.m.
Students get in free with ID, while single-game and season passes can be obtained online.
Shady Street Project Service Opportunity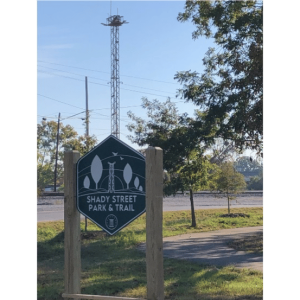 Looking for a way to volunteer in the community? If you're a student, faculty or staff member, you can sign up to volunteer to help improve Montgomery's Shady Street Park.
AUM's Experiential Education and Engagement Center (EEEC) and the City of Montgomery have partnered to revitalize areas of Shady Street Trailhead Park. So far, students have worked to remove weeds and other vegetation, designed the official Shady Street logo, and provided some oral history of the area.
The partnership is part of a larger city project to connect the Shady Street Trailhead Park with north Montgomery neighborhoods, downtown and neglected areas of north Montgomery through trails and gardens.
Volunteer opportunities are available from 8:30 a.m. to noon on the following Fridays:
On volunteer days, groups will gather at 8:30 a.m. in front of the Taylor Center (on the Admissions side) to wait for bus transportation to the site. Volunteers will return to campus by noon and are encouraged to dress casually and comfortably for outdoor work. Wear closed-toed shoes and layers depending on the temperature. Consider wearing a hat and sunglasses and bringing water too. Tools will be provided.
Call for Honors course proposals
The University Honors Program is accepting faculty course proposals for Honors seminars and colloquiums for Fall 2023 and Spring 2024.
Faculty members who are interested in teaching an Honors seminar (3 credit hours) or colloquium (1 credit hour and S/U grading) should complete a Course Proposal Form. Also, faculty members who want to teach an Honors course during the fall or spring:
Do need to discuss with your chair whether the department can spare you for a course
May be able to receive funding from Honors for special materials or expenses
May be able to team teach the course, depending on enrollment and negotiation with both chairs
Don't receive extra pay to teach the course
The deadline to submit proposals for Fall 2023 is November 1 and the Spring 2024 deadline is March 1. All proposals will be reviewed by the Honors Committee.
Faculty members may contact University Honors Program Director Lynn Stallings to discuss proposals and brainstorm about course ideas. See previous course offerings.
For information on designing a course for Honors, visit Honors Academics.
Keep up with campus events
Don't get left out of the next big campus event. There's an easy way to keep up with what's happening each day. Enroll in AUM365 and get the 4-1-1 from Curtiss The Warhawk himself. Text curti$$ to 334-398-6025 to receive reminders about upcoming happening.