Warhawk Weekly 10-4: Brock highlights symposium, Twins become signed artists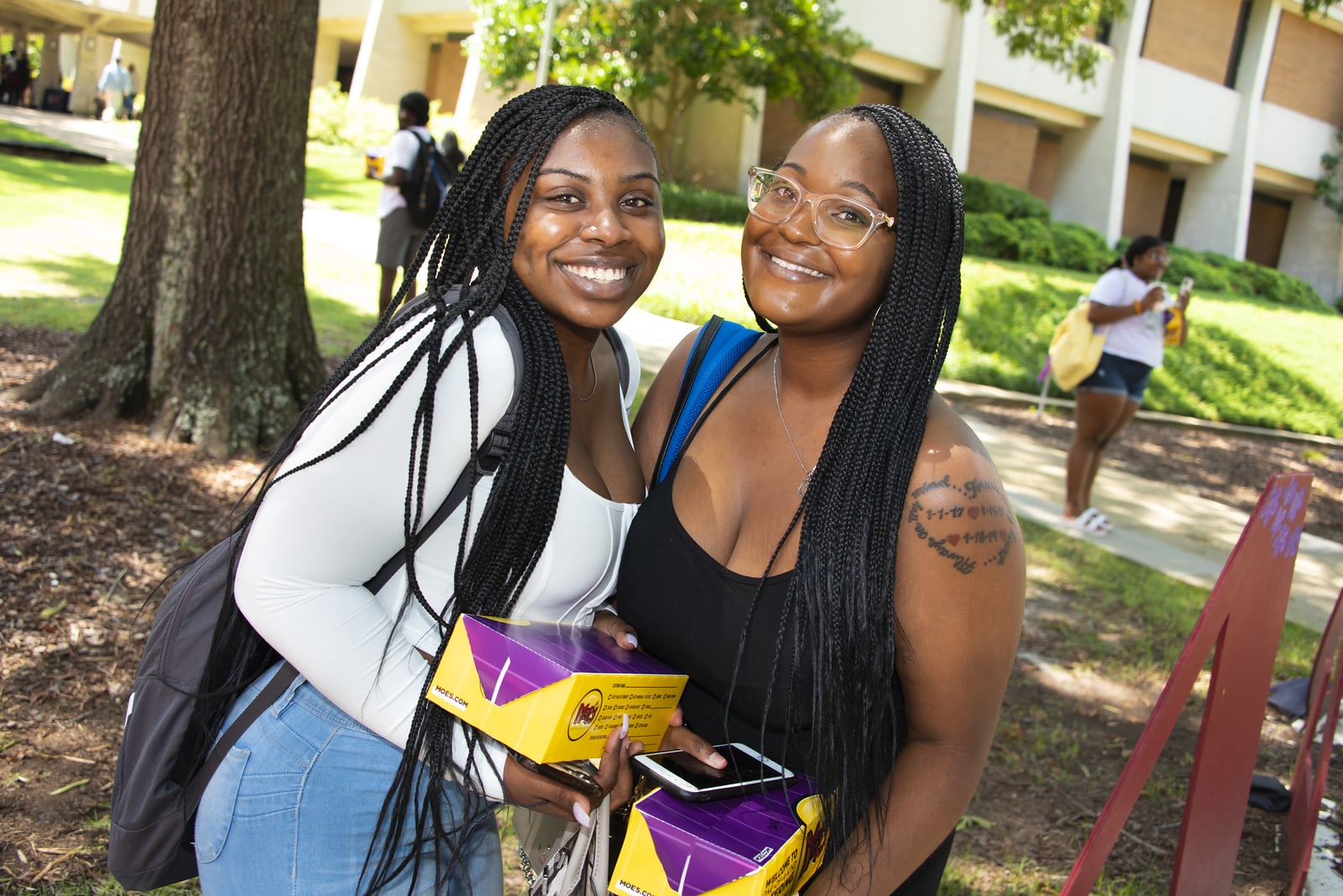 Brock highlights Education symposium
Valiant Cross Academy co-founder Anthony Brock will speak at the College of Education's Fall 2022 Symposium on Wednesday.
Brock will discuss the art of leading by example. The event, which will take place at 5 p.m. in Taylor Center 230, is free and open to all.
Valiant Cross Academy, a fully accredited all-male private for students in grades 6-12, started in 2015 and celebrated its first graduating class this year. VCA has been featured on several local and national television networks, including CNN and in the HBO documentary "True Justice."
Identical twins become signed music artists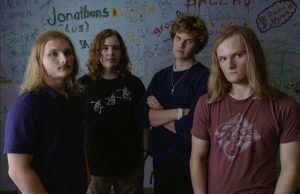 AUM freshmen and identical twins Matthew and Ethan Linna share similarities beyond just their looks.
They share the same interests in music, hobbies, student organizations, and they both chose to start their college journey at AUM this year.
After being homeschooled through elementary, middle and high school, choosing AUM came down to being a part of a small, close-knit campus community, Matthew said.
"Homeschool taught us to be independent because you have to be disciplined too," he said. "We were prepared to go straight to Auburn University, but we felt it was better for us to start on a smaller campus and then transition to Auburn."
AUM also ranked high on the Linna twins' list of preferred colleges to attend because of their family connection to the university. Their father Ken Linna is an associate professor in the College of Business, where he has taught for more than 20 years. Their mother, Renee Linna, earned a degree in education from AUM.
"It's a cool feeling to have the family connection and to know our parents went here," Ethan said. "When we're on campus, we see the same buildings from when we were kids and the same places our parents spent time at."
When they're on break from classes, the Linna twins make music with their band, "13 Seconds of Silence," said Matthew, who grew up with an interest in music, honing his musical skills in church along with his brother. The band recently signed with Nashville-based Iron Gate Records and performed at Wetumpka's Oktoberfest, the band's first public event as signed artists.
"We have been doing 90's Nirvana (rock band), grunge-style music for about a year as a band," Matthew said. "We [were] excited to be a part of Oktoberfest and perform at a public event with our bandmates."
Education professor earns ASAHPERD honors
Auburn University at Montgomery College of Education Clinical Associate Professor Andria Walker Turner on being recognized as the Alabama State Association of Health, Physical Education, Recreation & Dance's University Professional of the Year.
She will be recognized at the organization's awards ceremony in November.
ASAHPERD promotes healthy lifestyles for Alabama's citizens by promoting research and advocating for quality instruction in physical education, dance, sport, exercise science and recreation.
Home matches highlight Athletics schedule
AUM's volleyball and soccer teams will host Gulf South Conference opponents this week.
Catch the volleyball team in action Friday at 3 p.m. against Lee University and Saturday at 2 p.m. against Shorter College.
AUM's women's and men's soccer teams will host West Alabama and Alabama Huntsville on Friday and Sunday, respectively. Friday's matches will be at 5 p.m. and 7:30 p.m.
On Sunday, in honor of Breast Cancer Awareness Month, AUM soccer will host a "Pink Out" game against UAH. The first 100 fans will receive free T-shirts. The women will play at 1 p.m., while the men will kick off at 3:30 p.m. All students receive free admission with ID.
College of Business to host Career Fair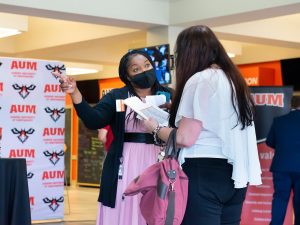 AUM's College of Business annual Career Fair helps connect business majors with potential employers and internship opportunities.
The Career Fair is set for 11 a.m. to 1 p.m. Wednesday, October 5, in Taylor Center 221. Local and regional employers will be on campus to recruit business students for part-time, full-time and internship positions. Professional dress in required and students are encouraged to bring their resume.
If you need feedback on your resume, email a brief message to [email protected].
Enroll in AUM's free fire training course
AUM's Department of Biology and Environmental Science, in partnership with Tall Timbers, is offering a free course on how to fight wildland fires.
The self-paced, 40-hour course is offered online and proctored by John Kush of Auburn University's School of Forestry and Wildlife Sciences and John McGuire with Tall Timbers. The course culminates with eight hours of field training offered at AUM. The training will be held on November 12 and lunch will be provided.
After completing the course, students will have the certification to work prescribed burns and wildland fires with Tall Timbers. With completion of an optional pack test, students are eligible to fight fire with the Nature Conservancy or other agencies out West.
Other benefits for enrolling in the course include:
Students will receive insight and advice on how to volunteer with fire conservation groups
Internship (BIOL or ENSC 4924) credit is available
The course if free to all AUM students or recent graduate
To enroll in the course or for more information, email [email protected].
Get to know our graduate programs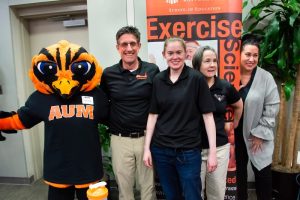 Considering a master's degree? Learn more about our graduate programs on Tuesday, Oct. 18.
AUM's Graduate Studies Preview Night will be held from 5-7 p.m. in Taylor Center 221-223.
Application fees will be waived for event attendees.
Join Mentor Collective at AUM
Whether you're a mentor or mentee, you can build impactful relationships through the Mentor Collective Program at AUM.
AUM has partnered with Mentor Collective to enhance the student experience by linking them one-on-one with a peer mentor. Students can participate in the program as mentors or as a mentee.
Student mentees are paired with someone invested in their success — a person ready to listen, inspire, help navigate challenges and recognize opportunities. Students learn what to expect in school, how to approach challenges, gain career advice and valuable insights. Students can be connected with an AUM upper-division student based on interests, area of study, needs, and preferences.
Mentors build their networks and develop skills to become better professionals and leaders while participating in the classroom. Mentors take part in a year-long commitment and can conduct in-person or virtual meetings with their mentee.
For additional questions or information, email [email protected] or [email protected].
Keep up with campus events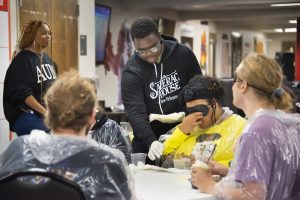 Did you miss the recent Dining in the Dark event?
There's an easy way to keep up with campus happenings. Enroll in AUM365 and get the 4-1-1 from Curtiss The Warhawk himself. Text curti$$ to 334-398-6025 to receive reminders about upcoming happening.