Warhawk Weekly 8-9: Civic Identity; New Student Convocation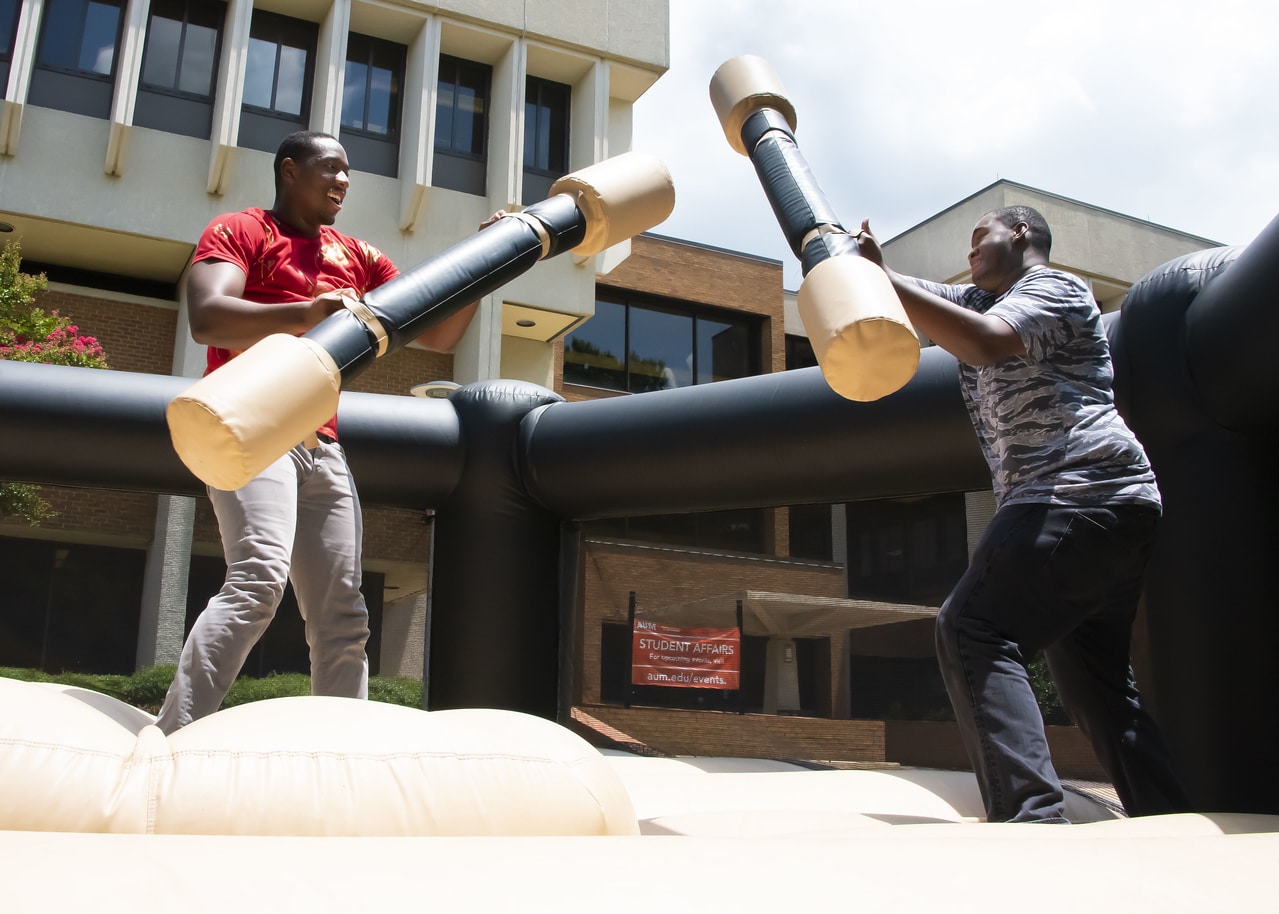 Fostering civic identity and virtues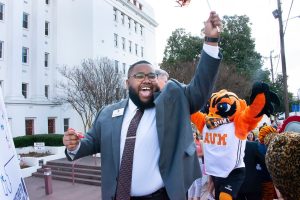 A new AUM research project aims to foster civic identity/commitment and civic virtues among AUM students, faculty, and staff through a deepened understanding of the Civil Rights Movement and its leaders.
A kick-off event for the project, "From Civil Rights to Civic Virtue: Forming Character through Community," will be held August 25-26 at AUM.
Funded by a grant from the John Templeton Foundation, the three-year project also seeks to promote civic engagement through projects with partners in the local community.
The project's kick-off event will bring together educators to help inform the AUM community about the new research study.
Keynote speakers will include Julie Hatcher, professor emeritus at Indiana University-Purdue University Indianapolis, and Jason Baehr, professor of philosophy at Loyola Marymount University.
AUM's Civil Rights to Civic Virtue research project team includes faculty members Aaron Cobb (Director), Lynn Stallings (Co-Director), Brittni Anderson, Tara Beziat, Brooke Burks, Amy Ingram, Chelsea Ward.
New Student Convocation: Learn about AUM and make new friends
AUM will welcome new incoming Warhawks at our New Undergraduate Student Convocation Friday, August 19.
On ceremony day, students will meet in the Taylor Center at 9:30 a.m. for a procession to the AUM Athletics Complex, where the convocation event and other activities will start at 10:00 a.m.
Students will be grouped by college and welcomed by faculty, staff, administrators, and fellow students who will share what it means to be a part of the Warhawk family.
New student convocation is also a great way to make new friends and connections while enjoying food and games. And it's the easiest way to get 50 points on your first University Success (UNIV) course assignment.
Kick off Welcome Week with dodgeball
Warhawk Welcome Week is an opportunity for new incoming students to learn about AUM, build new connections and embrace their new university home.
From August 15-26, students are invited to attend a full week of events designed to help introduce them to campus and their fellow classmates. The first day of Fall 2022 classes is August 15.
The week will kick off with a student dodgeball game on Monday, August 15, at 11:30 a.m. in the gym of the AUM Athletics Complex. Free pizza and drinks will be served to the first 200 students.
Volunteer for Fall 2022 Move-In
It's almost time to welcome new and returning students to campus and show off your AUMazing school spirit for Fall 2022 Move-In.
Housing and Residence Life invites students, faculty and staff to volunteer at Move-In August 11-13 from 8:30 a.m. -3:30 p.m. Check-in for volunteers will be at The Nest on move-in-days.
Volunteers will help give a warm Warhawk Welcome to incoming students, greet families, answer questions, unload cars, and assist dorm residents with many other activities during move-in. To display AUMazing school spirit, Housing and Residence Life encourages volunteers to wear AUM apparel during move-in activities.
To take advantage of this great opportunity to show students and their families AUM's caring and engaged campus community, sign up to volunteer online.
If you have questions about Fall 2022 Move-In, email [email protected].
AUM student-athletes honored for classroom work
AUM Athletics recently had 58 of its student-athletes earn the 2021-22 Division 2 Athletics Directors Association (D2 ADA) Academic Achievement Awards.
Multiple student-athletes from all 11 sports at AUM were recipients of the award, with a department-best 10 coming from the women's soccer team. Baseball ranked second with eight representatives, while softball and men's soccer each had seven student-athletes recognized. Women's cross country and women's basketball had six student-athletes honored.
To qualify for the award, a student-athlete must have a 3.5 or higher cumulative grade point average on a 4.0 scale, have a minimum of two years (four semesters) of college level work and been an active member of an intercollegiate team during his/her last academic year. Additionally, the institution's athletics director must be a current dues-paying member of the D2 ADA.
The D2 ADA Academic Achievement Award was presented to record-breaking 16,802 student-athletes across 171 institutions from the NCAA Division II level.
NSF grant to support undergraduates in STEM majors
AUM is part of a new National Science Foundation initiative aimed at financially helping undergraduate students in STEM majors and with a documented disability achieve their college dream.
The NSF INCLUDES Alliance: The Alliance for Students with Disabilities for Inclusion, Networking, and Transition Opportunities in STEM (TAPDINTO_STEM) is a collaborative research project funded by a National Science Foundation grant to increase the number of students with disabilities receiving associate and baccalaureate degrees in science, technology, engineering, and mathematics (STEM) disciplines, said Glen Ray, professor of psychology, who is overseeing the AUM portion of the five-year grant.
"Our main goal here is to support and help students stay in their STEM major," he said.
AUM undergraduate students majoring in biology, chemistry/physical science, math, technology, engineering, and psychology are eligible to receive funding through the grant. The grant also requires students to have a documented disability with a qualified provider or students must be registered with AUM's Center for Disability.
Eligible AUM students can apply for grant support through one of the following programs:
Bridge to Baccalaureate Program:  This program is for freshmen and sophomores who plan to obtain a bachelor's degree in STEM disciplines. The goal for students in this bridge is to transition into the Bridge to Post-Baccalaureate program. Participants in the Bridge to Baccalaureate program will each receive a $500 stipend per semester for 4 semesters.
Bridge to Post-Baccalaureate Program: This program is for juniors and seniors who are pursuing a bachelor's degree in STEM disciplines. The goal for students in this bridge is to transition into Graduate School or the STEM workforce. Participants in the Bridge to Post-Baccalaureate program will each receive a $500 stipend per semester for 4 semesters.
Students are also required to have and maintain a 3.0 cumulative GPA, participate in enrichment activities such as time-management, study-skills, and tutoring workshops and professional or association meetings, and continually pursue a degree in a STEM discipline.
To apply, fill out the online application form. The deadline to apply is August 12.
If you have questions about the program, email [email protected].
Office of the Provost sponsors one-credit hour scholarship
Students are invited by the Office of the Provost to apply for a scholarship that will go towards one credit hour of tuition for an internship or directed research course approved by AUM's Experiential Education & Engagement Center (EEEC).
Students who apply for the scholarship can only apply once in the same semester. Students may enroll in a directed research or internship course that provides more than one credit hour, but the scholarship will only cover the cost of one credit hour.
The scholarship does not apply to courses that are required as part of the student's major program. Students who complete internships or clinicals in the College of Education and the College of Nursing and Health Sciences are not eligible to receive this scholarship.
The deadline for Fall 2022 applications is August 22. Apply online.
If you have questions about eligibility or requirements, email [email protected].
Keep up with campus events
There's an easy way to keep up with campus happenings. Enroll in AUM365 and get the 4-1-1 from Curtiss The Warhawk himself. Text curti$$ to 334-398-6025 to receive reminders about upcoming happenings.