Warhawk Weekly 8-2: KCACTF awards; Campus parking changes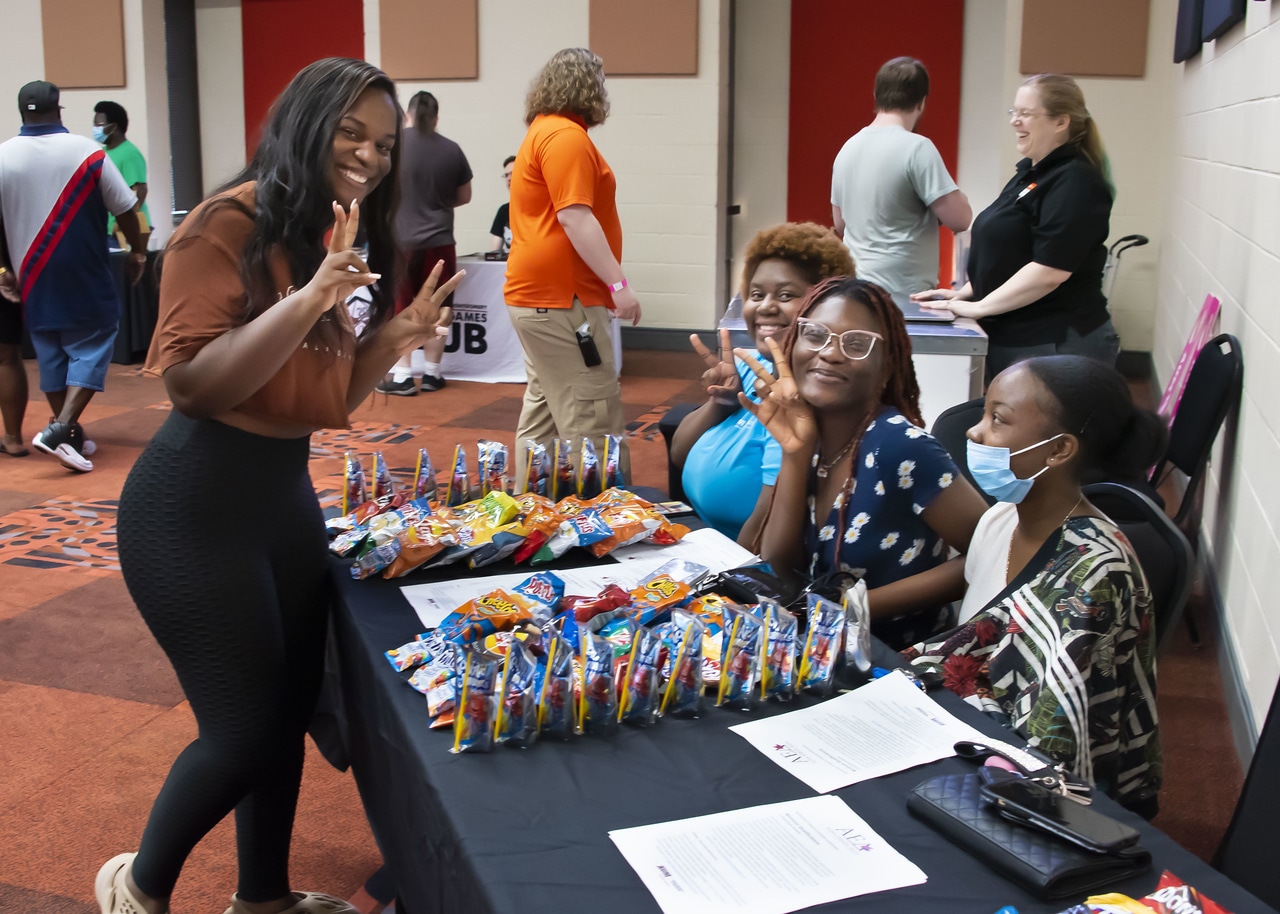 Theatre AUM seniors earn national KCACTF awards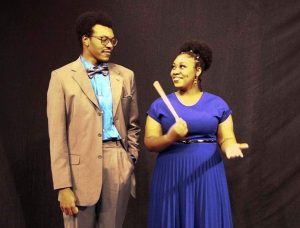 Theatre AUM seniors Yahzane Palmer and Brandon Baggin recently earned top honors competing at the national level of the Kennedy Center American College Theatre Festival (KCACTF). The two were honored for their performance in Theatre AUM's production of "The Importance of Being Earnest" by playwright Oscar Wilde.
In recognition of their work, Palmer and Baggin have been invited to Washington, D.C. to attend the Kennedy Center Performance and Directing Intensive August 10-14. At the Intensive, the two will participate in rigorous conversations, practical activities and professional workshops with a cohort of like-minded, early-career directors and musical fellows.
Palmer was also awarded second place for the 2022 Mark Twain Scholarship for Comedic Performance. The scholarship provides $1,000 for an outstanding performance with scenes and/or monologues from the 19th Century.
The national honors follow Palmer receiving KCACTF's Region IV Irene Ryan Acting Scholarship earlier this year, which marked a first for Theatre AUM.
Being recognized for her work has been rewarding on a personal level, Palmer said.
"I have always been interested in theatre ever since high school," she said. "It has been a joy to be a part of. I knew that I wanted to continue to chase this passion entering into my college years."
Baggin added, "It was an honor to be not only the partner of the Region IV finalist, Yahzane, but also to have earned our position for the Mark Twain Scholarship for Comedic Performance."
The Kennedy Center American College Theater Festival (KCACTF) is a national theater program involving 18,000 students annually from colleges and universities across the country. Every year, the Kennedy Center welcomes about 125 outstanding theater students to the KCACTF National Festival. Student awardees in design, performance, directing, playwriting, stage management, dramaturgy, arts leadership, and theatre criticism, are invited from all eight regions of KCACTF to participate in the national festival.
Changes coming to campus parking for Fall 2022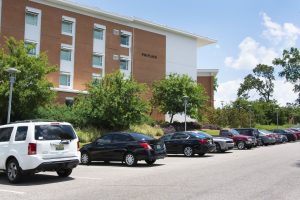 This fall, AUM Police will introduce a new online campus parking portal and registration system as part of the university's move to the new parking vendor OmniQ Vision. The new portal will launch Wednesday, August 10.
To allow time for AUM Police to transition to the new portal system, online registration for campus parking permits will open on August 10 for Fall 2022. Students, faculty and staff will be able to register their vehicles, update vehicle information, and track, pay or appeal parking citations using the new portal.
As in previous years, you will need to register your vehicle through the new portal before your parking decal can be picked up with AUM Police. The locations and dates to pick up decals will be announced at a later date.
While the university moves to the new system, AUM Police asks that you continue to park in locations designated by your current decal/status.
Watch your campus email for updates on AUM's new parking portal to stay in the know on how to register your vehicle for the 2022-23 academic year.
If you have questions about the new portal or parking, contact campus police at 334-244-3424 or [email protected].
Donate to AUM's Food Pantry
This summer, an average of 150 students visited the AUM Food Pantry and received about 850 items. Run by the University Honors Program, the food pantry now needs help from the AUM community to continue to serve students.
The food pantry is currently low of breakfast foods such as cereal or Pop-Tarts Toaster Pastries, snack foods, peanut butter, pasta and pasta sauce. The pantry is also requesting donations for hygiene items, including razors, shaving cream, tampons, pads, tooth paste, tooth brushes, and facial cleansers.
Donation items can placed in black tubs on the first floor of classroom buildings and Library Tower. You can also use the food pantry's Amazon Wish List to make a donation.
Located Taylor 316E, the food pantry's summer hours are 10 a.m. – 12 p.m. Mondays, Thursdays, and Fridays, 12 – 2 p.m. Tuesdays, and 4 – 6 p.m. on Wednesdays. Hours for the fall semester, which begins August 15, will be 11 a.m. – 2 p.m. Monday – Friday.
For additional information about the food pantry or donations, contact [email protected].
NSF grant to support undergraduates in STEM majors
AUM is part of a new National Science Foundation initiative aimed at financially helping undergraduate students in STEM majors and with a documented disability achieve their college dream.
The NSF INCLUDES Alliance: The Alliance for Students with Disabilities for Inclusion, Networking, and Transition Opportunities in STEM (TAPDINTO_STEM) is a collaborative research project funded by a National Science Foundation grant to increase the number of students with disabilities receiving associate and baccalaureate degrees in science, technology, engineering, and mathematics (STEM) disciplines, said Glen Ray, professor of psychology, who is overseeing the AUM portion of the five-year grant.
"Our main goal here is to support and help students stay in their STEM major," he said.
AUM undergraduate students majoring in biology, chemistry/physical science, math, technology, engineering, and psychology are eligible to receive funding through the grant. The grant also requires students to have a documented disability with a qualified provider or students must be registered with AUM's Center for Disability.
Eligible AUM students can apply for grant support through one of the following programs:
Bridge to Baccalaureate Program:  This program is for freshmen and sophomores who plan to obtain a bachelor's degree in STEM disciplines. The goal for students in this bridge is to transition into the Bridge to Post-Baccalaureate program. Participants in the Bridge to Baccalaureate program will each receive a $500 stipend per semester for 4 semesters.
Bridge to Post-Baccalaureate Program: This program is for juniors and seniors who are pursuing a bachelor's degree in STEM disciplines. The goal for students in this bridge is to transition into Graduate School or the STEM workforce. Participants in the Bridge to Post-Baccalaureate program will each receive a $500 stipend per semester for 4 semesters.
Students are also required to have and maintain a 3.0 cumulative GPA, participate in enrichment activities such as time-management, study-skills, and tutoring workshops and professional or association meetings, and continually pursue a degree in a STEM discipline.
To apply, fill out the online application form. The deadline to apply is August 12.
If you have questions about the program, email [email protected].
Office of the Provost sponsors one-credit hour scholarship
Students are invited by the Office of the Provost to apply for a scholarship that will go towards one credit hour of tuition for an internship or directed research course approved by AUM's Experiential Education & Engagement Center (EEEC).
Students who apply for the scholarship can only apply once in the same semester. Students may enroll in a directed research or internship course that provides more than one credit hour, but the scholarship will only cover the cost of one credit hour.
The scholarship does not apply to courses that are required as part of the student's major program. Students who complete internships or clinicals in the College of Education and the College of Nursing and Health Sciences are not eligible to receive this scholarship.
Scholarship applications for Fall 2022 open August 1 and close on August 22. Apply online.
If you have questions about eligibility or requirements, email [email protected].
Volunteer for Fall 2022 Move-In
It's almost time to welcome new and returning students to campus and show off your AUMazing school spirit for Fall 2022 Move-In.
Housing and Residence Life invites students, faculty and staff to volunteer at Move-In August 10-13. Check-in for volunteers will be from 9 a.m. – 12 p.m. and 12 – 3 p.m. at The Nest on move-in-days.
Volunteers will help give a warm Warhawk Welcome to incoming students, greet families, answer questions, unload cars, and assist dorm residents with many other activities during move-in. To display AUMazing school spirit, Housing and Residence Life encourages volunteers to wear AUM apparel during move-in activities.
To take advantage of this great opportunity to show students and their families AUM's caring and engaged campus community, sign up to volunteer online.
If you have questions about Fall 2022 Move-In, email [email protected].
EEEC offers Faculty Development Sessions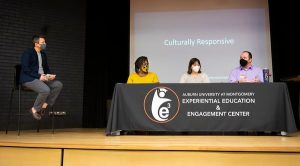 AUM's Experiential Education and Engagement Center (EEEC), Faculty Development Institute and Office of Distance Education have been facilitating faculty development sessions focusing on incorporating experiential learning or undergraduate research into the classroom. The Summer 2022 sessions are being offered to support faculty and meet compliance for the university's Title III Strengthening Institutions grant.
The next session "Implementing an Internship Course" will be held from 12 – 1 p.m. Wednesday, August 3.
Learn how to serve those who served
Green Zone training is offered to all Auburn University at Montgomery faculty and staff. The training focuses on increasing awareness of the backgrounds and needs of our military-affiliated students.
Green Zone training participants will receive a certificate and a Green Zone sticker to place outside their office. The sticker helps military-affiliated individuals know that you are specifically trained to help them.
This session will take place on Thursday, August 4, from 9-11 a.m., in Taylor Center 221.
Registration is required for this training.
Click here to Register.
COB to offer new AI course starting in Fall 2022
Will artificial intelligence (AI) eliminate your job? A new College of Business course will explore the mystery of AI starting in Fall 2022.
The course, INFO 2030: Intro to Artificial Intelligence, will help students:
Uncover the mystery of AI and how to harness this "black-box" technology
Discover real-world successes and challenges of using AI
Get hands-on experience with AI
Learn how AI will forever change your field and how to avoid becoming obsolete
The course, which requires no prerequisites, will have two class sections available for the fall semester. The sections will be held Mondays and Wednesdays from 9:30 – 10:45 a.m. and from 3:30 -4:45 p.m.
Ordering your textbooks for fall classes
The AUM Bookstore will not offer in-store ordering for books as we approach the Fall 2022 semester. To purchase your books, visit the AUM Bookstore website and pay by credit card or with financial aid.
The AUM Bookstore offers shipping and in-store pickup for all orders.
COVID-19 booster shots, tests available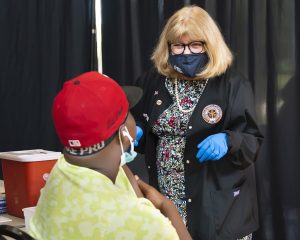 As the Alabama Department of Public Health tracks expected increases in COVID-19 cases in the region, Auburn University at Montgomery encourages students and employees to be proactive in monitoring their health and utilizing resources offered by Warhawk Health Services.
Warhawk Health Services will continue to offer COVID-19 vaccines, booster shots and rapid testing.
Warhawk Health Services will offer Pfizer COVID-19 vaccines and booster shots Monday-Friday, from 8:30a.m. to 11 a.m. and 1 p.m. to 3:30 p.m.  on a walk-in basis. Vaccines administered by Warhawk Health Services are free, and no insurance is required.
COVID-19 PCR testing and rapid testing is available through Warhawk Health Services Monday – Friday by appointment only during regular business hours. PCR and rapid tests administered by Warhawk Health Services require an office visit copay of $5 for students and $15 for faculty, staff and their dependents. Appointments can be made by phone at 334-244-3281.
Employees also can utilize at-home testing. Every home in the U.S. is eligible to order a third round of free at-home tests by ordering at https://www.covid.gov/tests.
Offering vaccines and taking a COVID-19 test represent several steps that AUM is taking to ensure the health and well-being of the campus community. AUM also continues to follow CDC guidance regarding COVID-19 exposure.
AUM encourages members of the campus community to also continue to practice safety measures to prevent the spread of COVID and to stay informed by:
We all have a part to play in taking care of ourselves and each other. If you are sick, stay at home. Employees who need to miss work due to illness, should contact their supervisor and [email protected] and students who need to miss class due to illness should notify their professor and [email protected].
If you have questions about COVID-19 vaccines, the Centers for Disease Control and Prevention offers a "Fact vs. Myth" page. Students are also welcome to contact Warhawk Health Services or their personal healthcare provider.
Make a gift as a member of the Class of '22
Summer 2022 graduates can celebrate their success and leave a legacy with other members of our Class of '22.
Make a class gift and get involved with the AUM Alumni Association. Graduating students are encouraged to give back to the college, department, or program that has influenced their AUM experience the most. All gifts make a difference, but those who give at least $20.22 (Class of 2022) will receive a commemorative medallion to wear at commencement.
Keep up with campus events
There's an easy way to keep up with campus happenings. Enroll in AUM365 and get the 4-1-1 from Curtiss The Warhawk himself. Text curti$$ to 334-398-6025 to receive reminders about upcoming happenings.