Warhawk Weekly 7-27: Warhawk Statue Gift; Staff Leadership Fellows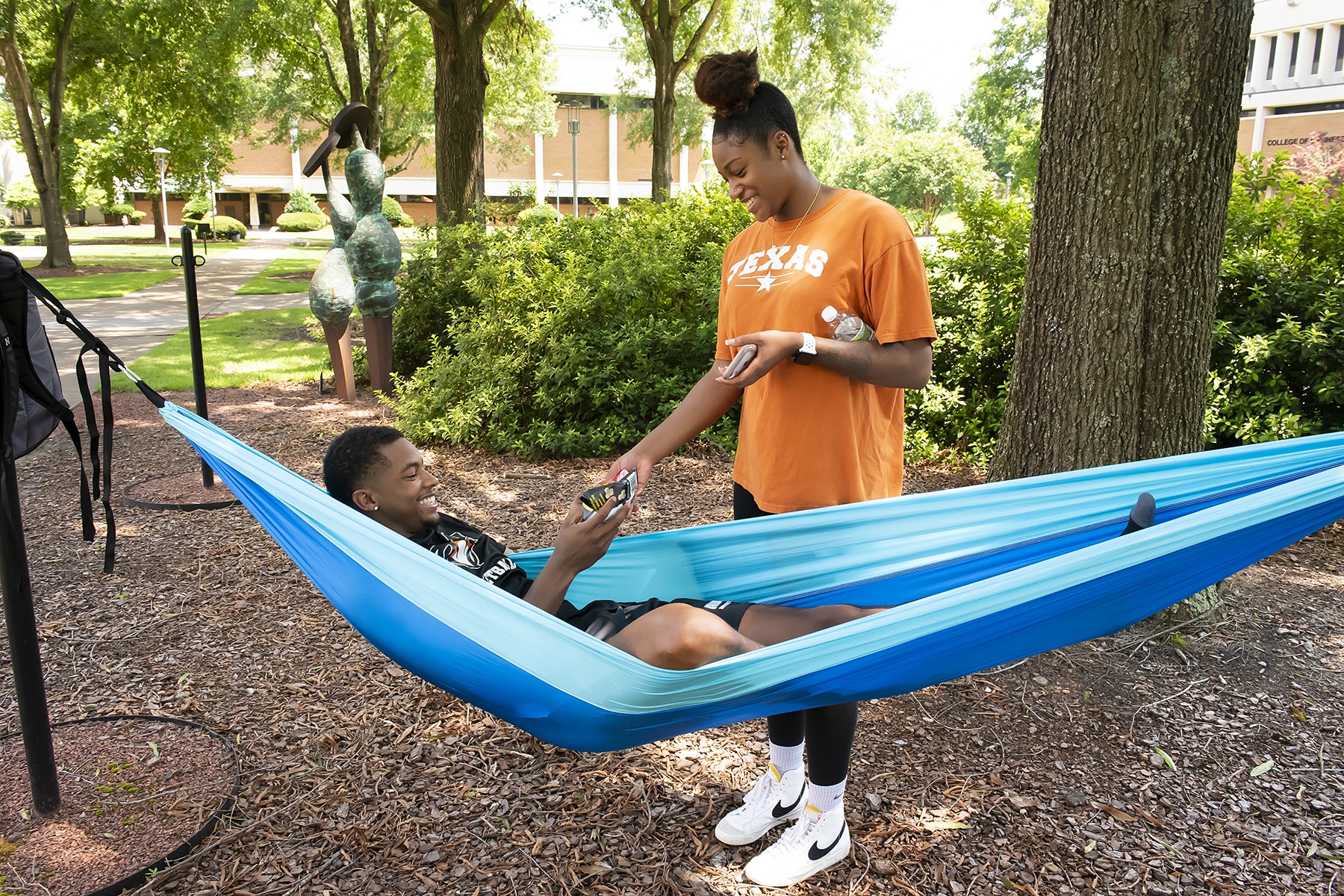 Warhawk statue donated to AUM
Retired English Professor Bob Evans and his wife, Ruth, recently donated a Warhawk statue to AUM that is on display in the AUM Library.
"I had been thinking for a long, long time that when I retired, I would like to donate something memorable to the university, which had treated me so well and supported me so much," Evans said of the gift.
Evans, who taught at AUM for 39 years, discussed the significance of the gift in a Q & A with AUM Library Dean Phill Johnson:
Q: Why did you decide to donate the Warhawk to AUM?
A: For years, I thought it would be great to donate some kind of big fountain, but then it occurred to me that that might be hard to maintain and might eventually need to be shut down. I happened to be paging through ebay, saw the Warhawk (falsely advertised as an eagle!) and said to myself, "Self, that would be great." All the Warhawk needs to do is sit there — no moving parts.
Q: Why did you ask that the Warhawk be placed in the Library?
A: The Library is the core of the university. Without our fine Library, AUM would not be as fine a university as it is. During my nearly 40 years at AUM, I relied on the Library continuously and was always helped enormously by the librarians. I am forever grateful to them. Despite all my interlibrary loan requests, my failures to return books on time, my tendency to run up enormous fines, and so on, they always treated me with great kindness and indulgence. So the library seemed the best home for the bird. I'm especially pleased that it has been placed so close to the "faculty [and student] publications" display.
Q: How did the bird get placed in that particular spot?
A: I contacted (Library Dean) Phill Johnson, (Associate Provost for Undergraduate Studies) Joy Clark, and (Associate Provost for Graduate Studies and Faculty) Matthew Ragland and asked if such a gift and such a placement would be acceptable, and all three readily and enthusiastically agreed. This, I should say, is typical of almost all the interactions I have had over many years with administrators at AUM. They have almost always been not only supportive, but enthusiastically supportive. I love AUM and will miss all my students and colleagues.
AUM names Staff Leadership Fellows
Six staff members have been named AUM Staff Leadership Fellows to play a significant role in developing and implementing plans, policies, and projects of strategic importance to the university.
AUM's Staff Leadership Fellows program provides professional development and leadership mentoring for staff members currently in or interested in moving into leadership positions.
The Fellowship is also designed to offer professional development focused on leadership skills and to provide opportunities to six fellows for participation in key initiatives supporting and serving the university. Recently named Fellows are:
Amanda Brasington, Campus Experience Manager in the Office of Admissions
Stephen Paul Bray, Associate Director of ESL Program
Chanell J. Davis, Associate Director of the Warhawk Academic Success Center
John Glasscock, Associate Director of Institutional Effectiveness
Leann Reeves, Student Advisor in the College of Business
Rudy Tobias, Assistant Director of Veteran and Military Resource Center
Fellows will serve a one-year term from Summer 2021 to Summer 2022 and receive a $1,000 stipend during the academic year. Fellows also receive a $1,000 professional development fund and commit to attend AUM Staff Leadership Fellows meetings and participate in exercises requiring critical thinking. Fellows also make a commitment to remain at AUM a minimum of two years beyond the completion of the program. 
Fellows will be mentored by a team of six mentors comprised of AUM administrators Joy Clark, Sameer Pande, Kimberly Johnson, Leon Higdon, Tobias Mense, and Daryl Morris.
Participate in AUM's Blood Drive
AUM has partnered with the American Red Cross to host a campus blood drive in September.
The drive will be held 10 a.m. – 3 p.m. September 21 in the Taylor Center, room 230. As part of the drive, there will be testing for COVID-19 antibodies from each pint of blood donated.
AUM community members can help others by making an appointment to participate in the upcoming blood drive. Appointments can be made at redcrossblood.org with the code AUM or using your zip code. You may also call 1-800-RED CROSS (1-800-733-2767) to set an appointment.
Donors must bring your driver's license or other form of ID. You can save 15 minutes off the process time by completing a Red Cross Rapid Pass before you come.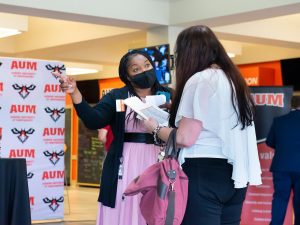 AUM hosts Career Fair for local job-seekers
Auburn University at Montgomery is hosting a career fair to connect qualified job seekers with a variety of staff openings at the university.
The AUM Career Fair will be offered Thursday, July 29, from 11 a.m. to 2 p.m. in the Taylor Center Café.
The university is currently advertising more than 30 openings, including positions for an executive chef, accountant, mental health therapist, human resources generalist and cyber security specialist, to name a few.
Career Fair attendees will have an opportunity to participate in on-site interviews for many positions. Search existing job openings at www.jobs.aum.edu.
As a member of the Auburn University System, AUM offers competitive pay, paid holidays, employee and dependent educational benefits, mandatory and voluntary retirement plans, and medical, dental and vision insurance.
Text 334-322-6072 for additional details about the AUM Career Fair.
Meet the WSFA Weather team
AUM will host members of the WSFA Weather team on campus Friday, July 30, from 4-7 p.m. for a First Alert Severe Weather Event. Look for the WSFA Storm Tracker van near the AUM Wellness Center.
Learn more about severe weather safety and meet WSFA's fantastic meteorologists. 
Vehicle registration period for 2021-2022 to open soon
Beginning August 1, AUM students and employees may register their vehicles online through MyAUM/Webster before picking up parking decals (read on for dates and locations).
If you haven't registered your vehicle online, you may bring your vehicle information (tag-license plate number, year, make, model, and color) with you so that Campus Police may register it during your visit.
Decal registration and pickup Information 
Below are the dates, times, and locations where students, faculty and staff may receive assistance with vehicle registration and pick up parking decals for the 2020-2021 academic year.
August 9 • 8 a.m.–6 p.m. • Taylor Center Room 222
August 11 • 8 a.m.–6 p.m. • Taylor Center Room 222
Online mental health screening offered for students
Counseling and Health Promotion Services is offering free online mental health screening for students.
Mental health is a key part of our overall well-being. If you have a concern about your mental health, you can connect with a counselor in Counseling and Health Promotion Services or take a free, anonymous online mental health screening that will:
Assess the most common psychological problems college students experience
Help students perform their own mental health check-in
Offer immediate results on several areas of mental health including depression, anxiety, academic distress, eating concerns, frustration level, family stress, and alcohol use
Take your free Mental Health Screening online.
For questions or concerns about the results, contact Counseling and Health Promotion Services at 334-244-3469 or [email protected]
Nominate outstanding faculty for the 2021 Faculty Service Award
Faculty members elevate our university and play an important role in helping our students succeed. Every year, the AUM Alumni Association's Faculty Service Award honors outstanding faculty for their service to the university.
To be eligible for the honor, faculty members must have five or more years of full-time service at AUM. Nominations can be made by AUM faculty, staff, students, alumni and friends.
The honor will be awarded during the fall semester and the recipient will receive a $1,000 check from the AUM Alumni Association.
Nominations for the 2021 Faculty Service Award must be postmarked by September 3, 2021 and include a nomination letter. Nomination letters should be no more than two pages in length and should emphasize teaching excellence as well as a strong record of service to the university and community. A vita may be attached, if available.
Send nomination letters to: Awards Committee, Auburn Montgomery Alumni Association, P.O. Box 244023, Montgomery, AL 36124-4023, or email them to [email protected].
Questions? Contact the AUM Alumni Association at 334-244-3369 or [email protected].
EEEC Peer Mentors wanted
The Experiential Education & Engagement Center (EEEC) is looking for students interested in becoming Peer Mentors for Fall 2021.
Peer Mentors are needed in all courses and regardless of academic interest.
So, what does a Peer Mentor do?
Peer Mentors are part-time student workers that get paid $10 per hour.
They work in the classroom of courses they have already successfully completed.
They help current students get through the course by giving advice and support.
Peer Mentors are like teaching assistants without the responsibility of grading assignments.
Peer Mentors are leaders at AUM.
If you are dedicated to helping others and want to develop invaluable work experience, go to AUM Jobs to apply.
For additional information, contact Brenda Plympton at the EEEC.
Summer Call for Proposals for Undergraduate Research, Creative Activity
Auburn University at Montgomery's Undergraduate Research Committee is accepting summer proposals for Undergraduate Research and Creative Activity grants.
In March, the Office of the Provost allocated $50,000 for undergraduate research or creative activity at AUM. Grant funding is awarded to faculty members whose research involves undergraduate students.
Twelve proposals have been funded so far. Congratulations to the most recent faculty awardees:
Vanessa Koelling, "Digitizing the AUM Herbarium: A Valuable Resource for Biodiversity Information"
Tami Shelley, "The Importance of Design and Selection of Equipment in Early Childhood Education Center Areas"
Semih Dinc, "Vision and Depth-Based Trajectory for Mobile Robots"
The Undergraduate Research Committee will continue to review and fund research projects on a rolling basis throughout the summer until the funds are disbursed. The committee anticipates another call in September for funding in the next fiscal year.
AUM's Experiential Education and Engagement Center and the University Honors Program share the mission of encouraging undergraduate research and creativity and administering funding for undergraduate research and creativity. To apply, please email Lynn Stallings at [email protected] for the guidelines.
Get event updates from Curtiss
Stay in-the-know about can't-miss campus events via text message. Enroll in AUM365 and get the 4-1-1 from Curtiss The Warhawk himself. Text curti$$ to 334-398-6025 to receive reminders about upcoming happenings.
Bringing tutoring resources to you
Resident students have an opportunity to connect with AUM tutors during the summer semester. Math and writing tutoring will be available each Tuesday and Thursday, from 4-6 p.m. in the first floor lobby of P40 Place.
Students can also participate in in-person tutoring or virtual drop-ins through the Instructional Support Lab. Visit Goodwyn 203 Monday-Thursday, from 9 a.m. to 8 p.m. or on Friday from 10 a.m. to noon.
Make a difference on the Alumni Board
Are you passionate about AUM? Do you want to make a difference? The AUM Alumni Association invites AUM graduates to apply for a position on the AUM Alumni Board of Directors.
As the advisory board to the Auburn University at Montgomery Alumni Association, the Alumni Board seeks candidates who are proven leaders, have demonstrated service to the AUM alumni family, are experienced in working in a collaborative environment, and are committed to serving as AUM ambassadors in their communities.
Board members must be an AUM graduate or have earned credit toward one of its degree programs.
The board meets three times per year on campus, and board members serve a term of two years. Board members are expected to be active members of the AUM Alumni Association. Nominations will close Friday, September 3, 2021.
If you have questions, please contact the AUM Alumni Association at 334-244-3369 or [email protected].
Learn more: https://www.aum.edu/alumni-board/