Warhawk Weekly 6-7: Brownell viral content; Wilkes interim coach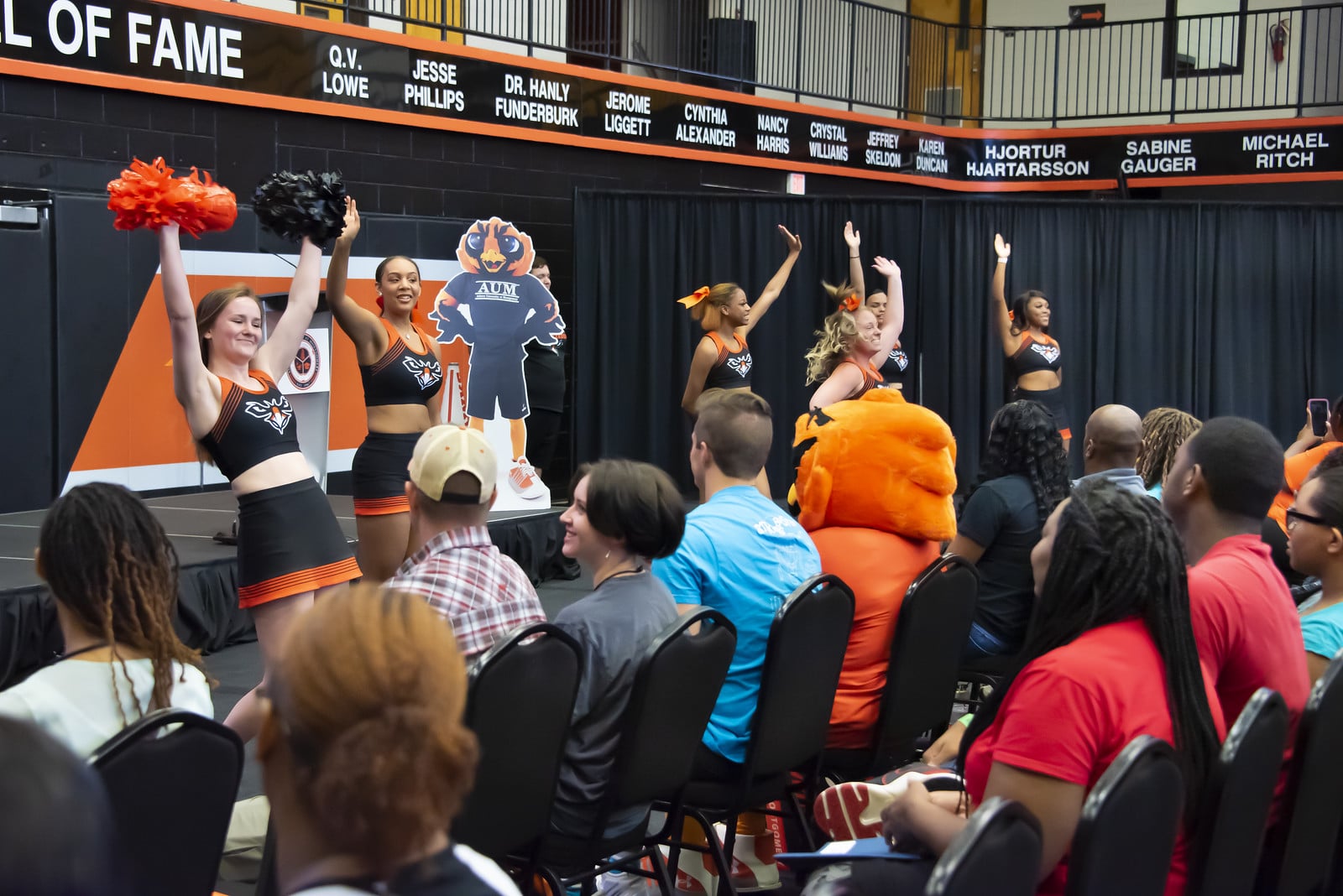 Graphic design major Jake Brownell has established himself as the architect — and star — of viral videos that have become must-watch content for sports enthusiasts.
His driveway experimentation with various basketball trick shots has earned him more than 200,000 TikTok followers, as well as tens of millions of views and shares from outlets such as ESPN. Given the rise of social media influencers and content marketers in the digital age, Brownell now sees potential to turn what started as a hobby into something much more substantive.
He recently discussed how he's using his AUM education to create, package, and potentially monetize viral social media content.
Wilkes named interim head softball coach
The sustained success of AUM's softball program, coupled with the Warhawks' history-making 2022 season, didn't go unnoticed by NCAA Division I athletic directors with coaching vacancies.
After eight seasons at AUM, Eric Newell accepted a head coaching offer from Troy University last Thursday. Scottie Wilkes, who has served as an assistant coach since 2014, has been appointed as interim head coach.
"I am grateful for this opportunity and thankful to Dr. (Carl) Stockton and (Acting Director of Athletics) Amber Rae (Childers) for entrusting the softball program to me during this time of transition," Wilkes said of the opportunity. "I believe in the softball program at AUM and I believe that it is destined for greatness. Coach Newell did a great job of laying the foundation and building this program to be nationally competitive. I look forward to the future and the team's continued success."
During her tenure on the coaching staff at AUM, Wilkes has been a part of two NAIA National Championships, six national tournament appearances, two Gulf South Conference regular-season and tournament championships and the 2016 Southern States Athletic Conference Tournament title. In non-COVID impacted seasons, the Warhawks have averaged better than 41 victories per year, winning 45 or more games four times, with Wilkes on the coaching staff.
Newell's track record of success made him an intriguing coaching prospect for NCAA Division I programs. During his tenure at AUM, the Warhawks went 302-88, capturing back-to-back Gulf South Conference championships in 2021 and 2022 and reaching the NCAA Division II Softball Championship for the first time this season.
Master's program in psychology prepares graduates for pandemic and post-pandemic work environments
Auburn University at Montgomery has launched a new online master's degree program in psychology that will help address the changing nature of work environments in a pandemic and post-pandemic world.
AUM's new industrial and organizational (I/O) psychology graduate program is geared for professionals seeking to advance in their careers by helping organizations grapple with issues such as employee relations, diversity and inclusivity, and inclusive and equitable cultures within an organization.
"Each of these domains, and others, are major roles that I/O psychologists can help implement," said Assistant Professor of Industrial/Organizational Psychology Casey Giordano, who helped to implement the new online graduate program.
Such issues have become forefront for many organizations as jobs were redesigned to better accommodate work-from-home arrangements during the COVID-19 pandemic, Giordano said.
"COVID exposed that leaders needed to express considerations for the well-being of their followers and employees needed to be given autonomy to complete tasks given their unique circumstances (e.g., childcare responsibilities)," he said. "The field of I/O psychology is as relevant as ever in our pandemic and post-pandemic world."
COVID-19 lockdown measures further highlighted the need for organizations to maintain flexibility and that I/O psychologists possess the skillset and training to advise organizations on how to implement policies that impact employees, Giordano said.
"From increasing a company's efficiency and productivity to supporting the health, welfare, and satisfaction of the workforce, AUM's new program will help create smarter workplaces by training the next generation of leaders in this rapidly growing field," he said.
Apply for Provost's scholarship opportunity
Students are invited by the Office of the Provost to apply for a scholarship that will go towards one credit hour of tuition for an internship or directed research course approved by AUM's Experiential Education & Engagement Center (EEEC).
Students who apply for the scholarship, which is sponsored through the Office of the Provost, can only apply once in the same semester. The scholarship deadline for Summer 2022 is June 15 and for Fall 2022 is August 22. Apply online.
The scholarship does not apply to courses that are required as part of the students' major program. It is intended to incentivize internships and undergraduate research beyond program requirements. So, student teaching, medical lab science clinicals, nursing clinicals and other courses that are required do not qualify for the Provost's scholarship.
Nominations open for Alumni Professorship
The Auburn University at Montgomery Alumni Association sponsors the Alumni Professorship to recognize outstanding AUM faculty. To be eligible for the honor, faculty must have 10 or more years of full-time service at AUM.
AUM faculty, staff, students, alumni and friends can submit nominations for the 2022-2025 Alumni Professorship. Nominations must be submitted or postmarked no later than August 1, 2022. Nomination letters should be no more than two pages in length, and should emphasize teaching excellence as well as a strong record of publication and research. A vita may be attached, if available.
Send nomination letters to: Awards Committee, Auburn University at Montgomery Alumni Association, P.O. Box 244023, Montgomery, AL  36124-4023, or email them to [email protected].  If you have questions, call 244-3369 or email [email protected].
Keep up with campus events
There's an easy way to keep up with campus happenings. Enroll in AUM365 and get the 4-1-1 from Curtiss The Warhawk himself. Text curti$$ to 334-398-6025 to receive reminders about upcoming happenings.