Warhawk Weekly 3-8: Military Friendly campus; HER Story series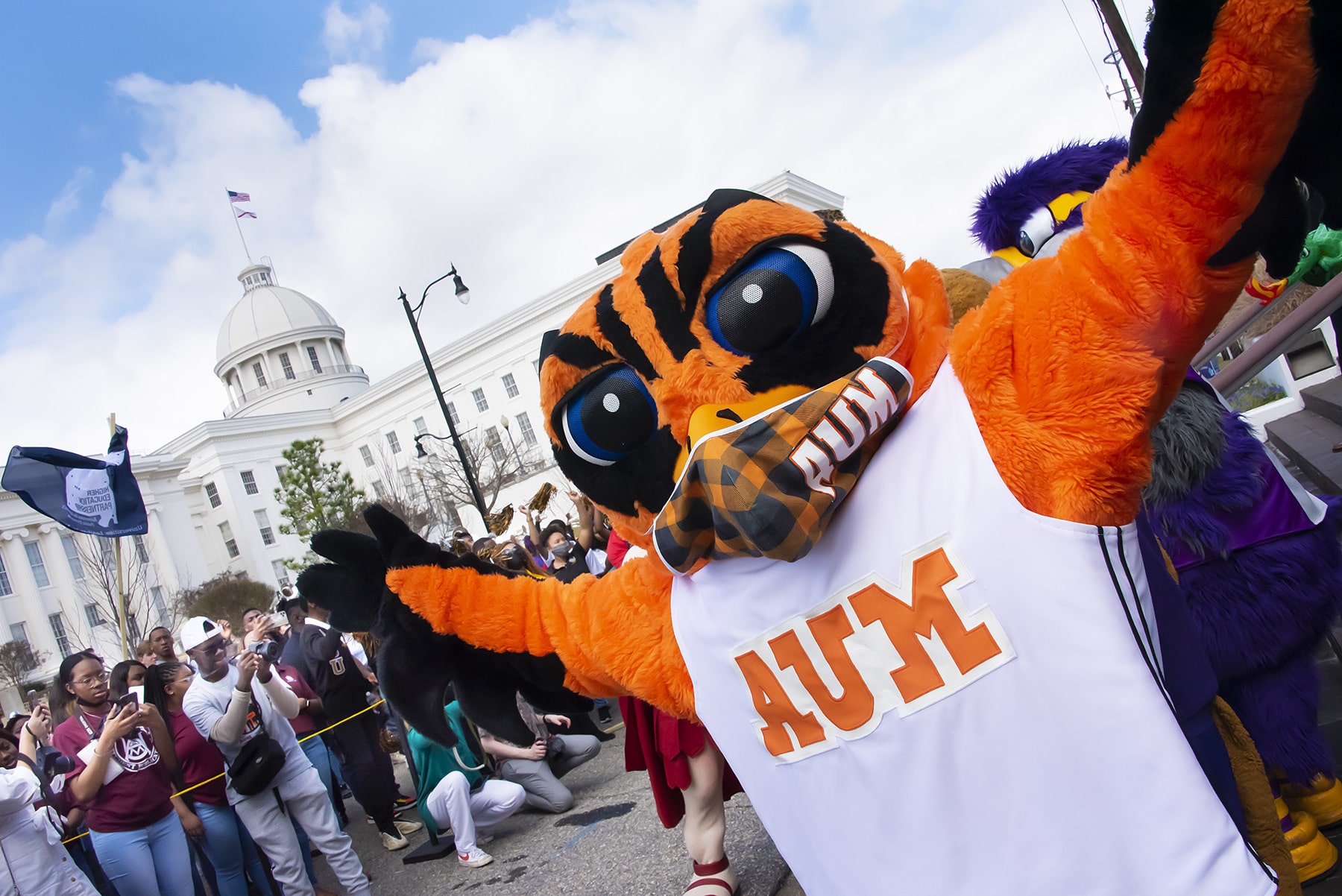 AUM earns Top 10 recognition as 'Military Friendly' campus
Auburn University at Montgomery earned Top 10 national recognition as a 2022-2023 "Military Friendly School," according to a survey released Monday by Viqtory Media.
AUM earned a No. 7 ranking in the "Small Public Schools" category. It marked the fifth consecutive year that AUM has earned recognition in the longest-running and most comprehensive review of college and university investments in serving military veteran and military-affiliated students.
Viqtory Media surveys more than 1,600 schools nationally, evaluating such components as affordability, institutional commitment to the "8 Keys to Veterans' Success," flexibility of course delivery, and support services available to military-affiliated students.
AUM serves more than 800 military-affiliated students, including spouses and dependents.
"We are grateful to Viqtory Media for recognizing the dedication of Auburn University at Montgomery staff and faculty in supporting the educational journeys of active duty military, veterans and their family members," AUM Chancellor Carl A. Stockton said. "They represent a special student population with unique experiences and needs. We have been very diligent in our efforts to ensure that we effectively serve those who have – and are serving – the United States so well."
AUM offers the Military and Family Scholarship for current military personnel and their dependents. Scholarship recipients save 15 percent on undergraduate tuition and 35 percent on graduate school tuition. The university also offers two-, three- and four-year Army ROTC Campus-Based Scholarships, the Guaranteed Reserve Forces (GRFD) Scholarship and the Green to Gold Scholarship.
In 2021, AUM earned "Silver Status" in the Military Friendly Schools survey, the highest level among Alabama's small universities.
Perhaps the most important resource AUM offers student veterans and their family members is the Veteran & Military Resource Center. Located at the heart of the AUM campus in the Taylor Center, the office offers study space and dedicated staff who can help military-affiliated students navigate unique needs pertaining to benefits and support services available to them.
Romano opens HER Story speaker series today
In celebrating the successes and contributions of women worldwide during Women's History Month, Auburn University at Montgomery will host a series of speakers who will share their stories on female empowerment and achievement.
The "HER Story Speaker Series" will open today at noon. AUM alumna Yung Romano, a 2010 Alabama Teacher of the Year who now serves students at Alonso High School in Tampa, Florida, will kick off the series via Zoom.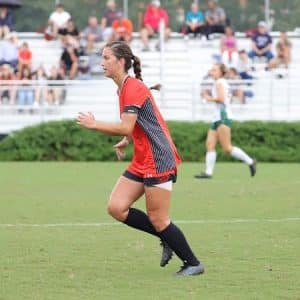 NCAA awards $10,000 scholarship to Nowin
AUM senior soccer player and kinesiology major McKenzie Nowin has earned a major award from the NCAA — a post-graduate scholarship worth $10,000.
Nowin, a 4.0 student, will use the NCAA Postgraduate Scholarship as she pursues a master's degree in physical therapy.
"I am thrilled to receive scholarship money as I begin graduate school next fall and I'm honored to be chosen for a scholarship that recognizes me as both a student and athlete," Nowin said.  "I've played soccer since I was four and I have loved continuing to play while pursuing my college degree. I am grateful to God, my parents, professors, advisors, coaches, teammates, and athletic staff for their support and pushing me to be the best that I could be on the field and in the classroom."
Learn more about Nowin's scholarship in the Athletics Newsroom.
Schedule set for Spring commencement
We're looking forward to celebrating our Spring 2022 graduating class on Saturday, May 7, at the Multiplex at Cramton Bowl.
Our commencement schedule is locked in:
10 a.m. — College of Education, College of Nursing and Health Sciences, College of Liberal Arts & Social Sciences
2 p.m. — College of Business, College of Sciences
Get the full details on Spring commencement.
Pre-order your commencement medallion
Graduating this spring? If you make a gift of $20.22 to an AUM college or academic program of your choice, you'll receive a commemorative medallion to wear during the Spring 2022 commencement ceremony.
For more information, email [email protected] or call 334-244-3369.
Partnership creates new possibilities for AUM Athletics
Talk about a game-changer for AUM student-athletes.
AUM Athletics announced last week its involvement in a partnership between the Gulf South Conference and INFLCR, which will provide GSC student-athletes and institutions with platforms that focus in Name, Image & Likeness (NIL) and social media strategy.
The Gulf South Conference is the first NCAA Division II conference to join the INFLCR family. As part of the agreement, the partnership will concentrate on offering content delivery to the league's student-athletes, communication staffs, coaches, and other internal ambassadors. In turn, the GSC and INFLCR relationship will further develop and bolster the league's brand identity and its member institutions across all sports.
Learn more about the INFLCR partnership in the Athletics Newsroom.
Creating culturally responsive courses
Faculty and staff who missed the Experiential Education & Engagement Center's in-person workshop on "Creating Culturally Responsive Course Design" can still get in on the conversation.
The EEEC will host a discussion via Zoom on Thursday, March 10, from 1 to 2 p.m.
The workshop series will focus on a variety of topics, including cultural responsiveness, educational barriers, intentionality, marginalization and differentiated instruction.
Apply for the 2022-23 Graduate Study Merit Scholarship
The AUM Alumni Association is now accepting applications for the 2022-2023 Graduate Study Merit Scholarships.
The Graduate Study Merit Scholarships are available to current qualified AUM graduate students who maintain a GPA of 3.4 or higher, complete nine hours each semester and are continuously enrolled for each semester covered by the award.
The application deadline is March 15. Apply now!
Green Zone Training
Green Zone training is offered to all interested faculty and staff. The training focuses on increasing awareness of the backgrounds and needs of our military affiliated students. Participants that attend will receive a certificate and a green zone sticker to place outside their office space.
The training session will take place Wednesday, Mar. 16 from 9-11 a.m. in Taylor Center 221.
Keep up with campus events
Have you been missing out on some of the fun events that happen on our campus daily?
We can fix that. Enroll in AUM365 and get the 4-1-1 from Curtiss The Warhawk himself. Text curti$$ to 334-398-6025 to receive reminders about upcoming happenings.