Warhawk Weekly 3-14: Godwin turns heads; CRCV Speaker Series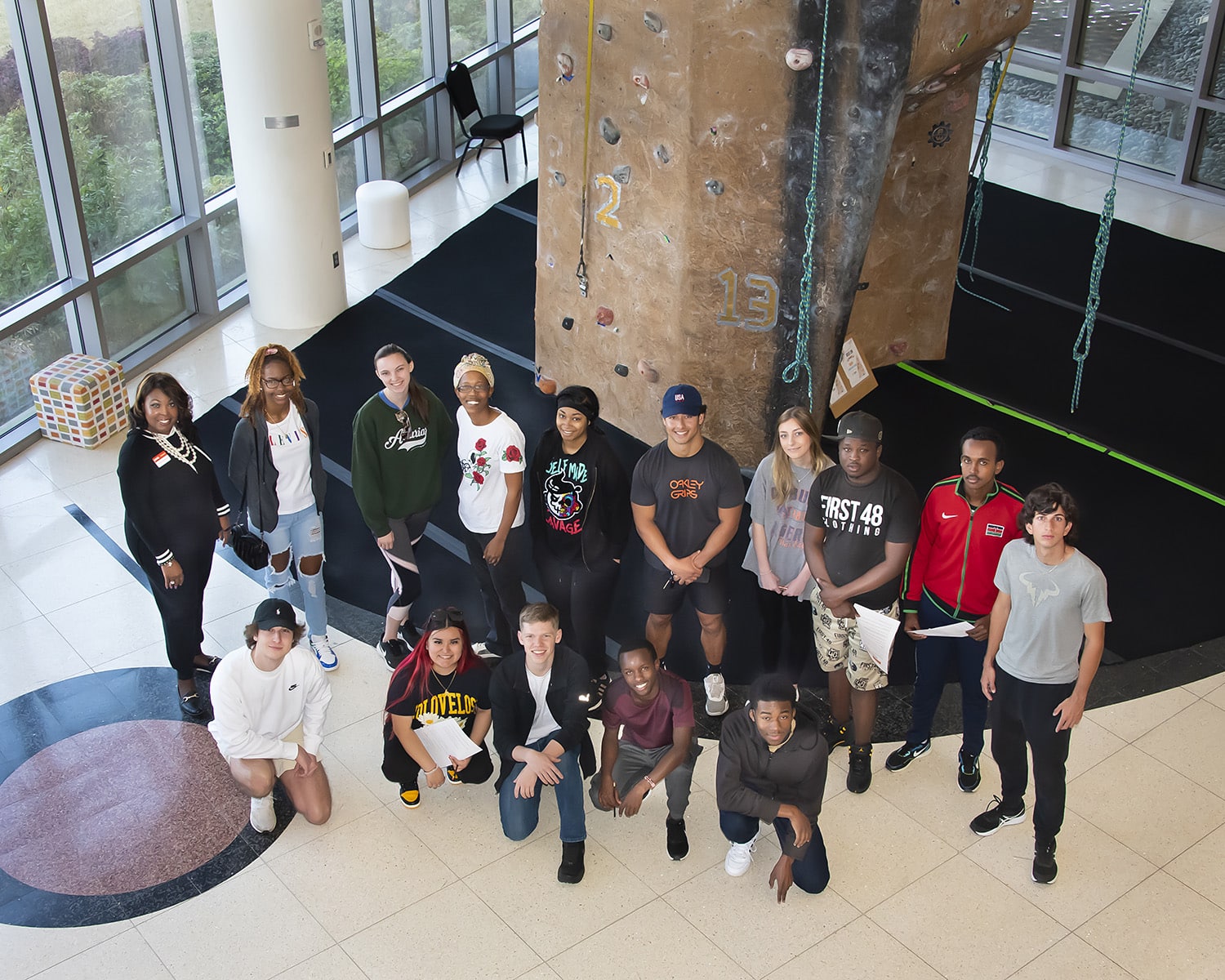 Godwin turns heads, judges' chairs on 'The Voice'
When Auburn University at Montgomery junior biology major Jerome Godwin III finished performing on NBC's "The Voice" Monday night, his aspirations of becoming a dentist received nearly as much attention from the judges as his soulful singing.
"Your smile is like the greatest smile ever," judge Kelly Clarkson said.
"That smile," judge Naill Horan added. "Great teeth. … The people watching this at home are going to fall in love with you."
Horan and Clarkson certainly did. Godwin earned "chair turns" from both during his performance of Ariana Grande's "pov." Ultimately, Godwin chose Horan to be his coach for the remainder of the competition.
Godwin auditioned for "The Voice" during Season 19, but didn't earn a chair turn from any judges. John Legend, one of the judges during that season, acknowledged his talent and encouraged him to return. Godwin earned a return for a "second chance" audition and certainly made an impression on two of the new judges who joined the show since his first performance.
"Your voice is amazing," judge Chance the Rapper told Godwin. "I like that you powered through the whole performance."
CRCV Speaker Series welcomes Henry Allen
AUM's Civil Rights & Civic Virtue Speaker Series will feature a Selma native who participated in the 1965 "Bloody Sunday" march before eventually becoming the city's first African-American fire chief.
Henry Allen will speak Wednesday, March 22, from 8 a.m. to 9:30 a.m.in Taylor Center 221- 223. The breakfast event is free and open to the public.
A Vietnam veteran, Allen was the first African-American to enlist in the Alabama National Guard and advocated for the recruitment of black men and women during his 27 years of service. In 1972, Allen was hired as Selma's first African-American firefighter. He became a lieutenant in 1977 and a captain in 1992. By 1995, Allen became the city's first black fire chief. He retired in 2009 after serving the city for 37 years.
In 2016, he completed a book of memoirs, "Marching Through the Flame: The Children of Selma Marched and Did Not Burn," that reflected on his role in Selma's history.
CONHS partnership helps schoolchildren stay healthy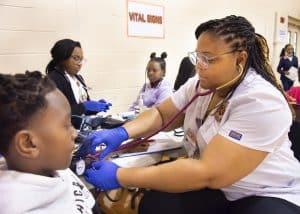 AUM's College of Nursing and Health Sciences (CONHS) has partnered with the Lowndes County School System to provide health screening to elementary and middle school students for the first time since the COVID-19 pandemic.
AUM provides the yearly health screenings through Healthy Kids, a community-academic partnership between CONHS and neighboring school systems. Since 2011, the unique outreach initiative has also provided service-learning experiences for health profession students in the college.
"Using an interprofessional collaborative approach, three different departments – the Department of Communication Disorders, Department of Medical Clinical Lab Sciences and School of Nursing – within the College of Nursing and Health Sciences work together to promote health and prevent illness in youth through these wellness screenings," said Assistant Clinical Professor Dawneese Bowen, who coordinates the outreach initiative.
This year, CONHS partnered with the Lowndes County school system to conduct health screenings for kindergarten through eighth-grade students throughout March. CONHS recently held health screenings for students at Fort Deposit Elementary, Lowndes Middle, Hayneville Middle and Jackson Steele Elementary schools.
Bowen said that students were screened in several areas, including dental, hearing, vision, speech, lipid and glucose, weight/BMI and blood pressure.
"By intervening early, healthy behaviors can be learned," Bowen. "These screenings offer a great service to the community to catch health abnormalities in students early on so that we can refer children to health providers."
On March 31, CONHS will provide health screenings to students at Central Elementary School in Lowndes County. More than 800 Lowndes County Public Schools System students are expected to be screened through this year's Healthy Kids initiative.
New Tri-Alpha Honor Society to induct members
On Thursday, March 30, the newly chartered Zeta Tau Chapter of Alpha Alpha Alpha (Tri-Alpha) National Honor Society will hold its inaugural induction ceremony.
Established on AUM's campus in the Fall of 2022, Alpha Alpha Alpha, Zeta Tau Chapter is the second chapter established in the state of Alabama. Membership is by invitation only. In order to be eligible, students must complete at least 60 credit hours, have an overall GPA of at least 3.2, and come from a family where neither parent nor any legal guardians earned a bachelor's degree/ Tri-Alpha promotes academic excellence and provides opportunities for personal growth, and leadership development for first-generation college students.
The 2023 inductees are:
Carlisha Belser, Bryanna Bolden, Trinyia Boykin, Kevin Brooks, Melissa Bush Ott, Te'Lor Davis, Alicia Estes, Madison Flakes, Marquise Floyd, Blake George, Kamaya Gordon, Aniah Gray, Sharon Harris, Naya Hawthorne, Jaicynthia Hooks, Avery Johnson, Jaquena Johnson, Taleaha Jones, Keyonce King, Donald Lowe, Jamie McBride, Gracelyn Mitchell, Makayla O'Brien, Talesha Orum, Prinali Patel, Jada Pugh, Savannah Pustay, Romello Savage, JoAnna Sheffield, Chyna Terry, Gregory Vance, Katrina Vance, Kyra Washington, Naomi Wrench, and Makayla Yelder.
Vote for AUM in Community's Choice Awards
Auburn University at Montgomery needs your support to hold its status as the River Region's favorite university in the Montgomery Advertiser's 2023 "Best of the River Region" Community's Choice Awards.
The annual awards celebrate and recognize the best that Montgomery has to offer. Students, faculty and staff can nominate AUM as a top university in the Montgomery region in the following categories:
Beauty & Health: Hearing Aid/Hearing Specialist Center
Kids & Education: Child Care
Kids & Education: College/University
Sports & Fitness: Fitness Center/Gym
Top Employers: Place to Work
Online voting will close on March 27. To cast your vote, visit the Advertiser's online voting page to vote every day during open voting.
Find new additions for your personal library
The Department of History & World Cultures will host its Spring Fling Book Sale on Wednesday, March 22, from 9 a.m.-2 p.m. in the Goodwyn Hall Breezeway.
Pick up hardbound books for $2 and paperbacks for $1 apiece.
AUM Cheerleading to host tryout clinics
Show your Warhawk spirit during AUM's Cheerleading Clinics. AUM Cheerleading will host multiple clinics in advance of its formal tryouts April 28-29.
Current students interested in trying out for the cheerleading team can attend clinics on the following dates:
March 24, 5-7 p.m., AUM Wellness Center
April 14, 5-7 p.m., AUM Wellness Center
The clinics are $25 per session. For those interested in trying out for the team, requirements include the ability to follow cheer and dance instructions taught at tryout and to demonstrate foundational and advanced stunting skills.
Follow @aum_cheer on Instagram to register online and receive more information.
Registrar's Office accepting applications
AUM's Registrar's Office is accepting applications for a full-time Senior Program Associate position.
Duties for the position will include:
Overseeing smooth functioning of the front counter reception area
Greeting the public and directing visitors to proper offices
Assisting with graduation commencement duties twice a year
Get updates on campus events
Don't get left out of important campus events. There's an easy way to keep up with what's happening each day. Enroll in AUM365 and get the 4-1-1 from Curtiss The Warhawk himself. Text curti$$ to 334-398-6025 to receive reminders about upcoming happening.