AUM junior gets second chance to turn judges' chairs on NBC's 'The Voice'
AUM junior Jerome Godwin III is hoping his vocal skills will charm a new set of judges on NBC's "The Voice" to advance in the popular singing competition.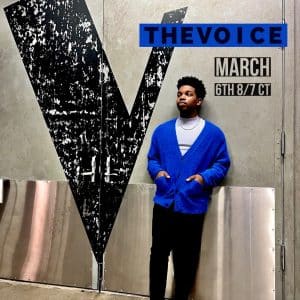 His upcoming appearance on "The Voice" will be his second attempt to get the show's judges to turn their chairs to select him after failing to get a chair turn during Season 19 of the singing competition, Godwin said.
"I tried out for Season 19 of The Voice, but did not get a chair turn. John Legend was a coach that season, and he told me personally that he would love for me to return," Godwin said. "So I did!"
Godwin will be featured as a contestant on Season 23 of "The Voice," which premieres Monday, March 6, at 7 p.m. on NBC.
"I went into this season wanting Chance the Rapper and Niall Horan to turn their chairs for me," Godwin said. "I'm hoping these two coaches turn since it is their first season, and I am intrigued by how they will navigate the competition."
While this season of "The Voice" marks his second time performing on the four-time Emmy Award-winning singing competition series, he wasn't any less nervous, Godwin said.
"The audition experience was very stressful, but I enjoyed every bit of it," he said. "I spent a couple of weeks with vocal coaches and The Voice band to perfect the song. I was very comfortable when it was time to audition for the coaches."
Godwin traveled alone to Los Angeles for his initial audition on "The Voice," but had the support of both his mother, Donna Godwin, and aunt, LaToya Peoples, during the show's trademark Blind Auditions. During the auditions, contestants sing a song of their choice before four judges — Chance the Rapper, Niall Horan, Kelly Clarkson and Blake Shelton — who listen with their backs turned to artists. Judges push a button and rotate their chairs to select and show artists they are impressed with their voice.
"I was blessed to have my mother and aunt in the audience supporting me," said Godwin, who isn't able to share his song choice before his performance airs, but noted he looks up to music artists such as Kim Burrell, John Legend, Brandy, and Todd Dulaney.
Long before these music artists, Godwin said he was inspired by singers in his family while growing up in Ashford, Alabama.
"I grew up singing in the church and come from a singing family," he said. "My grandparents on both sides of the family know how to sing along with my aunts and uncles. My mother plays the piano, and I grew up watching her play in church and for many well-known people, which definitely inspired my interest in music."
By age 12, Godwin was pursuing a professional singing career and released his first single, "I'm Still A Kid." Through the years, he's continued to pursue his music dreams. He is the worship leader at Northview Christian Church Safe Harbor in Montgomery and has appeared on the reality series "Ms. T's Music Factory." In 2019, he competed on "American Idol," a singing competition on the Fox network, and advanced to the show's callback round.
His music aspirations haven't kept him from also pursuing his dream to become a dentist by first earning a degree in biology with a concentration in pre-dentistry from AUM, Godwin said.
"I chose AUM to pursue my degree because my older sister attended and graduated from the nursing program," he said. "She is currently doing well, and that influenced my decision to go with AUM."
As a student, Godwin is able to balance his educational goals with his love for music as a member of the AUM Choir under its director, Associate Professor of Fine Arts Mark Benson.
"I aspire to have a career in pop/soul music, but I also plan on attending dental school after graduating from AUM," said Godwin, who expects to graduate in Spring 2024. "I know it seems like a completely different path, but I plan to continue releasing music while I'm in dental school. I know I may not be able to perform as much as I would want during dental school, but making music that people enjoy would be an accomplishment for me." 
He doesn't know when his episode will air on "The Voice," but he hopes that his fellow students, his professors and his supporters will tune in each week, Godwin said.
"The Voice will give me great exposure and the necessary skills for a promising music career," he said.