Warhawk Weekly 2-15: Homecoming recap; Gish shares insights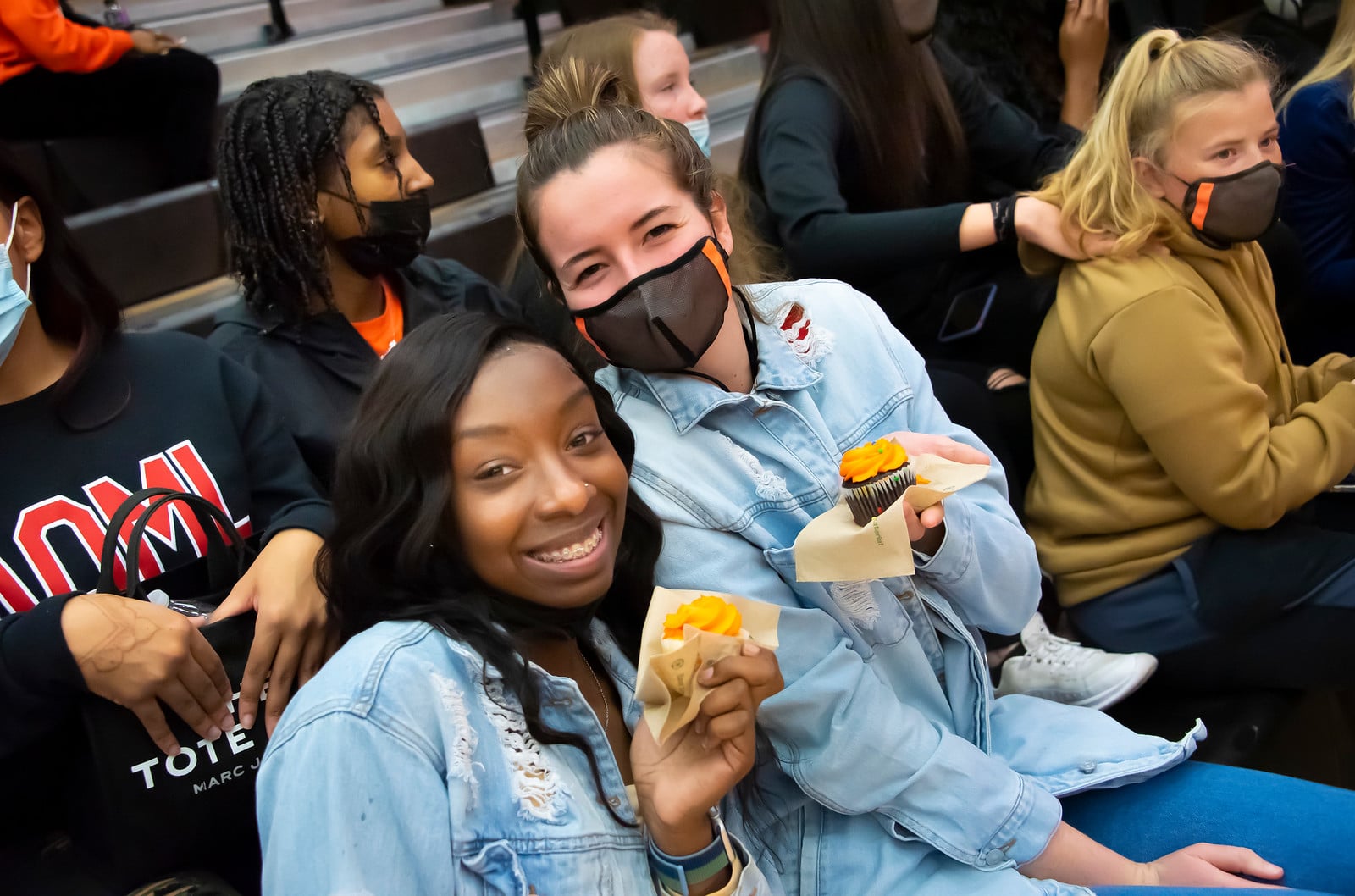 SVA wins Chancellor's Cup; Freeman, Williams become royalty
AUM's Student Veterans of America chapter emerged as the big winner in the Chancellor's Cup competition, claiming a $1,000 prize after a week of Homecoming Week games and events.
Senior business major Aaleia Freeman was crowned Homecoming Queen, while kinesiology major Aaron Williams won the voting for Homecoming King. Other members of the 2022 Homecoming Court included sophomore representative Logann Shorter and freshman representatives Alexander McHorne and Erin Odom.
The Chancellor's Cup featured strong team competition from the runner-up, AUM Cheerleaders, and the third-place finishers, the Alpha Psi Alpha Chapter of Phi Beta Sigma Fraternity.
Gish discusses 'Rise and Fall of Apartheid'
While conducting research in South Africa in the 1980s, AUM History Professor Steven Gish had a front row seat for the unraveling of apartheid, the system of racial discrimination and segregation the South African government formally adopted in 1948.
Gish will share his insights on "The Rise and Fall of Apartheid" in a virtual lecture scheduled for Thursday, Feb. 17, at 5 p.m. on Zoom. Members of the campus community can join in by logging on.
The lecture is one of several 2022 events planned by the Department of History, World Languages & Cultures under the theme of "Freedom Struggles and Revolutions."
Political Film Series opens with Baldwin documentary
The 2022 Political Film Series will begin Tuesday, Feb. 22, with a screening of "I Am Not Your Negro," an award-nominated documentary exploring the life of the late American writer and activist James Baldwin.
The program will begin at 7 p.m. in Goodwyn Hall 109. History professor Keith Krawcynski will introduce the film, which features Samuel L. Jackson and recordings of the late Baldwin and talk show host Dick Cavett.
Based on "Remember This House," Baldwin's unfinished book, the film has been described by critics as a "virtual essay" that provides a critical commentary on the state of race relations in the U.S.
Mollison reflects on Black History Month
During Black History Month, AUM student-athletes have been invited to share their reflections on the significance of the occasion. Women's soccer standout Milian Mollison offers her insights in the video story.
During AUM's celebration of Black History Month, we encourage all Warhawks to learn more about the contributions and sacrifices of African Americans who have helped shape our state and nation.
Visit our online events calendar for more information on AUM's Black History Month "Common Read" program and other opportunities.
Spring sports swing into action
AUM's spring sports teams have gotten off to a fast start, with the 14th-ranked softball team going 5-2 in a pair of tournaments, the 20th-ranked women's tennis team beating No. 6 Flagler on the road, and the baseball team earning a home sweep of Embry-Riddle to improve to 4-4.
Baseball will be the only AUM team to play at home in the coming week, with a doubleheader against Talladega College set for Sunday at 4 p.m.
Follow the Warhawks in the AUM Athletics Newsroom.
Keep up with campus events
Did you miss out on Silent Disco, Curtiss The Warhawk's birthday party or other Homecoming Week fun?
We can fix that. Enroll in AUM365 and get the 4-1-1 from Curtiss The Warhawk himself. Text curti$$ to 334-398-6025 to receive reminders about upcoming happenings.
Creating 'culturally responsive' courses
The Experiential Education & Engagement Center will host the first session in a new workshop series for faculty and staff on Tuesday, Feb. 22, from 9:30 a.m.-10:30 a.m. in Goodwyn Hall 109.
The session – Culturally Responsive Course Design, Part I – will help attendees better understand such topics as educational barriers, marginalization, intentionality and "differentiated instruction."
Wellness Center offers free nutrition information sessions
Need help aligning your diet with your exercise and fitness plan?
Members of the Wellness Center staff will be available to help students and employees through free one-on-one information sessions. The sessions will help participants adjust their daily caloric intake based on health and fitness goals while also learning how much carbohydrates, protein and fats should be consumed each day in order to lose, gain or maintain weight.
Visit Fitness and Wellness Program Coordinator Darrin Dukes after 1 p.m. Tuesday-Friday to participate in the program.
Showing the love for Brantwood Children's Home
Last weekend, the Student Social Work Association, the Department of Sociology, Anthropology, and Social Work, and the College of Liberal Arts & Social Sciences sponsored a water station at Brantwood Children's Home's annual Love Run.
Brantwood Children's Home's annual 5K Love Run, which begins at Paterson Field and winds through downtown Montgomery, was intentionally designed to be the "toughest 5K in the city." Organizers say the race is intended to simulate the hardships endured by the children Brantwood serves.
Since 1917, Brantwood Children's Home has provided a safe, stable, structured environment for abused, neglected and other "at-risk" children between the ages of 10 and 21.
Apply for the 2022-23 Graduate Study Merit Scholarship
The AUM Alumni Association is now accepting applications for the 2022-2023 Graduate Study Merit Scholarships.
The Graduate Study Merit Scholarships are available to current qualified AUM graduate students who maintain a GPA of 3.4 or higher, complete nine hours each semester and are continuously enrolled for each semester covered by the award.
The application deadline is March 15. Apply now!
Take the 'Pass the Plate' survey
Looking for campus food options that will meet specific dietary needs? Take the "Pass the Plate" survey created by the Honors Junior Seminar for its "Leadership and Citizenship" project.
The findings of the short survey will be shared with AUM Dining and Campus Services.
The project aims to cultivate community and student engagement by increasing the dietary options in the university cafeteria to serve students with special dietary needs. The survey includes questions about more inclusive food options, specialized food preparation training and inclusion of nutritional information for meals provided in the cafeteria.