Warhawk Weekly 12-14: Holiday Cheer; Celebrate Graduates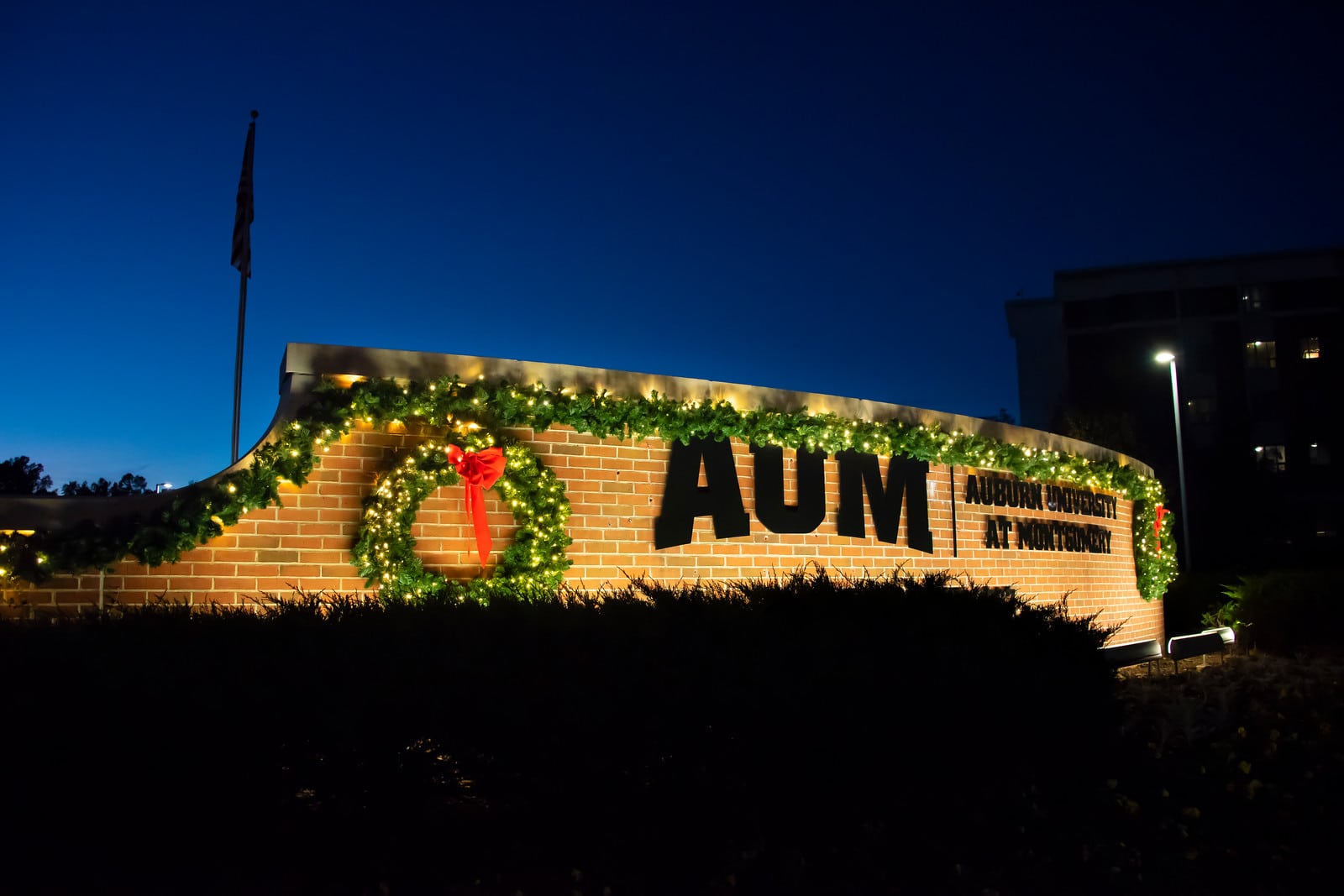 Curtiss offers holiday cheer
Snow in the Taylor Center courtyard? No, the meteorologists didn't misfire on their weather forecasts.
The unexpected precipitation was all part of Curtiss The Warhawk's efforts to spread some holiday cheer to Auburn University at Montgomery students, faculty and staff!
Back to the top
AUM celebrates Fall 2021 graduates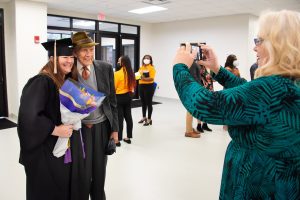 Like many of AUM's Fall 2021 graduates, Jannah Bailey balanced a full-time job with her college coursework.
Bailey, the executive director of Child Protect Children's Advocacy Center, earned a bachelor's degree from AUM in Justice and Public Safety in 1983. As she told the more than 500 members of AUM's Fall and Summer 2021 graduating classes who participated in commencement ceremonies last weekend at the Multiplex at Cramton Bowl, she couldn't have finished her degree or earned a leadership role on her own.
"We didn't get to this point without standing on some very strong shoulders," Bailey said.
In Bailey's case, it all started with Paragon Construction owner John Ives, who hired her when she was 17 and provided mentorship and flexible hours while she was pursuing her degree at AUM. "He was kind, encouraging, understandable, flexible, funny, supportive, caring, and he was a servant leader," Bailey said. "I worked for him until I was 24. I decided that if I was ever given an opportunity to be a leader in any way, I would try to model it after him."
Bailey challenged AUM's Fall 2021 graduates to use their talents – as well as kindness – to inspire and uplift those they encounter personally and professionally.
"Make one of your goals when you leave here today to be the shoulders for someone else," she said.
Federal court ruling impacts AUM employees
Last week, a federal judge in Georgia blocked the federal government from enforcing its vaccine mandate for federal contractors, including universities. The decision impacts all Auburn University at Montgomery employees.
Given the court ruling, the Auburn University System, including AUM, will pause enforcement of its vaccination policy for full-time and part-time employees, including student workers.
The Auburn University System announced in October that it would comply with the federal contractor vaccine mandate while also recognizing that the mandate could be challenged in court. We will continue to monitor legal challenges to the most recent court order and will share information on any further modifications in response to legal developments.
AUM's policy requiring that masks be worn on campus in shared indoor spaces remains in effect.
Mahachi receives fellowship for creative artwork
Nyaradzai Mahachi, a senior art history major, has been named to the 2021-22 class of fellows for The Andrew W. Mellon Undergraduate Curatorial Fellowship Program. She is one of three fellows chosen as a Mellon Curatorial Fellow under the African Art Department.
The fellowship provides specialized training to students across the United States from historically underrepresented groups in the curatorial field and supports the goal of promoting inclusive, pluralistic museums. Fellows gain hands-on experience in a museum setting, assisting curators and staff on exhibitions, collections, and programs to enrich their academic experience and increase their exposure to the museum environment while broadening their understanding of art and art history.
Mahachi is completing her fellowship at the High Museum of Art in Atlanta, Georgia, under the curatorial mentorship of Lauren Tate Baeza, the Fred and Rita Richman Curator of African Art.
"I love painting so much," said Mahachi, who is from Harare, Zimbabwe. "I enjoy the process of using images and colors to tell a story. I saw and came across many artists in my country who were a huge inspiration to me because of how much art meant to them. In many societies, the impact of art is often ignored and its importance is undervalued."
Learn more about Mahachi's fellowship in AUM News.
Cotton earns award for microbiology research
AUM senior Janiyah Cotton recently earned a 2021 Annual Biomedical Research Conference for Minority Students (ABRCMS) award for her research examining plant bacteria that could prove beneficial to the production of environmentally friendly biofertilizers.
Cotton's research project, "Selection and Molecular Characterization of Microbes Associated with Root Nodules for Evaluation of Plant Growth Promotion," earned one of 35 awards given in the microbiology category and was among 401 national student research entries honored at the ABRCMS 2021 Awards Ceremony.
"Participating in ABRCMS allowed me to network with a diverse group of students from various colleges and graduate schools in the nation," said Cotton, who is majoring in biology with a concentration in health sciences and a minor in psychology. "It was amazing. I had the opportunity to present at a national conference and learn about opportunities for graduate and professional schools. Overall, it enhanced my resume and the award shows that I am competitive."
Cotton, a Louis Stokes Alliances for Minority Participation (LSAMP) program scholar at AUM, submitted her research project at ABRCMS as part of a LSAMP-funded summer internship with her faculty mentor Benedict Okeke, Distinguished Research Professor of Industrial and Environmental Microbiology.
Learn more about Cotton's research project in AUM News.
Free online course focuses on fighting wild fires
For more than five decades, Smokey Bear reminded outdoorsmen and women that "Only you can prevent forest fires."
Fighting a wild fire may seem daunting, but a partnership between AUM's Department of Biology and Environmental Science and Tall Timbers will make the knowledge and know-how accessible to AUM students and recent graduates.
Tall Timbers will offer a free 30-hour course, "Fire in the Field." To access the content at your convenience, visit http://fireinthefield.net/ and create an account. Internship credit (BIOL or ENSC 4294) is available.
Volunteer for a campus clean-up
Volunteer for a campus clean-up and learn about exotic plant species in the process.
AUM's Rural History & Ecology Institute will host a forest clean-up on campus on Saturday, Dec. 18, from 9 a.m. to noon. Volunteers will meet on the bridge leading to the forested area at the rear of the AUM campus. Learn about the campus' exotic species – privet, mimosa, popcorn trees, and Bradford pears) and take out some frustration on invasive plants. Bring a friend, and a water bottle.
Got questions or want to RSVP? Email faculty member Chelsea Ward.
Get event updates from Curtiss
Stay in-the-know about can't-miss campus events via text message. Enroll in AUM365 and get the 4-1-1 from Curtiss The Warhawk himself. Text curti$$ to 334-398-6025 to receive reminders about upcoming happenings.