Warhawk Weekly 11-9: Honoring military students; Celebrating First Gen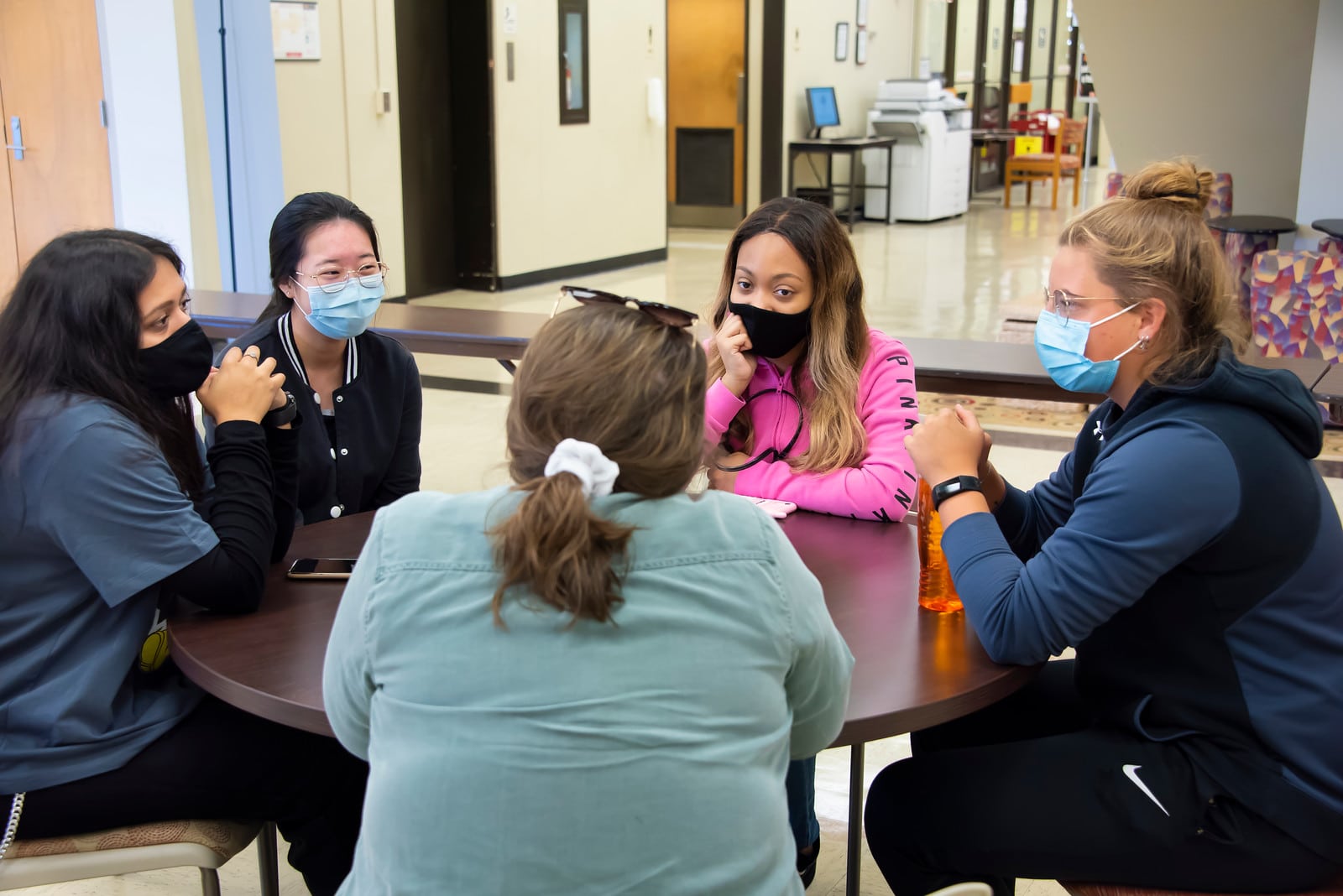 AUM celebrates outstanding faculty and staff
During last week's Fall Chancellor's Convocation, Auburn University at Montgomery recognized faculty and staff who have made outstanding contributions through their service and scholarly work.
Six individuals earned the Warhawk Spirit Award presented by AUM Chancellor Carl A. Stockton to employees who best exemplify the university's Core Values. Winners included Warhawk Health Services Senior Director Lindsey Barton, Center for Disability Services staff member Brittany Cook, University Scholarship Manager Jennifer Gardner, University Counsel Grant Garber, Department of Psychology Chair & Associate Professor Clarissa Arms-Chavez and Department of Psychology Professor Glen Ray.
Associate Professor of Fine Arts Laura Whatley earned the 2021 AUM Alumni Association Faculty Service Award.
Several faculty members were honored during the 2021 Faculty Awards presented by AUM Provost Mrinal Varma. Award recipients included:
Distinguished Teaching Assistant Professor Award: Matthew Grilliot, Department of Biology & Environmental Science
Distinguished Lecturer Award: Sommer Tate, Department of Communication & Theatre
Outstanding Adjunct Professor Award: Janice Newlin, College of Education
Distinguished Research Professor Award: Mike Winkelman, Department of Communication & Theatre
Distinguished Research Associate Professor: Tianren Chen, Department of Mathematics
Outstanding Service Award: Glen Ray, Department of Psychology
AUM honoring military students throughout week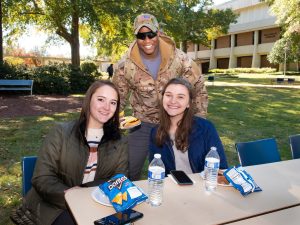 Auburn University at Montgomery is celebrating military-affiliated students with a week of activities for the university's 2021 Veterans Appreciation Week.
AUM has a long history of serving active duty military members and veterans, as well as their spouses and dependents, said Assistant Director for Veterans Services Rudy Tobias. AUM is recognized as both a 2021-22 Military Friendly School and Military Spouse Friendly School by Viqtory Media.
AUM's tradition of serving military members and their families is also due to the university's close proximity to Maxwell Air Force Base, Gunter Annex, the Alabama National Guard Headquarters and Dannelly Field Air National Guard Base, Tobias said.
"Our military-affiliated students are such an integral part of who we are as a university that it's only proper to have a week of activities to recognize and honor them," he said. "We will celebrate not only our veterans and military members, but the family members that support them."
AUM is offering a variety of events, from a fitness challenge, scavenger hunt and basketball tournament to trivia, free food, movies and games throughout the week. Veteran Appreciation Week events will be open to students, faculty and staff and include festivities on Veterans Day.
The week will culminate with Honor Our Own, a presentation of photos from faculty and staff who have served their country. Faculty and staff members who have served their country, with loved ones as service members, or who are active duty can share a photo and caption through the Sharepoint site (use the password AUMVetsWeek2021). The submission deadline is Thursday, November 11, at 10 a.m.
"There will be something for everyone," Tobias said. "We want to honor our veterans and their families, but we also want our students to enjoy a week of military-themed events to raise awareness and to show our appreciation."
Organized by AUM's Veteran & Military Resource Center (VMRC) and Student Veterans of America (SVA), Veterans Appreciation Week at AUM runs through Friday, November 12 to recognize the approximately 828 military-affiliated students on campus.
See the schedule of events for Veterans Appreciation Week.
Celebrating AUM's First Generation college students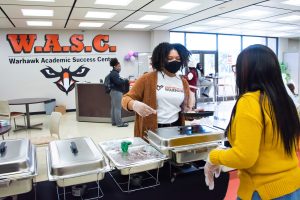 Are you the first member of your family to attend college?
That's a great reason to celebrate.
The Warhawk Academic Success Center and other campus units are celebrating those students during "First-Gen Celebration Week," which runs through Thursday, November 11.
On Tuesday, drop by the First-Gen Resource Fair from 1-3 p.m. on The Quad. Enjoy free food and show off your dance moves with DJ Tailspin.
Having trouble figuring out FAFSA paperwork? Get help at the FAFSA Workshop on Wednesday, from 4-7 p.m. in the second floor computer lab in the Library Tower.
Be on the lookout for more events, and feel free to share your own First-Gen Warhawk stories. Tag AUM's Instagram account — @auburnmontgomery – and use the hashtags #Firsttosoar and #AUMfirstgen.
Back to the top
Virtual, in-person vaccine verification offered to AUM employees
AUM's Office of Human Resources will offer in-person and virtual COVID-19 vaccine verification opportunities for all full-time, part-time and student employees each Wednesday, from 10 a.m. to 2 p.m.
Employees can visit the Office of Human Resources on the ninth floor of the Library Tower for in-person verification or log on via Zoom for virtual verification: https://auburn.zoom.us/j/91469858954
The Auburn University System recently announced that all employees must be fully vaccinated no later than December 8, 2021. The only exceptions are in limited circumstances where an employee is legally entitled to a medical or religious accommodation.
Employees of Auburn University at Montgomery are bound by this policy as members of the Auburn University System.
Employees an exemption request, you are strongly encouraged to submit it no later than November 15 to ensure timely review. Additional information is available on the Vaccine Protocol website.
Verification Process
Your vaccination status will be verified by visual review of CDC vaccination cards or other acceptable documentation. The visual review of your vaccination status must be conducted in person, or virtually via Zoom. You must present the following at the time of verification:
HR staff will serve as verifiers and conduct compliance verification. Verifiers will not make copies of any documentation that you present.
For additional information visit: https://www.aum.edu/backtocampus/
First-gen student celebrates adoption, new beginning at AUM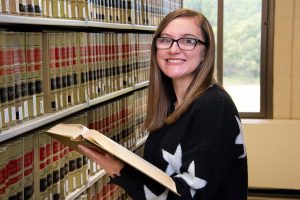 Auburn University at Montgomery freshman Haley Majors-Beadlecomb has vivid memories of growing up in foster care homes where she never quite felt like she belonged.
"I would think this family is it, but it wouldn't work for some reason or another," Majors-Beadlecomb said. "I've moved around a lot."
At age 4, Majors-Beadlecomb and her siblings lost their mother to suicide, and their father passed when she was 8-years-old. The absence of her parents thrust her into a cycle of living with relatives until she was age 15 and in foster care homes.
"At first things were OK, but I became really depressed" Majors-Beadlecomb said. "It was really tough."
Those memories were the catalyst for Majors-Beadlecomb's determination to become the first in her biological family to earn a college degree and, ultimately, help other individuals who may share similar experiences.
"Foster kids get very much labeled as unwanted, unloved and someone who isn't going to be successful in life," she said. "At one point, these things tore me down for a long time. I didn't think I was ever going to be able to go to college."
This fall, Majors-Beadlecomb began pursuing her dreams as a first-generation college student at AUM while marking another significant milestone in her life — adoption. In September, just days before her 19th birthday, she was officially adopted into the family of Tommy and Erica Beadlecomb of Clanton, Alabama.
Learn more about Majors-Beadlecomb's journey in AUM News.
Taylor wins Miss AUM pageant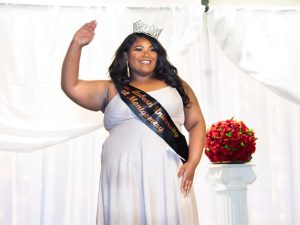 Auburn University at Montgomery's Student Government Association has reintroduced the Miss AUM pageant.
Congratulations to Preacious Taylor, a senior biology and pre-med major from Dothan, on earning the top prize during last Friday's contest. The pageant's segments included talent, evening gown, and poetry.
Other contestants included first runner-up Sierra Hall, second runner-up Elizabeth Londell, Telor Wiley, DeJah Hamilton, Aaliyah Muhammad, and Jamison Marshall.
The panel of judges included Ms. Alabama Gena Richardson.
Men's soccer advances to GSC semis
A penalty kick from Phillip Spickenbaum in the 109th minute of play gave the AUM men's soccer team a 1-0 overtime win over West Alabama on Saturday, propelling the Warhawks into the semifinals of the Gulf South Conference tournament.
AUM (10-4-2) will face West Florida on Friday at 6 p.m. in Pensacola. Watch the match live.
While AUM's soccer and basketball teams are away from home this week, the women's volleyball team will host a pair of home matches against GSC rivals.
The Warhawks will host Valdosta State Friday night at 6 and West Florida on Saturday at 1 p.m. Friday's game will feature a "Play for the Pups" promotion aimed at securing donations for the Montgomery Humane Society. Saturday's match will be preceded by Senior Day recognition.
Learn more in AUM Athletics News.
Catch a remaining Theatre AUM show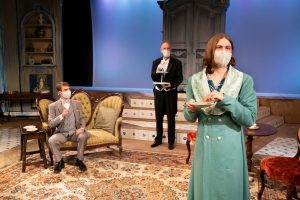 There's still time to catch Theatre AUM's production of "The Importance of Being Earnest" by Oscar Wilde.
Remaining shows are scheduled for Thursday-Saturday at 7:30 p.m. and Sunday at 2 p.m.
Doors to the Taylor Center Theatre will open 30 minutes before showtime. Masks are required.
AUM students, alumni, faculty and staff tickets are free with an ID. The cost for Military, Senior Citizens, non-AUM students is $5. General Admission is $10.
"The Importance of Being Earnest (1895)" is the most renowned of Oscar Wilde's comedies. It is a delightful story of deception and disguise. The elaborate plot ridicules Victorian sensibilities with some of the best loved, quick witted characters to be found on the modern stage.
Learn about the play's student and faculty cast and crew members.
Recognizing outstanding student employees
The Career Development Center and the Division of Student Affairs will celebrate the contributions of AUMazing student employees during Student Employee Appreciation Week November 15-19.
From peer mentors to campus services assistants, AUM student employees perform invaluable services that enhance the experience of other students, faculty, and staff. To recognize their outstanding work, student employees will be celebrated with the following events:
Kudos Wall
Faculty, staff, and students who have been impacted by a student employee's exceptional service are encouraged to post a kudos post-it note on windows adjacent to the Global Education Center on the 2nd floor the Taylor Center. The area will become a "Kudos Wall" for our student employees. Post-its will be available beginning Monday, November 15, in the Career Development Center Office, located in 323 Taylor Center, and the Dean of Students Office, located in 163 Taylor Center, throughout the week.
Student Employee Appreciation Luncheon
The Career Development Center and Student Affairs welcome all current student employees to an appreciation luncheon on Wednesday, November 17 from noon to 2 p.m. in Warhawk Alley.
Departmental Recognition
The Career Development Center encourages all campus units to celebrate student employees within your units. Connect with the center for some great ideas to recognize students in your units. In addition, the center can provide a Certificate of Appreciation to distribute to your student employees.
Tag @aumcareerdev and use the hashtag #AUMSEAW when you share your AUMazing student employees on Instagram and the center will repost your photos or stories.
UHP launches fall food donation campaign
The University Honors Program Food Pantry (UHP) has partnered with Phi Beta Sigma, Fraternity Inc. to raise donations through November 15.
UHP has set up designated "fall-themed" boxes around campus to drop off donations, which will be used to help stock the food pantry. The food pantry welcomes donations of any non-perishable food or hygiene items that college students may need​.
The Food Pantry, located in Taylor Center 316E, gives away, on average, more than 100 food and health products per week to the AUM student body. The pantry's working hours for the Fall 2021 semester are from 10 a.m. – 4 p.m. Monday-Friday.
Get event updates from Curtiss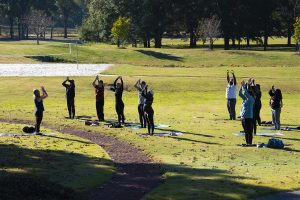 Stay in-the-know about can't-miss campus events via text message. Enroll in AUM365 and get the 4-1-1 from Curtiss The Warhawk himself. Text curti$$ to 334-398-6025 to receive reminders about upcoming happenings.