Warhawk Weekly 11-2: Employee vaccine verification; Veterans Appreciation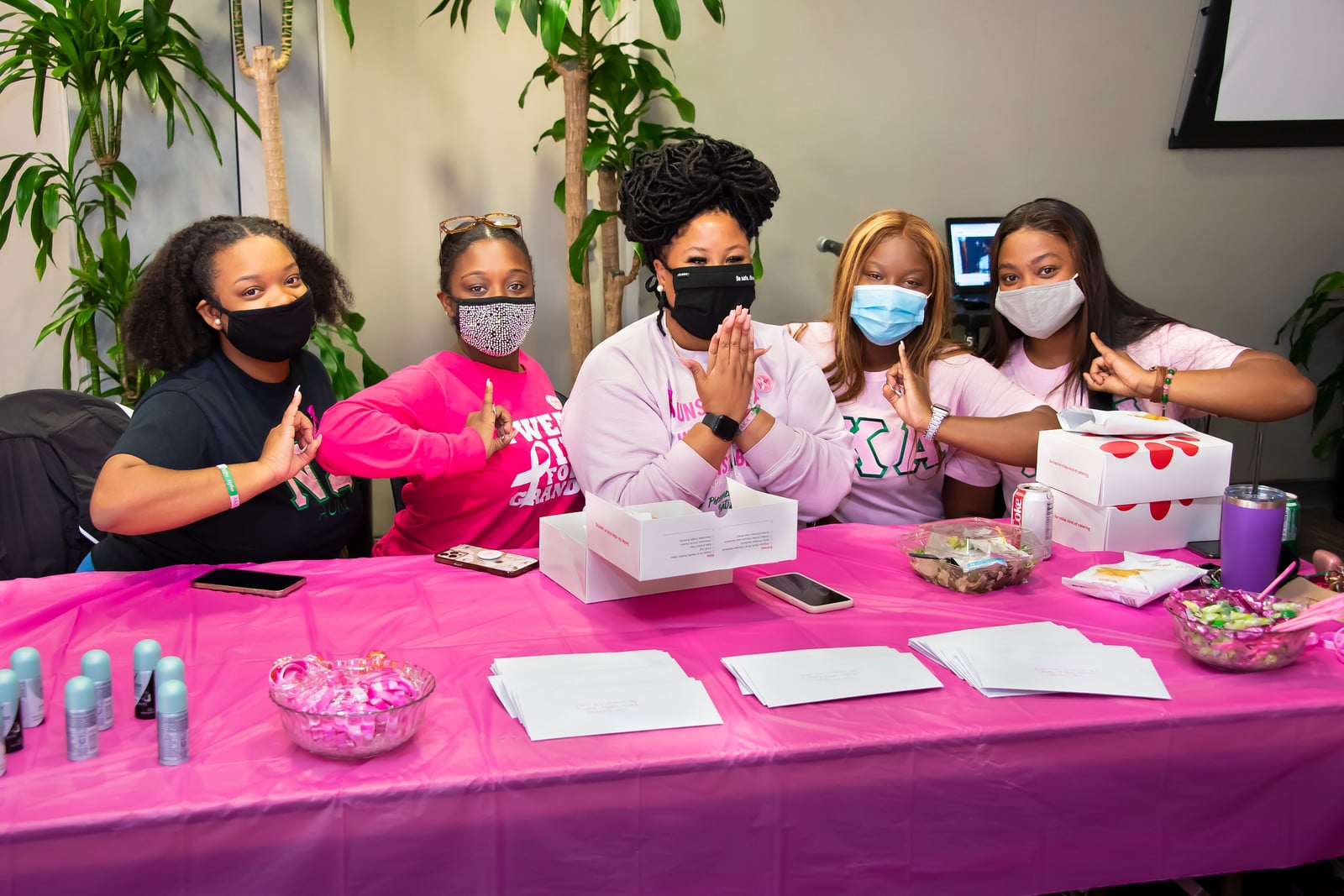 AUM honors student veterans with week of events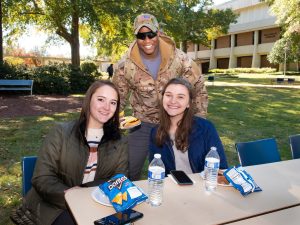 Auburn University at Montgomery will celebrate military-affiliated students with a week of activities for the university's 2021 Veterans Appreciation Week.
Organized by AUM's Veteran & Military Resource Center (VMRC) and the Student Veterans Association (SVA), Veterans Appreciation Week at AUM will be held November 8-12 to recognize the approximately 828 military-affiliated students on campus.
AUM has a long history of serving active duty military members and veterans, as well as their spouses and dependents, said Assistant Director for Veterans Services Rudy Tobias. AUM is recognized as both a 2021-22 Military Friendly School and Military Spouse Friendly School by Viqtory Media.
AUM's tradition of serving military members and their families is also due to the university's close proximity to Maxwell Air Force Base, Gunter Annex, the Alabama National Guard Headquarters and Dannelly Field Air National Guard Base, Tobias said.
"Our military-affiliated students are such an integral part of who we are as a university that it's only proper to have a week of activities to recognize and honor them," he said. "We will celebrate not only our veterans and military members, but the family members that support them."
AUM will offer a variety of events, from a fitness challenge, scavenger hunt and basketball tournament to trivia, free food, movies and games throughout the week. Veteran Appreciation Week events will be open to students, faculty and staff and include festivities on Veterans Day.
"There will be something for everyone," Tobias said. "We want to honor our veterans and their families, but we also want our students to enjoy a week of military-themed events to raise awareness and to show our appreciation."
See the schedule of events for Veterans Appreciation Week.
Celebrating AUM's First Generation college students
Are you the first member of your family to attend college?
That's a great reason to celebrate.
The Warhawk Academic Success Center and other campus units will have an opportunity to celebrate those students during "First-Gen Celebration Week" from November 8-11. It all starts with "First-Gen & Juice" on Monday, from 8 a.m. to 10 a.m. in the Warhawk Academic Success Center on the second floor of the AUM Library Tower. Grab breakfast, meet members of the WASC team, score some first-gen swag and learn about the resources available to help students succeed.
On Tuesday, drop by the First-Gen Resource Fair from 1-3 p.m. on The Quad. Enjoy free food and show off your dance moves with DJ Tailspin.
Having trouble figuring out FAFSA paperwork? Get help at the FAFSA Workshop on Wednesday, from 4-7 p.m. in the second floor computer lab in the Library Tower.
Be on the lookout for more events, and feel free to share your own First-Gen Warhawk stories. Tag AUM's Instagram account — @auburnmontgomery – and use the hashtags #Firsttosoar and #AUMfirstgen.
Back to the top
AUM launches vaccine verification process for employees
The Auburn University System recently announced that all employees must be fully vaccinated no later than December 8, 2021. The only exceptions are in limited circumstances where an employee is legally entitled to a medical or religious accommodation.
Employees of Auburn University at Montgomery are bound by this policy as members of the Auburn University System.
This week, AUM began verifying the vaccination statuses of employees. We strongly encourage you to review the information posted on the Vaccine Protocol website. The website includes details on the verification process, the attestation form that you will need to complete and the processes for those who do not present verification of compliance by December 8.
IMPORTANT: If you are seeking an exemption request, you are strongly encouraged to submit it no later than November 15 to ensure timely review. Additional information is available on the Vaccine Protocol website.
Verification Process
Your vaccination status will be verified by visual review of CDC vaccination cards or other acceptable documentation. The visual review of your vaccination status must be conducted in person, or virtually via Zoom. You must present the following at the time of verification:
HR staff will serve as verifiers and conduct compliance verification. Verifiers will not make copies of any documentation that you present.
Verification Opportunities – On Campus
Human Resources will hold in-person verification stations for all employees at the following locations:
Today until 5 p.m. in Taylor Center Room 222-223
November 3 from 8 a.m. – 5 p.m. in Taylor Center Room 230
November 4 from 8 a.m. – noon in Taylor Center Room 230
November 5 from 8 a.m. – noon in Taylor Center Room 230 (The Chancellor's Convocation will be livestreamed)
Verification Opportunities – Virtual
Human Resources will hold virtual verification stations for all employees in private Zoom Rooms:
Non-Compliance
On November 15, HR will send a pre-termination letter to employees who have not shown verification of compliance. This pre-termination letter is intended to satisfy the termination notice process, including offering an opportunity to provide documentation or information regarding an employee's good faith effort to comply.
For More Information
If you have additional questions that are not addressed on the website, please email HR at [email protected].
Theatre AUM to present fall play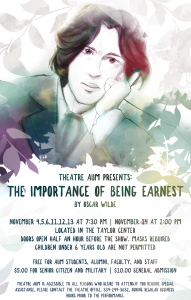 Theatre AUM will present the play "The Importance of Being Earnest" by Oscar Wilde in the Taylor Center Theatre starting November 4.
"The Importance of Being Earnest (1895)" is the most renowned of Oscar Wilde's comedies. It is a delightful story of deception and disguise. The elaborate plot ridicules Victorian sensibilities with some of the best loved, quick witted characters to be found on the modern stage. Shows are scheduled for the following days:
November 4-6, 11-13 at 7:30 p.m.
November 14 at 2 p.m.
Doors will open 30 minutes prior to showtime. Masks are required. AUM students, alumni, faculty and staff tickets are free with an ID. The cost for Military, Senior Citizens, non-AUM students is $5.00. General Admission is $10.00.
Theatre AUM will enter the production in the Kennedy Center American College Theater Festival and will receive an external response session with all members of the Theatre AUM ensemble.
Learn about the play's student and faculty cast and crew members.
UHP launches fall food donation campaign
The University Honors Program Food Pantry (UHP) has partnered with Phi Beta Sigma, Fraternity Inc. to raise donations through November 15.
UHP has set up designated "fall-themed" boxes around campus to drop off donations, which will be used to help stock the food pantry. The food pantry welcomes donations of any non-perishable food or hygiene items that college students may need​.
The Food Pantry, located in Taylor Center 316E, gives away, on average, more than 100 food and health products per week to the AUM student body. The pantry's working hours for the Fall 2021 semester are from 10 a.m. – 4 p.m. Monday-Friday.
Graphic Design students display work in Cason McDermott Art Gallery
Through November 5, visit the 2021 Graphic Design Show on display in the Cason McDermott Art Gallery in Goodwyn Hall.
The show exhibits the curated work of graphic design students in AUM's Fine Arts program in the College of Liberal Arts and Social Sciences.
Associate Professors Nikhil Ghodke and Breuna Baine organized the event to showcase students' artistic skills and work.
Keep up with Warhawks' sports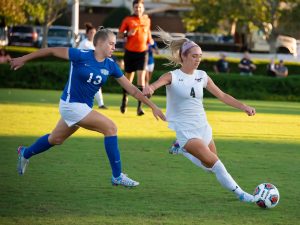 A big week is coming up for AUM Athletics.
It all starts with a home volleyball match against The Gulf South Conference rival Alabama-Huntsville Tuesday night. Get loud and get fed, since game day coincides with Taco Tuesday!
The Warhawks are also gearing up for college basketball season with Hoops Madness on Wednesday night.
The action continues with a women's and men's home soccer doubleheader against Montevallo on Thursday. And don't forget to cheer on the men's and women's cross country teams as they play in Saint Leo, Florida at NCAA South Regionals on Saturday, with the women's team playing at 7:30 a.m. and the men's team at 8:45 a.m.
Keep up with our teams in the AUM Athletics Newsroom.
Drop by registration fairs for Spring 2022 semester
Got your Spring 2022 schedule figured out yet?
Take advantage of upcoming registration fairs to make sure you stay on track toward your degree by getting the classes you need, when you need them.
College of Education Fair. Drop by "Registration Tips, Tricks and Treats" November 3-4 from 1-5 p.m. in the college's advising offices located in Education 301 to get help registering for spring classes and to speak with an advisor about your schedule. You can also grab a snack.
Central Advising Registration Fair. The "Fall Into Spring" event will be held November 3-4 from 9 a.m. – 3 p.m. on the Quad. All participants will be registered for the chance to win a prize basket. For more information or help with questions, email [email protected] or [email protected].
Reserve an appointment with your academic advisor today.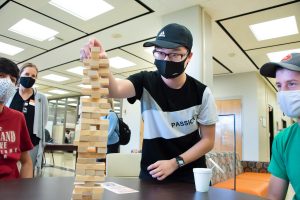 Get event updates from Curtiss
Stay in-the-know about can't-miss campus events via text message. Enroll in AUM365 and get the 4-1-1 from Curtiss The Warhawk himself. Text curti$$ to 334-398-6025 to receive reminders about upcoming happenings.