Warhawk Weekly 10-26: Shriek Week; Employee vaccination requirement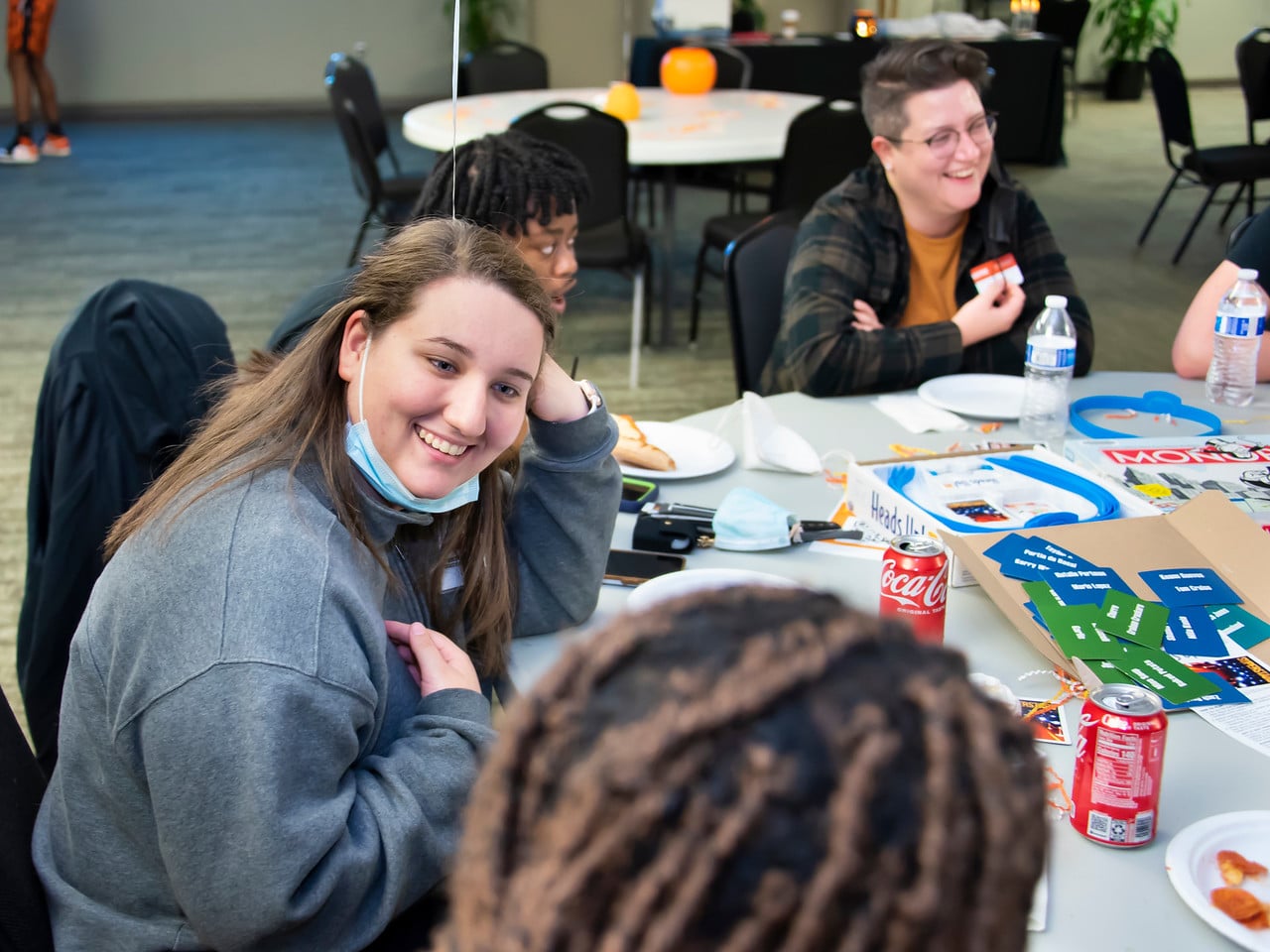 Vaccinations required for all AUM employees
The Auburn University System announced last week that it will require all employees, including full- and part-time faculty and staff, undergraduate and graduate student employees, and TES employees, to be vaccinated against COVID-19 to comply with new federal workplace safety guidelines.
As members of the Auburn University System, employees of Auburn University at Montgomery will be required to adhere to this policy.
Warhawk Health Services will offer a pair of COVID-19 vaccination clinics this week for members of the campus community. A clinic for Moderna vaccines and booster shots will be held Wednesday at Warhawk Health Services in Moore Hall from 8:30 a.m.-11 a.m. and 1 p.m.-3:30 p.m.
On Friday, Warhawk Health Services will host a Pfizer vaccination clinic with the same operating hours. Vaccinations are free, but attendees must provide identification and their vaccination card if previously vaccinated. Attendees should also indicate whether they wish to receive a full vaccination or booster shot.
The clinic opportunities will help unvaccinated employees meet the deadlines specified by the Auburn University System's new vaccination policy for employees.
On September 9, President Biden issued Executive Order 14042 on Ensuring Adequate COVID Safety Protocols for Federal Contractors. On September 24, the Safer Federal Workforce Task Force issued additional Guidance to the Order, outlining the broad applicability and scope of required workplace safety protocols. The Order and subsequent Guidance require federal contractors and subcontractors to adopt a vaccine mandate ensuring that covered employees are fully vaccinated against COVID-19 by December 8, 2021, subject only to legally required medical and religious exemptions.
These new federal requirements cover the broadest possible scope of a contractor's workforce, including employees in the federal contractor's workplace who are not working directly on or in connection with federal contracts.
The Auburn University System currently maintains approximately $200 million in federal contracts that are impacted by the new order and subsequent guidance.
AUM employees who are not yet fully vaccinated will need to participate in the vaccination process by the dates listed below in order to be fully vaccinated by the December 8 deadline:
Moderna: First dose by Oct. 27, 2021, and second dose by Nov. 24, 2021
Pfizer: First dose by Nov. 3, 2021, and second dose by Nov. 24, 2021
Johnson & Johnson: Dose needed by Nov. 24, 2021
If employees have additional questions after reviewing the policy FAQs, they are invited to contact the Office of Human Resources.
Enjoy a spook-tacular Shriek Week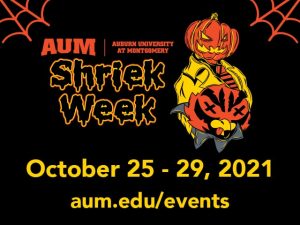 Our favorite week of the year has arrived so get ready for spook-tacular events.
Throughout this week, there will be campus-wide activities for everyone to get in the Halloween spirit. Each event is a great way to see new faces and get involved at AUM.
Shriek Week is also a popular campus tradition that offers ghoulishly good times for students, from decorating contests to global-themed trick-or-treating.
Have a shrieking good time during 2021 Shriek Week!
Learn more: https://www.aum.edu/events.
Theatre AUM to present fall play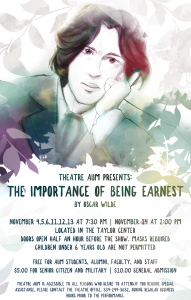 Theatre AUM will present the play "The Importance of Being Earnest" by Oscar Wilde in the Taylor Center Theatre in November.
"The Importance of Being Earnest (1895)" is the most renowned of Oscar Wilde's comedies. It is a delightful story of deception and disguise. The elaborate plot ridicules Victorian sensibilities with some of the best loved, quick witted characters to be found on the modern stage. Shows are scheduled for the following days:
November 4-6, 11-13 at 7:30 p.m.
November 14 at 2 p.m.
Doors will open 30 minutes prior to showtime. Masks are required. AUM students, alumni, faculty and staff tickets are free with an ID. The cost for Military, Senior Citizens, non-AUM students is $5.00. General Admission is $10.00.
Theatre AUM will enter the production in the Kennedy Center American College Theater Festival and will receive an external response session with all members of the Theatre AUM ensemble.
Learn about the play's student and faculty cast and crew members.
Tang publishes new book examining clan systems in China
Zongli Tang, Distinguished Research Professor of Sociology, recently published the book, "Local Clan Communities in Rural China: Revolution and Urbanization since the late Qing Dynasty" by Routledge.
Tang's book examines China's clan system and local clan communities in rural Anhui, covering events in two periods: the imperial pattern as seen in the first half of the 20th century and changes since 1949.
Revealed by this book, during the late Qing and the Republic Era, a local clan in the investigated areas was run as a highly autonomous community with a strong religious focus. This finding challenges the corporate model raised by M. Freedman. Through examining single-surname villages, citang constructions, and updating of genealogies, it was discovered that local clans in Huadong, Huizhou and the lower Yangtze River plainsdeveloped earlier than those in the Pearl River Delta Region. Taking a cross-disciplinary viewpoint, the book analyzes changes in local clan communities and clan culture as brought by the Chinese Revolution, Mao's political campaigns, and Deng's reforms.
The book also examines — starting with the late 1990s — how a large migration from villages to cities has rapidly altered rural China. This geographic mobility would undermine the common residence that serves as part of a clan's foundation and the book seeks to answer under this situation what transformations have taken place or will come to China's clan system? Will the system continue to revitalize or die out? Placing a special emphasis on issues that have been overlooked by prior studies, Tang's book brings to light many new facts and interpretations, providing a valuable reference to scholars in fields of sociology, anthropology, history, economics, cultural studies, urban studies, and population studies.
AUM faculty. staff participate in CASA Superhero 5K
AUM faculty and staff are community-minded and are constantly seeking opportunities to serve others.
Last weekend, the College of Liberal Arts and Social Sciences sponsored Montgomery County Court Appointed Special Advocates' (CASA) inaugural Superhero 5K.
The mission of CASA of Montgomery County, Inc. is to be a voice for children who have been victims of abuse or neglect. Their vision is to serve every child in the Montgomery by providing them with a caring and competent trained volunteer.
Participants included Jenna Moore, Lakarrenten Riley, Rayna Brun, CLASS Dean Andrew McMichael, Justin Godfrey, Emily Cason (Social Work Adjunct), Gina Allen (Social Work Field Director), DaNidrah Carson, Aniah Gray, Aminta Alvarez, Kim Pyszka (Dept. Chair – Sociology, Anthropology, and Social Work) and Aaliyah Watson.
Potok discusses psychology of terrorism
Former Southern Poverty Law Center Senior Fellow Mark Potok recently spoke to students in a 4000-level interdisciplinary course on the "Psychology of Terrorism" taught by Pia Knigge.
Potok, an author, journalist and consultant, discussed domestic terrorism and its connections to white supremacy, nationalism and militia groups.
Before spending 20 years with the SPLC, where he served as editor-in-chief of the organizations' quarterly Intelligence Reports, Potok's work experience included journalistic coverage of the Waco siege in Texas in 1993, the rise of the militia movement in the 1990s, and the 1995 Oklahoma City bombing and eventual trial of Timothy McVeigh.
Warhawks continue with strong finishes in several sports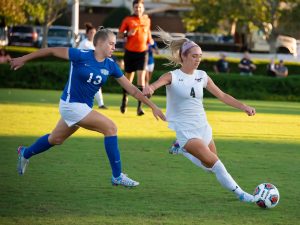 AUM Athletics teams secured a number of wins and strong finishes this past week.
Men's soccer won against Shorter 6-0 while the women's soccer team captured a 5-0 win against Shorter. In volleyball, the women's team had three matches, securing a win against the Mocs 3-1.
The men's cross country team finished seventh place at the Gulf South Conference (GSC) Championship in Clinton, Mississippi. The women's cross country team secured a ninth-place finish at the GSC Championship. Cross Country's regional meets will take place November 6.
AUM Athletics will have a busy upcoming week with homestands for women's soccer and volleyball, and the men's and women's basketball teams visiting Huntingdon College.
Get in on the fun, which includes a Senior Day celebration, a gym blackout and trick or treating.
Keep up with our teams in the AUM Athletics Newsroom.
CLASS Clothing Closet helps students get the essentials for job interviews
The College of Liberal Arts & Social Sciences Clothing Closet is hosting an open house on Wednesday, October 27, from 9:30 a.m. to 12:30 p.m., on the third floor of the Liberal Arts building. The clothing racks will be available in the common spaces near the Departments of English and History. 
All clothes are free to students currently enrolled at AUM. Students may select up to four items from the racks. The CLASS Clothing Closet exists to help students find professional wear for upcoming job interviews and opportunities. 
Registration ongoing for Spring 2022 semester
Got your Spring 2022 schedule figured out yet?
Take advantage of upcoming registration fairs to make sure you stay on track toward your degree by getting the classes you need, when you need them.
College of Education Fair. Drop by "Registration Tips, Tricks and Treats" November 3-4 from 1-5 p.m. in the college's advising offices located in Education 301 to get help registering for spring classes and to speak with an advisor about your schedule. You can also grab a snack.
Central Advising Registration Fair. The "Fall into Spring" event will be held November 3-4 from 9 a.m. – 3 p.m. on the Quad. All participants will be registered for the chance to win a prize basket. For more information or help with questions, email [email protected] or [email protected].
Reserve an appointment with your academic advisor today.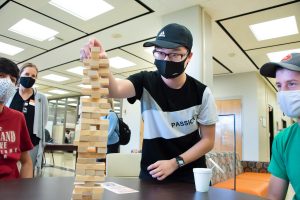 Get event updates from Curtiss
Stay in-the-know about can't-miss campus events via text message. Enroll in AUM365 and get the 4-1-1 from Curtiss The Warhawk himself. Text curti$$ to 334-398-6025 to receive reminders about upcoming happenings.