Warhawk Weekly 10-19: Graduate Studies Preview; Rep. Merika Coleman visiting AUM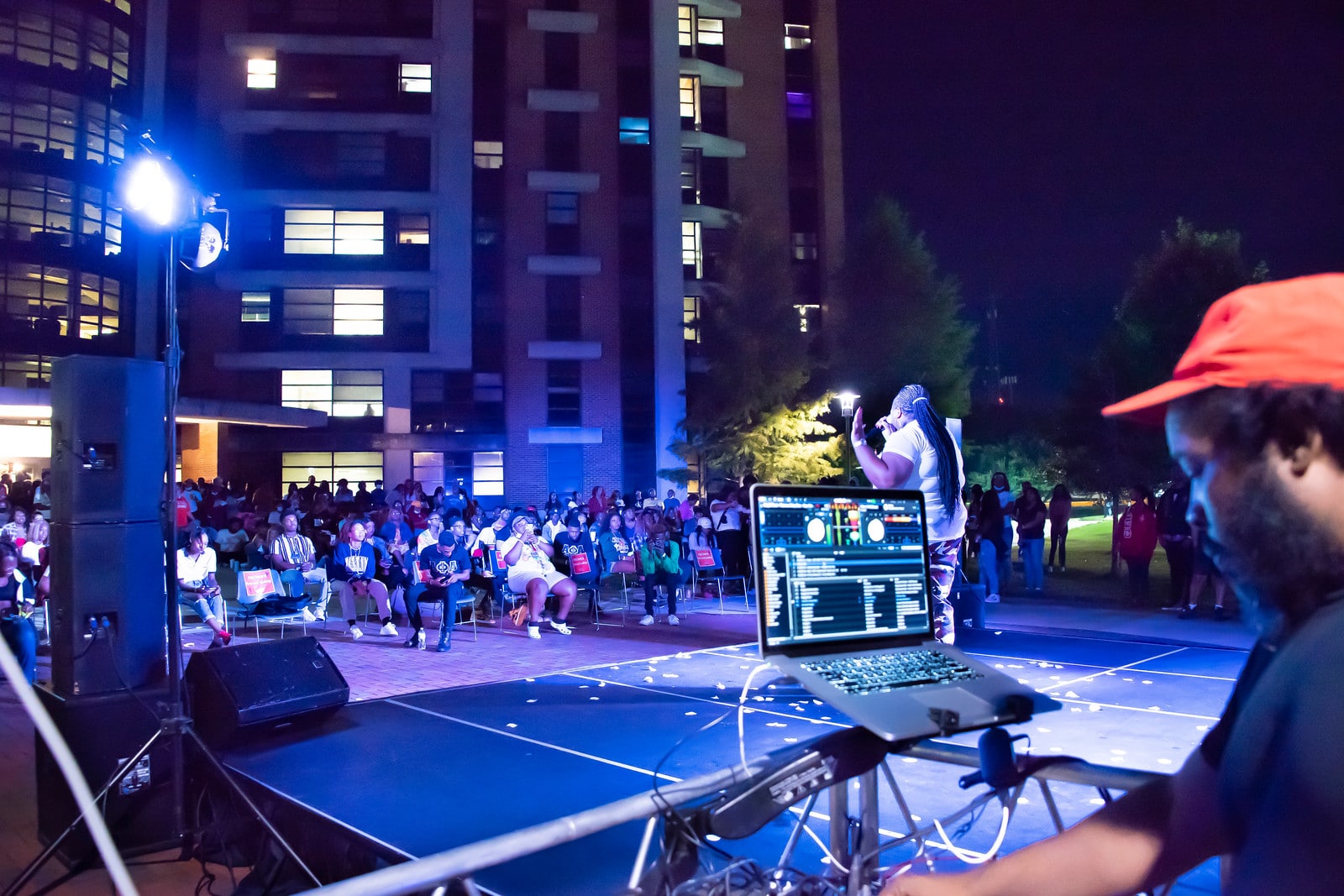 Don't miss Graduate Studies Preview Night
Looking for a way to reinvent yourself in a new career or accelerate the trajectory of your current one?
Learn more about the opportunities presented by an advanced degree at AUM's Graduate Studies Preview Night on tonight from 5-7 p.m. Attendees are welcome to join in-person or online.
Watch Campus Experience Manager Amanda Brasington discuss Graduate Studies Preview on WSFA.
Rep. Merika Coleman to discuss removing racist language from Alabama Constitution
Rep. Merika Coleman, who serves as the Assistant House Minority Leader of the Alabama House of Representatives, will speak to the campus community about her work to remove racist language from the Alabama Constitution.
AUM's Department of Political Science and Public Administration is hosting the event, "Rewriting History: An In-Depth Conversation on Removing Racist Language from Alabama's Constitution," Thursday, Oct. 21, from 12:10 p.m. – 1 p.m. in Goodwyn Hall 111. Faculty, staff and students can also attend via Zoom. David Hughes, associate professor of political science, will moderate the event and take questions from audience members.
In 2020, Coleman sponsored a Constitutional amendment to initiate the process of removing racist language from Alabama's Constitution. In 2021, she was selected by her colleagues in the Legislature to chair the committee overseeing that process. Her work on the issue has been featured in the New York Times and Montgomery Advertiser.
Ghodke chairs 2021 UCDA Design Awards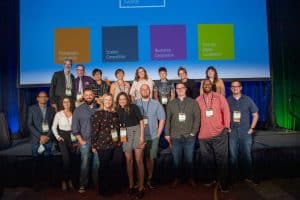 Nikhil Ghodke, associate professor of graphic design in AUM's Fine Art Department, recently served as chair of 2021 University and College Designers Association (UCDA) Design Awards.
During the event, Ghodke oversaw the judging of 632 entries, design and animation of the video for Awards Night and installation of the winners show at the venue. He also hosted the UCDA Design Awards night ceremony at Sheraton Hotel in downtown Denver, Colorado October 2. Ghodke has been involved with UCDA for two years, appointing 18 esteemed judges across 6 design categories in that time.
Ghodke joined AUM in Fall 2018 and has been actively serving his profession and AUM students in various organizations both at the national and local level. As chair of the Education Committee for the Montgomery chapter of the American Advertising Federation, he seeks engagement opportunities for AUM graphic design students. He also recently served as the judge for the 2021 Summit International Awards.
UCDA, an organization for design and advertising content created for educational institutions, serves more than 1,000 members in United States and Canada.
Warhawks look to follow up successful weekend
Chances are that AUM Athletics had a better weekend than most of us.
The men's soccer team moved into first place in the Gulf South Conference standings with a pair of road wins, outlasting West Alabama 3-2 in overtime and punishing Alabama-Huntsville 3-0. The women's team emerged with a 2-1 victory over Alabama-Huntsville on Sunday, while the volleyball team extended its winning streak to three matches with 3-1 wins over Shorter University and Lee University.
AUM's success carried over to the tennis court as well as former ITA Rookies of the Year Muhamad Bedwan and David Rieme put together strong performances at the ITA Cup in Rome, Ga.
AUM's student-athletes will be on the road this week, but there are still big competitions ahead – including Saturday's Gulf South Conference Championships for the cross country teams.
Keep up with our teams in the AUM Athletics Newsroom.
UHP food pantry October hours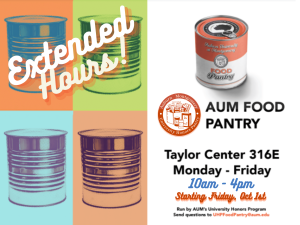 Are you a student in need of food or health items? The University Honors Pantry (UHP) provides more than 100 food and health items to students daily.
Students can stop by the pantry for assistance Monday – Friday, from 10 a.m. to 4 p.m. in Taylor Center 316E.
Members of the campus community are invited to help address food insecurity on campus by making a donation to the Food Pantry. Non-perishable food and personal grooming items can be donated at the black "UHP Food Pantry" bins at multiple campus locations or by emailing [email protected].
Learn more about the UHP Food Pantry.
Become an advisor for student clubs, organizations
The Office of Student Life and Leadership Programs is looking for advisors to support student clubs and organizations.
Faculty and staff members can serve as student organization advisors. Advisors provide support and guidance to AUM student organizations. Every student organization has its own personality and may define the role of the advisor in different ways. We encourage advisors to serve as a mentor, team builder, conflict mediator, reflective agent, educator, motivator, and policy interpreter for student groups.
The Office of Student Life and Leadership Programs offers a training each semester to support advisors as well as a handbook.
If you are interested, please complete the online survey.
COVID-19 Dashboard
For the first time since the start of the Fall 2021 semester, Warhawk Health Services reported no positive COVID-19 test results among patients.
While that is encouraging, Warhawks are reminded to continue taking steps to Protect The Nest by wearing face masks when in shared indoor spaces on campus.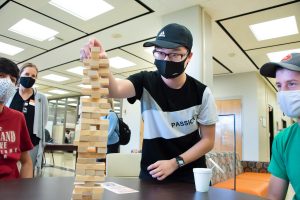 Get event updates from Curtiss
Stay in-the-know about can't-miss campus events via text message. Enroll in AUM365 and get the 4-1-1 from Curtiss The Warhawk himself. Text curti$$ to 334-398-6025 to receive reminders about upcoming happenings.