June 2022 Alumni Newsletter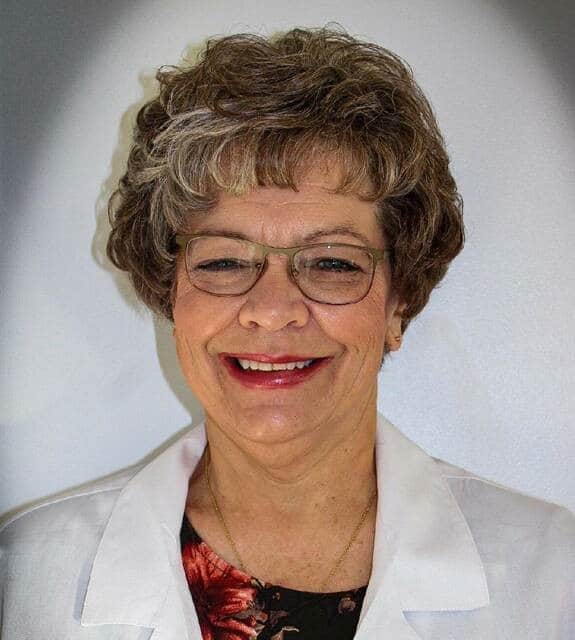 Everhart '83 receives top state award for nurse practitioners
Providing affordable, quality health care for the past decade to the residents of southern Carroll County and northern Surry County (N.C.), Carole Everhart has been awarded with the top honor for nurse practitioners (NPs) in Virginia.
In recognition of her excellence in clinical practice, Carole Everhart, DNP, FNP-BC is being honored by the American Association of Nurse Practitioners® (AANP) as the 2022 recipient of the AANP State Award for Excellence in Virginia. Each year, nurse practitioners across the nation are nominated by their colleagues to receive this prestigious award. Dr. Everhart, who specializes in family practice, is a health care provider at Everhart Primary Health Care (EPHC) in Cana – a business she started with her late mother in 2012.
"It is very humbling. I work with a lot of nurse practitioners across the state and there are such a large number of deserving men and women for this award," Everhart said. "It was quite humbling that out of all of them, I would be chosen. It really touched my heart."
Only one person per state per year is recognized by the AANP. Everhart will be recognized for her award at the annual conference to be held this year in June in Orlando, Florida.
Dr. Everhart graduated from the University of Virginia, Charlottesville, with a Bachelors of Arts in 1980. She received her Bachelors of Science in Nursing from Auburn University at Montgomery, Alabama in 1983, her Masters of Science in Nursing from the University of North Carolina, Chapel Hill, North Carolina in 1988, and her Doctorate of Nursing Practice from Old Dominion University, Norfolk, Virginia in 2013.
She has been a nationally certified Family Nurse Practitioner (FNP-BC) since 1988 and has continued in advanced nursing practice in various locations since that time. In 2012, Dr. Everhart and her mother, Dr. Dee Everhart founded EPHC in Cana. This nonprofit, 501(c)3 organization sponsors a Primary Health Care office whose motto is "We are here when you need us, at a price you can afford" and whose mission is to provide quality, affordable primary health care services to the citizens of Southwest Virginia and Northwest North Carolina which is a rural/medically under-served area. Since opening nearly 10 years ago, EPHC has seen more than 6,000 individuals using NPs to offer its services.
"I love what I do. The thing of it is this is my passion," Everhart said. "I grew up here and my family was here from the early sixties on and the community did a lot to help me with my career choices and my philosophy and my appreciation of people. I want to give back to the community, and people need health care. If it is a working person and they can't do a routine check on blood pressure because they have to miss work and pay, I want to be available for them when they are not working and they don't have to take off work, that kind of stuff. I can't even begin to give back to this community what they have given to me as a person and to my family. I can't say enough about Southwest Virginia and Northwest North Carolina and the people that are here are just phenomenal people."
Everhart describes EPHC as a very unique practice in that is a non-profit that has extended hours and takes care of patients of all ages. Whether it is for a baby, the elderly or everyone in between, EPHC can meet most health care needs with the exception of prenatal care for pregnant women.
"But as soon as baby is here we will take care of the baby. I say that to the limit of my education and training because I am not a physician. I do have a doctorate in nursing, but I am not a physician and don't claim to be one," Everhart said. "I want people to understand there is a difference, both health care providers and I come from a nursing focus. I can diagnose and treat both physical and mental illness and can order and perform diagnostic tests, I can prescribe medication, but my focus as a nurse practitioner is to help people get to their maximum state of wellness and maintain it as long as possible. It is real primary care focus."
Everhart said her big goal now is trying to help NPs across the state get the recognition they need in order to practice to the full extent of their training and education. It's something that has been up for legislation before, but she hopes to see more advancements.
"That is one of my other big passions, to have the ability to somehow expand the way that nurse practitioners are legislated right now to allow them a little more autonomy in their practice so they can provide this kind of health care to people who are medically under-served and oftentimes not served," Everhart said. "That is our big problem in our state as well as the nation. Twenty-five states right now have full practice authority for nurse practitioners, but Virginia is not one of them. We have quite a few restrictions on nurse practitioners."
The AANP State Award for Excellence was established in 1993 and is given to an NP in each state who demonstrates excellence in clinical care. In 1993, the state award for NP advocates was added to highlight the efforts of individuals who have made a significant contribution toward increasing the awareness and recognition of NPs. Awards are distributed to the recipients throughout the year, with recipients honored during the annual AANP national conference. AANP is the largest professional association for NPs of all specialties, with more than 119,000 members and headquarters in Texas and Washington, D.C.
Original article: The Carroll News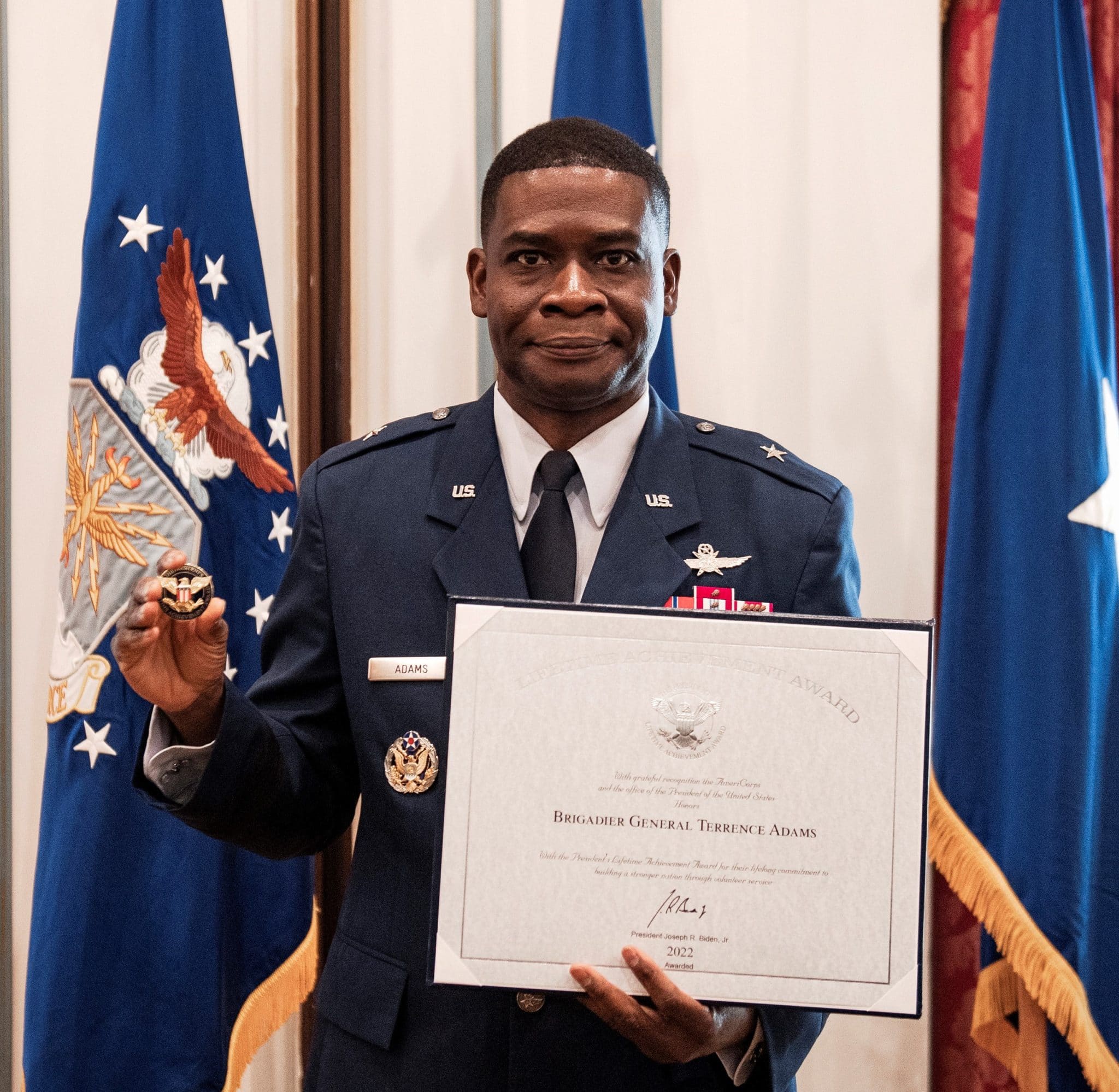 Brigadier General Adams '94 receives the President's Volunteer Lifetime Award
Brig. Gen. Terrence A. Adams, Concepts and Strategy Air Force Futures Military deputy director, Headquarters U.S. Air Force, was awarded the President Joseph R. Biden's Lifetime Achievement Award during a ceremony in Washington, D.C., March 20.
Adams was nominated by the Lowcountry Rice Culture Project, a Charleston, South Carolina-based clearinghouse and partnership builder for activities that explore, reveal, and reclaim the shared cultural inheritance of the Southeastern Lowcountry rice industry as a basis for promoting community development and advancing the cause of human dignity.
Dr. Kim Cliett Long, Lowcountry Rice Culture Project executive director, presented the award to Adams and three other honorees during the ceremony.
"The Lowcountry Rice Culture Project is honored to have played a part in recommending these four highly esteemed individuals for presidential recognition of their volunteer service," she said. "Their collective commitment and sincerity to public service are highly commendable."
Presented to those who have completed more than 4,000 hours of community service, the Presidential Lifetime Achievement Award was earned by Adams for championing STEM and cybersecurity in the youth community.
Adams explained his desire to serve the community ignited when he was a student and Alpha Phi Alpha Fraternity member at Auburn University at Montgomery in 1994. During the last five years, he has directed his efforts specifically toward establishing the path for future generations who possibly will fill increasing STEM and cybersecurity jobs.
"I believe the nation needs more young individuals in cyber and STEM," Adams expressed. "I think it is important we develop a nation focused on career fields of the future."
Beyond his contributions to advance diversity and inclusion within the Department of the Air Force, Adams has invested time into several organizations and programs that aim to inspire future generations to become more involved in cyber and STEM. These include CyberUP, Cyber Patriot, Computer Science for All, and Legacy Flight Academy. His volunteer service extends beyond local efforts and impacts communities nationwide.
Adams discussed his goal to create an infrastructure for future servicemembers — one where children can attend school, particularly in under-represented areas, and explore career paths in cyber and STEM.
"I believe we have a responsibility to help shape America by making a connection to the community and ensuring the nation has what it needs in the next 40, 50 years," he stated. "[My work] is a long-term strategic plan to get the nation to understand the value of STEM and cyber security for our nation's defense."
Original article: Air Force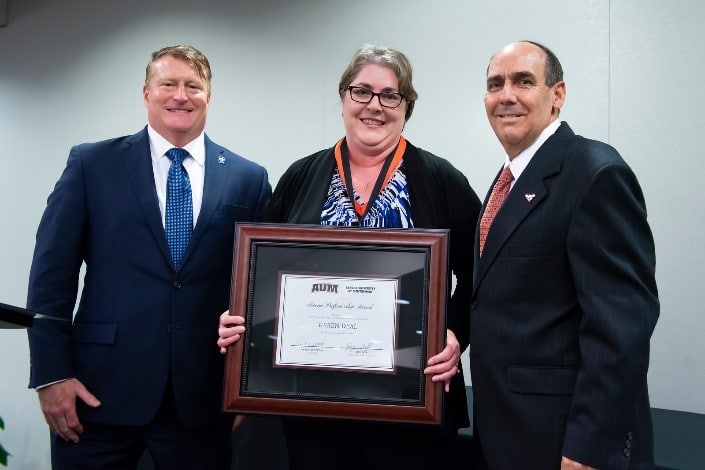 Nominations open for the 2022-2025 Alumni Professorship
Help us honor the achievements of your favorite outstanding faculty member with an Alumni Professorship nomination! Professorships provide a critical way for the university to recruit and retain exceptional faculty. By celebrating our instructors in this way, we ensure that Auburn University at Montgomery will continue to deliver exceptional research and education at the cutting-edge of innovation and collaboration.
The AUM Alumni Association sponsors an Alumni Professorship to recognize outstanding Auburn University at Montgomery faculty who best exemplify excellence in teaching, research, scholarly and creative accomplishments and service. Current AUM faculty members who have at least 10 years of full-time service at AUM are eligible for this honor. Alumni Professorship recipients will serve a three-year, non-renewable term and receive an annual salary supplement of $2,500.
For more nomination details, visit: Alumni Professorship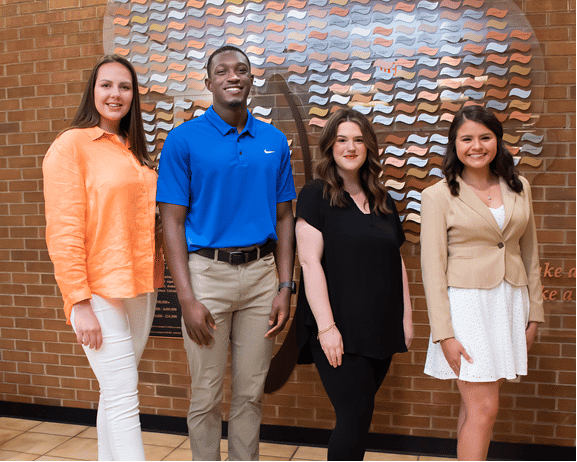 Pictured (L to R): Evelina Avleeva, Marcus Robinson, Olivia Shipp, Margaret Dean
2022-23 AUM Alumni Association Graduate Study Merit Scholarships Awarded
The Auburn University at Montgomery Alumni Association recently awarded its annual Graduate Study Merit Scholarships to four outstanding AUM students. The scholarships require that recipients maintain a GPA of 3.4 or higher, enroll in and complete nine hours each semester and be continuously enrolled for each semester covered by the award.
The $1,000 scholarships, funded by alumni memberships, were awarded by the AUM Alumni Board of Directors to Evelina Avleeva, Margaret Dean, Marcus Robinson, and Olivia Shipp.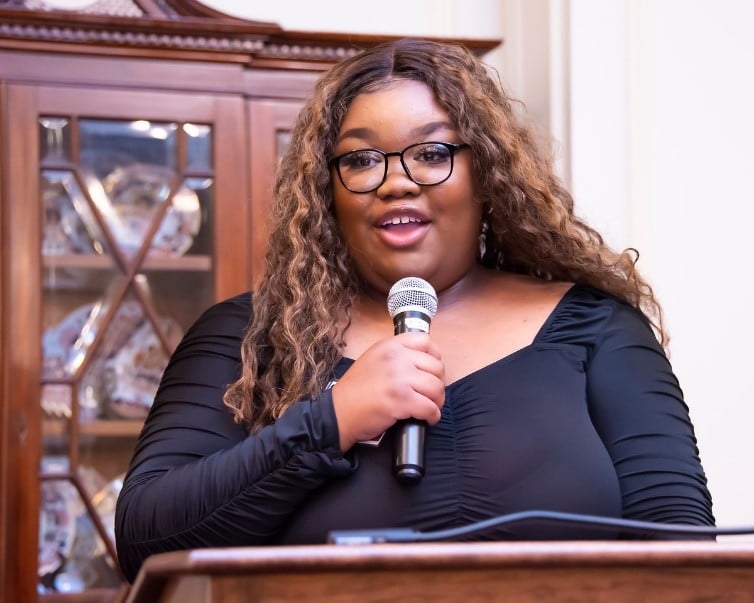 2022 African American Alumni Reception
Auburn University at Montgomery alumni, faculty, staff, and friends gathered at Wynlakes Golf and Country Club on Thursday, April 28, 2022, for the 12th annual African American Alumni Reception. Attendees enjoyed live music, a seated dinner, and reconnecting with former classmates and colleagues. The underlying goal of this annual event is to raise awareness and funds for a scholarship established by four determined AUM alumnae, who wanted to broaden the level of diversity at AUM while providing support to young students.
The 2022 African American Alumni Reception scholarship recipient, Jamese Cain, spoke about her undergraduate journey at AUM and her current goal of completing a Bachelor of Science in Nursing. As a future RN, BSN, Jamese plans to gain healthcare experience in gynecology and perinatal care. She has a passion for understanding and working to disrupt the current African American mother and infant mortality disparities. Her future as a registered nurse evolves around showing compassion, ensuring her patients are viewed as people instead of tasks, and providing excellent care.
To make a gift to the African American Alumni Reception Endowed Scholarship, please visit: www.aum.edu/AAARS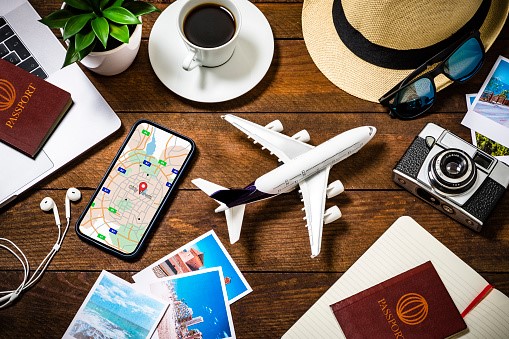 2023 Travel Survey
Interested in traveling the world with the AUM Alumni Association? Tell us where you want to go!
Class Notes
Kevin Bazemore '96
Kevin was recently named Controller for Saint Francis Healthcare in Cape Girardeau, Missouri. He has 25 years of accounting and finance experience with 15 years specifically in the hospital and healthcare industry. In his new role at Saint Francis, Kevin will be responsible for certain financial functions of the Healthcare System including accounting, financial reporting, financial planning and analysis, accounts payable and payroll.
He earned a Bachelor of Science degree in Business Administration from Auburn University at Montgomery in 1996.
Tonya Chestnut '97
Tonya was chosen as Alabama State University's 122nd Founder's Day Convocation Speaker. Dr. Chestnut has more than 35 years of instructional and administrative practice. She currently serves as a member of the state of Alabama School Board, representing District 5. Her impact on the field of education is represented by her present and past service as an educational consultant, dean of teacher education, principal coach, federal programs director, curriculum director, principal, teacher, and pastor.
She earned an Education Specialist degree from Auburn University at Montgomery in 1997.
Charisse Stokes '00
Charisse was recently elected to the board of directors of Alabama Power. She is president of Tidal IT Solutions, an information technology consulting company headquartered in Montgomery specializing in providing business development, tech and innovation strategy, and support services to clients worldwide.
Charisse earned a Master of Business Administration degree in 2000 from Auburn University at Montgomery.
Ben Wallach '02
Ben joined Oliver Wyman, an international management consultancy, as an Anti-Financial Crime Senior Advisor. Co-Founder of Omega FinCrime, Ben is a financial services industry veteran with over two decades of tactical expertise in digital threats faced by the global financial services industry and has been responsible for strategic leadership of company-wide transformational initiatives in the fraud, security & identity space. Most recently, Ben served as EVP & Chief Fraud Director leading BB&T's enterprise fraud program. Prior to that, Ben was the Head of Fraud at PNC, North America Fraud Prevention Lead at Citi and held senior fraud roles at Wells Fargo and Regions.
He earned a Master of Business Administration degree from Auburn University at Montgomery in 2002.
Mia Mothershed '18
Brookwood Baptist Health named their new Group Marketing Director for the five-hospital health care system. Mia Mothershed has more than 20 years of experience in marketing, communications, business development and health care administration. Mia comes to Brookwood from Jackson Hospital and Clinic in Montgomery, where she led internal and external communications, media relations, digital marketing, and reputation management for the health system.
She earned a Master of Business Administration degree in 2018 from Auburn University at Montgomery.