AUM's first concurrent RN to BSN student celebrates graduation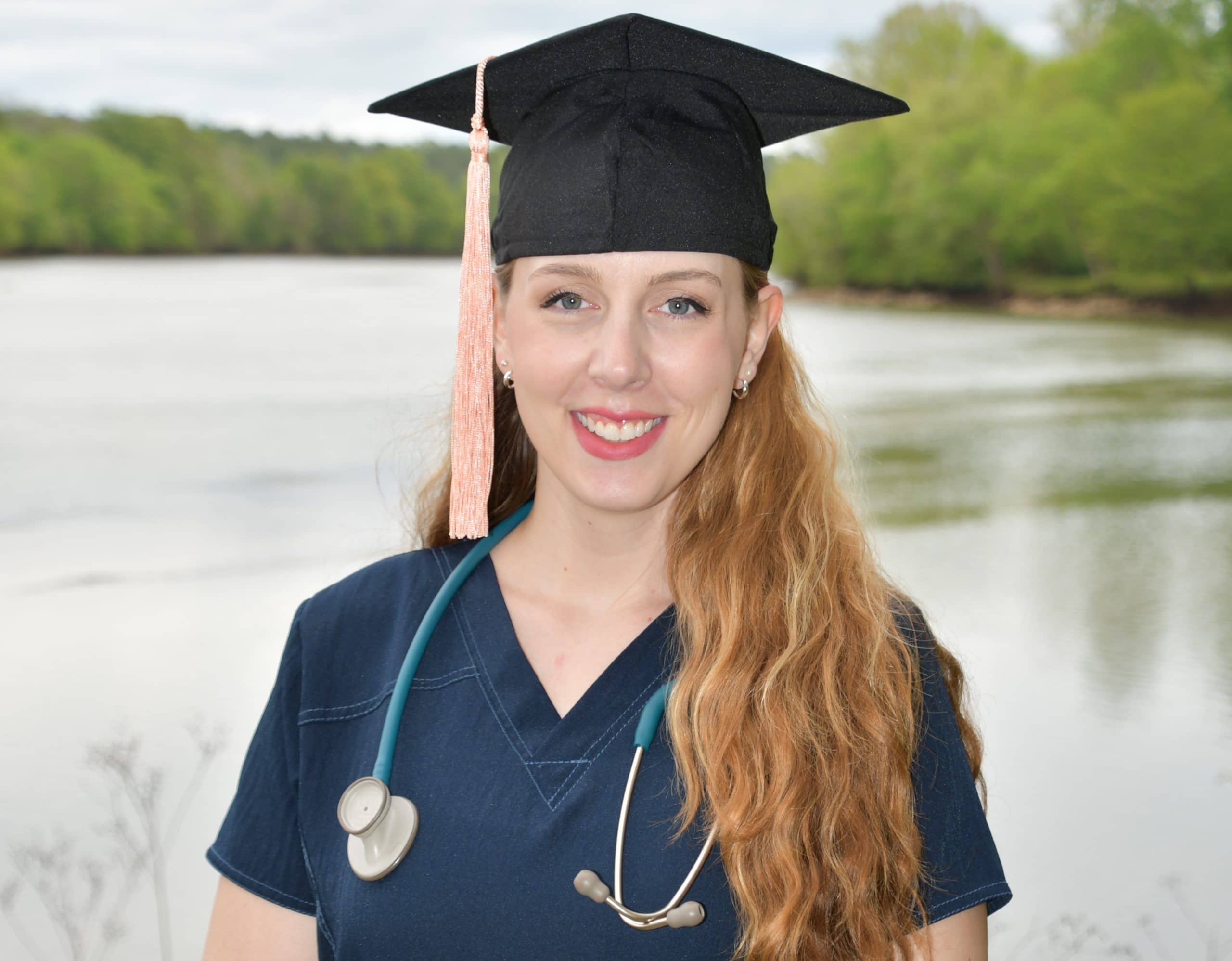 While working as a radiology tech at an urgent care facility, Brittney McGinness learned about a new Auburn University at Montgomery partnership with Southern Union State Community College to offer a concurrent RN to BSN degree that could elevate her career, but she was hesitant to enroll in the program.
"I was hesitant to start something that no other student had done," she said.
McGinness, who earned an associate's degree in applied science with a concentration in radiologic technology from Southern Union State in 2016, eventually put aside her misgivings.
"I was working in urgent care where I had to learn many other skills," she said. "Those opportunities opened my mind to pursue nursing."
In Summer 2020, she enrolled in AUM's concurrent RN to BSN program, earning her associate's degree in nursing (ADN) from Southern Union State in Fall 2020. On May 7, she will become the first graduate of the university's concurrent RN to BSN program when she receives her bachelor's degree in nursing (BSN) at AUM's Spring 2022 commencement ceremony.
"Now, I am glad that I was able to pave the way for others," she said. "Earning this higher degree will broaden my career opportunities."
AUM's concurrent RN to BSN program allows students to earn an associate degree in nursing from Southern Union State Community College while pursuing a BSN at AUM. Graduates of the program are recognized for their critical thinking skills, leadership, health promotion, case management skills, and the ability to practice across a variety of inpatient and outpatient settings, said Jean Leuner, dean of AUM's College of Nursing and Health Sciences and the Barbara S. Witt Professor of Nursing.
"This type of partnership provides an excellent gateway to prepare more BSN nurses for the challenging healthcare environment today," she said.
AUM's concurrent RN to BSN program was established to help meet the growing demand for nurses. In 2010, the Institute of Medicine released its landmark report "The Future of Nursing: Leading Change, Advancing Health," which called for increasing the number of baccalaureate-prepared nurses in the workforce to 80 percent by 2020. Evidence-based recommendations in the report noted that to respond "to the demands of an evolving healthcare system and meet the changing needs of patients, nurses must achieve higher levels of education," Leuner said.
"Our nurses in the BSN program are well prepared to meet the challenges in healthcare and embrace life-long learning," said Leuner while highlighting the importance of the college's relationship-based advising to support nursing students. "At AUM we are very engaged with our students, who receive one-on-one advisement every step of the way."
Working with an AUM advisor throughout her academic journey in the program was vital to her success, McGinness said.
"My advisor, Haley Adams, has been a great help navigating registration, communicating with Southern Union in the beginning stages, and assisting me with any questions," she said.
Completing the online program also requires discipline, McGinness added.
"I have worked full time since obtaining my RN license," she said. "During this time, I also got married and moved to a different city. Staying focused was not always easy. I learned better time management and prioritization. Through the courses I have learned more about leadership. The material has opened my eyes to see needs in my community."
Adding to those challenges was pursuing a hands-on degree field during the COVID-19 pandemic, said McGinness, who is now employed at Wellstar West Georgia Medical Center, where she has worked with COVID-19 patients for the past year.
"Due to the COVID pandemic, many of our clinical experiences were cancelled," McGinness said. "There were specialty areas that I only experienced briefly. I decided to start out on a medical floor, which at the time was the COVID floor. I wanted to get my feet wet and see as much as I could to help round out my nursing knowledge."
Even working through a pandemic has not discouraged McGinness from exploring new ways to learn.
"I am choosing to continue my education by pursuing a master's degree to become a nurse practitioner," she said.
McGinness said she has been accepted to Auburn University's Master of Nursing program, which has a nurse practitioner track. She plans to begin the program this summer.
In the meantime, she is looking forward to walking at commencement May 7.
"It is exciting and an honor," she said of being AUM's first concurrent RN to BSN graduate. "I hope that my success shows proof that it can be done. This will hopefully make the next student's decision easier to say yes."