AUM biology students win awards at university-wide research symposium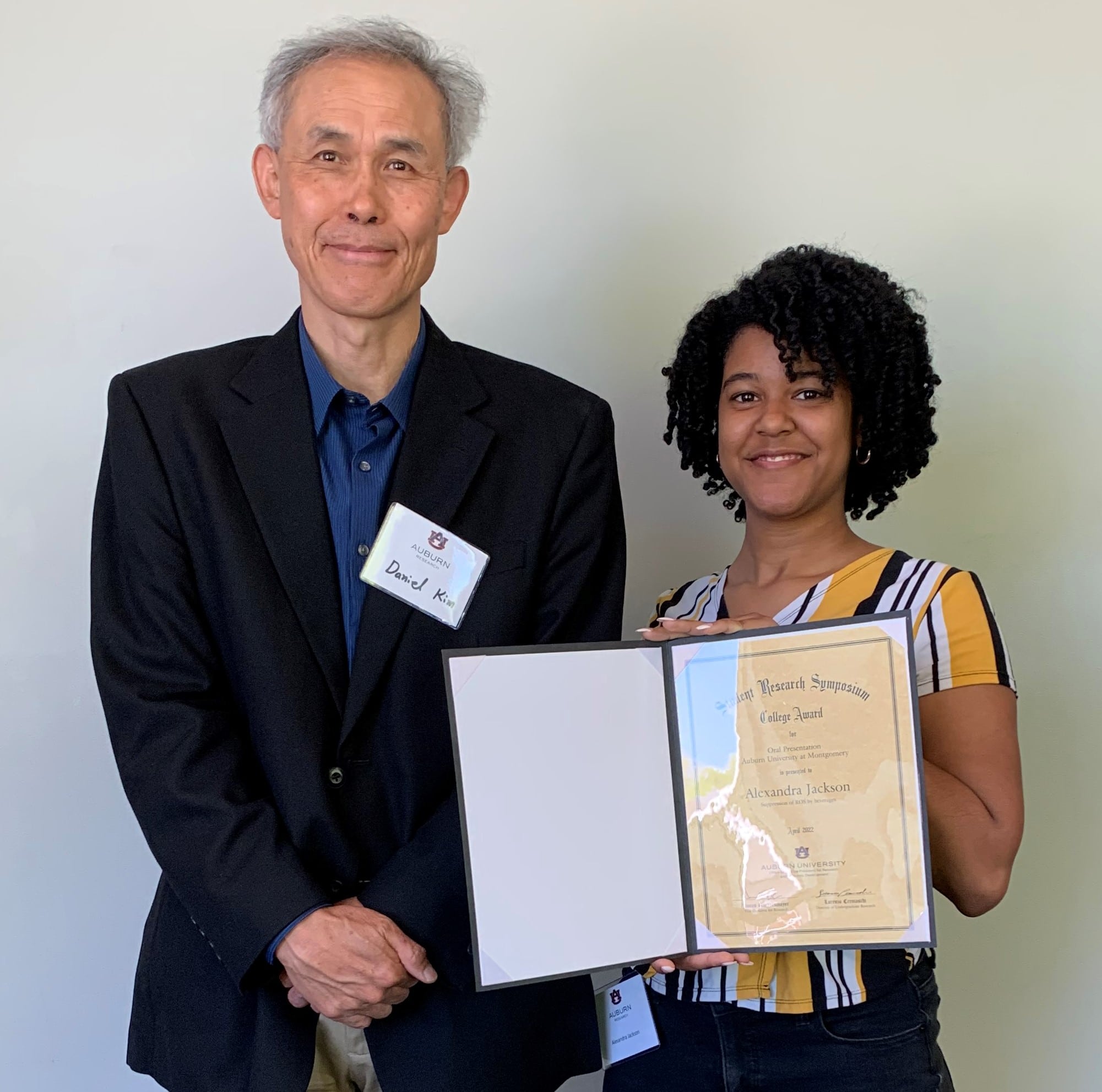 Two Auburn University at Montgomery (AUM) biology students earned awards for their undergraduate research at the "Auburn Research 2022 Student Symposium" in March.
The annual symposium hosted at Auburn University showcases undergraduate and graduate student research through university-wide oral and poster presentations, which are open to the public. AUM students competed against each other in the AUM category of the College/School Awards.
In the AUM competition, Samantha Mejia, a junior also majoring in chemistry with pre-veterinary studies, received the undergraduate poster award for her presentation "Digitizing the AUM herbarium: A valuable resource for biodiversity information." AUM junior Alexandra Jackson won the undergraduate oral presentation award for her research project, "Suppression of ROS by beverages."
Digitizing AUM's herbarium
Mejia collaborated with Assistant Professor of Biology Vanessa Koelling to examine AUM's herbarium, a collection of preserved plant specimens that can be analyzed and studied for various types of research, including understanding the distributions of plant species over time.
As part of their research, Mejia documented the content of AUM's relatively small herbarium, which consists of 1,111 specimens. They found that the herbarium has some incorrect information regarding samples and that many of the plant species' names have since changed due to taxonomic revisions, which will require records to be updated before proceeding with new research projects, Mejia said.
"We are working on digitizing the herbarium to make it more accessible for modification and, hopefully, expanding its collection to reflect the uniqueness of Alabama plant life," she said.
Expanding the herbarium will allow faculty and student researchers to potentially observe how climate change has affected phenological development of plants, study how the changing areas affect the survival of certain species and how and why movement of humans and migration of animals have caused extinction in certain species.
"This means that we could start observing plant life through time and possibly correct these issues to avoid destroying native vegetation by protecting endangered species and collecting information that will help to stop destructive human habits," Mejia said. "With advancements in genetics, the restoration of extinct plant species is a future possibility that could help us maintain our environment."
AUM's herbarium will improve with help from the scientific community, which prompted the team to present their findings at this year's symposium, where researchers could offer insightful ideas about how to improve the herbarium's system and collection, Mejia said.
"The sharing of our experience and newfound knowledge on the digitizing process could also help many others in similar situations, especially those that have no knowledge on herbarium maintenance and species identification itself," she said.
AUM's herbarium is a work in progress, said Mejia, who knew little about student research opportunities at AUM before joining the research project.
"I was not expecting to win any award for our work," she said. "It has given me a lot of confidence in my presentation skills."
Reactive oxygen species in beverages
Jackson worked with Department of Chemistry Chair and Professor Duk (Daniel) Kim to study the health effects of drinking beverages that suppress reactive oxygen species (ROS), a harmful process generated in the body by the reduction of oxygen molecules within mitochondria. Reactive oxygen species include hydrogen peroxide and hydroxyl radicals, which are essential to life.
The suppression of ROS, primarily highly hydroxyl radicals, in the body has been associated with cancers, trauma, strokes, asthma, heart attacks, aging, retinal damage and Parkinson's disease, Jackson said.
"In our research, we found that beverages with vitamin C, polyphenol, and caffeic acids have the highest ROS suppression," she said.
The team studied ROS suppression by hydroxyl radicals through ultrasonic cavitation and letting commercial beverages react with the hydroxyl radicals. Ultrasonic cavitation involves the use of ultrasound to generate cavitation to produce reactive hydroxyl radicals and breakdown fat cells. They discovered that ROS generated during this process reacted to anti-oxidizing organic substances in the beverages. The addition of the beverage's organic substances, such as antioxidants, were found to intercept hydroxyl radicals, decreasing the amount of hydrogen peroxide created in the body.
Comparing the results from the study made it possible for the team to evaluate the suppression of ROS by certain commercial beverages, Jackson said.
"I believe that our research could help people minimize the risk of oxidative stress, which is when there is an excessive amount of ROS in the body with limited antioxidant defenses," she said. "In addition, this would minimize the risk of people getting ROS associated illnesses by drinking healthy beverages."
The symposium was a great opportunity to present the team's research, which took place over two semesters, Jackson said.
"It was a wonderful experience, and I gained a lot of confidence in myself to do something that I wouldn't normally do," she said. "Earning the award was something I couldn't believe. It was wonderful that people liked the presentation."
In all, seven AUM student researchers participated in this year's symposium. In addition to Mejia and Jackson, AUM students Muhamad Bedwan, Molly Belew Trammell, Hyacintha-Ghislaine M. Bisimwa, Cody Jefferys, and Robert W. Kiefer presented in the competition.
Both Mejia and Jackson's projects were funded by mini-grant awards for faculty-led undergraduate research and creative activity through AUM's Office of the Provost and Experiential Education & Engagement Center (EEEC). For more information about the grants, visit http://www.aum.edu/research-and-creative-activity.