AUM social work professor receives Fulbright Specialist Award to Kingdom of Saudi Arabia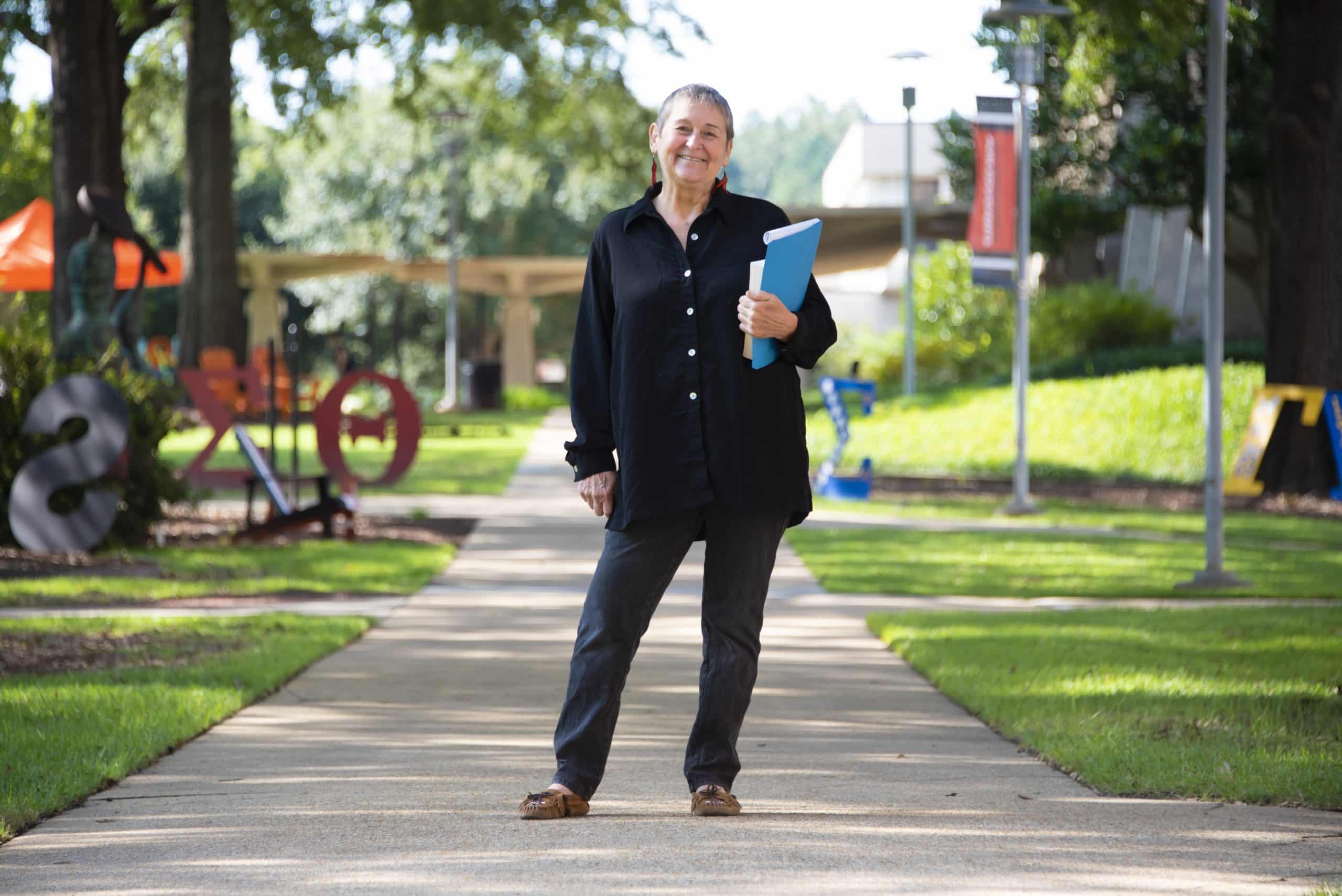 Auburn University at Montgomery (AUM) Associate Professor of Social Work Lacey Sloan has received a Fulbright Specialist Award to spend more than two weeks in the Kingdom of Saudi Arabia (KSA) and develop and implement social work training on domestic violence.
Sloan will travel to the Kingdom of Saudi Arabia for her first Specialist assignment in March 2023 and May 2023. During each of her two-week stays, she will provide domestic violence training for social workers at the Mawaddah Society, a non-governmental organization working to develop 11 "rehabilitation programs" for domestic violence across the Kingdom of Saudi Arabia.
"I am most appreciative that AUM is willing to support this opportunity," said Sloan, whose Fulbright Specialist Award extends through 2025. "There is so much misinformation about Arab-Islamic countries that needs to be countered, which I try to do via classroom and professional presentations because it is so important for our students to engage with the global community. This project will hopefully result in an additional connection for future projects between our students and students or social workers in KSA."
Sloan said her goal is to develop culturally appropriate training for social workers and others who are responsible for creating services for survivors of domestic violence in Saudi Arabia.
"Since the establishment of the Crown Prince Mohammed bin Salman Al Saud's Vision 2030 social and economic reform program, Saudi Arabia has dramatically scaled backed the highly restrictive male guardianship system, provided greater social freedoms to women, and rapidly increased female labor partition," she said. "Responding to domestic violence is part of the strategy for the empowerment of women."
Sloan said her four years as Fulbright Specialist will also allow her to expand on her research interests in gender-based violence and the development of Islamic social work education programs.
"I have international experiences supporting the development of new social work degree programs, including BSW, MSW, one-year certificates and two-year diplomas in social work" said Sloan, who will serve as director of AUM's newly developed Master of Social Work (MSW) program. "I have lived in Qatar and the United Arab Emirates while developing their new social work degree programs, and served as a consultant for UNICEF to develop the programs in Somalia and Somaliland. The Fulbright Specialist program is a good opportunity to continue my work in the global community while employed full time in the U.S."
Through the Fulbright Specialist program, Sloan also hopes to collaborate with other agencies and colleagues to create programs and services for victims of domestic violence in countries such as Yemen, Lebanon, Palestine and Jordan.
"I'm excited to explore ways to add to my knowledge base on this topic and pursue additional projects on which to write and publish," she said. "I'm hopeful that I will make contacts in KSA social work education programs who may be interested in these virtual exchanges. Part of the Specialist program's expectations are a continuing relationship with the host organization."
Sloan joined AUM as a faculty member in July 2022. She earned her Bachelor of Social Work (BSW) from the University of Mississippi. She holds both a Master of Social Work (MSW) and doctorate in social work from the University of Texas at Austin.
About the Fulbright Specialist Program
The Fulbright Specialist Program, part of the larger Fulbright Program, was established in 2001 by the U.S. Department of State, Bureau of Educational and Cultural Affairs (ECA). The program pairs highly qualified U.S. academics and professionals with host institutions abroad to share their expertise, strengthen institutional linkages, hone their skills, gain international experience, and learn about other cultures while building capacity at their overseas host institutions. The Fulbright Specialist Program also aims to provide a short-term, on-demand resource to international host institutions, giving them greater flexibility in how they participate with Fulbright.