AUM senior Janiyah Cotton earns microbiology research award at ABRCMS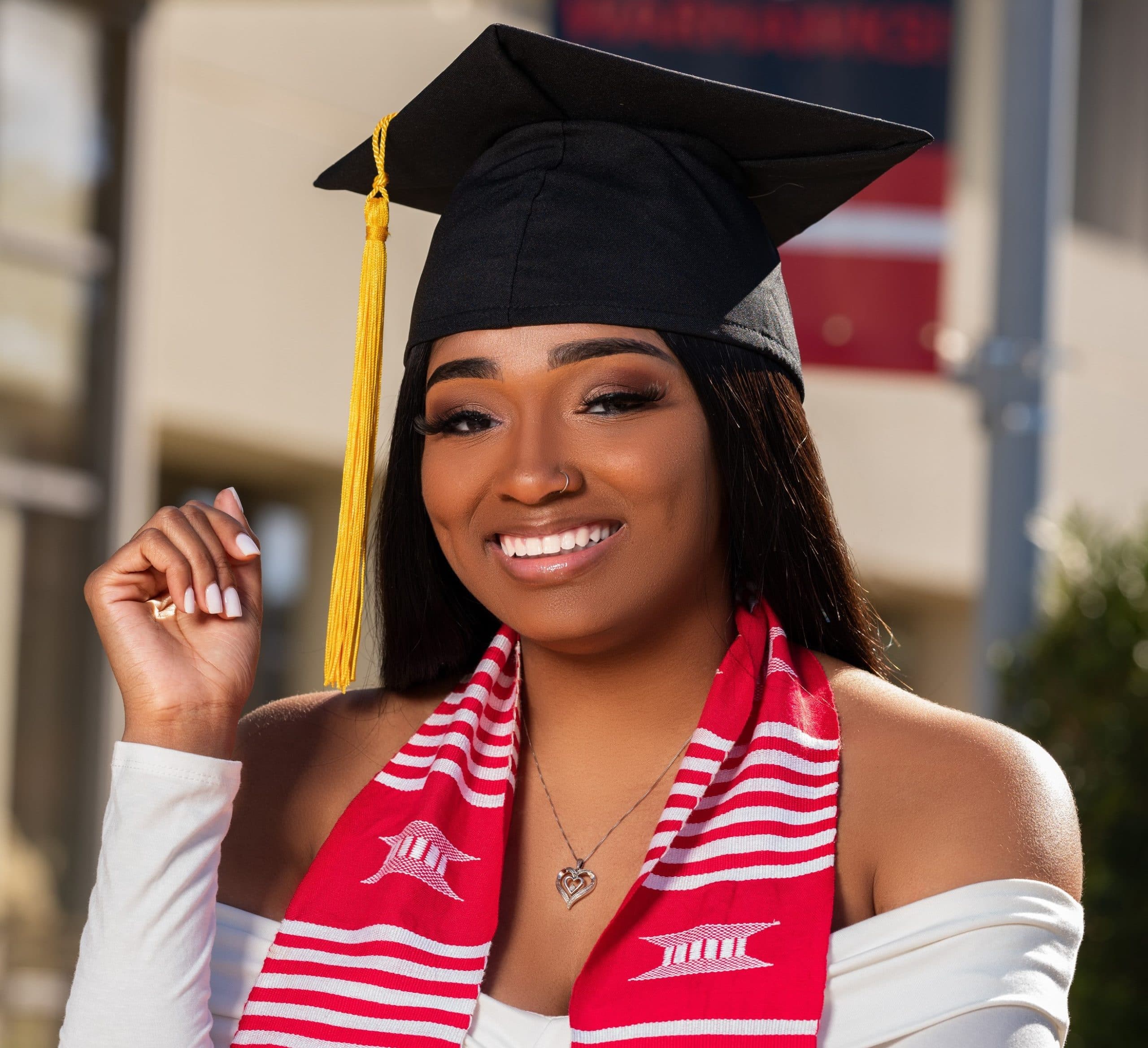 Auburn University at Montgomery senior Janiyah Cotton recently earned a 2021 Annual Biomedical Research Conference for Minority Students (ABRCMS) award for her research examining plant bacteria that could prove beneficial to the production of environmentally friendly biofertilizers.
Cotton's research project, "Selection and Molecular Characterization of Microbes Associated with Root Nodules for Evaluation of Plant Growth Promotion," earned one of 35 awards given in the microbiology category and was among 401 national student research entries honored at the ABRCMS 2021 Awards Ceremony.
"Participating in ABRCMS allowed me to network with a diverse group of students from various colleges and graduate schools in the nation," said Cotton, who is majoring in biology with a concentration in health sciences and a minor in psychology. "It was amazing. I had the opportunity to present at a national conference and learn about opportunities for graduate and professional schools. Overall, it enhanced my resume and the award shows that I am competitive."
Cotton, a Louis Stokes Alliances for Minority Participation (LSAMP) program scholar at AUM, submitted her research project at ABRCMS as part of a LSAMP-funded summer internship with her faculty mentor Benedict Okeke, Distinguished Research Professor of Industrial and Environmental Microbiology.
"Dr. Okeke, who is my research professor and LSAMP advisor, told me about ABRCMS and encouraged me to submit an abstract for presentation at ABRCMS' conference," she said. "He felt my summer research was excellent and that with a good presentation I could win. I worked hard and made a good presentation. I received very good comments from the three judges. I feel like all of the hard work was worth it."
For her winning research project, Cotton — under the guidance of Okeke — researched root nodules samples from legumes by extracting bacteria with the hope of finding Rhizobium, a nitrogen fixing bacteria that forms a symbiotic relationship with plants, and other plant growth promoting bacteria. Using a DNA-based method, the team identified bacteria that can promote plant growth, including Rhizobium.
"Ultimately, the isolation of Rhizobium and other beneficial bacteria is one step towards production of biofertilizers," Cotton said. "The use of biofertilizers in horticulture will help reduce the over-dependence on chemical fertilizer, which can cause environmental and health problems.
Research in this area also will enrich scientific knowledge on microorganisms associated with plant roots, Cotton said.
"My hope is that this research will further inspire interest in biofertilizer and bring awareness to the issue of the over dependence on chemical fertilizers," she said. "I hope to make people more inclined to use alternatives that are better for the environment."
AUM's participation in LSAMP, an alliance-based program of the National Science Foundation (NSF), makes it possible for AUM students to explore science, technology, engineering, and mathematics (STEM) fields, research opportunities with faculty researchers, peer mentoring and participation in scientific conferences.
"NSF LSAMP assists universities and colleges in diversifying the nation's STEM workforce by increasing the number of STEM baccalaureate and graduate degrees earned by historically underrepresented populations in STEM," Cotton said. "The LSAMP program at AUM allowed me to learn about various careers in STEM and network with various professors and students that I probably otherwise wouldn't have known."
As an AUM LSAMP scholar, Cotton also served as a post baccalaureate program bridge leader and peer mentor to help other AUM students learn how to successfully navigate through college and the next step towards a STEM career upon graduation.
"I gained valuable research experience in microbiology and molecular biology and the opportunity to present at a national research conference such as ABRCMS," Cotton said. "LSAMP also helped me to learn about time management, study skills, graduate school/STEM work force opportunities, online learning, university resources, and the importance of interacting with other students and leadership."
Cotton is now looking forward to receiving her undergraduate degree in biology with a minor in psychology at the university's commencement ceremony December 11. She is considering pursuing her master's degree to explore more research opportunities before applying to medical school.
"Ultimately, I plan to attend an osteopathic medical school in hopes of becoming a gastroenterologist," she said.