Student Profile: Q & A with Miss AUM Preacious Taylor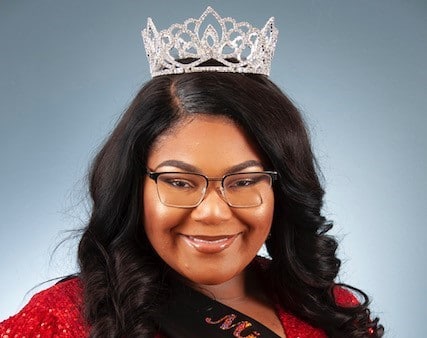 When Auburn University at Montgomery's Student Government Association reintroduced the Miss AUM pageant for Fall 2021, senior Preacious Taylor saw an opportunity to follow her childhood dream of competing in a pageant.
Taylor, who was crowned Miss AUM in the November 5 competition, recently shared her experience, as well as the ways she's involved on campus and future career aspirations in a Q&A.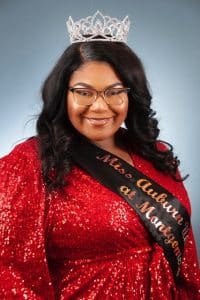 Student Profile: Q & A with Miss AUM Preacious Taylor
 Year: Senior
 Major: Biology and pre-med
 Hometown: Dothan, Alabama
Q: Tell us what inspired you to get into pageantry?
A: My best friend Arlesh Saffold, who is also a pageant queen, inspired me to pursue pageantry. I've always wanted to pursue pageantry since I was a little girl because I adored seeing all those beautiful gowns. However, as I grew older, I became fascinated in pageantry not just because of the stunning gowns, but also because it allows you to demonstrate your confidence, class, grace, and sass. Pageantry provides numerous opportunities to improve your eloquence, elegance as a lady, and general presentation. I wanted to be a part of such a memorable occasion on our campus because I aim to inspire others in the same way that I was inspired.
Q: Why did you decide to compete in Miss AUM?
A: I chose to compete in Miss AUM not only because I wanted to try something new, but also because I wanted to give myself the opportunity to be a voice for our university. Competing for Miss AUM would allow me to express my genuine and certified love for my university, campus community, and overall community of Montgomery, Alabama. Being given the honor of potentially being crowned would have added to the many qualities and attributes that I possess both on and off campus. For example, being a student leader, a university diplomat, and spreading my optimistic, charismatic, and friendly personality to the AUM student body. That is why I decided to compete for the title of Miss AUM.
Q: What did you perform in the talent category of the Miss AUM pageant?
A: I performed a creative dance by Beyonce from Coachella, a music festival she has performed at during her career.
Q: Do you have a hidden talent?
A: My main gift is dancing, but I can sing a little bit. I have never trained in dance, but it's something that came natural to me. I performed on the Talon Dance Team here at AUM ever since I was a freshman. I became the president of the Talon Dance Team in 2019. I just gave my role away this semester because I have become active in a lot of other organizations and felt it was time to do new things. By me leaving, I want to try to help train the next person to take over since I will be graduating soon. I also want to help groom the dance team's next leader so that they can continue successfully.
Q: How did it feel to win Miss AUM?
A: It was an incredible sensation that I can't really put into words. It's such an honor and a blessing to be crowned Miss AUM 2021-2022. My objective before graduating from AUM was to leave my mark, and to have an impact on this institution so I am thrilled to see that my efforts have paid off. Being awarded Miss AUM gives me the opportunity to make a difference for this university by ensuring that I serve as a positive and commendable role model for the student body and that everyone who visits this campus feels heard and included.
Q: After winning Miss AUM, will you compete at other levels?
A: I've been told that I should compete at higher levels; however, stay tuned.  You never know what awaits me in the future!
Q: Tell us about the organizations you are involved in on and off campus? Which organization are you most passionate about?
A: I am passionate about all the organizations and clubs that I am a part of, but I am especially proud to be a member of Delta Sigma Theta Sorority, Inc., and vice president of the Curve AUM Organization, which allows me to do community service while also mentoring and empowering young women. I am a proud member and leader of all the following:
Omicron Mu Chapter of Delta Sigma Theta Sorority, Inc.
Orange Jacket Society (Auburn University at Montgomery Collegiate Ambassador)
Student Government Association
Alpha Epsilon Delta (The National Health Preprofessional Honor Society)
The National Society of Leadership and Success
Black Student Union
Campus Activities Board
Minority Association of Pre-medical Students (M.A.P.S.)
Resident Assistant (Housing and Resident Life)
Q: In the four years you've been at AUM, what do you enjoy most about the university?
A: I chose AUM because of the welcoming and enjoyable atmosphere that it provides and because of its diversity and inclusion. AUM has a special place in my heart. AUM provides and accommodates the student body and I have incredible support from my peers, instructors, and staff. I adore AUM because of all the possibilities it provides. AUM not only allows us to be leaders on and off campus, but also prepares us for success in our careers.
Q: What are your future career plans?
A:  My professional ambitions are to become a pediatrician and to run my own pediatric practice. I chose this profession simply because I adore infants and young children. In my opinion, infants and children are the most innocent people in the world, and I want to do everything in my power to help them, promote excellence, and make a difference in their lives.