AUM fermentation program brews up new opportunities for students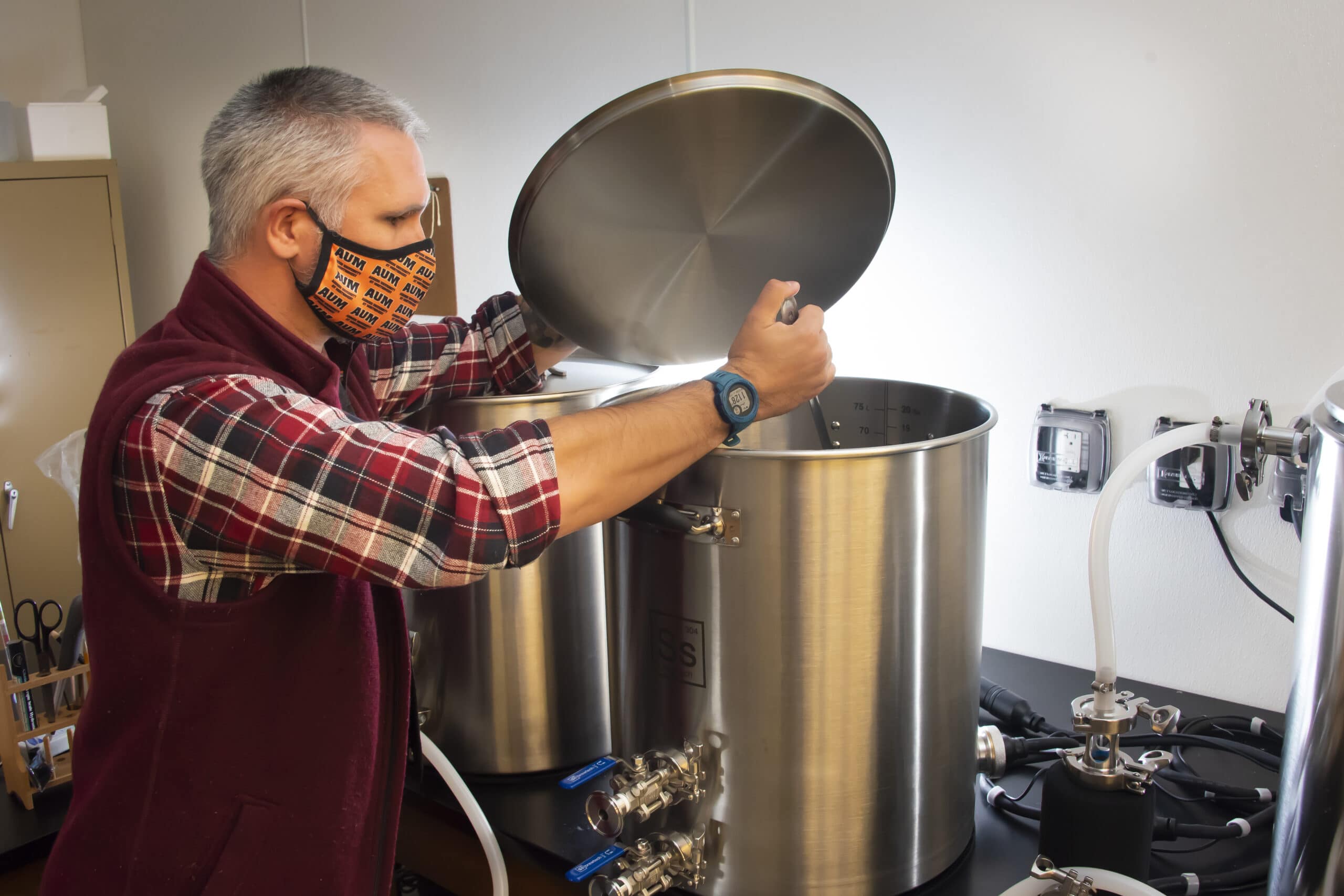 A new campus laboratory for the Auburn University at Montgomery Fermentation program is helping to prepare students for careers in food science.
Lecturer Clark Danderson, coordinator of AUM's fermentation program in the College of Sciences' Department of Biology and Environmental Sciences, said the lab, constructed over this summer and fall, houses an on-campus brewery and occupies one-half of a biology building on campus. Danderson co-founded AUM's Fermentation program with Department Chair and Distinguished Teaching Professor Chelsea Ward.
Danderson moved into the program's new office space in December. With the new dedicated space for the laboratory, AUM can expand its reach in the growing industry of food fermentation, Danderson said.
"Our fermentation program is only a few years old but right now, especially during the [coronavirus] pandemic, people are doing foods from home as a craft so we're seeing a resurgence in fermentation and people are doing this kind of process at home because it's pretty easy to ferment foods," he said.
AUM currently offers a minor in fermentation for biology majors that equips students with the skills needed to meet the demand for professionals in the growing industry, Danderson said.
"The program provides biology students with the unique opportunity to make products that you would normally purchase in a store," he said. "The opportunity allows them to find out really quick that they can produce a lot of fermented things fairly easily and it's just as good as something you've purchased. It's also a creative process for students."
AUM's fermentation program also partners with local industry to allow students to gain firsthand experience working in a brewery setting. Through a partnership with Common Bond Brewers, Montgomery's only brewery, Danderson and biology students have created and designed several beers that are marketed to the public.
"With beer, you have to understand the science behind it because it involves learning how enzymes work, understanding metabolic processes, understanding how organisms live and what they do at different times in their life cycle, and understanding water chemistry," Danderson said. "It's a very science-heavy process and program. It appeals to the sciences but there is also almost a kind of art form to it because you're creating recipes so you're acting almost like a chef, as well. Our program can appeal to lots of different people who are science types."
Jacob Miller, a senior environmental biology major who is minoring in fermentation and geographical information systems, said the he found the program appealing because of its introductory course into making different types of beer and it involved learning the science behind the ingredients used to make beer. Students also learn how to market and sell products, as well, he said.
"In class, you're encouraged to make the foods you learn about," he said. "I've had the opportunity to make sour dough bread, pickles, sauerkraut, yogurt, cheese, and ginger bug. I have also learned the many different aspects of brewing and running a brewery."
This month, Miller will begin an internship at Common Bond Brewers to become more familiar with the brewing process. As a student, Miller has learned to make beers such as IPAs, Porters, and Brown Ales and learned brewing processes for malts, hops, water, and yeast-based beers.
"I look forward to also learning how to use commercial brewing equipment," he said. "I have learned about the different beer styles and we've touched a little on how to develop our own recipes, but I am excited about learning more about these processes and having the opportunity to experience the commercial side of brewing firsthand. It will be a good opportunity to learn about the necessary tasks and skills needed to become a cellar person or assistant brewer."
While he plans to pursue a career with a state or federal agency in the area of environmental conservation after graduating in Spring 2021, Miller said minoring in fermentation has helped him identify new career opportunities.
"I feel confident that once I complete the program, I could work in or perhaps open my own brewery one day," he said.
Danderson said AUM hopes to soon begin offering an undergraduate certificate in fermentation to attract students from other disciplines to the program.
"Right now this is just a minor, but we've put forth a proposal for an undergraduate certificate that basically just has to go before the review board," he said. "With the undergraduate certificate, we're trying to broaden the options that we have by working with AUM's College of Education and College of Liberal Arts and Social Sciences to create courses that might appeal to students in other majors than just biology."
"We're looking at creating courses in marketing and branding to draw in students who are more artistic or business oriented. We're also looking at the history of beer so there's a lot of different areas we want to cover to make the fermentation program a bit more dynamic and appeal to a broader base of students."
The fermentation program also attracts students to the university through AUM's membership in the Brewers Association, an industry association that allows the university to work with members, craft breweries, and individuals with commercial enterprises, as well as network and advertise AUM's program, Danderson said.
"The association membership is a way to get the word out that AUM has a program and it gets us involved in the local brewing community in Alabama and this is all important for AUM," he said. "Our goal is to make our program more active in both the local and national industry."