Theatre AUM students showcase work and earn regional honors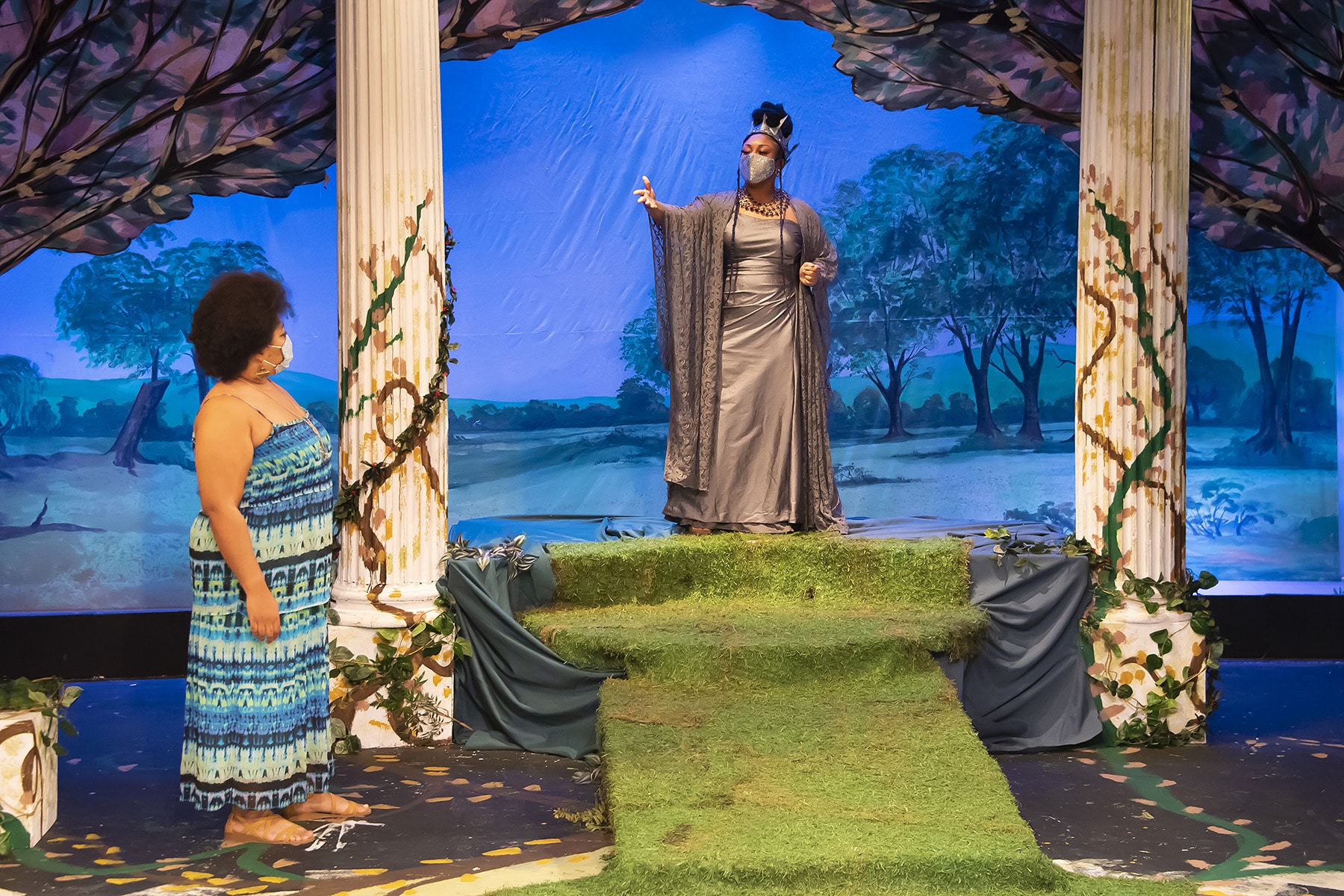 Theatre AUM students received top honors at the 2021 Region IV Kennedy Center American College Theatre Festival (KCACTF). AUM served as the virtual host for the festival held the first week of February.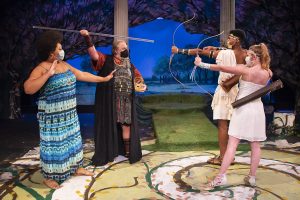 "AUM has participated for over 30 years in KCACTF," said Val Winkelman, professor of communication and theatre. "It is a marvelous opportunity for our students to showcase their work, receive feedback, polish their interview skills, expand their education, and immerse themselves in an inspiring, collaborative, and supportive theatre experience."
The annual festival recognizes top performing students in college and university theatre programs across the nation. Theatre faculty members also are recognized for their contributions to productions. This year, approximately 800 students and faculty members represented schools in Region IV, which includes Alabama, Florida, Georgia, Kentucky, Mississippi, North Carolina, Puerto Rico, South Carolina, Tennessee, U.S. Virgin Islands, Virginia and guest artists from across the nation.
May 2020 graduates Tony George and Kate Saylor, both of Wetumpka, Alabama, earned top awards for their roles as Apollo and Artemis, respectively, in the 2020 AUM production of "Shadow of the Son" by Kate Leslie. December 2020 graduate Cheyenne Singleton was also nominated for her role as Leto in the play.
Students Tabitha Neyerlin, Karian Warrington, and Olivia Tippett participated in a Ten Minute Play Festival during the event. Student participants work with other student actors, stage managers, dramaturgs and playwrights from schools across the region.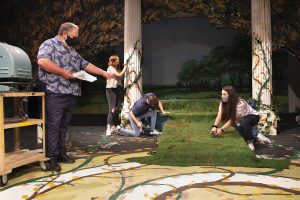 "My time at KCACTF is always so educational," said Tippett, a senior from Clanton, Alabama. "This year was a bit different because everything was virtual. I was still able to help with auditions for the National Playwriting Program Ten Minute Play Festival over Zoom. The opportunity created avenues to connect with other stage managers from across the region, learn new practices for being a better stage manager, and discuss the best computer programs to use.
"This festival is always so special because we see so many other people working in this wonderful career. It's a very encouraging experience to share the love of theatre with so many other people."
Freshman Kelyn McIntyre, of Opelika, participated in KCACTF for the first time this year.
"It was the best time of my life," he said. "I made connections with new people, new friends and communicated with like-minded people. This is an opportunity of a lifetime because you are in front of so many big-time people and can show your talent and be yourself."
Theatre AUM 2021 Region IV KCACTF recognitions:
ASPIRE Leadership Fellows Program – Tony George; First Runner Up – Cheyenne Singleton; Finalists – Emily Aveldanez and Karian Warrington
Irene Ryan Acting Recognitions – First Runner Up –Tony George; Finalist – Kate Saylor 
Stagecraft Institute of Las Vegas Internship – Cheyenne Singleton
Stage Management – Heart of the Art Award – Olivia Tippett 
Broadway Stage Management Symposium – Registration Stipend – Olivia Tippett
Poster Design – Tikyra Caldwell
Region IV Inaugural Student Advisory Board – Elected – Mark Wilson
Ten Minute Play Festival – Performers – Tabitha Neyerlin and Karian Warrington; Stage Manager – Olivia Tippett
Region IV David Mark Cohen Playwriting Award – Kate Leslie, student Hollins University, for "Shadow of the Son" and produced by AUM and directed by AUM's Neil David Seibel
About the Mark Cohen Playwright Award
The David Mark Cohen National Playwriting Award promotes the writing and production of new plays while honoring and perpetuating the memory of David Mark Cohen, professor of playwriting at the University of Texas-Austin. The award was established to foster the growth and development of playwrights (students, faculty or guest artists) through the public presentations of unpublished full-length plays or a collection of shorter works for the stage that have not received a professional production.
About KCACTF
The Kennedy Center American College Theater Festival (KCACTF) is a national theater program involving 18,000 students annually from colleges and universities across the country. Since its inception, KCACTF has given more than 400,000 college theater students the opportunity to have their work critiqued, improve their dramatic skills, and receive national recognition for excellence.